Abstract
Species delineation in the spotted gum complex was revisited focusing on Corymbia maculata. This study expands the range of C. maculata analysed with microsatellite markers to include populations from the north of the species range. It supported earlier findings that it is a cohesive genetic entity, well resolved from northern spotted gum taxa, Corymbia citriodora and Corymbia henryi; and inferences that its insularity is due to early lineage divergence and historical isolation. The northern extent of C. maculata sampled, as defined by chloroplast and nuclear genomes predominantly of C. maculata character, was the location of Kiwarrak, south of the Manning River near Taree in New South Wales. Trees from a recognised intergrade zone at the Yarratt locality, around 26 km north of Kiwarrak, also possessed a uniquely C. maculata chloroplast haplotype, but their nuclear genomes were predominantly of northern taxa ancestry. Range expansion of northern taxa leading to southerly gene movement into populations formerly C. maculata, would account for this apparent instance of chloroplast capture. Two subpopulations were identified in C. maculata, a northern population of which the Ourimbah locality was the most southerly studied, and a southern population of which Wingello was the most northerly locality studied. Diminished levels of northern taxa ancestry, i.e. C. citriodora or C. henryi, in individuals from the southern, relative to the northern subpopulation of C. maculata, suggested that secondary contact with northern taxa contributes to its substructure.
Access options
Buy single article
Instant access to the full article PDF.
USD 39.95
Price excludes VAT (USA)
Tax calculation will be finalised during checkout.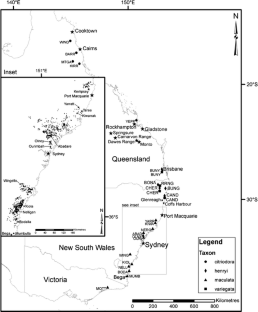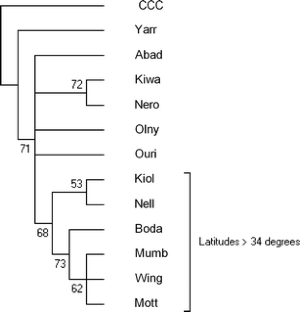 References
Adams WT, Burczyk J (2000) Magnitude and implications of gene flow in gene conservation reserves. In: Young A, Boshier D, Boyle T (eds) Forest conservation genetics: principles and practice. CABI, Wallingford, pp 215–223

Allendorf FW, Luikart G (2007) Units of conservation. In: Conservation and the genetics of populations. Blackwell, Malden, p 661

Anonymous (2011) Pittwater spotted gum forest; a vegetation community at risk

Asante K, Brophy J, Doran J, Goldsack R, Hibbert D, Larmour J (2001) A comparative study of the seedling leaf oils of the spotted gums: species of the Corymbia (Myrtaceae), section Politaria. Aust J Bot 49:55–56

Barbour RC, Crawford AC, Henson M, Lee DJ, Shepherd M, Potts BM (2008) The risk of pollen-mediated gene flow from exotic Corymbia plantations into native Corymbia populations in Australia. For Ecol Manag 256:1–19

Butcher PA, McDonald MW, Bell JC (2009) Congruence between environmental parameters, morphology and genetic structure in Australia's most widely distributed eucalypt, Eucalyptus camaldulensis. Tree Genet Genomes 5(1):189–210

Byrne M, Stone L, Millar MA (2011) Assessing genetic risk in revegetation. J Appl Ecol. doi:10.1111/j.1365-2664.2011.02045.x

Dieringer D, Schlotterer C (2003) Microsatellite analyser (MSA): a platform independent analysis tool for large microsatellite data sets. Mol Ecol Notes 3:167–169

Eby P, Law B (2008) Ranking the feeding habitat of Grey-headed flying foxes for conservation management. Department of Environment, Water, Heritage and the Arts. http://www.environment.gov.au/about/publications/index.html. Accessed 14 Sept 2009

Evanno G, Regnaut S, Goudet J (2005) Detecting the number of clusters of individuals using the software Structure: a simulation study. Mol Ecol 14:2611–2620

Freeman JS, Jackson HD, Steane DA, McKinnon GE, Dutkowski G, Potts BM, Vaillancourt RE (2001) Chloroplast DNA phylogeography of Eucalyptus globulus. Aust J Bot 49:585–596

Goldingay RL (2009) Characteristics of tree hollows used by Australian birds and bats. Wildl Res 36(5):394–409. doi:10.1071/wr08172

Hill KD, Johnson LAS (1995) Systematic studies in the eucalypts 7. A revision of the bloodwoods, genus Corymbia (Myrtaceae). Telopea 6(2–3):185–504

Jackson HD, Steane DA, Potts BM, Vaillancourt RE (1999) Chloroplast DNA evidence for reticulate evolution in Eucalyptus (Myrtaceae). Mol Ecol 8:739–751

Jones M, Stokoe R, Cross M, Scott L, Maguire T, Shepherd M (2001) Isolation of microsatellite loci from spotted gum (Corymbia variegata), and cross-species amplification in Corymbia and Eucalyptus. Mol Ecol Notes 1:276–278

Keith DA (2006) From ocean shores to desert dunes: the vegetation of New South Wales and the ACT. Department of Environment and Conservation NSW Hurtsville

King R (2004) Spatial structure and population genetic variation in a Eucalypt species complex. PhD Thesis, Griffith University, Brisbane

Ladiges PY (1997) Phylogenetic history and classification of eucalypts. In: Williams JE, Woinarski JCZ (eds) Eucalypt ecology: individuals to ecosystems. Cambridge University Press, Cambridge, pp 16–29

Lee DJ (2007) Achievements in forest tree genetic improvement in Australia and New Zealand 2: Development of Corymbia species and hybrids for plantations in eastern Australia. Australian Forestry 70(1):11–17

McDonald MW, Bean AR (2000) A new combination in Corymbia section Politaria: C. citriodora var. variegata (Myrtaceae). Austrobaileya 5:735–736

McDonald MW, Butcher PA, Bell JC, Larmour JS (2000) Intra- and interspecific allozyme variation in eucalypts from the spotted gum group, Corymbia, section Politaria (Myrtaceae). Aust J Sys Bot 13(4):491–507

McDonald MW, Butcher PA, Larmour JS, Bell JC (2003) Intra- and interspecific allozyme variation in eucalypts from the spotted gum group, Corymbia, section 'Politaria' (Myrtaceae) (vol 13, pg 491, 2000)—correction. Aust J Sys Bot 16(5):643-U617

Millar CI, Marshall KA (1991) Allozyme variation of Port Orford-cedar (Chamaecyparis lawsoniana): implications for genetic conservation. For Sci 27:1060–1077

Nichols JD, Smith RGB, Grant J, Glencross K (2010) Subtropical eucalypt plantations in eastern Australia. Australian For J 73:53–62

Ochieng JW (2009) Phylogenetic relationships among eucalypt genera and genetic structure within a spotted gum species complex. PhD, Southern Cross University, Lismore

Ochieng J, Shepherd M, Baverstock P, Nikles G, Lee DJ, Henry RJ (2008) Genetic variation within two sympatric spotted gum eucalypts exceeds between taxa variation. Sil Genet 57:249–256

Ochieng J, Shepherd M, Baverstock P, Nikles G, Lee DJ, Henry RJ (2010) Two sympatric spotted gum species are molecularly homogeneous. Conserv Genet 11:45–56. doi:10.1007/s10592-009-0001-3

Parra-O C, Bayly MJ, Drinnan A, Udovicic F, Ladiges P (2009) Phylogeny, major clades and infrageneric classification of Corymbia (Myrtaceae), based on nuclear ribosomal DNA and morphology. Aust J Sys Bot 22(5):384–399. doi:10.1071/sb09028

Peakall R, Smouse PE (2006) GENALEX 6: genetic analysis in Excel. Population genetic software for teaching and research. Mol Ecol Notes 6:288–295

Potts BM, Wiltshire RJE (1997) Eucalypt genetics and genecology. In: Williams J, Woinarski J (eds) Eucalypt ecology: individuals to ecosystems, vol 1, 1st edn. Cambridge University Press, Cambridge, pp 56–91

Potts BM, Barbour RC, Hingston AB, Vaillancourt RE (2003) Genetic pollution of native eucalypt gene pools—identifying the risks. Aust J Bot 51(3):1–25

Pritchard JK, Stephens M, Donnelly P (2000) Inference of population structure using multilocus genotype data. Genetics 155:945–959

Queensland Herbarium (2011) Regional Ecosystem Description Database (REDD). Version 6.0b—January 2011. Department of Environment and Resource Management: Brisbane. http://www.derm.qld.gov.au/wildlife-ecosystems/biodiversity/regional_ecosystems/how_to_download_redd.html

Shepherd M, Kasem S, Lee D, Henry R (2006) Construction of microsatellite linkage maps for Corymbia. Sil Genet 55(4–5):228–238

Shepherd M, Kasam S, Ablett G, Ochieng JW, Crawford A (2008) Genetic structuring of the spotted gum complex (Genus Corymbia Section Politaria). Aust J Sys Bot 21:15–25

Shepherd M, Sexton TR, Thomas D, Henson M, Henry RJ (2010) Geographical and historical determinants of microsatellite variation in Eucalyptus pilularis. Can J For Res 40(6):1051–1063

Steane DA, Conod N, Jones RC, Vaillancourt RE, Potts BM (2006) A comparative analysis of population structure of a forest tree, Eucalyptus globulus (Myrtaceae), using microsatellite markers and quantitative traits. Tree Genet Genomes 2:30–38

Strauss SH, Bousquet J, Hipkins VD, Hong YP (1992) Biochemical and molecular genetic markers in biosystematic studies of forest trees. New For 5:125–158

Takezaki N, Nei M (2008) Empirical tests of the reliability of phylogenetic trees constructed with microsatellite DNA. Genetics 178:385–392

Tamura K, Dudley J, Nei M, Kumar S (2007) MEGA4: Molecular Evolutionary Genetics Analysis (MEGA) software version 4.0. Mol Biol Evol 24:1596–1599

White TL, Adams WT, Neale DB (2007) Gene conservation. In: Forest genetics. CABI, Cambridge, pp 259–283
Acknowledgements
This study was supported by an ARC grant "Eucalypt gene pool management" LP0455522 awarded to B. Potts and R. Vaillancourt. The authors are grateful for the assistance and permission of Forests NSW, Queensland Department of Employment, Economic Development and Innovation and Forestry Plantations Queensland Pty. Ltd. for access to germplasm used in this study. We thank G. Heagney, D. Thomas, C. Moran, D. Kleinig, J. Ochieng, M Abasolo and D.G. Nikles for collections; G. Ablett for assistance in the laboratory and D.G. Nikles for valuable comments on the manuscript. G. Luker prepared Fig. 1.
Electronic supplementary material
Below is the link to the electronic supplementary material.
About this article
Cite this article
Shepherd, M., Henson, M. & Lee, D.J. Revisiting genetic structuring in spotted gums (genus Corymbia section Maculatae) focusing on C. maculata, an early diverged, insular lineage. Tree Genetics & Genomes 8, 137–147 (2012). https://doi.org/10.1007/s11295-011-0428-9
Received:

Revised:

Accepted:

Published:

Issue Date:

DOI: https://doi.org/10.1007/s11295-011-0428-9
Keywords
Species delineation

Geographic structure

Microsatellite markers

Eucalyptus