Abstract
The genetic structure of sweet chestnut (Castanea sativa Mill.) across Europe was assessed using 73 inter-simple sequence repeat markers to screen 1,768 individuals from 68 stands distributed across 29 sites in five European countries (Italy, France, Spain, Greece, and UK). At each site, trees were sampled from three distinct management types (domestication levels): naturalized stands, managed coppice, and grafted fruit orchards. In more than a third of the orchards, nonlocal genetic material (grafted clones) were evident, showing (as predicted) large differences from the other two domestication levels for most of the within-population genetic diversity parameters estimated. Randomly generated linkage disequilibrium analysis revealed weak though significant differences in two-locus allelic correlations between naturalized stands and coppice, suggesting that long-term management techniques may influence the genetic makeup of the populations. Multivariate analysis revealed the existence of five distinct gene pools across the study area; three were located in Greece, one on the northwestern coast of the Iberian peninsula and a large gene pool covering the rest of the Mediterranean basin. The implications of the results are discussed in relation to developing conservation strategies for chestnut genetic resources in Europe.
Access options
Buy single article
Instant access to the full article PDF.
USD 39.95
Price includes VAT (USA)
Tax calculation will be finalised during checkout.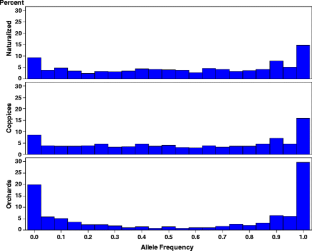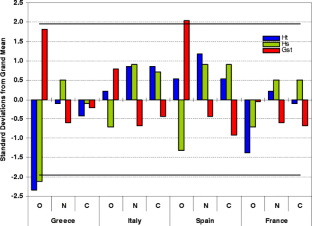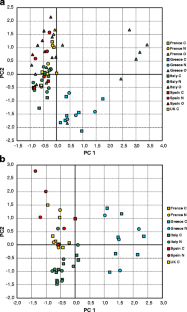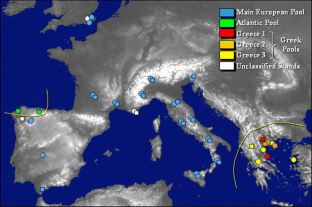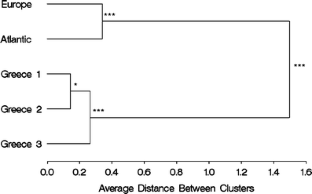 References
Amel SH, Mokhatar T, Salwa Z, Jihene H, Messaoud M, Abdelmajid M (2004) Inter-simple sequence repeat fingerprints to assess the genetic diversity in Tunisian fig (Ficus carica L.) germplasm. Genet Resour Crop Evol 51:269–275

Bernet GP, Mestre PF, Pina JA, Asins MJ (2004) Molecular discrimination of lemon cultivars. Hort Sci 39:165–169

Blair MW, Panaud O, McCouch SR (1999) Inter-simple sequence repeat (ISSR) amplification for analysis of microsatellite motif frequency and fingerprinting in rice (Oryza sativa L.). Theor Appl Genet 98:780–792

Botta R, Marinoni D, Beccaro G, Akkak A, Bounus G (2001) Development of DNA typing technique for the genetic certification of chestnut cultivars. For Snow Landsc Res 76:425–428

Casasoli M, Mattioni C, Cherubini M, Villani F (2001) A genetic linkage map of European chestnut (Castanea sativa Mill.) based on RAPD, ISSR and isozymes markers. Theor Appl Genet 102:1190–1199

Conedera M, Krebs P, Tinner W, Pradella M, Torriani D (2004) The cultivation of Castanea sativa (Mill.) in Europe, from its origin to its diffusion on a continental scale. Veget Hist Archeobot 13:161–179

Doyle JJ, Doyle JC (1987) Isolation of plant material from fresh tissue. Focus 12:13–15

Excoffier L, Smouse PE, Quattro JM (1992) Analysis of molecular variance inferred from metric distances among DNA haplotypes: application to human mitochondrial DNA restriction data. Genetics 131:479–491

Excoffier L, Laval G, Schneider S (2005) Arlequin v. 3.0: an integrated software package for population genetics data analysis. http://cmpg.unibe.ch/software/arlequin3

Falconer DS, Mackay TFC (1986) Introduction to Quantitative genetics, 4th edn. Longman Group Ltd., Harlow, p 464

Fernandez ME, Figueiras AM, Benito C (2002) The use of ISSR and RAPD markers for detecting DNA polymorphism, genotype identification and genetic diversity among barley cultivars with known origin. Theor Appl Genet 104:845–851

Fernandez-Lopez J, Alia R (1999) Chestnut (Castanea sativa). In: Turok J, Jensen CH, Palmberg-Lerche M, Rusanes M, Russell K, de Vries S, Lipman E (eds) Noble hardwoods network. Report of the 3rd Meeting, 13–16 June, Sagadi, Estonia. International Plant Genetic Resources Institute, Rome, pp 21–27

Fineschi S (1994) Allozyme variation within and among cultivated varieties of Sweet Chestnut (Castanea sativa Mill.). Can J For Res 24:1160–1165

Fineschi S, Gillet E, Malvolti ME (1990) Genetics of sweet chestnut (Castanea sativa Mill.). Silvae Genet 39:5–6

Fineschi S, Taurchini D, Villani F, Vendramin GG (2000) Chloroplast DNA polymorphism reveals little geographical structure in Castanea sativa Mill. (Fagaceae) throughout southern European countries.Mol Ecol 9:1495–1503

Fornari B, Taurchini D, Villani F (1999) Genetic structure and diversity of two Turkish Castanea sativa Mill. Populations investigated with isozymes and RAPD polymorphisms. J Genet Breed 53:315–325

Gemas VJV, Almadanim MC, Tenreiro R, Martins A, Feveiro P (2004) Genetic diversity in olive tree (Olea europea L. subsp. europaea) cultivated in Portugal revealed by RAPD and ISSR markers. Genet Resour Crop Evol 51:501–511

Goulao L, Valdiviesso T, Santana C, Oliviera C (2001) Comparison between phenetic characterization using RAPD and ISSR markers and phenotypic data of cultivated chestnut (Castanea sativa Mill.). Genet Resour Crop Evol 48:329–338

Grossmann A, Romane F (2004) Final report EU project CASCADE EVK-2-CT-1999–00000. http://soi.cnr.it/chestnut/.

Hartl DL, Clark AG (1989) Principles of population genetics, 2nd edn. Sinauer Associates, Sunderland

Hill WG (1981) Estimation of effective population size from data on linkage disequilibrium. Genet Resour 38:208–216

Huntley B, Birks HJB (1983) An atlas of past and present pollen maps for Europe: 0–13000 years ago. Cambridge University Press, Cambridge

Hurlbert SH (1971) The non concept of species diversity: a critique and alternative parameters. Ecology 18:147–155

Krebs P, Conedera M, Prandella M, Torriani D, Felber M, Tinner W (2004) Quaternary refugia of the sweet chestnut (Castanea sativa Mill.): an extended palynological approach. Veg Hist Archaeobot 13:145–160

Laurie-Ahlberg CC, Weir BS (1979) Allozymic variation and linkage disequilibrium in some laboratory populations of Drosophila melanogaster. Genetics 92:1295–1314

Levi A, Thomas CE, Simmons AM, Thies JA (2005) Analysis based on RAPD and ISSR markers reveals closer similarities among Citrullus and Cucumis species than with Praecitrullus fistulotus (Stocks) Pangalo. Genet Resour Crop Evol 52:465–472

Lynch M, Milligan BG (1994) Analysis of population genetic structure with RAPD markers. Mol Ecol 3:91–99

Mattioni C, Casasoli M, Gonzalez M, Ipinza R, Villani F (2002) Comparison of ISSR and RAPD markers to characterize three Chilean Nothofagus species. Theor Appl Genet 104:1064–1070

Miller G, Miller DD, Jaynes RA (1996) Castanea sativa. In: Janick J, Moon J (eds) Fruit breeding. Vol III. Wiley, New York, pp 99–122

Mort ME, Crawford DJ, Santos-Guerra A, Francisco-Ortega J, Esselman EJ, Wolfe AD (2003) Relationships among the Macronesian members of Tolpis (Asteraceae: Lactuceae) based upon analyses of the inter simple sequence repeats (ISSR) markers. Taxon 3:511–518

Nei M (1973) Analysis of gene diversity in subdivided populations. Proc Natl Acad Sci 70:3321–3323

Nei M (1978) Estimation of average heterozygosity and genetic distance from a small number of individuals. Genetics 89:583–590

Petit RJ, El-Mousadik A, Pons O (1998) Identifying populations for conservation on the basis of genetic markers. Cons Biol 12:844–855

Pigliucci M, Benedettelli S, Villani F (1990) Spatial patterns of genetic variability in Italian chestnut (Castanea sativa). Can J Bot 68:1962–1967

Pitte JR (1986) Terres de castanide, homme et paysage du chaignier de l'antiquité à nos jours. Librairie a Fayard, Paris

Potter D, Gao F, Aiello G, Leslie C, MacGranaham G (2002) Inter-simple sequence repeat markers for fingerprinting and determining genetic relationships of walnut (Juglans regia) cultivars. J Hort Sci 127:75–81

SAS Institute Inc. (1999) SAS v.8.2 user's guide. SAS Institute, Cary

Schader JA, Graves WR (2004) Systematics of Alnus maritima (Seasider alder) resolved by ISSR polymorphisms and morphological characters. J Am Soc Hort Sci 129:231–236

Shannon CE, Weaver W (1949) The mathematical theory of communication. University of Illinois Press, Urbana

Slatkin M, Barton NH (1989) A comparison of three indirect methods for estimating average levels of gene flow. Evolution 43:1349–1368

Vijayan K, Srivastava PP, Awasthi AK (2004) Analysis of phylogenetic relationship among five mulberry (Morus) species using molecular markers. Genome 47:439–448

Villani F, Pigliucci M, Cherubini M (1994) Evolution of Castanea sativa Mill. In Turkey and Europe. Genet Res Cambridge 63:109–116

Villani F, Sansotta A, Cherubini M, Cesaroni D, Sbordoni V (1999) Genetic structure of natural populations of Castanea sativa in Turkey: evidence of a hybrid zone. J Evol Biol 12:233–244

Waples RS (1990) Conservation genetics of pacific salmon. III. Estimating effective population size. J Hered 81:277–289

Weir BS (1996) Genetic data analysis II. Methods for discrete population genetic data, 2nd edn. Sinauer Associates, Inc, Sunderland, p 431

Yeh FC, Yang RC, Boyle TBJ, Yeh ZH, Mao JX (1997) POPGENE version 1.31: Microsoft window-based freeware for population genetic analysis. Quick user guide. http://www.ualberta.ca/~fyeh/

Zietkiewicz E, Rafalski A, Labuda D (1994) Genome fingerprinting by inter simple sequence repeat (SSR)-anchored polymerase chain-reaction amplification. Genome 20:176–183

Zohary D, Hopf M (1988) Domestication of plants in the world. Claredon, Oxford
Acknowledgements
The authors would like to thank all individuals who provide chestnut samples: F. Romane and A. Grossman—National Scientific Research Center Montpellier (France); P. Aravanoupolos, Aristotele University—Thessaloniki (Greece); J. Fernandez-Lopez—CIF Lourizan (Spain); K. Russell—East Malling Research (England); T. Barreneche and C. Robin—Institut National de la Recherche Agronomique Bordeaux (France). Special thanks to Gösta Eriksson (University of Uppsala, Sweden) for critical reading of an earlier version of the manuscript and to Karen Russell for critical comments and English revising of the manuscript. This research was supported by the European Union project: "Securing gene conservation, adaptive and breeding potential of a model multipurpose tree species (Castanea sativa) in a changing environment (CASCADE)" (EVK2-CT-1999-00006) and by the Cooperation Italy–USA; Scienza e Tecnologia dei Cambiamenti Climatici (Italia–USA).
Additional information
Communicated by A. Kremer
About this article
Cite this article
Mattioni, C., Cherubini, M., Micheli, E. et al. Role of domestication in shaping Castanea sativa genetic variation in Europe. Tree Genetics & Genomes 4, 563–574 (2008). https://doi.org/10.1007/s11295-008-0132-6
Received:

Revised:

Accepted:

Published:

Issue Date:
Keywords
Castanea sativa

Genetic variation

Management type

Linkage disequilibrium

Gene pools

Cluster analysis