Abstract
This paper investigates the relationship between carbon dioxide emissions and gross domestic product in the Middle East and North Africa region using World Bank data covering the period 1980 to 2010 on the eve of the Arab Spring. Unlike extant studies using parametric models, the results provide evidence against the postulated inverted-U shaped relationship between pollution and the level of economic development. Using a non-parametric model, new evidence is found against the existence of a carbon Environmental Kuznets Curve in contrast to previous studies on the region. The paper provides a cautionary note against the use of parametric models to draw policy implications about the trade-off (or lack thereof) between environmental quality and the level of economic development.
This is a preview of subscription content, log in to check access.
Access options
Buy single article
Instant access to the full article PDF.
US$ 39.95
Price includes VAT for USA
Subscribe to journal
Immediate online access to all issues from 2019. Subscription will auto renew annually.
US$ 99
This is the net price. Taxes to be calculated in checkout.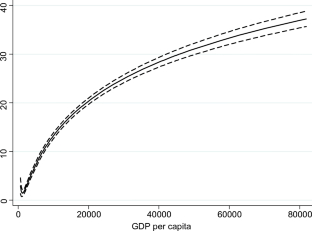 Notes
1.

More recently, Ogundipe et al. (2014) used income inequality to explain the EKC relationship in Africa.

2.

It is worth mentioning that the data were restricted to the 1980–2010 period since these data constituted the most complete and balanced panel for the MENA countries. The data are also important because the evidence drew from the period ending at the eve of Arab Spring.
References
Al-Mulali, U., Saboori, B., & Ozturk, I. (2015). Investigating the environmental Kuznets curve hypothesis in Vietnam. Energy Policy, 76, 123–131.

Apergis, N., & Payne, J. E. (2009). CO2 emissions, energy usage, and output in Central America. Energy Policy, 37, 3282–3286.

Arouri, M. E. H., Ben Youssef, A., M'henni, H., & Rault, C. (2012). Energy consumption, economic growth and CO2 emissions in Middle East and north African countries. Energy Policy, 45, 342–349.

Azomahou, T., Laisney, F., & Van, P. N. (2006). Economic development and CO2 emissions: A nonparametric panel approach. Journal of Public Economics, 90, 1347–1363.

Bertinelli, L., & Strobl, E. (2005). The environmental Kuznets curve semi-parametrically revisited. Economics Letters, 88, 350–357.

Coondoo, D., & Dinda, S. (2002). Causality between income and emission: A country group-specific econometric analysis. Ecological Economics, 40, 351–367.

Dasgupta, S., Laplante, B., Wang, H., & Wheeler, D. (2002). Confronting the environmental Kuznets curve. Journal of Economic Perspectives, 16, 147–168.

Grossman, G.M & A.B. Krueger (1991). Environmental impacts of a North American free trade agreement. NBER Working Papers 3914, (on-line) http://www.nber.org/papers/w3914.pdf. Accessed 17 April 2017.

Grossman, G. M., & Krueger, A. B. (1995). Economic growth and the environment. Quarterly Journal of Economics, 110, 353–377.

Kijima, M., Nishide, K., & Ohyama, A. (2010). Economic models for the environmental Kuznets curve: A survey. Journal of Economic Dynamics & Control, 34, 1187–1201.

Kim, K. H. (2013). Inference of the environmental Kuznets curve. Applied Economics Letters, 20, 119–122.

Kuznets, S. (1955). Economic growth and income inequality. American Economic Review, 45, 1–28.

Millimet, D. L., List, J. A., & Stengos, T. (2003). The environmental Kuznets curve: Real Progress or Misspecified models? Review of Economics and Statistics, 85, 1038–1047.

Ogundipe, A. A., Alege, P. O., & Ogundipe, O. M. (2014). Income heterogeneity and environmental Kuznets curve in Africa. Journal of Sustainable Development, 7, 1–16.

Pao, H.-T., & Tsai, C.-M. (2010). CO2 emissions, energy consumption and economic growth in BRIC countries. Energy Policy, 38, 7850–7860.

Pasten, R., & Figueroa, E. (2012). The environmental Kuznets curve: A survey of the theoretical literature. International Review of Environmental and Resource Economics, 6, 195–224.

Roy, N., & van Kooten, C. G. (2004). Another look at the income elasticity of non-point source air pollutants: A semiparametric approach. Economics Letters, 85, 17–22.

Royston, P., & Altman, D. G. (1994). Regression using fractional polynomials of continuous covariates: Parsimonious parametric modelling (with discussion). Applied Statistics, 43, 429–467.

Sauerbrei, W., & Royston, P. (1999). Building multivariable prognostic and diagnostic models: Transformation of the predictors by using fractional polynomials. Journal of the Royal Statistical Society, Series A, 162, 71–94.

Shafik, N. (1994). Economic development and the environmental quality: An econometric analysis. Oxford Economic Papers, 46, 757–773.

Stern, D. I. (2004). The rise and fall of the environmental Kuznets curve. World Development, 32, 1419–1439.

Stern, D. I., Common, M. S., & Barbier, E. B. (1996). Economic growth and environmental degradation: The environmental Kuznets. World Development, 24, 1151–1160.

World Bank (2017). World Development Indicators. Available at: https://datacatalog.worldbank.org/dataset/world-development-indicators, last accessed May 19, 2017.

Wang, Y. C. (2013). Functional sensitivity of testing the environmental Kuznets curve hypothesis. Resource and Energy Economics, 35, 451–466.

Zanin, L., & Marra, G. (2012). Assessing the functional relationship between CO2 emissions and economic development using an additive mixed model approach. Economic Modelling, 29, 1328–1337.
Additional information
Publisher's Note
Springer Nature remains neutral with regard to jurisdictional claims in published maps and institutional affiliations.
About this article
Cite this article
Fakih, A., Marrouch, W. Environmental Kuznets Curve, a Mirage? A Non-parametric Analysis for MENA Countries. Int Adv Econ Res 25, 113–119 (2019). https://doi.org/10.1007/s11294-019-09724-9
Keywords
Carbon emissions

Environmental Kuznets curve

Non-parametric regression
JEL Classification