Abstract
This paper examines the relationship between casino gambling and bankruptcy rates in U.S. counties using a panel of U.S. county-level data from 1990 through 2005. We contribute to the literature in several ways, perhaps most notably by examining the possibility that the effect of a casino on bankruptcy may differ over the casino's lifespan. Results confirm this possibility, indicating that the impact of casinos on bankruptcy follows a "U-shaped" curve over the life of the casino. More specifically, regression analysis indicates the existence of a casino in a county increases the bankruptcy rate by more than 9% in the first year of operation. The percentage of additional bankruptcies then decreases through the third year after the casino opens. Bankruptcy rates in casino counties then slightly fall below that of non-casino counties during the fourth through seventh years after opening, increasing once again in the eighth year and thereafter. This cycle corresponds closely to the 6 year statute of limitations period applicable to Chapter 7 bankruptcies.
Access options
Buy single article
Instant access to the full article PDF.
USD 39.95
Price excludes VAT (USA)
Tax calculation will be finalised during checkout.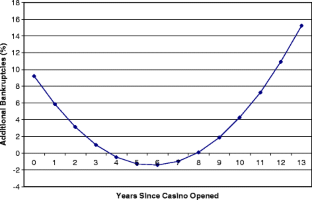 Notes
Class III gambling, which includes slot machines and table games traditionally associated with casinos, requires a Tribe to compact with the state. Class II gaming, which excludes slot machines and banked card games, does not require a compact. See generally 25 U.S.C. § 2703.

States without commercial or Class III tribal casinos are Alabama, Alaska, Arkansas, Georgia, Hawaii, Kentucky, Maine, Maryland, Massachusetts, Nebraska, New Hampshire, Ohio, Pennsylvania, South Carolina, Tennessee, Utah, Vermont, Virginia, and Wyoming.

Adjusted gross revenues refers to net losses of gamblers and does not include other non-gambling related casino revenues.

See Morse and Goss (Chapter 5, 2007) for a more detailed discussion of social costs and casino gambling.

In this paper we use the term "problem gamblers." However, included in the set of all problem gamblers are "pathological gamblers." Loosely speaking, pathological gambling is a more extreme form of problem gambling.

See Sullivan et al. (2000), who report that job-related reasons were reported by from one-third to a majority of respondents as a cause of bankruptcy while medical problems were important in one fifth of sampled respondents, which was third behind job loss and family problems. As these authors point out, "debtors may offer the most socially acceptable versions of their reasons…" (page 10). Thus, to the extent that a stigma attaches to behaviors that could produce bankruptcy, they may well be underreported.

An additional difference between our study and BSW is that we analyze only bankruptcy rates in which the casino is located while BSW included counties within a 50-mile radius of a casino. Our more limited focus, in this sense, may be viewed as providing a more conservative measure of the bankruptcy impact of casinos since it does not include bankruptcies generated by casinos on residents of adjacent counties.

See, e.g., BFP v. Resolution Trust Corp., 511 U.S. 531, 569 (1994); Kokoszka v. Belford, 417 U.S. 642, 645-46 (1974); Local Loan Co. v. Hunt, 292 U.S. 234, 244 (1934). The effects of changes in bankruptcy laws in the Bankruptcy Abuse Prevention and Consumer Protection Act of 2005, Pub. L. 109-8, 119 Stat. 23 (April 20, 2005), effective October 17, 2005, are not addressed in this discussion.

See 11 U.S.C. 727(a)(8). Bankruptcy reform legislation in 2005 raised this period to 8 years effective October 17, 2005.

See 11 U.S.C. § 109(e). The statutory debt limits are subject to adjustment for inflation. See 11 U.S.C. § 104. For cases commenced after April 1, 2001, eligibility is limited to individuals with regular income who owe less than $290,525 in applicable unsecured debt, and $871,550 of applicable secured debt. See Alan N. Resnick, Bankruptcy Law Manual § 10.4, p. 1085-86 (5th Ed. 2002).

See Cohen, supra note 10, at 58.

Other more detailed chapters also exist in the Bankruptcy Code to address special types of debtors. Chapter 9 supplies special rules for municipalities (See generally 11 U.S.C. §§ 901 ff) and Chapter 12 provides special procedures for family farmers with regular income (See generally 11 U.S.C. §§ 1201 ff).

A plot is not shown for brevity but is available from the authors upon request.

We also tested a linear specification of this model but statistical tests indicate that the quadratic specification is more appropriate.

In a few cases when actual data were not available, we assumed that a tribal casino opened in the same year as the compact date associated with the operating tribe.

Per capita income is not yet available for 2005. Therefore we predicted it for 2005 using data from 2004 and the national growth rate in per capita income.

See Sullivan et al. (2000) who provide evidence that bankruptcy filings are affected by the age distribution of the population as well as the proportion of African–Americans in the population.

Coefficient estimates on the time-fixed effects are omitted for brevity and are all statistically significant and reflect the larger trend toward higher bankruptcy rates.
References
American Gaming Association. (2004). State of the States: The AGA Survey of Casino Entertainment.

Barron, J. M., Staten, M. E., & Wilshusen, S. M. (2002). The impact of casino gambling on personal bankruptcy filing rates. Contemporary Economic Policy, 20, 440–55.

Grinols, E. L., & Mustard, D. B. (2006). Casinos, Crimes and Community Costs. The Review of Economics and Statistics, 88(1), 28–45.

Morse, E. M., & Goss, E. P. (2007). Governing fortune: Casinos in America. Ann Arbor: University of Michigan Press.

National Opinion Research Center. (1999). "Overview of national survey and community data base research on gambling behavior," University of Chicago. National Gambling Impact Study Commission.

Rivlin, G. (2004). The tug of the newfangled slot machines. New York Times Magazine. May 9.

SMR Research. (2001). The new bankruptcy epidemic: Forecasts, causes, and risk control. June.

Sullivan, T. A., Warren, E., & Westbrook, J. L. (2000). The fragile middle class. Yale University Press.

Zywicki, T. A. (2005). Institutions, incentives, and consumer bankruptcy reform. George Mason University School of Law Working Paper Series, No. 21.
About this article
Cite this article
Goss, E., Morse, E.A. & Deskins, J. Have Casinos Contributed to Rising Bankruptcy Rates?. Int Adv Econ Res 15, 456–469 (2009). https://doi.org/10.1007/s11294-009-9234-7
Received:

Published:

Issue Date:

DOI: https://doi.org/10.1007/s11294-009-9234-7
Keywords
JEL