Abstract
Objectives
Investigate a group drumming intervention in an incarcerated, halfway house population to evaluate intervention feasibility, phenomenology of participation, and potential benefits for community reintegration.
Methods
Twenty-eight participants were randomized to either treatment as usual or a drum group held weekly for 8 weeks. Halfway house retention rates were compared. Interviews and a focus group were conducted, coded, and thematically analyzed.
Results
Retention rate was significantly higher in the drum group than in the control group (d=1.0, p<0.05). Qualitative analysis elicited that group drumming (1) functions therapeutically as a method of coping with stress, (2) promotes connection through experiencing communion and building relationship amidst social isolation, and (3) provides an environment for personal growth, particularly toward re-humanization and self-empowerment.
Conclusions
These findings suggest significant therapeutic potential of group drumming in social, emotional, and self-development domains, with quantifiable impact on community reintegration, suggesting effective interventions toward rehabilitation and decarceration.
Access options
Buy single article
Instant access to the full article PDF.
USD 39.95
Price excludes VAT (USA)
Tax calculation will be finalised during checkout.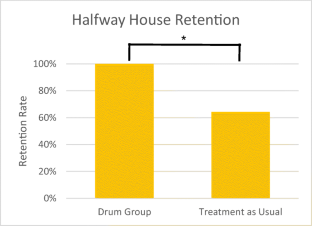 References
Adams, K. (1992). Adjusting to prison life. Crime and justice, 16, 275–359.

Adler, J. M. (2012). Living into the story: agency and coherence in a longitudinal study of narrative identity development and mental health over the course of psychotherapy. Journal of personality and social psychology, 102(2), 367.

Alexander, M. (2012). The new Jim Crow: mass incarceration in the age of colorblindness. The New Press.

Andrews, D. A., & Bonta, J. (2010). The psychology of criminal conduct: Routledge.

Arhine, A. (2009). Speech surrogates of Africa: a study of the Fante Mmensuon. Legon Journal of the Humanities, 20, 105–122.

Ascenso, S., Perkins, R., Atkins, L., Fancourt, D., & Williamon, A. (2018). Promoting well-being through group drumming with mental health service users and their carers. International journal of qualitative studies on health and well-being, 13(1), 1484219.

Baerger, D. R., & McAdams, D. P. (1999). Life story coherence and its relation to psychological well-being. Narrative Inquiry, 9(1), 69–96.

Bales, W. D., & Mears, D. P. (2008). Inmate social ties and the transition to society: does visitation reduce recidivism? Journal of research in crime and delinquency, 45(3), 287–321.

Behrens, G. A., & Green, S. B. (1993). The ability to identify emotional content of solo improvisations performed vocally and on three different instruments. Psychology of Music, 21(1), 20–33.

Bensimon, M., Amir, D., & Wolf, Y. (2008). Drumming through trauma: music therapy with post-traumatic soldiers. The Arts in Psychotherapy, 35(1), 34–48.

Bittman, B., Dickson, L., & Coddington, K. (2009). Creative musical expression as a catalyst for quality-of-life improvement in inner-city adolescents placed in a court-referred residential treatment program. Advances in mind-body medicine, 24(1), 8–19.

Blackett, P. S., & Payne, H. L. (2005). Health rhythms: a preliminary inquiry into group-drumming as experienced by participants on a structured day services programme for substance-misusers. Drugs: education, prevention and policy, 12(6), 477–491.

Bodner, E., & Gilboa, A. (2006). Emotional communicability in music therapy: different instruments for different emotions? Nordic Journal of Music Therapy, 15(1), 3–16.

Brewer, R. M., & Heitzeg, N. A. (2008). The racialization of crime and punishment: criminal justice, color-blind racism, and the political economy of the prison industrial complex. American Behavioral Scientist, 51(5), 625–644.

Burt, J. W. (1995). Distant thunder: drumming with Vietnam veterans. Music Therapy Perspectives, 13(2), 110–112.

Carlson, B. E., & Shafer, M. S. (2010). Traumatic histories and stressful life events of incarcerated parents: childhood and adult trauma histories. The Prison Journal, 90(4), 475–493.

Carrington, J. F. (1971). The talking drums of Africa. Scientific American, 225(6), 90–95.

Carter, R. M., & Huettel, S. A. (2013). A nexus model of the temporal–parietal junction. Trends in cognitive sciences, 17(7), 328–336.

Caulfield, L. S., Wilkinson, D. J., & Wilson, D. (2016). Exploring alternative terrain in the rehabilitation and treatment of offenders: findings from a prison-based music project. Journal of Offender Rehabilitation, 55(6), 396–418.

Charmaz, K. (1995). Grounded theory. In J. A. Smith, R. Harre, & L. Van Langenhove (Eds.), Rethinking methods in psychology. London: Sage.

Charmaz, K. (2000). Grounded theory: objectivist and constructivist methods. In N. K. Denzin & Y. S. Lincoln (Eds.), Handbook of qualitative research.

Chen, X.-J., Hannibal, N., & Gold, C. (2016). Randomized trial of group music therapy with Chinese prisoners: impact on anxiety, depression, and self-esteem. International Journal of Offender Therapy and Comparative Criminology, 60(9), 1064–1081.

Cochran, J. C. (2014). Breaches in the wall: imprisonment, social support, and recidivism. Journal of research in crime and delinquency, 51(2), 200–229.

Crewe, B., Warr, J., Bennett, P., & Smith, A. (2014). The emotional geography of prison life. Theoretical criminology, 18(1), 56–74.

Currie, M. (2004). Doing anger differently: a group percussion therapy for angry adolescent boys. International journal of group psychotherapy, 54(3), 275–294.

Daveson, B. A., & Edwards, J. (2001). A descriptive study exploring the role of music therapy in prisons. The Arts in Psychotherapy.

Davis, A. Y. (2011). Are prisons obsolete? Seven Stories Press.

De Bellis, M. D., Keshavan, M. S., Frustaci, K., Shifflett, H., Iyengar, S., Beers, S. R., & Hall, J. (2002). Superior temporal gyrus volumes in maltreated children and adolescents with PTSD. Biological psychiatry, 51(7), 544–552.

Decety, J., & Lamm, C. (2007). The role of the right temporoparietal junction in social interaction: how low-level computational processes contribute to meta-cognition. The Neuroscientist, 13(6), 580–593.

Dierkhising, C. B., Ko, S. J., Woods-Jaeger, B., Briggs, E. C., Lee, R., & Pynoos, R. S. (2013). Trauma histories among justice-involved youth: findings from the National Child Traumatic Stress Network. European Journal of Psychotraumatology, 4(1), 20274.

Digard, L., von Sponeck, A. G., & Liebling, A. (2007). All together now: the therapeutic potential of a prison based music programme. Prison Service Journal, 170, 3.

Dutton, D. G., & Hart, S. D. (1992). Evidence for long-term, specific effects of childhood abuse and neglect on criminal behavior in men. International Journal of Offender Therapy and Comparative Criminology, 36(2), 129–137.

Edri, O., & Bensimon, M. (2019). The role of music among prisoners and prison staff: a qualitative research study. European Journal of Criminology, 16(6), 633–651.

Elbogen, E. B., Johnson, S. C., Newton, V. M., Straits-Troster, K., Vasterling, J. J., Wagner, H. R., & Beckham, J. C. (2012). Criminal justice involvement, trauma, and negative affect in Iraq and Afghanistan war era veterans. Journal of consulting and clinical psychology, 80(6), 1097.

Eluyefa, D. (2015). Empowering the disempowered: the dùndún drumming tradition in a British prison. Applied Theatre Research, 3(3), 271–283.

Faulkner, S., Wood, L., Ivery, P., & Donovan, R. (2012). It is not just music and rhythm... evaluation of a drumming-based intervention to improve the social wellbeing of alienated youth. Children Australia, 37(1), 31–39.

Fazel, S., & Danesh, J. (2002). Serious mental disorder in 23 000 prisoners: a systematic review of 62 surveys. The lancet, 359(9306), 545–550.

Fazel, S., & Seewald, K. (2012). Severe mental illness in 33 588 prisoners worldwide: systematic review and meta-regression analysis. The British journal of psychiatry, 200(5), 364–373.

Fazel, S., Bains, P., & Doll, H. (2006). Substance abuse and dependence in prisoners: a systematic review. Addiction, 101(2), 181–191.

Gilmore, R. W. (2007). Golden gulag: prisons, surplus, crisis, and opposition in globalizing California (Vol. 21). Univ of California Press.

Glaser, B. G. (1992). Basics of grounded theory analysis: emergence vs forcing: Sociology press.

Goffman, E. (1961). 1961 Asylums. New York: Doubleday.

Goffman, E. (1968). Asylums: essays on the social situation of mental patients and other inmates. AldineTransaction.

Gottschalk, M. (2006). The prison and the gallows: the politics of mass incarceration in America. Cambridge University Press.

Harer, M. D. (1995). Prison education program participation and recidivism: a test of the normalization hypothesis. Washington, DC: Federal Bureau of Prisons, Office of Research and Evaluation, 182.

Harvey, M. R. (1991). Group treatment for survivors. In M. P. Koss & M. R. Harvey (Eds.), The rape victim: clinical and community interventions (pp. 205–244). Sage Publications, Inc..

Hemsworth, K. (2016). 'Feeling the range': emotional geographies of sound in prisons. Emotion, Space and Society, 20, 90–97.

Herman, J. L. (2015). Trauma and recovery: the aftermath of violence--from domestic abuse to political terror. Hachette UK.

Hill, R. P., Cunningham, D., & Gentlemen, G. (2016). Dehumanization and restriction inside a maximum security prison: novel insights about consumer acquisition and ownership. Journal of the Association for Consumer Research, 1(2), 295–313.

Hjørnevik, K., & Waage, L. (2019). The prison as a therapeutic music scene: exploring musical identities in music therapy and everyday life in a prison setting. Punishment & Society, 21(4), 454–472.

Ho, P., Tsao, J. C., Bloch, L., & Zeltzer, L. K. (2011). The impact of group drumming on social-emotional behavior in low-income children. Evidence-Based Complementary and Alternative Medicine, 2011.

Honorato, B., Caltabiano, N., & Clough, A. R. (2016). From trauma to incarceration: exploring the trajectory in a qualitative study in male prison inmates from north Queensland, Australia. Health & justice, 4(1), 3.

Human Rights Watch. (1991). Prison conditions in the United States: Human Rights Watch.

Juslin, P. N. (1997). Perceived emotional expression in synthesized performances of a short melody: capturing the listener's judgment policy. Musicae scientiae, 1(2), 225–256.

Juslin, P. N. (2000). Cue utilization in communication of emotion in music performance: relating performance to perception. Journal of Experimental Psychology: Human perception and performance, 26(6), 1797.

Kirchhoff, S. M. (2010). Economic impacts of prison growth: DIANE Publishing.

Kokal, I., Engel, A., Kirschner, S., & Keysers, C. (2011). Synchronized drumming enhances activity in the caudate and facilitates prosocial commitment-if the rhythm comes easily. PloS one, 6(11), e27272.

Kougiali, Z., Einat, T., & Liebling, A. (2018). Rhizomatic affective spaces and the therapeutic potential of music in prison: a qualitative meta-synthesis. Qualitative Research in Psychology, 15(1), 1–28.

Krumhansl, C. L. (1996). A perceptual analysis of Mozart's Piano Sonata K. 282: segmentation, tension, and musical ideas. Music Perception: An Interdisciplinary Journal, 13(3), 401–432.

Kyprianides, A., & Easterbrook, M. J. (2020). "finding rhythms made me find my rhythm in prison": the role of a music program in promoting social engagement and psychological well-being among inmates. The Prison Journal, 100(4), 531–554.

Lahm, K. F. (2009). Educational participation and inmate misconduct. Journal of Offender Rehabilitation, 48(1), 37–52.

Liebling, A. (1993). Suicides in young prisoners: a summary. Death studies, 17(5), 381–407.

Liu, L. (2005). The Chinese Neolithic: trajectories to early states. Cambridge University Press.

Longhofer, J., & Floersch, J. (1993). African drumming and psychiatric rehabilitation. Psychosocial Rehabilitation Journal, 16(4), 3.

Manza, J., & Uggen, C. (2004). Punishment and democracy: disenfranchisement of nonincarcerated felons in the United States. Perspectives on Politics, 2(3), 491–505.

Maruna, S. (2001). Making good: how ex-convicts reform and rebuild their lives. American Psychological Association.

Maschi, T., MacMillan, T., & Viola, D. (2013). Group drumming and well-being: a promising self-care strategy for social workers. Arts & Health, 5(2), 142–151.

Mills, J., Bonner, A., & Francis, K. (2006). The development of constructivist grounded theory. International journal of qualitative methods, 5(1), 25–35.

Müller, J. L., Gänßbauer, S., Sommer, M., Döhnel, K., Weber, T., Schmidt-Wilcke, T., & Hajak, G. (2008). Gray matter changes in right superior temporal gyrus in criminal psychopaths. Evidence from voxel-based morphometry. Psychiatry Research: Neuroimaging, 163(3), 213–222.

Mumola, C. J., & Karberg, J. C. (2006). Drug use and dependence, state and federal prisoners, 2004: US Department of Justice, Office of Justice Programs, Bureau of Justice ….

Mungas, R., & Silverman, M. J. (2014). Immediate effects of group-based wellness drumming on affective states in university students. The Arts in Psychotherapy, 41(3), 287–292.

Narvaez, J. C., Magalhães, P. V., Trindade, E. K., Vieira, D. C., Kauer-Sant'Anna, M., Gama, C. S., et al. (2012). Childhood trauma, impulsivity, and executive functioning in crack cocaine users. Comprehensive Psychiatry, 53(3), 238–244.

Oluga, S. O., & Babalola, H. (2012). Drummunication: the trado-indigenous art of communicating with talking drums in Yorubaland. Global Journal of Human Social Science, Arts and Humanities, 12(11).

Orth, J. (2005). Music therapy with traumatized refugees in a clinical setting. Paper presented at the Voices: A World Forum for Music Therapy.

Orth, J., Doorschodt, L., Verburgt, J., & Drožðek, B. (2004). Sounds of trauma: an introduction to methodology in music therapy with traumatized refugees in clinical and outpatient settings.

Pager, D. (2008). Marked: race, crime, and finding work in an era of mass incarceration. University of Chicago Press.

Pennebaker, J. W., & Seagal, J. D. (1999). Forming a story: the health benefits of narrative. Journal of clinical psychology, 55(10), 1243–1254.

Perkins, R., Ascenso, S., Atkins, L., Fancourt, D., & Williamon, A. (2016). Making music for mental health: how group drumming mediates recovery. Psychology of well-being, 6(1), 11.

Price, J. M. (2015). Prison and social death. Rutgers University Press.

Richard-Lepouriel, H., Kung, A.-L., Hasler, R., Bellivier, F., Prada, P., Gard, S., et al. (2019). Impulsivity and its association with childhood trauma experiences across bipolar disorder, attention deficit hyperactivity disorder and borderline personality disorder. Journal of Affective Disorders, 244, 33–41.

Rios, V. M. (2011). Punished: policing the lives of Black and Latino boys. NYU Press.

Rojiani, R., Zhang, X., Noah, A., & Hirsch, J. (2018). Communication of emotion via drumming: dual-brain imaging with functional near-infrared spectroscopy. Social cognitive and affective neuroscience, 13(10), 1047–1057.

Sassen, G. (2012). Drums and poems: an intervention promoting empathic connection and literacy in children. Journal of Creativity in Mental Health, 7(3), 233–248.

Schenwar, M. (2014). Locked down, locked out: why prison doesn't work and how we can do better. Berrett-Koehler Publishers.

Slotoroff, C. (1994). Drumming technique for assertiveness and anger management in the short-term psychiatric setting for adult and adolescent survivors of trauma. Music Therapy Perspectives, 12(2), 111–116.

Snow, S., & D'Amico, M. (2010). The drum circle project: a qualitative study with at-risk youth in a school setting. Canadian Journal of Music Therapy, 16(1).

Stemen, D. (2017). The prison paradox: more incarceration will not make us safer. For the Record Evidence Brief Series.

Stern, T. (1957). Drum and whistle "languages": an analysis of speech surrogates. American Anthropologist, 59(3), 487–506.

Strauss, A., & Corbin, J. (1990). Basics of qualitative research. Sage publications.

Sykes, G. M. (2007). The society of captives: a study of a maximum security prison. Princeton University Press.

Thompson, H. A. (2012). The prison industrial complex: a growth industry in a shrinking economy. Paper presented at the New Labor Forum.

Tomoda, A., Sheu, Y.-S., Rabi, K., Suzuki, H., Navalta, C. P., Polcari, A., & Teicher, M. H. (2011). Exposure to parental verbal abuse is associated with increased gray matter volume in superior temporal gyrus. Neuroimage, 54, S280–S286.

Tuastad, L., & O'Grady, L. (2013). Music therapy inside and outside prison–a freedom practice? Nordic Journal of Music Therapy, 22(3), 210–232.

Van der Kolk, B. A. (1987). The role of the group in the origin and resolution of the trauma response. Psychological trauma, 153–171.

Van der Kolk, B. A. (2015). The body keeps the score: brain, mind, and body in the healing of trauma. Penguin Books.

Wacquant, L. (2009). Punishing the poor: the neoliberal government of social insecurity. Duke university Press.

Watson, D. M. (2002). Drumming and improvisation with adult male sexual offenders. Music Therapy Perspectives, 20(2), 105–111.

Weeks, R., & Widom, C. S. (1998). Self-reports of early childhood victimization among incarcerated adult male felons. Journal of interpersonal violence, 13(3), 346–361.

Winkelman, M. (2003). Complementary therapy for addiction:"drumming out drugs". American journal of public health, 93(4), 647–651.

Wolf, R. K. (2000). Embodiment and ambivalence: emotion in south Asian Muharram drumming. Yearbook for Traditional Music, 32, 81–116.

Wood, L., Ivery, P., Donovan, R., & Lambin, E. (2013). "To the beat of a different drum": improving the social and mental wellbeing of at-risk young people through drumming. Journal of Public Mental Health, 12(2), 70–79.

Wooditch, A., Tang, L. L., & Taxman, F. S. (2014). Which criminogenic need changes are most important in promoting desistance from crime and substance use? Criminal Justice and Behavior, 41(3), 276–299.

Yuen, F. (2011). "I've never been so free in all my life": healing through Aboriginal ceremonies in prison. Leisure/Loisir, 35(2), 97–113.
Additional information
Publisher's note
Springer Nature remains neutral with regard to jurisdictional claims in published maps and institutional affiliations.
About this article
Cite this article
Rojiani, R., Junn, A., Wood, M. et al. Group drumming for incarcerated men may improve community reintegration: a mixed methods pilot study. J Exp Criminol 18, 825–846 (2022). https://doi.org/10.1007/s11292-021-09460-3
Accepted:

Published:

Issue Date:

DOI: https://doi.org/10.1007/s11292-021-09460-3
Keywords
Community reintegration

Coping

Drum therapy

Emotional processing

Group drumming

Incarceration

Rehabilitation

Re-humanization

Self-empowerment

Social processing