Abstract
Objectives
Cognitive behavioral therapy (CBT) has shown promise as a tool for rehabilitating offenders in the USA and other developed nations. However, little is known about the effectiveness of CBT outside the developed world. In Central America, a region wracked by rampant violence and disorder, CBT has the potential to change the behavior of persistent offenders and improve public safety. The present study examines the results of a CBT among supervised offenders in Honduras.
Methods
Randomized control trial, where one hundred parolees were randomly assigned to either a treatment (n = 50) or control conditions (n = 50) group and tracked for 14 months.
Results
Subjects who participated in the CBT program were 69% less likely to reoffend at any compared with those assigned to the control group.
Conclusion
Despite social, economic obstacles, CBT proved to be effective in reducing recidivism among parolees in Honduras—a testament to its robustness and wide applicability.
Access options
Buy single article
Instant access to the full article PDF.
USD 39.95
Price excludes VAT (USA)
Tax calculation will be finalised during checkout.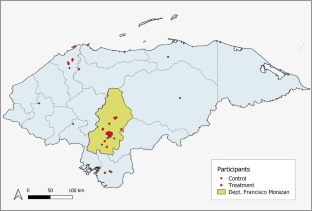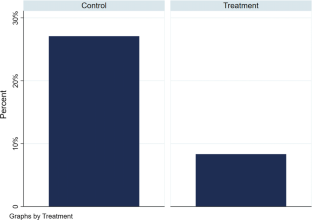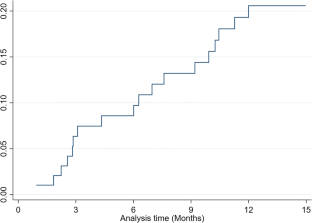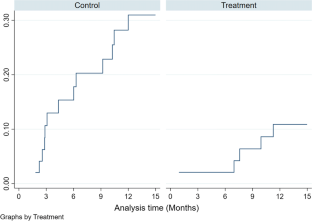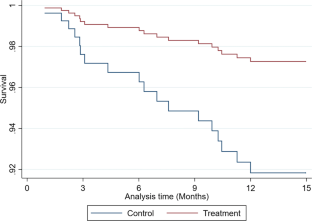 Notes
Participants who failed prior to start of the program were dropped from the survival analysis. Survival models analyze risk over time. Once a participant enters the observation time, he/she is included in the analysis until failure.
References
Alper, M., Durose, M. R., & Markman, J. (2018). 2018 update on prisoner recidivism: a 9-year follow-up period (2005–2014). US Department of Justice, Office of Justice Programs, Bureau of Justice Statistics.

Andrews, D. A., Zinger, I., Hoge, R. D., Bonta, J., Gendreau, P., & Cullen, F. T. (1990). Does correctional treatment work? A clinically relevant and psychologically informed meta-analysis. Criminology, 28(3), 369–404.

Bachelet, P. (2016). Encuesta Latinobarómetro y delincuencia: mejora la victimización del crimen pero sigue el miedo. Sin Miedos. Retrieved from: https://blogs.iadb.org/seguridad-ciudadana/es/encuesta-latinobarometro-y-delincuencia-mejora-la-victimizacion-del-crimen-pero-sigue-el-miedo/. Accessed 1 May 2020.

Beck, J. (1995). Cognitive therapy: basics and beyond. New York: Guilford Press.

Blattman, C., Jamison, J. C., & Sheridan, M. (2017). Reducing crime and violence: experimental evidence from cognitive behavioral therapy in Liberia. American Economic Review, 107(4), 1165–1206.

Box-Steffensmeier, J. M., & Jones, B. S. (2004). Event history modeling: a guide for social scientist. New York: Cambridge University Press.

Bush, J., Glick, B., & Taymans, J. (1997). Thinking for a change. Washington, DC: Department of Justice.

Dowden, C., & Andrews, D. A. (1999a). What works for female offenders: a meta-analytic review. Crime & Delinquency, 45(4), 438–452.

Dowden, C., & Andrews, D. A. (1999b). What works in young offender treatment: a meta-analysis. Forum on Corrections Research, 11, 21–24.

Egan, V., Kavanagh, B., & Blair, M. (2005). Sexual offenders against children: the influence of personality and obsessionality on cognitive distortions. Sexual Abuse: A Journal of Research and Treatment, 17(3), 223–240.

Gendreau, P. (1996). The principles of effective intervention with offenders. In A. T. Harland (Ed.), Choosing correctional interventions that work: defining the demand and evaluating the supply (pp. 117–130). Newbury Park: Sage.

Goldstein, A. P., Glick, B., & Gibbs, J. C. (1998). Aggression replacement training: a comprehensive intervention for aggressive youth. Champaign: Research Press.

Healy, W. (1915). The individual delinquent. New York: Little, Brown, and Company.

Heller, S. B., Shah, A. K., Guryan, J., Ludwig, J., Mullainathan, S., & Pollack, H. A. (2017). Thinking, fast and slow? Some field experiments to reduce crime and dropout in Chicago. The Quarterly Journal of Economics, 132(1), 1–54.

Hollin, C. R. (1999). Treatment programs for offenders: meta-analysis,"what works," and beyond. International Journal of Law and Psychiatry, 22(3–4), 361–372.

Labrador, R.C., & Renwick, D. (2018, June 26). Central America's violent Northern Triangle. Council on foreign relations. Retrieved from: https://www.cfr.org/backgrounder/central-americas-violent-northern-triangle

Landenberger, N. A., & Lipsey, M. W. (2005). The positive effects of cognitive–behavioral programs for offenders: a meta-analysis of factors associated with effective treatment. Journal of Experimental Criminology, 1(4), 451–476.

Lipsey, M. W., & Cullen, F. T. (2007). The effectiveness of correctional rehabilitation: a review of systematic reviews. Annual Review of Law and Social Science, 3, 297–320.

Lipsey, M. W., Landenberger, N. A., & Wilson, S. J. (2007). Effects of cognitive-behavioral programs for criminal offenders. Campbell Systematic Reviews, 6(1), 27.

Little, G. L., & Robinson, K. D. (1986). How to escape your prison. Memphis: Eagle Wing Books.

Medicins Sans Frontieres (2017). Forced to flee Central America's Northern Triangle: a neglected humanitarian crisis. Retrieved from: https://doctorswithoutborders.org/sites/default/files/2018-08/msf_forced-to-flee-central-americas-northern-triangle_E.pdf

Mosher, C. J., Miethe, T. D., & Hart, T. C. (2010). The mismeasure of crime. Thousand Oaks: Sage.

Pearson, F. S., Lipton, D. S., & Cleland, C. M. (1997). Rehabilitative programs in adult corrections: CDATE meta-analyses. In Annual Meeting of the American Society of Criminology, San Diego, California.

Pearson, F. S., Lipton, D. S., Cleland, C. M., & Yee, D. S. (2002). The effects of behavioral/cognitive-behavioral programs on recidivism. Crime & Delinquency, 48(3), 476–496.

Plante, T. G., Manuel, G. M., Menendez, A. V., & Marcotte, D. (1995). Coping with stress among Salvadoran immigrants. Hispanic Journal of Behavioral Sciences, 7(4), 471–479.

Ross, R. R., & Fabiano, E. A. (1985). Time to think: a cognitive model of delinquency prevention and offender rehabilitation. Johnson City: Institute of Social Sciences and Arts.

Taxman, F. S., & Smith, L. (2020). Risk-need-responsivity (RNR) classification models: still evolving. Aggression and Violent Behavior, 101459.

United Nations Development Programme (2018). Human development indices and indicators. Retrieved from: http://hdr.undp.org/sites/default/files/2018_human_development_statistical_update.pdf

United Nations High Commission for Refugees (2017). UNHCR Mexico Fact Sheet. Retrieved from: http://reporting.unhcr.org/sites/default/files/Mexico%20Fact%20Sheet%20-%20Februrary%202017.pdf

United Nations Office on Drugs and Crime (n.d.-a). Retrieved May 21, 2019, from: https://dataunodc.un.org/crime/intentional-homicide-victims

United Nations Office on Drugs and Crime (n.d.-b). Retrieved May 21, 2019, from: https://dataunodc.un.org/crime/intentional-homicide-victims-by-sex

Whitaker, D. J., Le, B., Hanson, R. K., Baker, C. K., McMahon, P. M., Ryan, G., Klein, A., & Rice, D. D. (2008). Risk factors for the perpetration of child sexual abuse: a review and meta-analysis. Child Abuse & Neglect, 32(5), 529–548.

Wilson, D. B., Bouffard, L. A., & MacKenzie, D. L. (2005). A quantitative review of structured, group-oriented, cognitive-behavioral programs for offenders. Criminal Justice and Behavior, 32(2), 172–204.

Zara, G. (2019). Cognitive-behavioral treatment to prevent offending and to rehabilitate offenders. In D. P. Farrington, L. Kazemian, & A. R. Piquero (Eds.), The Oxford handbook of developmental and life-course criminology (pp. 694–725). New York: Oxford University Press.

Zara, G., & Farrington, D. P. (2016). Criminal recidivism: explanation, prediction, and prevention. Abingdon: Routledge.
Additional information
Publisher's note
Springer Nature remains neutral with regard to jurisdictional claims in published maps and institutional affiliations.
About this article
Cite this article
Capellan, J.A., Koppel, S. & Sung, HE. The effects of cognitive behavioral therapy on recidivism among parolees in Central America: evidence from a Honduran experiment. J Exp Criminol 18, 115–128 (2022). https://doi.org/10.1007/s11292-020-09443-w
Published:

Issue Date:

DOI: https://doi.org/10.1007/s11292-020-09443-w
Keywords
Rehabilitation

Cognitive behavioral therapy

Recidivism

Central America

Honduras