Abstract
Objectives
Prosecutors' decisions to provide discovery can have vast implications for defendants. When prosecutors do not provide exculpatory information in the context of trials, they place innocent defendants at risk for wrongful convictions (Brady v. Maryland, 1963). Open-file discovery policy, in which prosecutors broadly share evidence with the defense, is the leading reform to address the withholding of exculpatory evidence. A US Supreme Court decision, however, ruled prosecutors do not have to turn over one form of exculpatory evidence (i.e., impeachment evidence) in the context of guilty pleas (U.S. v. Ruiz, 2002). The present study investigated the impact of two discovery policies (open-file (OF) and the Ruiz Supreme Court decision (SC)) on mock prosecutor behaviors and decisions.
Methods
Participants playing the role of prosecutor were randomly assigned to one of four conditions (neither OF or SC, only OF, only SC, both OF and SC) and assembled a case against a defendant. In assembling the case, participants turned over discovery to the defense and had the opportunity to withhold four potentially exculpatory items.
Results
Results revealed both discovery policies impacted mock prosecutor behavior: Participants in the OF conditions turned over significantly more discovery and significantly more exculpatory items than those not in the OF conditions. Conversely, participants in the SC conditions turned over significantly less discovery and significantly fewer exculpatory items than those not in the SC conditions, regardless of their decision to offer a plea or go to trial.
Conclusions
Our findings provide important empirical data for two prominent but nonetheless controversial, discovery policies.
Access options
Buy single article
Instant access to the full article PDF.
US$ 39.95
Tax calculation will be finalised during checkout.
Subscribe to journal
Immediate online access to all issues from 2019. Subscription will auto renew annually.
US$ 79
Tax calculation will be finalised during checkout.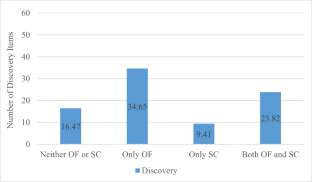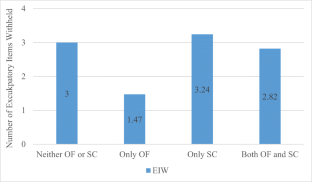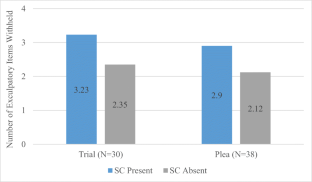 References
Alkon, C. (2014). The right to defense discovery in plea bargaining fifty years after Brady v. Maryland. New York University Review Law & Social Change, 38, 407–422.

Alvarez v. The City of Brownsville, United States Court of Appeals for the Fifth Circuit, No. 16–40772 (2018).

Bandes, S. (2006). Loyalty to one's convictions: the prosecutor and tunnel vision. Howard Law Journal, 49, 475–494.

Bantz, P. (2013). Death row inmate's exoneration in North Carolina inspired change. North Carolina lawyers weekly. Retrieved from https://nclawyersweekly.com/2013/05/03/death-row-inmates-exoneration-inspiredchange

Bazelon, E. (2012). The dark dangers of tunnel vision. Slate. Available at, http://www.slate.com/articles/news_and_politics/jurisprudence/2012/12/michael_morton _s_wrongful_conviction_why_do_police_and_prosecutors_continue.Html.

Bibas, S. (2004). Plea bargaining outside the shadow of trial. Harvard Law Review, 117, 2463–2547.

Brady v. Maryland, 373 U.S. 83 (1963).

Bureau of Justice Statistics. (2010). Felony defendants in large urban counties, 2006 - statistical tables. Washington DC: US Department of Justice.

Burke, A. (2006). Neutralizing cognitive bias: An invitation to prosecutors. New York University Journal of Law & Liberty, 2, 512–530.

Burke, A. S. (2007). Prosecutorial passion, cognitive bias, and plea bargaining. Marquette Law Review, 91, 183–211.

Cahill, S. (2002). Unites States v. Ruiz: Are plea agreements conditioned on Brady waivers unconstitutional? Golden Gate University Law Review, 32, 1–43.

Fox, B. P. (2013). An argument against open-file discovery in criminal cases. Notre Dame Law Review, 89, 425–450.

Gershman, B. (1986). Why prosecutors misbehave. Criminal Law Bulletin, 22, 131–143.

Gershman, B. (2007). Litigating Brady v. Maryland: Games prosecutors play. Case Western Reserve Law Review, 57, 531–565.

Gershowitz, A. M., & Killinger, L. R. (2011). The state (never) rests: How excessive prosecutorial caseloads harm criminal defendants. Northwestern University Law Review, 105, 261–301.

Kassin, S. M., & Wrightsman, L. (1983). The construction and validation of a juror bias scale. Journal of Research in Personality, 17, 423–442.

Leo, R. A. (2017). The criminology of wrongful conviction: A decade later. Journal of Contemporary Criminal Justice, 33, 82–106.

Lucas, J. W., Graif, C., & Lovaglia, M. J. (2006). Misconduct in the prosecution of severe crimes: Theory and experimental test. Social Psychology Quarterly, 69, 97–107.

McMunigal, K. C. (2007). Guilty pleas, Brady disclosure, and wrongful convictions. Case Western Reserve Law Review, 57, 651–670.

Morton, M. (2014). Getting life: An innocent man's 25-year journey from prison to peace. New York, NY: Simon & Schuster.

Prosser, M. (2006). Reforming criminal discovery: Why old objections must yield to new realities. Wisconsin Law Review, 541–614.

Redlich, A. D., Bibas, S., Edkins, V. A., & Madon, S. (2017). The psychology of defendant plea decision making. American Psychologist, 72(4), 339–352. https://doi.org/10.1037/a0040436.

Ridolfi, K. M., & Possley, M. (2010). Preventable error: A report on prosecutorial misconduct in California 1997–2009. Santa Clara: Veritas Initiative, Northern California Innocence Project.

Turner, J. I., & Redlich, A. D. (2016). Two models of pre-plea discovery in criminal cases: An empirical comparison. Washington & Lee Law Review, 73, 285–408.

United States v. Ruiz, 536 U.S. 622. (2002).

West, E. (2010). Court findings of prosecutorial misconduct claims in post-conviction appeals and civil suites among the first 255 DNA exoneration cases. Innocence Project report.

White, K. (2016). Confessions of an ex-prosecutor. Reason. Retrieved from https://reason.com/2016/06/23/confessions-of-an-ex-prosecutor/

Zottoli, T. M., Daftary-Kapur, T., Edkins, V. A., Redlich, A. D., King, C. M., Dervan, L. E., & Tahan, E. (in press). State of the states: advancing guilty plea research through a national survey of United States laws. Behavioral Sciences & the Law.
Additional information
Publisher's note
Springer Nature remains neutral with regard to jurisdictional claims in published maps and institutional affiliations.
Electronic supplementary material
About this article
Cite this article
Luna, S., Redlich, A.D. The decision to provide discovery: an examination of policies and guilty pleas. J Exp Criminol (2020). https://doi.org/10.1007/s11292-019-09403-z
Keywords
Legal decision-making

Discovery

Exculpatory

Guilty pleas

Open-file