Abstract
Objectives
The utility of police consolidation, and in particular police contracting of services, has received widespread attention in academic and practitioner circles. However, the bulk of empirical research centers on potential fiduciary benefits; only limited scholarship has explored the possibility that changes in police services may correspond with differences in crimes solved and offenses observed. To address this gap, we examine consolidation in police services in a historically high crime, disadvantaged urban setting (Compton, California), which began contracting with the Los Angeles County Sheriff's Department (LACSD) after the closure of Compton Police Department in 2000.
Methods
Independent samples difference in means tests are used to examine variations in crime clearance rates prior to and following the transition in Compton. Group-based trajectory analysis combined with difference-in-difference regression estimation is used to assess changes in criminal offenses while minimizing selection differences in comparison settings.
Results
With the exception of homicide, clearance rates for six Part I crimes experienced statistically significant improvements in Compton's post-contractual period. Additionally, while the vast majority of Part I offenses remained stable during the transition to LACSD policing, burglary crime rates experienced a statistically significant and sustained decline, net of controls.
Conclusions
A primary concern with police contracting centers on a lack of local police control, disconnect between local needs and actual services provided, and the potential for backlash related to a reduction in the quality of police services. Our findings from Compton suggest that contracting with a well-resourced agency experienced in police consolidation has the ability to maintain and, in some circumstances, improve the quality of law enforcement services.
Access options
Buy single article
Instant access to the full article PDF.
USD 39.95
Price excludes VAT (USA)
Tax calculation will be finalised during checkout.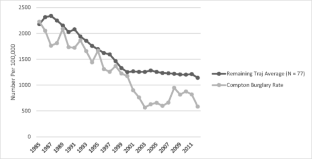 Notes
Of the 13 sites that provide contractual services to other agencies listed by the WHE, 12 are in California (Fontana, Moreno Valley, Santa Clarita, Jurupa Valley, Rancho Cucamonga, Lancaster, Palmdale, Thousand Oaks, Victorville, Norwalk, Temecula, Pompano Beach, and Compton) and one is in Minnesota (Wright County).

Fontana (CA), Jurupa Valley (CA), Moreno Valley (CA), Santa Clarita (CA), Wright County (MN), and Norwalk (CA) all provide local as well as external services, or are integrated with another police force (Temecula, CA).

All of these early-onset sites are within California and all began contracting with a partner agency in 1977 or earlier (Rancho Cucamonga, Lancaster, Palmdale, and Victorville).

Pompano Beach (FL) began contracting with Broward County Sheriff's Office in 1999. When examining Pompano Beach's crime rates relative to other urban settings in 1998 (the year immediately preceding the contractual year), the city was in the bottom quartile (lower 25%) for both property and violent crime rates.

One potential explanation for the decreased clearance rate in homicides (relative to all other Part I crimes) is the history of gang homicides in Compton (Kennedy 2009). A retrospective assessment shows that gang homicides were a considerable problem in Compton at the time when the LACSD began policing the city. Where gang homicide data exist (using LACSD data), as many as 64 of the 66 homicides in Compton (97%) were classified as gang related in 2005. Thus, it is likely that the dynamics of gang homicides in Compton were a considerable challenge to homicide clearance rates, at least early in the consolidation period. Indeed, LACSD homicide rates in Compton were never higher than 35% between 2000 and 2005, but were higher than 40% each year after 2006.

The standard likelihood ratio test is based on the following formula: 2(ll(model b) – ll(model a)), where ll is the log likelihood of a given model for comparison. This statistic is distributed chi-squared with degrees of freedom equal to the difference in the number of degrees of freedom between the two models.

Our initial start value specification was performed by using the "start" command in Stata (incorporating the intercept and end values from the initial model output into the code), which was followed by the "detail" command to visually inspect the minimization of iterations and to ensure that optimal model selection was performed. As an addendum to this step, we used the "altstart" command in Stata to randomize the start values as a further sensitivity test and the results were robust to suboptimal model selection. This is likely due to the fact that the model was quite simple (a latent growth curve model with a linear functional form). Hipp and Bauer (2006: 43) showed that the use of multiple start values is particularly important for growth mixture modeling (GMM) with more complex functional forms, such as those that include random effects, though less of a concern for more simplistic models (latent class growth analysis models).

The fixed effects model comparisons show that the log likelihood value for the burglary model is a statistically significant improvement (relying on the chi-square distribution) against all other models. For example, when comparing the burglary model log likelihood to the homicide model log likelihood, we take 2*(− 16,869 − (− 17,890) = 2042. We compare the observed difference with the difference in degrees of freedom (77 − 6 = 71), which has an expected chi-square value of roughly 90.5 (p < 0.05). Given that the chi-square value observed here is larger than the expected chi-square value, this indicates the burglary model to be a significant improvement when compared to the homicide model. The same is true when comparing burglaries to the remaining five UCR outcomes.
References
Abadie, A., & Gardeazabal, J. (2003). The economic costs of conflict: A case study of the Basque Country. The American Economic Review, 93, 113–132.

Berk, R., & MacDonald, J. M. (2008). Overdispersion and Poisson regression. Journal of Quantitative Criminology, 24, 269–284.

Blumstein, A., & Rosenfeld, R. (1998). Explaining recent trends in US homicide rates. Journal of Criminal Law and Criminology, 88, 1175–1216.

Blumstein, A., & Wallman, J. (2000). The recent rise and fall of American violence. In A. Blumstein & J. Wallman (Eds.), The crime drop in America. New York: Cambridge Press.

Bottoms, A., & Tankebe, J. (2012). Beyond procedural justice: A dialogic approach to legitimacy in criminal justice. Journal of Criminal Law and Criminology, 102, 119–170.

Boydstun, J. E. (1975). San Diego field interrogation: Final report. Washington, DC: Police Foundation.

Braga, A. A., & Dusseault, D. (2016). Can homicide detectives improve homicide clearance rates? Crime & Delinquency (online first).

Brandl, S. G., & Frank, J. (1994). The relationship between evidence, detective effort, and the disposition of burglary and robbery investigations. American Journal of Police, 13, 149–168.

Carter, D. L., & Carter, J. G. (2016). Effective police homicide investigations: Evidence from seven cities with high clearance rates. Homicide Studies, 20, 150–176.

Chaiken, J. M., Greenwood, P. W., & Petersilia, J. (1977). The criminal investigation process: A summary report. Policy Analysis, 3, 187–217.

Chapman, J. I., Hirsch, W. Z., & Sonenblum, S. (1975). Crime prevention, the police production function, and budgeting. Public Finance, 30, 197–215.

Chenery, S., Holt, J., & Pease, K. (1997). Biting back II: Reducing repeat victimisation in Huddersfield. Crime detection and prevention series paper 82. London: Home Office Police Research Group.

Cook, P. J., & MacDonald, J. (2011). Public safety through private action: An economic assessment of BIDS. The Economic Journal, 121, 445–462.

Corsaro, N., Hunt, E. D., Hipple, N. K., & McGarrell, E. F. (2012). The impact of drug market pulling levers policing on neighborhood violence: An evaluation of the high point drug market intervention. Criminology & Public Policy, 11, 167–199.

Deacon, R. T. (1979). The expenditure effects of alternative public supply institutions. Public Choice, 34, 381–397.

Eck, J. E. (1992). Criminal investigation. In G. W. Cordner & D. C. Hale (Eds.), What works in policing? Operations and administration examined (pp. 1–52). Cincinnati: Anderson Publishing.

Finney, M. (1997). Scale economies and police department consolidation: evidence from Los Angeles. Contemporary Economic Policy, 15, 121–127.

Gyimah-Brempong, K. (1989). Production of public safety: Are socioeconomic characteristics of local communities important factors? Journal of Applied Econometrics, 4, 57–71.

Hakim, S., & Rengert, G. F. (1981). Crime spillover. Beverly Hills: Sage.

Haviland, A. M., & Nagin, D. S. (2007). Using group-based trajectory modeling in conjunction with propensity scores to improve balance. Journal of Experimental Criminology, 3, 65–82.

Hipp, J. R., & Bauer, D. J. (2006). Local solutions in the estimation of growth mixture models. Psychological Methods, 11, 36–53.

International Association of Chiefs of Police (2011). Policing in the 21st century. Preliminary survey results. Retrieved from http://www.theiacp.org/Portals/0/pdfs/Policing_in_the_21st_Century-SURVEY_RESULTS.pdf.

Jennings, A., & Esquivel, P. (2015). 'Straight Outta' a different Compton: City says much has changed in 25 years. Los Angeles Times. Retrieved from http://www.latimes.com/local/california/la-me-0815-compton-image-20150815-story.html.

Johnson, S. D. (2008). Repeat burglary victimisation: A tale of two theories. Journal of Experimental Criminology, 4, 215–240.

Kennedy, D. M. (2009). Gangs and public policy. Criminology & Public Policy, 8(4), 711–716.

LaFree, G. (1998). Losing legitimacy: Street crime and the decline of social institutions in America. Boulder: Westview Press.

Land, K. C., McCall, P. L., & Cohen, L. E. (1990). Structural covariates of homicide rates: Are there any invariances across time and social space? American Journal of Sociology, 95, 922–963.

Maxson, C. L. (1999). Gang homicide: A review and extension of the literature. In M. D. Smith & M. A. Zahn (Eds.), Homicide: A sourcebook of social research (pp. 239–256). Thousand Oaks: Sage.

McCall, P. L., Land, K. C., & Parker, K. F. (2011). Heterogeneity in the rise and decline of city-level homicide rates, 1976–2005: A latent trajectory analysis. Social Science Research, 40, 363–378.

Mehay, S. L. (1979). Intergovernmental contracting for municipal police services: An empirical analysis. Land Economics, 55, 59–72.

Mehay, S. L., & Gonzalez, R. A. (1985). Economic incentives under contract supply of local government services. Public Choice, 46, 79–86.

Nagin, D. S. (2005). Group-based modeling of development. Cambridge: Harvard University Press.

Nagin, D. S., & Land, K. C. (1993). Age, criminal careers, and population heterogeneity: Specification and estimation of a nonparametric, mixed Poisson model. Criminology, 31, 327–362.

Nelligan, P. J., & Bourns, W. (2011). Municipal contracting with county sheriffs for police services in California: Comparison of cost and effectiveness. Police Quarterly, 14, 70–95.

Osgood, D. W. (2000). Poisson-based regression analysis of aggregate crime rates. Journal of Quantitative Criminology, 16, 21–43.

Ostrom, E. (1975). The design of institutional arrangements and the responsiveness of the police. In L. N. Rieselbach (Ed.), People vs. government: The responsiveness of American institutions (pp. 264–299). Bloomington: Indiana University Press.

Ostrom, E. (2000). The danger of self-evident truths. PS: Political Science and Politics, 33, 33–44. Retrieved from http://www.apsanet.org.

Ostrom, E., & Parks, R. B. (1973). Suburban police departments: Too many and too small? In L. H. Masotti & J. K. Hadden (Eds.), The urbanization of the suburbs. Urban affairs annual reviews (vol. 7, pp. 367–402). Beverly Hills: Sage.

Ostrom, E., Parks, R. B., & Whitaker, G. P. (1973). Do we really want to consolidate urban police forces? A reappraisal of some old assertions. Public Administration Review, 33, 423–432.

Piehl, A. M., Cooper, S. J., Braga, A. A., & Kennedy, D. M. (2003). Testing for structural breaks in the evaluation of programs. The Review of Economics and Statistics, 85, 550–558.

President's Commission on Law Enforcement and Administration of Justice. (1967). Challenge of Crime in a Free Society. Retrieved from https://www.ncjrs.gov/pdffiles1/nij/42.pdf.

Sampson, R. J., & Cohen, J. (1988). Deterrent effects of the police on crime: A replication and theoretical extension. Law and Society Review, 22, 163–189.

Santos, R. G., & Santos, R. B. (2015). Practice-based research: Ex post facto evaluation of evidence-based police practices implemented in residential burglary micro-time hot spots. Evaluation Review, 39, 451–479.

Saunders, J., Lundberg, R., Braga, A. A., Ridgeway, G., & Miles, J. (2014). A synthetic control approach to evaluating place-based crime interventions. Journal of Quantitative Criminology, 31, 413–434.

Sides, J. (2004). Straight into Compton: American dreams, urban nightmares, and the metamorphosis of a black suburb. American Quarterly, 56, 583–605.

Skogan, W. G. (1976). Efficiency and effectiveness in big-city police departments. Public Administration Review, 36, 278–286.

Skogan, W. G. (2006). Asymmetry in the impact of encounters with police. Policing and Society, 16, 99–126.

Staley, S. R. (2005). The effects of city–county consolidation: A review of the recent academic literature. Fort Wayne: Indiana Policy Review Foundation. Retrieved from https://www.inpolicy.org.

Tankebe, J. (2009). Public cooperation with the police in Ghana: Does procedural fairness matter? Criminology, 47, 1265–1293.

Tankebe, J. (2013). Viewing things differently: The dimensions of public perceptions of police legitimacy. Criminology, 51, 103–135.

Tyler, T. R. (1990). Why people obey the law. New Haven, Conn.: Yale University Press.

Tyler, T. R., & Fagan, J. (2008). Legitimacy and cooperation: Why do people help the police fight crime in their communities? Ohio State Journal of Criminal Law, 6, 231–275.

United States Department of Justice. Office of Justice Programs. Bureau of Justice Statistics. Law Enforcement Management and Administrative Statistics (LEMAS). (2007). ICPSR31161-v1. Ann Arbor, MI: Inter-university Consortium for Political and Social Research [distributor]. Retrieved from. https://doi.org/10.3886/ICPSR31161.v1

Walzer, N. (1972). Economies of scale and municipal police services: The Illinois experience. The Review of Economics and Statistics, 54, 431–438.

Weisburd, D., Bushway, S., Lum, C., & Yang, S.-M. (2004). Trajectories of crime at places: A longitudinal study of street segments in the city of Seattle. Criminology, 42, 283–322.

Wellford, C., & Cronin, J. (1999). An analysis of variables affecting the clearance of homicides: A multistate study. Washington, DC: Justice Research and Statistics Association.

Wilson, J. M., & Grammich, C. A. (2012). Police consolidation, regionalization, and shared services: Options, considerations, and lessons from research and practice. Washington, DC: U.S. Department of Justice, Office of Community Oriented Policing Services. Retrieved from https://ric-zai-inc.com/Publications/cops-w0641-pub.pdf.

Wilson, J. M., Weiss, A., & Chermak, S. (2014). Contracting for law enforcement services: Lessons from research and practice. Law Enforcement Executive Forum, 14, 34–45.

World Heritage Encyclopedia. (2017). List of contract law enforcement cities (US). Retrieved from http://self.gutenberg.org/articles/eng/List_of_contract_law_enforcement_cities_(US).

Wright, R., Logie, R. H., & Decker, S. H. (1995). Criminal expertise and offender decision making: An experimental study of the target selection process in residential burglary. Journal of Research in Crime and Delinquency, 32(1), 39–53.
Additional information
This project was supported by award no. 2013-IJ-CX-0019, awarded by the National Institute of Justice, Office of Justice Programs, U.S. Department of Justice. The opinions, findings, and conclusions or recommendations expressed in this presentation are those of the authors and do not necessarily reflect those of the Department of Justice.
About this article
Cite this article
Corsaro, N., Wilson, J.M. The effects of police contracting on crime: An examination of Compton, California. J Exp Criminol 14, 59–81 (2018). https://doi.org/10.1007/s11292-017-9310-6
Published:

Issue Date:

DOI: https://doi.org/10.1007/s11292-017-9310-6
Keywords
Police consolidation

Contracting

Police services

Group-based trajectory analysis