Abstract
Objectives
On-officer video camera (OVC) technology in policing is developing at a rapid pace. Large agencies are beginning to adopt the technology on a limited basis, and a number of cities across the United States have required their police departments to adopt the technology for all first responders. However, researchers have just begun to examine the effects of OVC technology on citizen complaints, officers' attitudes, and police–citizen contacts.
Methods
This study examines officer behavior and perceptions of camera technology among 100 line officers in the Mesa Police Department during police–citizen encounters over a 10-month period. Experimental data from 3698 field contact reports were analyzed to determine whether being assigned to wear an OVC influences officer behavior and perceptions of OVC technology.
Results
Bivariate and multilevel logistic regression analyses indicate that officers assigned to wear a camera were less likely to perform stop-and-frisks and make arrests, but were more likely to give citations and initiate encounters. Officers were also more likely to report OVCs as being helpful if they wore a camera and in situations where they issued a warning or citation, performed a stop-and-frisk, and made an arrest.
Conclusions
Our results provide important insights into the consequences of OVCs on police behavior and suggest that officers are more proactive with this technology without increasing their use of invasive strategies that may threaten the legitimacy of the organization.
Access options
Buy single article
Instant access to the full article PDF.
USD 39.95
Price excludes VAT (USA)
Tax calculation will be finalised during checkout.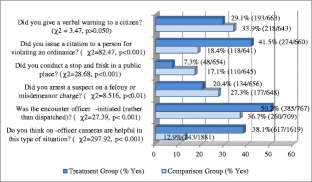 Notes
TASER International's Axon cameras and Axon Flex cameras are the most widely adopted OVCs on the market. Other manufacturers that have on-officer video devices on the market include Vievu, Panasonic, and Wolf Enterprises. The Vievu device typically attaches to the officer's shirt using a metal clip, while the Axon Flex is worn on a wrap-around headpiece, sunglasses, collar mount, or in-dash car mount. A cord connects the camera to the battery, which can be placed on the officer's belt or vest. The technology differs in function, recording options, storage, and data retrieval. TASER International offers Evidence.com as a data management program to assist agencies in uploading, labeling, and linking videos to incident reports.

The team responsible for the larger study involved the Mesa Police Department's Red Mountain Division Commander, a lieutenant responsible for overseeing the evaluation, a sergeant who served as head of analysis for the operation, as well as two faculty members and a number of graduate students from Arizona State University's School of Criminology and Criminal Justice.

An internal notice was posted for 1 month asking officers across the patrol districts to volunteer to participate in a study where they would wear on-officer video camera technology for approximately 1 year. The officers were also solicited by their commanding officers during briefings before their shifts.

Appendix A shows the difference of means tests for officer characteristics by treatment and control group, indicating no significant differences between the groups.

Although each officer filled out field contact reports on only one 10-h shift per month, data collection occurred on 160 days of the 10-month study period. The reason for this discrepancy is that many officers filled out field contact reports on shifts that occurred over two dates. In addition, many alternative days were selected in order to accommodate the officers on squads that were not working on the original sample of 50 days selected for data collection, as well as those on leave or vacation.

We used the field contact report methodology rather than official data (i.e., arrest and use-of-force reports) for two reasons. First, the field contact reports enabled us to develop a baseline measure of the total number of police–citizen contacts occurring on selected days, including contacts resulting in no formal police action that would not be represented in official data. Second, the field contact methodology allowed us to gather information about informal police actions taken during officer-initiated contacts, officers' attitudes about OVCs during specific types of encounters, and details about citizens' behavior that may not be captured with official data.

Appendix B shows the descriptive statistics for the measures used in the study.

Differences of means tests for field contacts involving treatment and control officers are shown in Appendix C.

In multilevel models, level-1 characteristics explain within-unit variation in the dependent variable, whereas level-2 characteristics estimate cross-unit variation in the dependent variable. We are primarily interested in explaining officer behavior and helpfulness of cameras between officers as a consequence of being assigned a camera (a level-2 effect), while taking into account incident characteristics (level-1).
References
Fagan, J., Geller, A., Davies, G., & West, V. (2010). Street stops and broken windows revisited: The demography logic of proactive policing in a safe and changing city. In S. Rice & M. D. White (Eds.), Race, ethnicity and policing: New and essential readings (pp. 309–348). New York: New York University Press.

Farrar, W., & Ariel, B. (2013). Self-awareness to being watched and socially desirable behavior: A field experiment on the effect of body-worn cameras and police use of force. Washington, DC: Police Foundation.

Home Office. (2007). Guidance for the police use of body-worn video devices. Police and crime standards directorate.

Lovett, I. (8/21/13). In California, a champion for police cameras. New York Times. Available at: http://www.nytimes.com/2013/08/22/us/in-california-a-champion-for-police-cameras.html?pagewanted=all&_r=0.

Mesa Police Department. (2013). On-officer body camera system: Program evaluation and recommendations. Mesa: Mesa Police Department.

Munger, K., & Harris, S. J. (1989). Effects of an observer on hand washing in a public restroom. Perceptual and Motor Skills, 69(3), 733–734.

Orlikowski, W. J., & Gash, D. C. (1994). Technological frames: making sense of information technology in organizations. ACM Transactions on Information Systems (TOIS), 12(2), 174–207.

Police and Crime Standards Directorate, Home Office of the U.K. (2007). Guidance for the police use of body-worn video devices. Available at: http://www.revealmedia.com/LinkClick.aspx?fileticket=dH4IOGWh9ZI%3D&tabid=156.

Raudenbush, S. W., & Bryk, A. S. (2002). In J. DeLeeuw & R. Berk (Eds.), Hierarchical linear models: Applications and data analysis (Vol. 1). CA: Sage.

Ready, J. T., & Young, J. T. N. (2014). Three myths about police body cams: filming interactions between law enforcement and citizens might not stop the next Ferguson from happening. Slate.com. Retrieved April 24, 2015 from http://www.slate.com/articles/technology/future_tense/2014/09/ferguson_body_cams_myths_about_police_body_worn_recorders.html.

Rogers, E. M. (1995). Diffusion of innovations. New York: Free Press.

Young, J. T., & Ready J. T. (2014). Diffusion of policing technology: the role of networks in influencing the endorsement of on-officer video cameras. Journal of Contemporary Criminal Justice, In Press.
Acknowledgments
We would like to thank Chief Frank Milstead, Commander Tony Filler, Lt. Lee Rankin, and Sgt. Ryan Stokes for their leadership and commitment to this evaluation. We also thank Allyson Roy, David Bakardjiev, Doug Mellom, Karen Baker, Zaina Ayyoub, and Carmen Trujillo for their assistance in data entry and management. We appreciate the valuable insights provided in the field by Officers Justin Riding and Steve York. The paper is dedicated to the memory of Officer Brandon Mendoza. Officer Mendoza was one of the first officers to volunteer to wear an on-office video camera and a 13-year veteran of the Mesa Police Department. On May 12, 2014, he was killed in a collision with a drunk driver on his way home from his shift. He touched many lives as an officer, community advocate, and guardian.
Additional information
Author names appear in alphabetical order as both contributed equally to this work.
Appendices
Appendix A
Appendix B
Appendix C
About this article
Cite this article
Ready, J.T., Young, J.T.N. The impact of on-officer video cameras on police–citizen contacts: findings from a controlled experiment in Mesa, AZ. J Exp Criminol 11, 445–458 (2015). https://doi.org/10.1007/s11292-015-9237-8
Published:

Issue Date:

DOI: https://doi.org/10.1007/s11292-015-9237-8
Keywords
Multilevel modeling

On-officer video cameras

Body-worn cameras

Police accountability