Abstract
Objectives
This paper reports the findings of an evaluation of a police training program on the principles of procedural justice. This training was part of a larger organizational change strategy aimed at improving the relationship between the police and the public in Chicago.
Methods
The paper reports on the findings of two studies. The short-term effects study was a quasi-experimental test of the immediate effectiveness of the training conducted at the police academy. A longer-term effects study examined the subsequent views of trainees and a comparison group, officers who had not yet been to training. Statistical controls were used to increase confidence in the findings of the second study, which was based on observational data.
Results
In the short term, training increased officer support for all of the procedural justice dimensions included in the experiment. Post-training, officers were more likely to endorse the importance of giving citizens a voice, granting them dignity and respect, demonstrating neutrality, and (with the least enthusiasm) trusting them to do the right thing. All of the effects of training were strong, with standardized effect sizes ranging from 1.2 to 1.6. Longer-term, officers who had attended the procedural justice workshop continued to be more supportive of three of the four procedural justice principles introduced in training; the effect of training on trust was not statistically significant.
Conclusions
There has been little systematic research on police training. This paper concludes that it can play a role in improving police–community relations. It also presents a discussion of some of the limitations of a training-based organizational change strategy.
Access options
Buy single article
Instant access to the full article PDF.
US$ 39.95
Tax calculation will be finalised during checkout.
Subscribe to journal
Immediate online access to all issues from 2019. Subscription will auto renew annually.
US$ 79
Tax calculation will be finalised during checkout.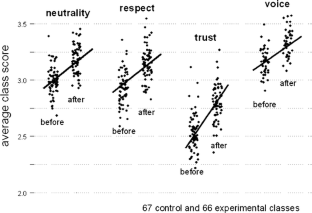 References
Bradford, B. (2011). Voice, neutrality and respect: use of victim support services, procedural fairness and confidence in the criminal justice system. Criminology & Criminal Justice, 11, 345–366.

Cohen, J. (1988). Statistical power analysis for the behavioral sciences (2nd ed.). Hillsdale: Lawrence Erlbaum.

Garner, J., Fagan, J., & Maxwell, C. D. (1995). Published findings from the NIJ spouse assault replication program: a critical review. Journal of Quantitative Criminology, 8, 1–29.

Haarr, R. N. (2001). The making of a community policing officer: the impact of basic training and occupational socialization on police recruits. Police Quarterly, 4, 402–433.

Hinds, L., & Murphy, K. (2007). Public satisfaction with police: using procedural justice to improve police legitimacy. The Australian and New Zealand Journal of Criminology, 40, 27–42.

Jackson, J., Bradford, B., Stanko, B., & Hohl, K. (2013). Just authority: Trust in the police in England and Wales. London: Routledge.

Lipsey, M. W. (1990). Design sensitivity: Statistical power for experimental research. Newbury Park: Sage.

Mastrofski, S. D., & Richard Ritti, R. (1996). Police training and the effects of organization on drunk driving enforcement. Justice Quarterly, 13, 291–320.

Mazerolle, L., Bennett, S., Davis, J., Sargeant, E., & Manning, M. (2013a). Procedural justice and police legitimacy: a systematic review of the research evidence. Journal of Experimental Criminology, 9, 245–274.

Mazerolle, L., Antrobus, E., Bennett, S., & Tyler, T. R. (2013b). Shaping citizen perceptions of police legitimacy: a randomized field trial of procedural justice. Criminology, 51, 33–63.

Murphy, K., Hinds, L., & Fleming, J. (2008). Encouraging public cooperation and support for police. Policing & Society, 18, 136–155.

Rosenbaum, D. P. (1987). Coping with victimization: the effects of police intervention on victims' psychological readjustment. Crime & Delinquency, 33, 502–519.

Skogan, W. G., & Frydl, K. (2004). Fairness and effectiveness in policing: The evidence. Washington, DC: National Academies Press.

Tyler, T. R., & Jackson, J. (2013). Future challenges in the study of legitimacy and criminal justice. In J. Tankebe & A. Liebling (Eds.), Legitimacy and criminal justice: An international exploration (pp. 83–102). Oxford: Oxford University Press.

Tyler, T. R., Callahan, P. E., & Frost, J. (2007). Armed, and dangerous (?): motivating rule adherence among agents of social control. Law & Society Review, 41, 457–492.

Wheller, L., & Morris, J. (2010). Evidence reviews: What works in training, behaviour change and implementing guidance. London: National Police Improvement Agency.

Wheller, L., Quinton, P., Fildes, A., & Mills, A. (2013). The greater Manchester police procedural justice training experiment: Technical report. London: The College of Policing.
Acknowledgments
This research was supported in part by the John D. and Catherine T. MacArthur Foundation and the Joyce Foundation. The opinions expressed are those of the authors and do not represent the views of Northwestern University or the supporting foundations. Many thanks for the support of the staff of the Chicago Police Education and Training Academy, especially Lt. Bruce Lipman and Sgt. Mark Sedevic. Readers wishing to review the training materials described here should directly contact the Commander of the Chicago Police Training Division, 1300 W Jackson Blvd, Chicago, IL 60607, telephone +1.312.746.8310.
About this article
Cite this article
Skogan, W.G., Van Craen, M. & Hennessy, C. Training police for procedural justice. J Exp Criminol 11, 319–334 (2015). https://doi.org/10.1007/s11292-014-9223-6
Keywords
Quasi-experiment

Survey

Police training

Procedural justice

Neutrality

Respect

Voice

Trust