Abstract
Objectives
Determine the effect of a criminal conviction on landlord decisions to consider prospective tenants and the extent to which landlord responses vary based on prospective tenant's offense type.
Methods
Using a quasi-experimental audit design, matched pairs of "testers" posing as prospective tenants called landlords across New York State to inquire about the possibility of renting a residence. Criminal conviction type was manipulated amongst equally eligible testers posing as non-offenders (control group) or as having one of three types of prior conviction: child molestation, statutory rape, or drug trafficking (quasi-experimental groups).
Results
Analyses indicate that landlords are significantly less willing to consider prospective tenants with a criminal conviction, particularly when the conviction is for child molestation, although this effect was more strongly apparent with male testers.
Conclusions
The stigma associated with a child molestation conviction greatly impacts housing outcomes, but landlord characteristics and the sex of prospective tenants influence landlord decisions. This study has important implications for offender reentry and policies that should address this issue.
This is a preview of subscription content, log in to check access.
Access options
Buy single article
Instant access to the full article PDF.
US$ 39.95
Tax calculation will be finalised during checkout.
Subscribe to journal
Immediate online access to all issues from 2019. Subscription will auto renew annually.
US$ 99
Tax calculation will be finalised during checkout.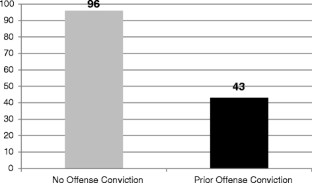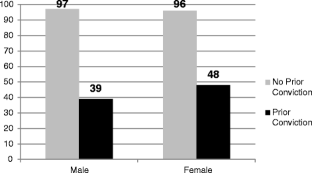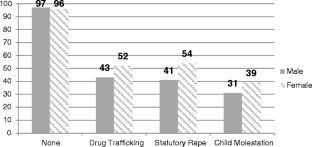 Notes
1.

The rent for some properties was greater than $1,500 because landlords did not list a price online and later informed testers of a higher rental price. At least three landlords listed a price online and then claimed a higher price during the phone call.
References
Ahmed, A. M., & Hammarstedt, M. (2008). Discrimination in the rental housing market: a field experiment on the internet. Journal of Urban Economics, 64, 362–372.

Burchfield, K. B., & Mingus, W. (2008). Not in my neighborhood: assessing registered sex offenders' experiences with local social capital and social control. Criminal Justice and Behavior, 35(3), 356–374.

Clark, L. M. (2007). Landlord attitudes toward renting to released offenders. Federal Probation, 71, 20–28.

Cowan, D., Pantazis, C., & Gilroy, R. (2001). Social housing as crime control: an examination of the role of housing management in policing sex offenders. Social & Legal Studies, 10, 435–457.

Edwards, W., & Hensley, C. (2001). Contextualizing sex offender management legislation and policy: evaluating the problem of latent consequences in community notification laws. International Journal of Offender Therapy and Comparative Criminology, 45(1), 83–101.

Evans, D. N. (2013). Registration nation: The impact of sex offender laws. Doctoral dissertation. Indiana University, Bloomington.

Fahey, J., Roberts, C., & Engel, L. (2006). Employment of ex-offenders: Employer perspectives. Boston: Crime and Justice Institute.

Griggs, B. (2011). Homeless is not an address: states need to explore housing options for sex offenders. UMKC Law Review, 79, 757.

Helfgott, J. (1997). Ex-offender needs versus community opportunity in Seattle, Washington. Federal Probation, 61, 12–24.

Jones, K. D. (1999). The media and Megan's Law: is community notification the answer? Journal of Humanistic Counseling Education and Development, 38, 80–88.

La Vigne, N. G., Visher, C., & Castro, J. L. (2004). Chicago prisoners' experiences returning home. Washington: Urban Institute.

Lee, B. A., Tyler, K. A., & Wright, J. D. (2010). The new homelessness revisited. Annual Review of Sociology, 36, 501–521.

Levenson, J. S., Brannon, Y. N., Fortney, T., & Baker, J. (2007). Public perceptions about sex offenders and community protection policies. Analyses of Social Issues and Public Policy, 7(1), 1–25.

Lowenkamp, C., & Latessa, E. (2002). Halfway house and community-based facility evaluation. Cincinnati: University of Cincinnati, Division of Criminal Justice, Center for Criminal Justice Research.

Massey, D. S., & Lundy, G. (2001). Use of Black English and racial discrimination in urban housing markets. Urban Affairs Review, 36, 452–469.

Mayr, S., Buchner, A., Erdfelder, E., & Faul, F. (2007). A short tutorial of GPower. Tutorials in Quantitative Methods for Psychology, 3(2), 51–59.

McNeal, M. H., & Warth, P. (2013). Barred forever: seniors, housing and sex offense registration. Kansas Journal of Law and Public Policy, 22, 317–377.

Morani, N. M., Wikoff, N., Linhorst, D. M., & Bratton, S. (2011). A description of self-identified needs, service expenditures, and social outcomes of participants of a prisoner-reentry program. The Prison Journal, 91, 347–365.

Mustaine, E. E., & Tewksbury, R. (2011). Residential relegation of registered sex offenders. American Journal of Criminal Justice, 36, 44–57.

New York State Division of Criminal Justice Services (2008). "Myths and facts": Current research on managing sex offenders. Albany, NY: Author. Retrieved April 16, 2014 from http://www.criminaljustice.ny.gov/nsor/som_mythsandfacts.htm

Office of Sex Offender Management (2009). NYS sex offender residency restriction laws. Albany, NY: Author. Retrieved July 26, 2013 from http://www.theparson.net/so/residencylaws.pdf

Ondrich, J., Stricker, A., & Yinger, J. (1999). Do landlords discriminate? The incidence and causes of racial discrimination in rental housing markets. Journal of Housing Economics, 8, 185–204.

Oyama, R. (2009). Do not (re)enter: the rise of criminal background tenant screening as a violation of the Fair Housing Act. Michigan Journal of Race and Law, 15, 181–222.

Pager, D. (2003). The mark of a criminal record. American Journal of Sociology, 108(5), 937–975.

Pager, D. (2007). Marked: Race, crime, and finding work in an era of mass incarceration. Chicago: University of Chicago Press.

Pager, D., & Shepherd, H. (2008). The sociology of discrimination: racial discrimination in employment, housing, credit and consumer markets. Annual Review of Sociology, 34, 181–209.

Pew Center on the States (2011). State of recidivism: The revolving door of America's prisons. Washington, DC: Pew Charitable Trusts. Retrieved July 26, 2013, from http://tinyurl.com/5t9v7bm

Pope, J. C. (2008). Fear of crime and housing prices: household reactions to sex offender registries. Journal of Urban Economics, 64, 601–614.

Roman, C. G. (2004). A roof is not enough: successful prisoner reintegration requires experimentation and collaboration. Criminology and Public Policy, 3(2), 161–168.

Roman, C. G., & Travis, J. (2004). Taking stock: Housing, homelessness, and prisoner reentry. Washington: Urban Institute.

Sandler, J. C., Freeman, N. J., & Socia, K. M. (2008). Does a watched pot boil? A time-series analysis of New York State's sex offender registration and notification law. Psychology, Public Policy, and Law, 14(4), 284–302.

Scally, C.P. (2005). Housing ex-offenders. Shelterforce, 139. Retrieved April 16, 2014 from http://www.nhi.org/online/issues/sf139.html

Socia, K. M. (2011). The policy implications of residence restrictions on sex offender housing in Upstate NY. Criminology & Public Policy, 10(2), 351–389.

Solomon, A. L., Waul, M., Van Ness, A., & Travis, J. (2004). Outside the walls: A national snapshot of community-based prisoner reentry programs. Washington: Urban Institute. Retrieved August 15, 2013, from http://tinyurl.com/6nplonx.

Tewksbury, R. (2005). Collateral consequences of sex offender registration. Journal of Contemporary Criminal Justice, 21(1), 67–81.

Travis,J.(2005).Buttheyallcomeback:Facingthechallengesofprisonerreentry.WashingtonD.C.:UrbanInstitute.

Visher, C., La Vigne, N., & Farrell, J. (2003). Illinois prisoners' reflections on returning home. Washington: Urban Institute.

Visher, C., La Vigne, N., & Travis, J. (2004). Returning home: Understanding the challenges of prisoner reentry. Washington: Urban Institute.

Yahner, J., & Visher, C. (2008). Illinois prisoners' reentry success three years after release. Washington: Urban Institute.

Zevitz, R. G., & Farkas, M. A. (2000). Sex offender community notification: managing high risk criminals or exacting further vengeance? Behavioral Sciences and the Law, 18, 375–391.

Zgoba, K. M., Levenson, J., & McKee, T. (2009). Examining the impact of sex offender residence restrictions on housing availability. Criminal Justice Policy Review, 20, 91–110.
Acknowledgments
This research was supported in part by a faculty development grant from Mercy College. We would like to thank Tim Schilling, Ofia Begum, and Teal Schlueter for their help with this project. Their work was indispensable in completing the study. Also, special thanks to Devah Pager for her timely and invaluable input during early stages of study design. She is a gifted scholar and this work would not have been possible without her creativity and persistence. Finally, sincerest gratitude to Evan Misshula Arvind Verma, and Rossi Hassad for their kindness, support, and willingness to provide valuable feedback that greatly improved this paper.
About this article
Cite this article
Evans, D.N., Porter, J.R. Criminal history and landlord rental decisions: a New York quasi-experimental study. J Exp Criminol 11, 21–42 (2015). https://doi.org/10.1007/s11292-014-9217-4
Keywords
Drug offenders

Conviction

Housing

Reentry

Sex offenders

Stigma