Abstract
Small reservoirs are characterised by extreme fluctuations in water levels, but how this affects fish communities is not well understood. The aim of the study was to investigate fish communities in two small reservoirs which experience large water level fluctuations over two study years, wet and dry. Six fish species were caught in both reservoirs during the sampling period. The numerically dominant fish species was Enteromius paludinosus in both reservoirs, with Clarias gariepinus contributing the high overall fish biomass. The cyprinids Enteromius lineomaculatus and Enteromius trimaculatus occurred in small numbers, as well as the cichlids Oreochromis mossambicus and Tilapia sparrmanii. Using GLMM, the abundance of both C. gariepinus and E. paludinosus across the two reservoirs was found to be significantly associated with total nitrogen and inorganic nitrogen. C. gariepinus abundances were also associated with water transparency and reactive phosphorus whilst E. paludinosus abundances were associated with ammonia, alkalinity, total dissolved solutes and water depth. E. paludinosus bred mostly during the rainy year. Fish migrations and spawning events were largely triggered by rainfall. Differences between the fish populations in the two reservoirs were small based on fisheries metrics due to the biological attributes of the dominant species, E. paludinosus and C. gariepinus. The shallowness and frequent water level fluctuations in small reservoirs possibly do not allow for specialised habitats to develop, which could lead to high fish species diversity. Their suitability for small-scale fisheries has to be reconsidered as the demand for water for irrigation far outweighs that of the fishery.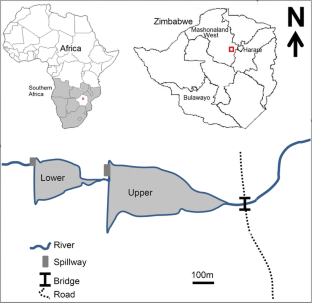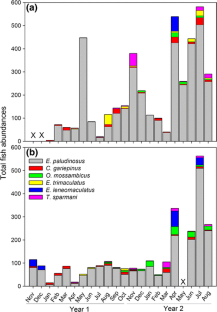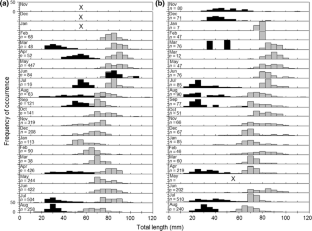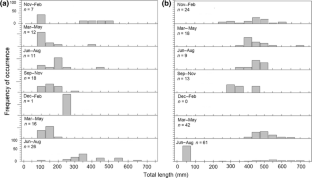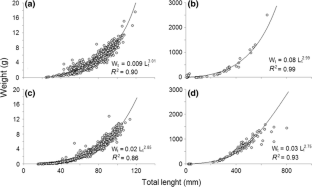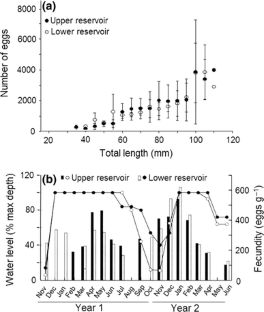 References
Allanson BR, Hart RC, O'Keefe JH, Robarts RD (1990) Inland waters of Southern Africa: an ecological perspective. Kluwer Academic Publishers, Dordrecht

Bagenal TB, Braum E (1968) Eggs and early life history. In: Ricker WE (ed) Methods for assessment of fish production in freshwaters. IBP handbook 3. Blackwell Scientific Publications, Oxford

Baldock JW (1991) The geology of the Harare greenstone belt and surrounding granitic terrain. Zimbabwe Geological Survey Bulletin No. 94

Baldwin DS, Wilson J, Gigney H, Boulding A (2010) Influence of extreme drawdown on water quality downstream of a large water storage reservoir. River Res Appl 26:194–206

Bates D, Maechler M (2009) lme4: Linear mixed-effects models using S4 classes

Bell-Cross G, Minshull JL (1988) The fishes of Zimbabwe. National Museums and Monuments of Zimbabwe, Harare

Benech V, Durand JR, Quesnsiere J (1983) Fish communities of Lake Chad and associated rivers and floodplains. In: Carmouze JP, Durand JR, Leveque C (eds) lake chad, ecology and productivity of a shallow tropical ecosystem, Monogr. Biol. No. 53. Dr W Junk Publishers, The Hague

Benejam L, Benito J, Ordóñez J, Armengol J, García-Berthou E (2008) Short-term effects of a partial drawdown on fish condition in a eutrophic reservoir. Water Air Soil Pollut 190:3–11

Bhattacharya CG (1967) A simple method of resolution of a distribution into Gaussian components. Biometric 23:115–135

Brönmark C, Hansson LA (2005) The biology of lakes and ponds. Oxford University Press, Oxford

Bruton MN (1985) The effect of suspensoids on fish. Hydobiologia 125:221–241

Cambray JA, Bruton MN (1984) The reproductive strategy of a barb, Barbus anoplus (Pisces: Cyprinidae), colonizing a man-made lake in South Africa. J Zool 204:143–168

Clay D (1979) Sexual maturity and fecundity of the African catfish (Clarias gariepinus) with an observation on the spawning behaviour of the Nile catfish (Clarias lazera). Zool J Limn Soc 65:351–365

Coops H, Beklioglu M, Crisman TL (2003) The role of water-level fluctuations in shallow lake ecosystems—workshop conclusions. Hydrobiologia 506–509:23–27

Dalu T, Clegg B, Nhiwatiwa T (2012a) The macroinvertebrate communities associated with littoral zone habitats and the influence of environmental factors in Malilangwe Reservoir, Zimbabwe. Knowl Manag Aquat Ecosyst 406:6

Dalu T, Clegg B, Nhiwatiwa T (2012b) Aquatic macrophytes in a tropical African reservoir: diversity, communities and the impact of reservoir-level fluctuations. Trans R Soc S Afr 67:117–125

Dalu T, Clegg B, Nhiwatiwa T (2013a) Length-weight relationships and condition factors of six fish species caught using gillnets in a tropical African reservoir, Zimbabwe. Trans R Soc S Afr 68:75–79

Dalu T, Clegg B, Nhiwatiwa T (2013b) A study of the ichthyofauna of a small tropical reservoir in south-eastern lowveld, Zimbabwe. Afr J Aquat Sci 38:105–113

Dalu T, Wasserman RJ, Dalu MTB (2017) Agricultural intensification and drought frequency increases may have landscape level consequences for ephemeral ecosystems. Glob Change Biol 23:983–985

De Silva SS (1985) Observations on the abundance of the exotic cichlid Sarotherodon mossambicus (Peters) in relation to fluctuations in the water level in a man-made lake in Sri Lanka. Aquacult Fish Manag 16:265–272

Ersal E (1994) Inventory of small water bodies in the SADC region. ALCOM News 15:12–16

Evans RE (1982) The rehabilitation of the Savory Dam. Zim Agric J 79:47–56

Fischer P, Öhl U (2005) Effects of water-level fluctuations on the littoral benthic fish community in lakes: a mesocosm experiment. Behav Ecol 16:741–746

Froese R (2006) Cube law, condition factor and weight–length relationships: history, meta-analysis and recommendations. J Appl Ichthyol 22:241–253

Gibbs RJ (1967) The geochemistry of the amazon river system: Part I. The factors that control the salinity and the composition and concentration of the suspended solids. Geol Soc Am Bull 78:1203–1232

Gratwicke B (2003) Aspects of the ecology of fishes and crabs in seasonal streams of the Upper Manyame catchment, Zimbabwe. MPhil thesis, University of Zimbabwe

Gratwicke B, Marshall BE (2001) The relationship between the exotic predators Micropterus salmoides and Serranochromis robustus and native stream fishes in Zimbabwe. J Fish Biol 58:68–75

Gratwicke B, Marshall BE, Nhiwatiwa T (2003) The distribution and relative abundance of stream fishes in the upper Manyame River, Zimbabwe, in relation to land use, pollution and exotic predators. Afr J Aquat Sci 28:25–34

Haas EM, Bartholomé E, Combal B (2009) Time series analysis of optical remote sensing data for the mapping of temporary surface water bodies in sub-Saharan western Africa. J Hydrol 370:52–63

HACH (2007) DR 2800 Spectrophotometer: procedures manual. Catalog Number DOC022.53.00725, Second Edition. HACH, Colorado, USA

Hofmann H, Lorke A, Peeters F (2008) Temporal scales of water-level fluctuations in lakes and their ecological implications. Hydrobiologia 613:85–96

Kahl U, Hülsmann S, Radke RJ, Benndorf J (2008) The impact of water level fluctuations on the year class strength of roach: implications for fish stock management. Limnologica 38:258–268

Kenmuir DHS (1976) Fish spawning under artificial flood conditions on the Mana flood-plain, Zambezi River. National Museums and Monuments of Rhodesia, Salisbury. Kariba Stud 6:86–97

Kolding J, Tirasin EM, Karenge L (1992) Growth, mortality, maturity and length-weight parameters of fishes in Lake Kariba, Africa. Naga ICLARM Quarterly 15:39–41

Kushlan JA (1976) Environmental stability and fish community diversity. Ecology 57:821–825

Marshall B (2011) Fishes of Zimbabwe and their biology. Smithiana Monograph 3. The South African Institute for Aquatic Biodiversity, Grahamstown

Merron G, Bruton M, de Lalouviere PLH (1993) Changes in the fish communities of the Phongolo floodplain, Zululand (South Africa) before, during and after a severe drought. Regulated Rivers Res Manag 8:28–37

Nagrodski A, Raby GD, Hasler CT, Taylor MK, Cooke SJ (2012) Fish stranding in freshwater systems: sources, consequences, and mitigation. J Environ Manag 103:133–141

Naselli-Flores L, Barone R (2005) Water-level fluctuations in Mediterranean reservoirs: setting a dewatering threshold as a management tool to improve water quality. Hydrobiologia 548:85–99

Nhiwatiwa T, Marshall BE (2006) Seasonal and diurnal stratification in two small Zimbabwean reservoirs. Afr J Aquat Sci 31:185–196

Nhiwatiwa T, Marshall BE (2007) Water quality and plankton dynamics in two small reservoirs. Afr J Aquat Sci 32:139–151

Pauly D (1980) On the interrelationships between natural mortality, growth parameters and mean environmental temperature in 175 fish stocks. ICES J Mar Sci 39:175–192

Pauly D, Munro JL (1984) Once more on growth comparison in fish and invertebrates. Fishbyte 2:21–25

R Core Team (2015) R: A language and environment for statistical computing. R Foundation for Statistical Computing, Vienna, Austria. URL https://www.R-project.org/

Skelton PH (1993) A complete guide to the freshwater fishes of Southern Africa. Southern Book Publishers, Cape Town

Skelton PH (1994) Diversity and distribution of freshwater fishes in East and Southern Africa. Ann Soc R Zool Belg 275:95–131

Sparre P, Venema SC (1992) Introduction to tropical fish stock assessment. FAO/UN, Part I and II

SPSS Inc. (2007) SPSS Release 16.0.0 for Windows. Polar Engineering and Consulting. Chicago, SPSS Inc

Sutela T, Vehanen T (2008) Effects of water-level regulation on the nearshore fish community in boreal lakes. Hydrobiologia 613:13–20

Whitlow JR (1985) Research on dambos in Zimbabwe. Zim Agricult J 82:59–63

Yamamoto T, Kohmatsu Y, Yuma M (2006) Effects of summer drawdown on cyprinid fish larvae in Lake Biwa, Japan. Limnology 7:75–82

Zohary T, Ostrovsky I (2011) Ecological impacts of excessive water level fluctuations in stratified freshwater lakes. Inland Waters 1:47–59

Zuur AF, Ieno EN, Elphick CS (2010) A protocol for data exploration to avoid common statistical problems. Methods Ecol Evol 1:3–14
Acknowledgements
This research was funded by University of Zimbabwe-Flemish Universities Link Training of Fish Biologists' Project. We thank Maxwell Barson and Tinashe Muteveri for their assistance with fieldwork. Special thank you is due to Mr David Stewart of Ingwerati Farm for allowing us to work on his property. Tatenda Dalu is supported by Claude Leon Post-Doctoral Fellowship.
Electronic supplementary material
Below is the link to the electronic supplementary material.
About this article
Cite this article
Nhiwatiwa, T., Maseko, Z. & Dalu, T. Fish communities in small subtropical reservoirs subject to extensive drawdowns, with focus on the biology of Enteromius paludinosus (Peters, 1852) and Clarias gariepinus (Burchell, 1822). Ecol Res 32, 971–982 (2017). https://doi.org/10.1007/s11284-017-1504-x
Received:

Accepted:

Published:

Issue Date:
Keywords
Dynamic ecosystems

Enteromius

Fish populations

Small reservoirs

Water level fluctuations