Abstract
Dissolved organic carbon (DOC) plays an important role in C cycling in forest ecosystems. Here we measured the concentrations and fluxes of DOC in a cool-temperate broad-leaved deciduous forest (Takayama Forest) to quantify the contribution of DOC from different forest water flux conditions. Mean DOC concentration during the growing season increased in the sequence from bulk precipitation (2.98 ± 0.45 mg L−1), throughfall above dwarf bamboo (6.84 ± 0.45 mg L−1), throughfall below dwarf bamboo (7.08 ± 0.42 mg L−1), stemflow (15.05 ± 0.98 mg L−1), and litter leachate (21.33 ± 1.01 mg L−1). Litter leachate DOC concentration, being high in spring and autumn, which was fairly correlated with the amount of litterfall of bamboo and trees. In stemflow, the DOC concentration was high during early summer and gradually decreased, in addition, it also showed dramatic variation among different plant species. Litter leachate (72.5%) accounted for most of the DOC input to the soil during the growing season (311.5 kg C ha−1 7 months−1), while stemflow (1.6%) contributed the least. A great quantity of precipitation at the study site was associated with a subsequent high atmospheric contribution of DOC flux (8.6%), which was more than half of throughfall (16.5%). The high input of DOC to the soil and andisol soil characteristics at the Takayama Forest suggest that the DOC fluxes are vital to the soil carbon sequestration. Therefore, DOC fluxes should be taken into account when the carbon balance is assessed at forest ecosystems.
This is a preview of subscription content, log in to check access.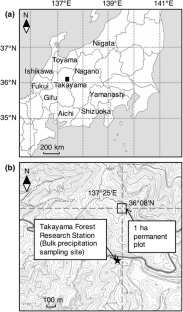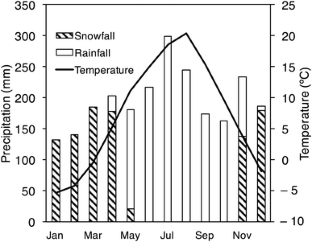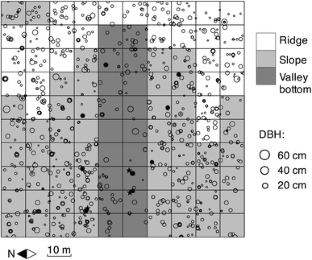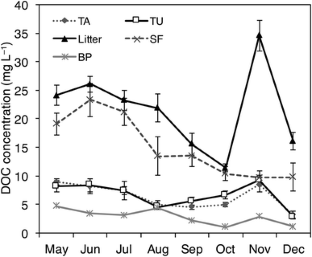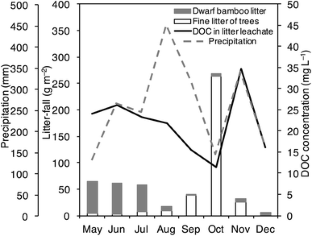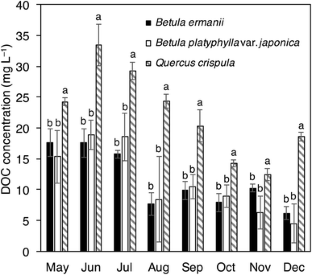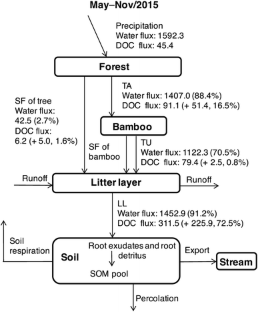 References
Bekku Y, Koizumi H, Oikawa T, Iwaki H (1997) Examination of four methods for measuring soil respiration. Appl Soil Ecol 5:247–254

Casals P, Romanya J, Cortina J, Fons J, Bode M, Vallejo VR (1995) Nitrogen supply rate in Scots pine (Pinus sylvestris L.) forests of contrasting slope aspect. Plant Soil 168:67–73

Cronan CS, Aiken GR (1985) Chemistry and transport of soluble humic substances in forested watersheds of the Adirondack Park, New York. Geochim Cosmochim Acta 49:1697–1705

Currie WS, Aber JD, McDowell WH, Boone RD, Magill AH (1996) Vertical transport of dissolved organic C and N under long-term N amendments in pine and hardwood forests. Biogeochemistry 35:471–505

Dai KH, David MB, Vance GF (1996) Characterization of solid and dissolved carbon in a sprucefir Spodosol. Biogeochemistry 35:339–365 (Bibliographic Links Library Holdings)

DVWK (Deutscher Verband für Wasserwirschaft und Kulturbau) (1992) Determination of interception loss in forest stands during rain. Guidelines for water management, no 304

Easthouse KB, Mulder J, Christophersen N, Seip HM (1992) Dissolved organic carbon fractions in soil and stream water during variable hydrological conditions at Birkenes, Southern Norway. Water Resour Res 28:1585–1596

FAO (Food and Agriculture Organization) (2014) World reference base for soil resources. 106 World soil resources reports FAO Rome, p 63

Fujii K, Funakawa S, Shinjo H, Mori C, Hayakawa K, Kosaki T (2011a) Fluxes of dissolved organic carbon and nitrogen throughout Andisol, Spodosol and Inceptisol profiles under forest in Japan. Soil Sci Plant Nutr 57:855–866

Fujii K, Hartono A, Funakawa S, Uemura M, Kosaki T (2011b) Fluxes of dissolved organic carbon in three tropical secondary forests developed on serpentine and mudstone. Geoderma 163:119–126

González-Martínez TM, Williams-Linera G, Holwerda F (2016) Understory and small trees contribute importantly to stemflow of a lower montane cloud forest. Hydrol Process 31:1174–1183

Gosz JR, Likens GE, Bormann FH (1976) Organic matter and nutrient dynamics of the forest floor in Hubbard Brook Forest. Oecologia 22:305–320. doi:10.1007/BF00345310

Guggenberger G, Zech W (1994) Dissolved organic carbon in forest floor leachates: simple degradation products or humic substances. Sci Total Environ 152:37–47

Helvey JD, Patric JH (1965) Canopy and litter interception of rainfall by hardwoods of the eastern United States. Water Resour Res 1:193–206. doi:10.1029/WR001i002p00193

Herwitz SR (1986) Infiltration-excess caused by stemflow in a cyclone-prone tropical rainforest. Earth Surf Process Landf 11:401–412

Hinton MJ, Schiff SL, English MC (1997) The significance of storms for the concentration and export of dissolved organic carbon from two Precambrian Shield catchments. Biogeochemistry 36:67–88

Hope D, Billett MF, Cresser MS (1994) A review of the export of carbon in river water: fluxes and processes. Environ Pollut 84:301–324

Ikawa R (2007) Literature review of stemflow generation and chemical characteristics in Japanese forests. J Jpn Assoc Hydrol Sci 37:187–200

Inagaki M, Saikai M, Ohnuki Y (1995) The effects of organic carbon on acid rain in a temperate forest in Japan. Water Air Soil Pollut 85:2345–2350

Inamdar S, Singh S, Dutta S, Levia D, Mitchell M, Scott D, Bais H, McHale P (2011) Fluorescence characteristics and sources of dissolved organic matter for stream water during storm events in a forested mid-Atlantic watershed. J Geophys Res 116:G03043. doi:10.1029/2011JG001735

Inoue K (1986) Chemical properties. In: Wada K (ed) Ando soils in Japan. Kyushu University Press, Fukuoka, pp 69–98

Jia S, Akiyama T, Mo W, Inatomi M, Koizumi H (2003) Temporal and spatial variability of soil respiration in a cool temperate broad-leaved forest, 1. Measurement of spatial variance and factor analysis. Jpn J Ecol 53:13–22 (in Japanese with an English summary)

Kalbitz K, Solinger S, Park J-H, Michalzik B, Matzner E (2000) Controls on the dynamics of dissolved organic matter in soils: a review. Soil Sci 165:728–736

Kalbitz K, Meyer A, Yang R, Gerstberger P (2007) Response of dissolved organic matter in the forest floor to long-term manipulation of litter and throughfall inputs. Biogeochemistry 86:301–318

Kawahigashi M (2011) Leaching of DOM influenced by its interactions with soil components. In: Japanese Society of Soil Science and Plant Nutrition (ed) Dynamics and function of dissolved organic matter—Connecting soil to sea through river, Hakuyusha, Tokyo, pp 63–89. (in Japanese)

Kawasaki M, Ohte N, Nambu K, Hobara S, Okazaki R, Katsuyama M, Kim S (2002) The dynamics of DOC in the hydrological process in a forested watershed. Jpn J Limnol 63:31–45 (in Japanese)

Kawasaki M, Ohte N, Katsuyama M (2005) Biogeochemical and hydrological controls on carbon export from a forested catchment in central Japan. Ecol Res 20:347–358

Kindler R, Siemens J, Kaiser K et al (2011) Dissolved carbon leaching from soil is a crucial component of the net ecosystem carbon balance. Glob Chang Biol 17:1167–1185. doi:10.1111/j.1365-2486.2010.02282.x

Laclau J-P, Levillain J, Deleporte P, Nzila JDD, Bouillet J-P, Saint André L, Versini A, Mareschal L, Nouvellon Y, Thongo M'Bou A, Ranger J (2010) Organic residue mass at planting is an excellent predictor of tree growth in Eucalyptus plantations established on a sandy tropical soil. For Ecol Manag 260:2148–2159

Leppälammi-Kujansuu J, Aro L, Salemaa M, Hansson K, Kleja DB, Helmisaari H-S (2014) Fine root longevity and carbon input into soil from below- and aboveground litter in climatically contrasting forests. For Ecol Manag 326:79–90

Levia DF, Frost EE (2003) A review and evaluation of stemflow literature in the hydrologic and biogeochemical cycles of forested and agricultural ecosystems. J Hydrol 274:1–29. doi:10.1016/S0022-1694(02)00399-2

Levia DF, Herwitz SR (2002) Winter chemical leaching from deciduous tree branches as a function of branch inclination angle in central Massachusetts. Hydrol Process 16:2867–2879. doi:10.1002/hyp.1077

Levia DF, Keim RF, Carlyle-Moses DE, Frost EE (2011) Throughfall and stemflow in wooded ecosystems. For Hydrol Biogeochem 216:425–443

Levia DF, Van Stan JT, Inamdar SP, Jarvis MT, Mitchell MJ, Mage SM, Scheick CE, McHale PJ (2012) Stemflow and dissolved organic carbon cycling: temporal variability in concentration, flux, and UV–Vis spectral metrics in a temperate broadleaved deciduous forest in the eastern United States. Can J For Res 42:207–216. doi:10.1139/x11-173

Liu CP, Sheu BH (2003) Dissolved organic carbon in precipitation, throughfall, stemflow, soil solution, and stream water at the Guandaushi subtropical forest in Taiwan. For Ecol Manag 172:315–325

McDowell W, Likens GE (1988) Origin, composition and flux of dissolved organic carbon in the Hubbard Brook Valley. Ecol Monogr 58:177–195

McDowell WH, Wood T (1984) Soil processes control dissolved organic carbon concentration in stream water. Soil Sci 137:23–32

Michalzik B, Matzner E (1999) Dynamics of dissolved organic nitrogen and carbon in a Central European Norway spruce ecosystem. Eur J Soil Sci 50:579–590

Michalzik B, Kalbitz K, Park J-H, Solinger S, Matzner E (2001) Fluxes and concentrations of dissolved organic matter—a synthesis for temperate forests. Biogeochemistry 52:173–205

Mo W, Lee M-S, Uchida M, Inatomi M, Saigusa N, Mariko S, Koizumi H (2005) Seasonal and annual variations in soil respiration in a cool-temperate deciduous broad-leaved forest, Japan. Agric For Meteorol 134:81–94

Moore TR (2003) Dissolved organic carbon in a northern boreal landscape. Glob Biogeochem Cycles 17:1109. doi:10.1029/2003GB002050

Moreno G, Gallardo JF, Bussotti F (2001) Canopy modification of atmospheric deposition in oligotrophic Quercus pyrenaica forests of an unpolluted region (central-western Spain). For Ecol Manag 149:47–60. doi:10.1016/S0378-1127(00)00544-2

Ohtsuka T, Akiyama T, Hashimoto Y, Inatomi M, Sakai T, Jia S, Mo W, Tsuda S, Koizumi H (2005) Biometric based estimates of net primary production (NPP) in a cool-temperate deciduous forest stand beneath a flux tower. Agric For Meteorol 134:27–38

Ohtsuka T, Saigusa N, Koizumi H (2009) On linking multiyear biometric measurements of tree growth with eddy covariance-based net ecosystem production. Glob Chang Biol 15:1015–1024

Ohtsuka T, Shizu Y, Hirota M, Yashiro Y, Shugang J, Iimura Y, Koizumi H (2014) Role of coarse woody debris in the carbon cycle of Takayama forest, central Japan. Ecol Res 29:91–101. doi:10.1007/s11284-013-1102-5

Pan Y, Wang Y, Xin J, Tang G, Song T, Wang Y, Li X, Wu F (2010) Study on dissolved organic carbon in precipitation in Northern China. Atmos Environ 44:2350–2357

Park J-H, Matzner E (2003) Controls on the release of dissolved organic carbon and nitrogen from a deciduous forest floor investigated by manipulations of aboveground litter inputs and water flux. Biogeochemistry 66:265–286

Price AG, Carlyle-Moses DE (2003) Measurement and modelling of growing-season canopy water fluxes in a mature mixed deciduous forest stand, southern Ontario, Canada. Agric For Meteorol 119:69–85

Qualls RG, Haines BL, Swank WT (1991) Fluxes of dissolved organic nutrients and humic substances in a deciduous forest. Ecology 72:254–266

Ramirez KS, Lauber CL, Knight R, Bradford MA, Fierer N (2010) Consistent effects of nitrogen fertilization on soil bacterial communities in contrasting systems. Ecology 91:3463–3470

Saigusa N, Yamamoto S, Murayama S, Kondo H, Nishimura N (2002) Gross primary production and net ecosystem production of a cool-temperate deciduous forest estimated by the eddy covariance method. Agric For Meteorol 112:203–215

Saitoh TM, Nagai S, Noda HM, Muraoka H, Nasahara KN (2012) Examination of the extinction coefficient in the Beer--Lambert law for an accurate estimation of the forest canopy leaf area index. For Sci Technol 8:67–76

Schimel DS (1995) Terrestrial ecosystems and the carbon cycle. Glob Chang Biol 1:77–91

Schmidt BHM, Wang CP, Chang SC, Matzner E (2009) High precipitation causes large fluxes of dissolved organic carbon and nitrogen in a subtropical montane Chamaecyparis forest in Taiwan. Biogeochemistry 101:243–256

Shibata H, Mitsuhashi H, Miyake Y, Nakano S (2001) Dissolved and particulate carbon dynamics in a cool-temperate forested basin in northern Japan. Hydrol Process 15:1817–1828. doi:10.1002/hyp.241

Siegert CM, Levia DF (2014) Seasonal and meteorological effects on differential stemflow funneling ratios for two deciduous tree species. J Hydrol 519:446–454. doi:10.1016/j.jhydrol

Soil Survey Staff (2014) Key to Soil Taxonomy, 12th edn. USDA-Natural Resources Conservation Service, Washington, DC. pp 87–106

Solinger S, Kalbitz K, Matzner E (2001) Controls on the dynamics of dissolved organic carbon and nitrogen in a Central European deciduous forest. Biogeochemistry 55:327–349

Staelens J, De SA, Verheyen K, Verhoest NEC, Niko EC (2008) Rainfall partitioning into throughfall, stemflow, and interception within a single beech (Fagus sylvatica L.) canopy: influence of foliation, rain event characteristics, and meteorology. Hydrol Process 22:33–45. doi:10.1002/hyp.6610

Tesón N, Conzonno VH, Arturi M, Frangi JL (2014) Dissolved organic carbon in water fuxes of Eucalyptus grandis plantations in northeastern Entre Ríos Province, Argentina. Bosque 35:279–288. doi:10.4067/S0717-92002014000300003

Uchida M, Mo W, Nakatsubo T, Tsuchiya Y, Horikoshi T, Koizumi H (2005) Microbial activity and litter decomposition under snow cover in a cool-temperate broad-leaved deciduous forest. Agric For Meteorol 134:102–109

Wada K (1986) Ando soils in Japan. Kyusyu Univ. Press, Fukuoka, p 276

Xu X, Wang Q, Hirata E (2005) Precipitation partitioning and related nutrient fluxes in a subtropical forest in Okinawa, Japan. Ann For Sci 62:245–252. doi:10.1051/forest:2005016

Yamamoto S, Murayama S, Saigusa N, Kondo H (1999) Seasonal and inter-annual variation of CO2 flux between a temperate forest and the atmosphere in Japan. Tellus B 51:402–413

Yan G, Kim G (2012) Dissolved organic carbon in the precipitation of Seoul, Korea: implications for global wet depositional flux of fossil-fuel derived organic carbon. Atmos Environ 59:117–124
Acknowledgements
This work was possible due to the support of field survey from the Takayama Forest Research Station, Gifu University, which is an institute for Basin Ecosystem Studies. We thank the members of Ohtsuka lab and all the members of the Takayama forest research station for their generous field assistance. We thank Prof. Fusheng Li, River Basin Research Center, Gifu University, for providing TOC analyser and suggestions of DOC method.
About this article
Cite this article
Chen, S., Yoshitake, S., Iimura, Y. et al. Dissolved organic carbon (DOC) input to the soil: DOC fluxes and their partitions during the growing season in a cool-temperate broad-leaved deciduous forest, central Japan. Ecol Res 32, 713–724 (2017). https://doi.org/10.1007/s11284-017-1488-6
Received:

Accepted:

Published:

Issue Date:
Keywords
DOC

Bulk precipitation

Throughfall

Stemflow

Litter leachate