Abstract
Most dietary studies on predator species available in the literature are based on single populations, with no meta-analysis across populations in distinct areas of their range. Here, we performed a systematic review of the available data on the food habits of barn owl (Tyto alba) across Italy, collected during the last 40 years in relation to the modeled patterns of richness of small mammal communities. The overall dataset came from 212 sites, with multiple surveys for some sites, and a total of 279 samples. There was a significant effect of sample size on niche breadth in each site. There was a significant difference in terms of dietary breadth among six distinct areas of Italy, with diet breadth being lower in Sardinia and higher in Latium-Abruzzi, Tuscany, and North-eastern Italy. Potential small mammal prey diversity was significantly different across distinct study sites, with Apulia and Sardinia having lower diversity than the rest of the sites. Potential small mammal prey diversity affected the niche breadth per site. Overall, the plasticity of the food niche breadth of the barn owl reflected not only local conditions but also more general distribution patterns of small mammal communities.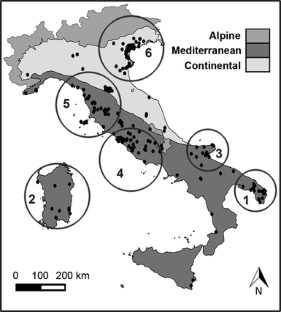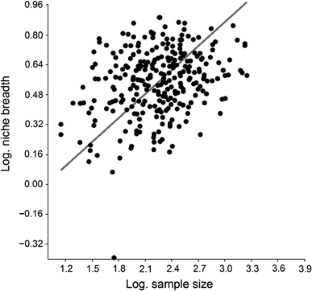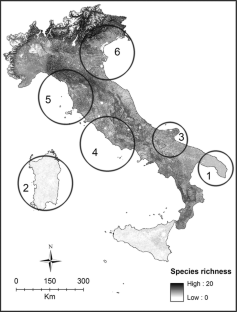 References
Amori G, Cipolloni A, Di Russo C (1991) Small mammals in the pellets of the barn owl in the central Apennines. Suppl Ric Biol Selv 16:533–537

Blasi C, Boitani L, La Posta S, Manes F, Marchetti M (2007) Biodiversity in Italy. Palombi Editore, Rome

Bontzorros VA, Pieris SJ, Vlachos CG, Bakaloudis DE (2005) The diet of barn owl in the agricultural landscapes of central Greece. Folia Zool 54:99–110

Brichetti P, Fracasso G (2006) Ornitologia italiana. Stercorariidae-Caprimulgidae, vol 3. Alberto Perdisa Editore, Bologna, pp 316–324

Contoli L, Aloise G, Filippucci MG (1988a) Sulla diversificazione trofica di barbagianni Tyto alba e civetta Athene noctua in rapporto al livello diagnostico delle prede. Avocetta 12:21–30

Contoli L, Aloise G, Filippucci MG (1988b) Sulla nicchia trofica di Tyto alba ed Athene noctua nell'Isola d'Elba (Toscana) in rapporto all'Italia tirrenica. Bull Ecol 19:367–373

Glue DE (2009) Prey taken by the barn owl in England and Wales. Bird Study 14:169–183

Green RF (2006) A simpler, more general method of finding the optimal foraging strategy for Bayesian birds. Oikos 112:274–284

Lekunze LM, Ezealor AU, Aken'ova T (2001) Prey groups in the pellets of the barn owl Tyto alba (Scopoli) in the Nigerian savanna. Afr J Ecol 39:38–44

Luiselli L (2006) Broad geographic, taxonomic and ecological patterns of interpopulation variation in the dietary habits of snakes. Web Ecol 6:2–16

Luiselli L, Migliazza R, Rotondo C, Amori G (2014) Macro-ecological patterns of a prey–predator system: rodents and snakes in West and central Africa. Trop Zool 27:1–8

Magurran AE (1988) Ecological diversity and its measurement. Princeton University Press, Princeton

Maiorano L, Amori G, Capula M, Falcucci A, Masi M, Montemaggiori A, Pottier J, Psomas A, Rondinini C, Russo D, Zimmermann NE, Boitani L, Guisan A (2013) Threats from climate change to terrestrial vertebrate hotspots in Europe. PLoS ONE 8:e74989. doi:10.1371/journal.pone.0074989

Mazzotti S, Davi L (2003) Dinamiche stagionali della nicchia trofica del barbagianni, Tyto alba, in Pianura Padana. Ann Mus Civ St Nat Ferrara 6:67–77

Olsson O, Brown JS (2006) The foraging benefits of information and the penalty of ignorance. Oikos 112:260–273

Prete S, Battisti C, Marini F, Ciucci P (2012) Applying abundance/biomass comparisons on a small mammal assemblage from barn owl (Tyto alba) pellets (Mount Soratte, central Italy): a cautionary note. Rend Lincei 23:349–354

Pullin AS, Stewart BG (2006) Guidelines for systematic review in conservation and environmental management. Conserv Biol 20:1647–1656

Ray ZC, Sunquist ME (2001) Trophic relations in a community of African rainforest carnivores. Oecologia 127:395–408

Schoener TW (1971) Theory of feeding strategies. Annu Rev Ecol Syst 11:369–404

Stephens DW, Krebs JR (1986) Foraging theory. Princeton University Press, Princeton

Taylor I (2004) Barn owls: predator–prey relationships and conservation. Cambridge University Press, London

Tomaselli R, Balduzzi A, Filipello S (1973) Carta bioclimatica d'Italia. La Vegetazione forestale d'Italia, Ministero Agricoltura e Foreste, Collana Verde, Rome, Italy

Torre I (2001) Tendencias geográficas en la dieta de la lechuza común (Tyto alba, Scopoli 1769) e interpretación de los patrones de riqueza de las comunidades de micromamiferos: una nueva aproximación analítica. Galemys 13:55–65

Varuzza P, Capizzi D, Santini L, Apollonio M (2001) Barn owl Tyto alba predation on small mammals in relation to the Mediterranean environment (Pisa Province, Italy). Acta Ornithol 36:153–160

Yom-Tov Y, Wool D (1997) Do the contents of barn owl pellets accurately represent the proportion of prey species in the field? Condor 99:972–976
Acknowledgments
We thank Dr. F. Rocchi for useful discussion on the investigated issues. This study was partially supported by funds provided from NextData Project (WP1.7). Comments by three anonymous reviewers improved the submitted drafts.
Electronic supplementary material
Below is the link to the electronic supplementary material.
About this article
Cite this article
Milana, G., Lai, M., Maiorano, L. et al. Geographic patterns of predator niche breadth and prey species richness. Ecol Res 31, 111–115 (2016). https://doi.org/10.1007/s11284-015-1319-6
Received:

Accepted:

Published:

Issue Date:
Keywords
Barn owl

Pellets

Niche breadth

Small mammals