Abstract
Montane cloud forest is one of the most endangered ecosystems. However, there are few comprehensive studies on the distribution of subtropical montane cloud forest (SMCF). Chamaecyparis forest is one type of SMCF in Taiwan, distributed across the whole island. This study describes eleven types of this forest in Taiwan based on the Braun-Blanquet approach. Plots were selected from the National Vegetation Database of Taiwan. Two alliances were defined, both of which belong to the order Fagetalia hayatae. Topography and altitude explain the contrasting habitat requirements of these two alliances, whereas seasonality of moisture, soil properties and altitude explain differences in floristic composition at the association level. The alliance of Chamaecyparidion formosanae on slopes and ridges includes coniferous or mixed coniferous and evergreen broad-leaved forests; it is found at higher altitudes and is more influenced by the summer monsoon than the other alliance. Five associations are defined within this alliance. The alliance of Pasanio kawakamii - Machilion japonicae growing on slopes and in valleys contains evergreen broad-leaved forests or forests with a mixture of coniferous and evergreen broad-leaved species. Six associations can be determined under the alliance of Pasanio kawakamii-Machilion japonicae. Classification of each syntaxon was formalized using Cocktail Determination Key.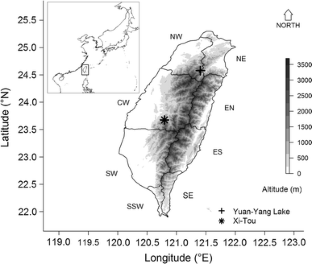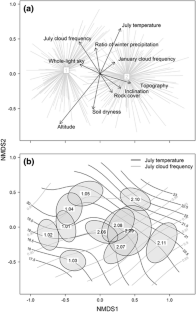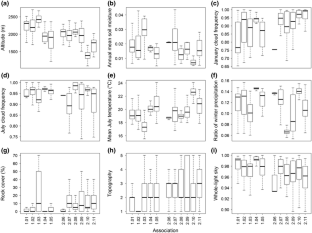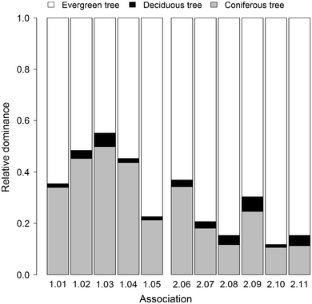 References
Bruelheide H (1997) Using formal logic to classify vegetation. Folia Geobot 32:41–46

Bruelheide H, Chytrý M (2000) Towards unification of national vegetation classifications: a comparison of two methods for analysis of large data sets. J Veg Sci 11:295–306

Bruijnzeel LA, Scatena FN, Hamilton LS (2010) Tropical montane cloud forests: science for conservation and management. Cambridge University Press, Cambridge

Chen YF (2001) Vegetation of Taiwan—Chamaecyparis cloud forest zone. Avanguardbook, Taipei (in Chinese)

Chou CH, Chen TY, Liao CC, Peng CI (2000) Long-term ecological research in Yuanyang Lake forest ecosystem. I. Vegetation composition and analysis. Bot Bull Acad Sinica 41:61–72

Chu HS, Chang SC, Klemm O, Lai CW, Lin YZ, Wu CC, Lin JY, Jiang JY, Chen J, Gottgens JF, Hsia YJ (2014) Does canopy wetness matter? Evapotranspiration from a subtropical montane cloud forest in Taiwan. Hydrol Process 28:1190–1214

Chytrý M (ed) (2007) Vegetation of the Czech Republic 1. Grassland and heathland vegetation. Academia, Prague (in Czech)

Chytrý M, Tichý L, Holt J, Botta-Dukát Z (2002) Determination of diagnostic species with statistical fidelity measures. J Veg Sci 13:79–90

Chytrý M, Schaminée JHJ, Schwabe A (2011) Vegetation survey: a new focus for Applied Vegetation Science. Appl Veg Sci 14:435–439

Curtis JT (1959) The vegetation of Wisconsin: An ordination of plant communities. University Wisconsin Press, Madison

Da LJ, Kang MM, Song K, Shang KK, Yang YC, Xia AM, Qi YF (2009) Altitudinal zonation of human-disturbed vegetation on Mt. Tianmu, eastern China. Ecol Res 24:1287–1299

Forget PM, Lambert JE, Hulme PE, Wall SBV (2004) Seed fate: predation, dispersal and seed establishment. CABI Pub, Cambridge

Fujiwara K (1996) Classification of plant communities in the Vegetation of Japan 1980–1989. Bull Inst Environ Sci Technol Yokohama Natl Univ 22:23–79

Geiger R (1966) The climate near the ground. Harvard University Press, Cambridge

Gillies RR, Cui TNC, Kustas WP, Humes KS (1997) A verification of the 'triangle' method for obtaining surface soil water content and energy fluxes from remote measurements of the Normalized Difference Vegetation Index (NDVI) and surface radiant temperature. Int J Remote Sens 18:3145–3166

Hamilton LS, Juvik JO, Scatena FN (1995) The Puerto Rico tropical cloud forest symposium: introduction and workshop synthesis. In: Hamilton LS, Juvik JO, Scatena FN (eds) Tropical montane cloud forests. Springer-Verlag, New York, pp 1–18

Hijmans RJ, Cameron SE, Parra JL, Jones PG, Jarvis A (2005) Very high resolution interpolated climate surfaces for global land areas. Int J Climatol 25:1965–1978

Horng FW, Ma FC, Yu HM, Hsui YR, Chang HM (2000) An estimation of original Chamaecyparis forest area in Taiwan and its implication for conservation. Q J Chin For 17:143–153

Hou XY (1983) Vegetation of China with references to its geographical distribution. Ann Mo Bot Gard 70:509–549

Hsieh CF (1989) Structure and floristic composition of the beech forest in Taiwan. Taiwania 34:28–44

Huang TC, Hsieh CF (1994–2003) Flora of Taiwan, vol. I–VI, 2nd edn., National Taiwan University, Taipei

Hukusima T, Lu SY, Matsui T, Nishio T, Liu CL, Pignatti S (2005) Phytosociology of Fagus hayatae forests in Taiwan. Rend Fis Acc Lincei 16:171–189

Hukusima T, Matsui T, Nishio T, Pignatti S, Yang L, Lu SY, Kim MH, Yoshikawa M, Honma H, Wang Y (2013) Phytosociology of the beech (Fagus) forests in East Asia. Springer, Heidelberg

Janišová M, Dúbravková D (2010) Formalized classification of rocky Pannonian grasslands and dealpine Sesleria dominated grasslands in Slovakia using a hierarchical expert system. Phytocoenologia 40:267–291

Jennings MD, Faber-Langendoen D, Loucks OL, Peet RK, Roberts D (2009) Standards for associations and alliances of the U.S. National Vegetation Classification. Ecol Monogr 79:173–199

Kent M (2012) Vegetation description and data analysis, 2nd edn. Wiley-Blackwell, Hoboken

Kočí M, Chytrý M, Tichý L (2003) Formalized reproduction of an expert-based phytosociological classification: a case study of subalpine tall-forb vegetation. J Veg Sci 14:601–610

Kruskal JB (1964) Nonmetric multidimensional scaling: a numerical method. Psychometrika 29:115–129

Lai IL, Chang SC, Lin PH, Chou CH, Wu JT (2006) Climatic characteristics of the subtropical mountainous cloud forest at Yuanyang Lake Long-Term ecological research site, Taiwan. Taiwania 51:317–329

Lai IL, Schroeder WH, Wu JT, Kuo-Huang LL, Mohl C, Chou CH (2007) Can fog contribute to nutrition of Chamaecyparis obtusa var. formosana? Uptake of a fog solute tracer into foliage and transport to root. Tree Physiol 27:1001–1009

Lai YJ, Chou MD, Lin PH (2010) Parameterization of topographic effect on surface solar radiation. J Geophys Res 115:D01104

Lai YJ, Li CF, Lin PH, Wey TH, Chang CS (2012) Comparison of MODIS land surface temperature and ground-based observed air temperature on complex topography. Int J Remote Sens 33:7685–7702

Landucci F, Tichý L, Šumberová K, Chytrý M (2015) Formalized classification of species-poor vegetation: a proposal of a consistent protocol for aquatic vegetation. J Veg Sci 26:791–803

Li CF, Chytrý M, Zelený D, Chen MY, Chen TY, Chiou CR, Hsia YJ, Liu HY, Yang SZ, Yeh CL, Wang JC, Yu CF, Lai YJ, Chao WC, Hsieh CF (2013) Classification of Taiwan forest vegetation. Appl Veg Sci 16:698–719

Lin CT, Li CF, Zelený D, Chytrý M, Nakamura Y, Chen MY, Chen TY, Hsia YJ, Hsieh CF, Liu HY, Wang JC, Yang SZ, Yeh CL, Chiou CR (2012) Classification of high-mountain coniferous forests in Taiwan. Folia Geobot 47:373–401

Miyawaki A (1980) Vegetation of Japan 1. Yakushima. Shibundo Publishing, Tokyo (in Japanese)

Miyawaki A (1985) Vegetation of Japan 6. Chubu. Shibundo Publishing, Tokyo (in Japanese)

Mueller-Dombois D, Ellenberg H (1974) Aims and methods of vegetation ecology. John Wiley & Sons Inc, New York

Oksanen J, Blanchet FG, Kindt R, Legendre P, Minchin PR, O'Hara RB, Simpson GL, Solymos P, Stevens MHH, Wagner H (2013) vegan: community ecology package. R package version 2.0-6. http://CRAN.R-project.org/package=vegan. Accessed 30 April 2013

Oliveria RS, Eller CB, Bittencourt PR, Mulligan M (2014) The hydroclimatic and ecophysiological basis of cloud forest distributions under current and projected climates. Ann Bot 113:909–920

Peet R, Roberts D (2013) Classification of natural and semi-natural vegetation. In: van der Maarel E, Franklin J (eds) Vegetation ecology, 2nd edn. Wiley-Blackwell, Oxford, pp 28–70

R Core Team (2013) R: a language and environment for statistical computing. R Foundation for Statistical Computing, Vienna, Austria. http://www.R-project.org. Accessed 30 April 2013

Sandholt I, Rasmussen K, Andersen J (2002) A simple interpretation of the surface temperature/vegetation index space for assessment of surface moisture status. Remote Sens Environ 79:213–224

Schupp EW, Jordano P, Gómez JM (2010) Seed dispersal effectiveness revised: a conceptual review. New Phytol 188:333–353

Sklenář P, Bendix J, Balslev H (2008) Cloud frequency correlates to plant species composition in the high Andes of Ecuador. Basic Appl Ecol 9:504–513

Song YC (1999) Perspective of the vegetation zonation of forest region in eastern China. Acta Bot Sinica 41:541–552 (in Chinese)

Sørensen R, Zinko U, Seibert J (2006) On the calculation of the topographic wetness index: evaluation of different method based on field observations. Hydrol Earth Syst Sci 10:101–112

Su HJ (1984) Studies on the climate and vegetation types of the natural forests in Taiwan (II)—Altitudinal vegetation zones in relation to temperature gradient. Q J Chin For 17:57–73

Su HJ (1985) Studies on the climate and vegetation types of the natural forests in Taiwan (III)—A scheme of geographical climatic regions. Q J Chin For 18:33–44

Su HJ (2002) The diversification and synthesis of vegetation classification. J NTU Exp For 16:269–282 (in Chinese)

Suzuki T (1952) The forest vegetation of East Asia. Kokin-Shoin, Tokyo (in Japanese)

Suzuki T (1954) The forest vegetation of the north-Formosa mountains. Jpn J Ecol 4:7–13 (in Japanese)

Tichý L (2002) JUICE, software for vegetation classification. J Veg Sci 13:451–453

Tichý L, Chytrý M (2006) Statistical determination of diagnostic species for site groups of unequal size. J Veg Sci 17:809–818

van der Maarel E, Franklin J (2013) Vegetation ecology: historical notes and outline. In: van der Maarel E, Franklin J (eds) Vegetation ecology, 2nd edn. Wiley-Blackwell, Oxford, pp 45–59

Weber HE, Moravec J, Theurillat JP (2000) International code of phytosociological nomenclature, 3rd edition. J Veg Sci 11:739–768

Wey TH, Lai YJ, Chang CS, Shen CW, Hong CY, Wang YN, Chen MC (2011) Preliminary studies on fog characteristics at Xitou region of central Taiwan. J NTU Exp Forest 25:149–160 (in Chinese)

Xu J, Wang XH (2010) Distribution and characteristics of the mossy dwarf forest in China. J East China Nor Univ (Nature Science) 4:44–57 (in Chinese)
Acknowledgments
We appreciate the efforts of the editors and two anomymous reviewers who greatly helped us to improve this paper. The Forestry Bureau of Taiwan significantly contributed to this study by supporting the National Vegetation Database of Taiwan. The work was also supported by the Czech Science Foundation [GAP 505/12/1022 to CFL and MC, and GAP 505/11/0732 to DZ].
Electronic supplementary material
Below is the link to the electronic supplementary material.
About this article
Cite this article
Li, CF., Zelený, D., Chytrý, M. et al. Chamaecyparis montane cloud forest in Taiwan: ecology and vegetation classification. Ecol Res 30, 771–791 (2015). https://doi.org/10.1007/s11284-015-1284-0
Received:

Accepted:

Published:

Issue Date:
Keywords
Cocktail Determination Key

Seasonality of moisture

Species group

Supervised classification

Topography