Abstract
Human-induced landscape changes are expected to have strong effects on the composition and structure of terrestrial small mammal communities (Orders Rodentia and Soricomorpha). However, testing such expectations is difficult due to low detectability of these animals. We used analyses of barn owl (Tyto alba) pellets sampled in the same roosting places during 1977–1991 and again in 2011–2014 to (a) document small mammal community changes and (b) relate them to changes in land use. Forest and synanthropic small mammals increased by a 7 % between both periods, whereas open-land species decreased by 13 %. Man-made loss (crops and meadows) and expansion (forest and urban) of relevant habitat types were closely related to these changes. Localities with land use changes opposite to the general trend showed also an opposite trend in small mammal community change. Land use heterogeneity increased and dominance decreased between both sampling periods, and this pattern was paralleled by an increasing trend in diversity and a decreasing trend in dominance in small mammal communities. Decreasing trends of some generalist northern species with restricted ranges may have been due to climate change. Diet monitoring of barn owls are thus valuable tools for both documenting and analyzing fine-grained small mammal responses to global change.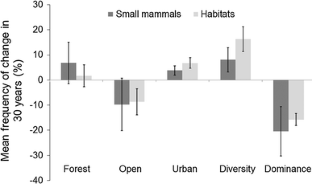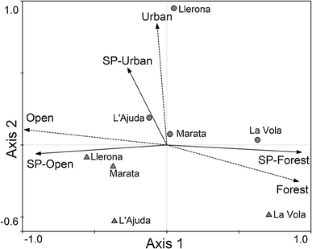 References
Almodóvar A, Nicola GG, Ayllón D, Elvira B (2012) Global warming threatens the persistence of Mediterranean brown trout. Glob Change Biol 18:1549–1560

Arrizabalaga A, Montagud E, Gosàlbez J (1986) Introducció a la Biologia i Zoogeografia dels petits mamífers (insectívors i rosegadors) del Montseny (Catalunya). CIRIT, Generalitat de Catalunya

Arrizabalaga A, Torre I, Catzeflis F, Renaud F, Santalla F (1999) Primera cita d'Apodemus flavicollis (Melchior, 1834) al Montseny. Determinació morfològica i genètica. III i IV Trobada d'Estudiosos del Montseny, Diputació de Barcelona, pp 193–195

Askew NP, Searle JB, Moore NP (2007) Agri-environment schemes and foraging of barn owls Tyto alba. Agric Ecosyst Environ 118:109–114

Aventant NL (2005) Barn owl pellets: a useful tool for monitoring small mammal communities? Belgian J Zool 135(supplement):39–43

Bernard N, Michelat D, Raoul F, Quere J-P, Delattre P, Giraudoux P (2010) Dietary response of Barn Owls (Tyto alba) to large variations in populations of common voles (Microtus arvalis) and European water voles (Arvicola terrestris). Can J Zool 88:416–426

Bond G, Burnside NG, Metcalfe DJ, Scott DM, Blamire J (2005) The effects of land-use and landscape structure on barn owl (Tyto alba) breeding success in Southern England, U.K. Landscape Ecol 20:555–566

Cooke D, Nagle A, Smiddy P, Fairley J, Muircheartaigh I (1996) The diet of the barn owl (Tyto alba) in County Cork in relation to land use. Proc R Irish Acad 96B:97–111

Costantini D, Casagrande S, Di Lieto G, Fanfani A, Dell'Omo G (2005) Consistent differences in feeding habits between neighbouring breeding kestrels. Behaviour 142:1403–1415

Culí J, Riera S, Solà E (1989) Les egagròpiles. Concepte, tractment i utilitat. Treballs de camp i de laboratori. Aplicacions escolars, Eumo Editorial, p 87

Debussche M, Lepart J, Dervieux A (1999) Mediterranean landscape changes: evidence from old postcards. Glob Ecol Biogeogr 8:3–15

Devictor V, van Swaay C, Brereton T, Brotons L, Chamberlain D, Heliölä J, Herrando S, Julliard R, Kuussaari M, Lindström Å, Reif J, Roy DB, Schweiger O, Settele J, Stefanescu C, Van Strien A, Van Turnhout C, Vermouzek Z, DeVries MW, Wynhoff I, Jiguet F (2012) Differences in the climatic debts of birds and butterflies at a continental scale. Nat Clim Change 2:121–124. doi:10.1038/nclimate1347

Doblas-Miranda E, Martínez-Vilalta J, Álvarez A, Ávila A, Bonet FJ, Brotons L, Castro J, Curiel Yuste J, Díaz M, Ferrandis P, García-Hurtado E, Iriondo JM, Keenan T, Latron J, Lloret F, Lluisià J, Loepfe L, Mayol M, Moré G, Moya D, Peñuelas J, Pons X, Poyatos R, Sardas J, Sus O, Vallejo R, Vayreda J, Retana J (2015) Reassessing global change research priorities in the Mediterranean Basin: how far have we come and where do we go from here? Glob Ecol Biogeogr 24:25–43

Duguy B (2003) Interacción de la historia de usos del suelo y el fuego en condiciones Mediterráneas. Respuesta de los ecosistemas y estructura del paisaje. PhD Thesis. Universidad de Alicante

Embar K, Mukherjee S, Kotler BP (2014) What do predators really want? The role of gerbil energetic state in determining prey choice by Barn Owls. Ecology 95:280–285

Estrada J, Pedrocchi V, Brotons L, Herrando S (ed) (2004) Atles d'ocells nidificants de Catalunya 1999–2002. Institut Català d'Ornitologia (ICO). Lynx Edicions, Barcelona

Everitt BS (1992) The analysis of contingency tables, 2nd edn. Chapman and Hall/CRC, London, p 168

Fernández L (2012) La dieta de l'Òliba (Tyto alba) aplicada a la distribució dels petits mamífers forestals: el cas del ratolí lleonat (Apodemus flavicollis) al sector del Montseny. Degree's Thesis, Universidad de Barcelona

Gosálbez J (1987) Insectívors i Rosegadors de Catalunya. Metodologia i catàleg faunístic. Institució Catalana d`Història Natural, Ketres Editora S.A, p 241

Gotelli NJ, Entsminger GL (2001) EcoSim: null modeling software for ecologists. http://www.garyentsminger.com/ecosim/index.htm. Accessed 15 Jun 2011

Holling CS (1965) The functional response of predators to prey density and its role on mimicry and population regulation. Memo Entomol Soc Can 97:5–60

Leps J, Smilauer P (2003) Multivariate analysis of ecological data using CANOCO. Cambridge University Press, New York, p 269

Llebot JE (2012) Segon informe sobre el canvi climàtic a Catalunya; Barcelona: Generalitat de Catalunya and Institut d'Estudis Catalans

Love R, Webbon C, Glues D, Harris S (2000) Changes in the food of British Barn Owls (Tyto alba) between 1974 and 1997. Mammal Rev 30:107–129

Marti CD (1973) Food consumption and pellet formation rates in four owl species. Wilson Bull 85:178–181

Martínez JA, Zuberogoitia I (2004) Habitat preferences and causes of population decline for barn owls Tyto alba: a multi-scale approach. Ardeola 51:303–317

Matesanz S, Valladares F (2014) Ecological and evolutionary responses of Mediterranean plants to global change. Environ Exp Bot 103:53–67

McDonald K, Burnett S, Robinson W (2013) Utility of owl pellets for monitoring threatened mammal communities: an Australian case study. Wild Res 40:685–697

Meek WR, Burman PJ, Sparks TH, Nowakowski M, Burman J (2012) The use of Barn Owl Tyto alba pellets to assess population change in small mammals. Bird Study 59:166–174

Millán de la Peña N, Butet A, Delettre Y, Paillat G, Morand P, Le Du L, Buriel F (2003) Response of small mammal community to change in western French agricultural landscapes. Landscape Ecol 18:265–278

Montagud E, Arrizabalaga A (1980) Coneixement de la fauna de petits mamífers mitjançant l'estudi de l'alimentació dels seus depredadors. Revista Vallès 237:8p

Morán-López, T, Fernández, M, Alonso, CL, Flores, D, Valladares, F, Díaz, M (2015). Effects of forest fragmentation on the oak-rodent mutualism. Oikos 00: 000–000 doi:10.1111/oik.02061

Parcerisas L, Marull J, Pino J, Tello E, Coll F, Basnou C (2012) Land use changes, landscape ecology and their socioeconomic driving forces in the Spanish Mediterranean coast (El Maresme County, 1850-2005). Environ Sci Policy 23:120–132

Parmesan C, Burrows MT, Duarte CM, Poloczanska ES, Richardson AJ, Schoeman DS, Singer MC (2013) Beyond climate change attribution in conservation and ecological research. Ecol Lett 16:58–71

Pausas JG (2004). La recurrencia de incendios en el monte Mediterráneo. In: Vallejo VRY, Alloza JA (eds) Avances en el estudio de la gestión del monte mediterráneo. Instituto Universitario Centro de Estudios Ambientales del Mediterráneo, CEAM-UMH, pp 47–64

Peñuelas J, Boada M (2003) A global change-induced biome shift in the Montseny mountains (NE Spain). Glob Change Biol 9:131–140

Requejo A (2011). Distribución de los micromamíferos en la comarca de Osona: influencia de los factores geográficos, climáticos y usos del suelo. Master's Thesis, Universitat de Barcelona

Ribas J (2014) El ocells del Montseny. Treballs del Museu de Ciències Naturals de Granollers 6:1–431

Rodríguez C, Peris S (2007) Habitat associations of small mammals in farmed landscapes: implications for agri-environmental schemes. Animal Biol 57:301–314

Rowe RJ (2007) Legacies of land use and recent climatic change: the small mammal fauna in the mountains of Utah. Am Nat 170:242–257

Sala OE, Chapinn FS III, Armesto JJ, Berlow E, Bloomfield J, Dirzo R, Huber-Sanwald E, Huenneke LF, Jackson RB, Kinzig A, Leemans R, Lodge DM, Mooney HA, Oesterheld M, Poff NL, Sykes MT, Walker BH, Walker M, Wall DH (2000) Global biodiversity scenarios for the year 2100. Science 287:1770–1774

Seamon JO, Adler GH (1996) Population performance of generalist and specialist rodents along habitat gradients. Can J Zool 74:1130–1139

Seiferling I, Proulx R, Wirth C (2014) Disentangling the environmental-heterogeneity species-diversity relationship along a gradient of human footprint. Ecology 95:2084–2095

Seoane J, Carrascal LM (2008) Interspecific differences in population trends of Spanish birds are related to habitat and climatic preferences. Glob Ecol Biogeogr 17:111–121

Szpunar G, Aloise G, Mazzotti S, Nieder L, Cristaldi M (2008) Effects of global climate change on terrestrial small mammals communities in Italy. Fresenius Environ Bull 17:1526–1533

Ter Braak CJ, Smilauer P (2002). CANOCO reference manual and CanoDraw for Windows. User's Guide: Software for canonical community ordination (version 4.5). Microcomputer Power, NY, p 500

Tews J, Brose U, Grimm V, Tielborger K, Wichmann MC, Schwager M, Jeltsch F (2004) Animal species diversity driven by habitat heterogeneity/diversity: the importance of keystone structures. J Biogeogr 31:79–92

Thuiller W, Lavergne S, Roquet C, Boulangeat I, Lafourcade B, Araujo MB (2011) Consequences of climate change on the tree of life in Europe. Nature 470(7335):531–534

Tores M, Motro Y, Motro U, Yom-Tov Y (2005) The barn owl - A selective opportunist predator. Israel J Zool 51(4):349–360

Torre I (2001) Tendencias geográficas en la dieta de la lechuza común (Tyto alba) e interpretación de los patrones de riqueza de les comunidades de micromamíferos: una nueva aproximación analítica. Galemys 13:55–65

Torre I (2004) Distribution, population dynamics and habitat selection of small mammals in Mediterranean environments: the role of climate, vegetation structure, and predation risk. PhD Thesis, Universitat de Barcelona, p 177

Torre I, Tella JL, Ballesteros T (1997) Tendencias tróficas de la lechuza común (Tyto alba) en la depresión media del Ebro. Hist Animal 3:35–44

Torre I, Arrizabalaga A, Flaquer C (2004) Three methods for assessing richness and composition of small mammal communities. J Mammal 85:524–530

Torre I, Arrizabalaga A, Freixas L, Ribas A, Flaquer C, Díaz M (2013) Using scats of a generalist carnivore as a tool to monitor small mammal communities in Mediterranean habitats. Basic Appl Ecol 14:155–164

Torre I, Díaz M, Arrizabalaga A (2014) Additive effects of climate and vegetation structure on the altitudinal distribution of greater white-toothed shrews Crocidura russula in a Mediterranean mountain range. Acta Theriol 59:139–147

Torre I, Fernández L, Arrizabalaga A (2015) Using barn owl Tyto alba pellet analyses to monitor the distribution patterns of the yellow-necked mouse (Apodemus flavicollis, Melchior 1834) in a transitional Mediterranean mountain. Mammal Study 40: 000-000
Acknowledgments
This work is based on the MsC thesis of LG-C, defended in the Autonomous University of Barcelona (UAB) in September 2014 under the same title. We thank Ferran Pàramo for his help with GIS in the land use analysis. Aina Garcia, Miriam Carrero, and Laura Casanova, helped with the cleaning and identification of small mammals remains. We are also grateful to Pere Vila and Grup de Naturalistes d'Osona for providing recent barn owl pellets. This paper is a contribution to the thematic network REMEDINAL III.
About this article
Cite this article
Torre, I., Gracia-Quintas, L., Arrizabalaga, A. et al. Are recent changes in the terrestrial small mammal communities related to land use change? A test using pellet analyses. Ecol Res 30, 813–819 (2015). https://doi.org/10.1007/s11284-015-1279-x
Received:

Accepted:

Published:

Issue Date:
Keywords
Barn owl

Global change

Human-use trends

Mediterranean

Small mammal guilds