Abstract
A significantly increased water regime can lead to inundation of rivers, creeks and surrounding floodplains- and thus impact on the temporal dynamics of both the extant vegetation and the dormant, but viable soil-seed bank of riparian corridors. The study documented changes in the soil seed-bank along riparian corridors before and after a major flood event in January 2011 in southeast Queensland, Australia. The study site was a major river (the Mooleyember creek) near Roma, Central Queensland impacted by the extreme flood event and where baseline ecological data on riparian seed-bank populations have previously been collected in 2007, 2008 and 2009. After the major flood event, we collected further soil samples from the same locations in spring/summer (November–December 2011) and in early autumn (March 2012). Thereafter, the soils were exposed to adequate warmth and moisture under glasshouse conditions, and emerged seedlings identified taxonomically. Flooding increased seed-bank abundance but decreased its species richness and diversity. However, flood impact was less than that of yearly effect but greater than that of seasonal variation. Seeds of trees and shrubs were few in the soil, and were negatively affected by the flood; those of herbaceous and graminoids were numerous and proliferate after the flood. Seed-banks of weedy and/or exotic species were no more affected by the flood than those of native and/or non-invasive species. Overall, the studied riparian zone showed evidence of a quick recovery of its seed-bank over time, and can be considered to be resilient to an extreme flood event.
This is a preview of subscription content,
to check access.
Access this article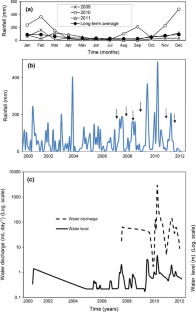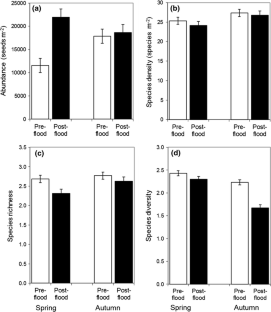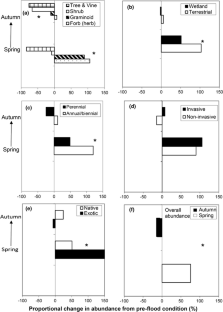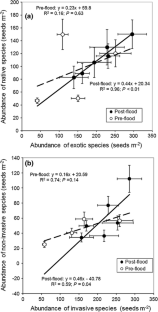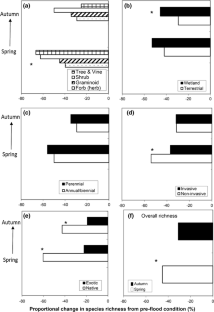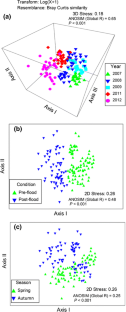 Similar content being viewed by others
References
Adkins SW, Navie SC, McFadyen RE (1996) Control of Parthenium weed (Parthenium hysterophorus L.): a centre for tropical pest management team effort. In: Shepherd RCH (ed). Proceedings, 11th Australia Weeds Conference, Weed Science Society, Victoria, Australia pp 573–578

Bagstad KJ, Stromberg JC, Lite SJ (2005) Response of herbaceous riparian plants to rain and flooding on the San Pedro River, Arizona, USA. Wetlands 25:210–223

Baskin CC, Seeds Baskin JM (2001) Ecology, biogeography, and evolution of dormancy and germination. Academic Press, London

Bernhardt KG, Koch M, Kropf M, Ulbel E, Webhofer J (2008) Comparison of two methods characterising the seed bank of amphibious plants in submerged sediments. Aquat Bot 88:171–177

Bilkovic DM, Mitchell MR, Hershner CH, Havens KJ (2012) Transitional wetland faunal community characterization and response to precipitation-driven salinity fluctuations. Wetlands 32:425–437

Britton DL, Brock MA (1994) Seasonal germination from wetland seed banks. Aust J Mar Fresh Res 45:1445–1458

Capon SJ (2005) Flood variability and spatial variation in plant community composition and structure on a large arid floodplain. J Arid Environ 60:283–302

Capon SJ, Brock MA (2006) Flooding, soil seed bank dynamics and vegetation resilience of a hydrologically variable desert floodplain. Freshw Biol 51:206–223

Catford JA, Downes BJ, Gippel CJ, Vesk PA (2011) Flow regulation reduces native plant cover and facilitates exotic invasion in riparian wetlands. J Appl Ecol 48:432–442

Clarke KR, Gorley RN (2006) Primer v 6:User manual/ Tutorial. PRIMER-E, Plymouth

Clarke KR, Warwick RM (2001) Change in marine communities: an approach to statistical analyses and interpretation, 2nd edn. PRIMER-E, Plymouth

Colloff MJ, Baldwin DS (2010) Resilience of floodplain ecosystems in a semi-arid environment. Rangeland J 32:305–314

Dhileepan K (2012) Reproductive variation in naturally occurring populations of the weed Parthenium hysterophorus (Asteraceae) in Australia. Weed Sci 60:571–576

Gerard M, El-Kahloun M, Mertens W, Verhagen B, Meire P (2008) Impact of flooding on potential and realised grassland species richness. Plant Ecol 194:85–98

Goodson JM, Gurnell AM, Angold PG, Morrissey IP (2001) Riparian seed banks: structure, process and implications for riparian management. Prog Phys Geog 25:301–325

Greet J, Cousens RD, Webb JA (2012) More exotic and fewer native plant species: riverine vegetation patterns associated with altered seasonal flow patterns. River Res Appl 29:686–706

Haukos DA, Smith LM (1994) Composition of seed banks along an elevational gradient in playa wetlands. Wetlands 14:301–307

Hölzel N, Otte A (2004) Inter-annual variation in the soil seed bank of flood-meadows over two years with different flooding patterns. Plant Ecol 174:279–291

Hussey BMJ, Keighery GJ, Cousens RD, Dodd J, Lloyd SG (1997) Western weeds: A guide to the weeds of western Australia. Plant Protection Council of Western Australia Inc., Perth

Ilg C, Dziock F, Foeckler F, Follner K, Gerisch M, Glaeser J, Rink A, Schanowski A, Scholz M, Deichner O, Henle K (2008) Long-term reactions of plants and macro-invertebrates to extreme floods in floodplain grasslands. Ecology 89:2392–2398

Jutila HM (2001) Effect of flooding and draw-down disturbance on germination from a seashore meadow seed bank. J Vege Sci 12:729–738

Kehr JM, Merritt DM, Stromberg JC (2014) Linkages between primary seed dispersal, hydrochory and flood timing in a semi-arid region river. J Vege Sci 25:287–300

Lunt ID, Jansen A, Binns DL (2012) Effects of flood timing and livestock grazing on exotic annual plants in riverine floodplains. J App Ecol 49:1131–1139

MacDougall AS, Turkington R (2005) Are invasive species the drivers or passengers of change in degraded ecosystems? Ecology 86:42–55

Martinez-Duro E, Luzuriaga AL, Ferrandis P, Escudero A, Herranz JM (2011) Does aboveground vegetation composition resemble soil seed bank during succession in specialized vegetation on gypsum soil? Ecol Res 27:43–51

Naiman RJ, Decamps H (1997) The ecology of interfaces: riparian zones. Ann Rev Ecol Syst 28:621–658

Navie SC, Panetta FD, McFadyen RE, Adkins SW (2004) Germinable soil seed banks of central Queensland rangelands invaded by the exotic weed Parthenium hysterophorus L. Weed Biol Manag 4:154–167

Nguyen TLT (2011) The invasive potential of Parthenium weed (Parthenium hysterophorus L.) in Australia. PHD Thesis, University of Queensland, Australia

Nilsson C, Brown RL, Jansson R, Merritt DM (2010) The role of hydrochory in structuring riparian and wetland vegetation. Biol Rev 85:837–858

Osunkoya OO, Polo C, Andersen AN (2011) Invasion impacts on biodiversity: responses of ant communities to infestation by cat's claw creeper vine, Macfadyena unguis-cati (Bignoniaceae) in subtropical Australia. Biol Invasions 13:2289–2302

QLD Dept of NRWM (2011) Queensland government, Australia water monitoring program Available at http://www.watermonitoring.derm.gov.au. Accessed Dec 2013

Queensland Government (2011) Queensland Floods Commission of Inquiry: Interim report, Brisbane, Queensland, Australia Available at http://www.floodcommission.qld.gov.au. Accessed 22 Nov 2013

Reid MA, Quinn GP (2004) Hydrologic regime and macrophyte assemblages in temporary floodplain wetlands, implications for detecting responses to environmental water allocations. Wetlands 2:586–599

Roberts HA (1981) Seed banks in the soil. Adv Appl Biol 6:1–55

Siebentritt MA, Ganf GG, Walker KF (2004) Effects of an enhanced flood on riparian plants of the River Murray, South Australia. River Res Appl 20:765–774

Smith MP, Keevin P, Mettler-McClure P, Barkau R (1998) Effect of the flood of 1993 on Boltonia decurrens, a rare floodplain plant. Regul Rivers Res Manag 141:91–202

Stanley TD, Ross EM (1983–1995) Plants of South-east Queensland, vol 1–3. Queensland Government, Brisbane, Australia

Stromberg JC (2007) Seasonal reversals of upland-riparian diversity gradients in the Sonoran Desert. Divers Distrib 13:70–83

Stromberg JC, Richter BD, Patten DT, Wolden LG (1993) Response of a Sonoran riparian forest to a 10-year return flood. Great Basin Nat 53:118–130

Stromberg JC, Boudell JF, Hazelton AF (2008) Differences in seed mass between hydric and xeric plants influence seed bank dynamics in a dryland riparian ecosystem. Funct Ecol 22:205–212

Ter-Heerdt GNJ, Verweij GL, Bekker RM, Bakker JP (1996) An improved method for seed bank analysis: seedling-emergence after removing the soil by sieving. Funct Ecol 10:144–151

van den Honert RC, McAneney J (2011) The 2011 Brisbane floods: causes, impacts and implications. Water 3:1149–1173

Ward JV, Bretschko G, Brunke M, Danielopol D, Gibert J, Gonser T, Hildrew AG (1998) The boundaries of river systems: the metazoan perspective. Freshw Biol 40:531–569

Welleck S (2003) Testing statistical hypotheses of equivalence. Chapman Hall, London

Wetzel PR, Kitchens WM, Brush JM, Dusek ML (2004) Use of a reciprocal transplant study to measure the rate of plant community change in a tidal marsh along a salinity gradient. Wetlands 24:879–890

Williams L, Reich P, Capon SJ, Raulings E (2008) Soil seed banks of degraded riparian zones in southeastern Australia and their potential contribution to the restoration of understorey vegetation. River Res Appl 24:1002–1017
Acknowledgments
Initial operational fund for this research was provided by the Vietnamese Government (Project 322), the Queensland Murray Darling Committee and the University of Queensland. We thank Queensland Government for providing travel and research fund for the post-flood survey and monitoring work.
Electronic supplementary material
Below is the link to the electronic supplementary material.
About this article
Cite this article
Osunkoya, O.O., Ali, S., Nguyen, T. et al. Soil seed bank dynamics in response to an extreme flood event in a riparian habitat. Ecol Res 29, 1115–1129 (2014). https://doi.org/10.1007/s11284-014-1198-2
Received:

Accepted:

Published:

Issue Date:

DOI: https://doi.org/10.1007/s11284-014-1198-2
Keywords