Abstract
Although insects expand their distribution by various ways, generally only the adult phase has been taken into consideration in research on dispersal. In Megacrania tsudai, it has been proposed that eggs are dispersed through seawater. To test this hypothesis, eggs were treated under normal condition (NC) on wet cotton swabs, and marine condition (MC), floating on salt water for 30, 60, 90, and 365 days. In addition, eggs in the NC and MC treatment groups were dissected every 10 days to verify the developmental stage. The hatching rates in the NC and MC treatment groups were not significantly different among the five treatment groups. However, the egg period, time from laying to hatching, in the MC treatment group was significantly longer than that in any other treatment groups. The egg period was lengthened when the floating period on seawater was longer. The time of the start of egg development was similar in the NC and MC treatment groups, but the developmental speed was slower in the MC treatment group. These results support that M. tsudai can expand its distribution by dispersing its eggs through seawater, probably thanks to specific characteristics of eggs that allow their survival when they float in the sea.
This is a preview of subscription content, log in to check access.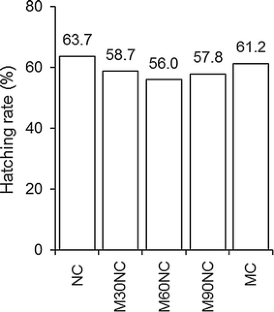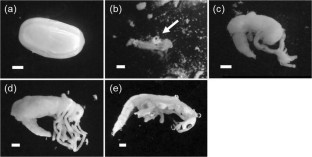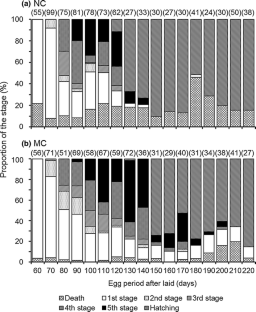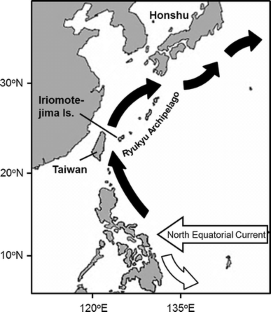 References
Andersen NM, Cheng L (2004) The marine insect Halobates (Heteroptera: Gerridae): biology, adaptations, distribution, and phylogeny. In: Gibson RN, Atkinson RJA, Gordon JDM (eds) Oceanography and marine biology: an annual review 42. CRC Press, Florida, pp 119–180

Azuma S, Yafuso M, Kinjo M, Hayashi M, Kohama T, Sasaki T, Kimura M, Kawamura F (2002) Check list of the insect of the Ryukyu Islands, 2nd edn. The Biological Society of Okinawa, Okinawa

Basden EB (1955) Egg-laying of the stick-insect (Carausius morosus Brlinner) (Orthop., Phasmidae). Entomol Mon Mag 61:201–202

Beament JWL (1961) The water relations of insect cuticle. Biol Rev 36:281–320

Bedford GO (1976) Description and development of the eggs of two stick insects (Phasmatodea: Phasmatidae) from New Britain. Aust J Entomol 15:389–393

Bedford GO (1978) Biology and ecology of Phasmatodea. Annu Rev Entomol 25:129–149

Cheng L (1985) Biology of Halobates (Heteroptera: Gerridae). Annu Rev Entomol 30:111–134

Clark JT (1979) A key to the eggs of stick and leaf insects (Phasmida). Syst Entomol 4:325–331

Cochran WG (1954) Some methods for strengthening the common χ2 tests. Biometrics 10:417–451

Dehgan B, Yuen CKKH (1983) Seed morphology in relation to dispersal, evolution, and propagation of Cycas L. Bot Gaz 144:412–418

Foster WA, Treherne JE (2008) The ecology and behaviour of a marine insect, Halobates fijiensis (Hemiptera: Gerridae). Zool J Linn Soc 86:391–412

García-González F, Gomendio M (2003) Oviposition site selection and oviposition stimulation by conspecifics in the golden egg bug (Phyllomorpha laciniata): implications for female fitness. Behav Ecol Sociobiol 53:385–392

Gibbs GW (1996) A large migration of the Australian painted lady butterfly, Vanessa kershawi (McCoy), to New Zealand. N Z Entomol 4:14–21

Hinton HE (1969) Respiratory systems of insect egg shells. Annu Rev Entomol 25:343–368

Hirsh H, Marle T (2002) Damage and recovery of Cycas micronesica after Typhoon Paka. Biotropica 34:598–602

Hsiung C-C (2007) Revision of the genus Megacrania Kaup (Cheleutoptera: Phasmatidae). J Orthop Res 16:207–221

Iwata S, Watanabe M (2004) Saline tolerance of young Zygopteran larvae inhabiting the emergent plants community established in estuaries. Jpn J Entomol (New Ser) 7:133–141 (in Japanese with English summary)

Kiflawi M, Blaustein L, Mangel M (2003) Oviposition habitat selection by the mosquito Culiseta longiareolata in response to risk of predation and conspecific larval density. Ecol Entomol 28:168–173

Krebs CJ (2001) Ecology: the experimental analysis of distribution and abundance, 5th edn. Benjamin Cummings, San Francisco

Leader JP (1972) Osmoregulation in the larva of the marine caddis fly, Philanisus plebeius (Walk.) (Trichoptera). J Exp Biol 57:821–838

McLachlan A, Brown AC (2006) The ecology of sandy shores, 2nd edn. Academic Press, Amsterdam

Minakawa N, Kurowski K, Yabe M (2001) Salinity tolerance of the diving beetle Hygrotus impressopunctatus (Coleoptera: Dytiscidae) and its implication for insect dispersal. Entomol Sci 4:393–397

Nakanishi H (1988) Dispersal ecology of the maritime plants in the Ryukyu Islands, Japan. Ecol Res 3:163–173

Patrick ML, Bradley TJ (2000) The physiology of salinity tolerance in larvae of two species of Culex mosquitoes: the role of compatible solutes. J Exp Biol 203:821–830

Rikiishi K (1974) Note on the Kuroshio meander. J Oceanogr 30:42–45

Roberts D (1996) Mosquitoes (Diptera: Culicidae) breeding in brackish water: female ovipositional preferences or larval survival? J Med Entomol 33:525–530

Stone BC (1967) Studies of Malaysian Pandanaceae I, polymorphism in Pandanus odoratissimus L.f. of Asia. Gard Bull Singap 22:231–257

Udvardy MDF (1969) Dynamic zoogeography: with special reference to land animals. Van Nostrand Reinhold, New York

Ueno S (1978) The Thalassoduvalius (Coleoptera, Trechinae) of the Izu Area, Central Japan. Mem Natl Sci Mus 11:123–130

Ushirokita M (1998) Eggs of stick insect drifting in the wake of screw pine's seed. Insectarium 35:108–115 (in Japanese)

Wang C-H, Chu Y-I (1982) The morphological study of the egg shell of the Tsuda's giant stick insect Megacrania alpheus Westwood. NTU Phytopathol Entomol 9:98–109

Williams DD, Williams NE (1998) Aquatic insects in an estuarine environment: densities, distribution and salinity tolerance. Freshw Biol 39:411–421

Yamasaki T (1991) Occurrence of Megacrania alpheus (Cheleutoptera: Phasmatidae) in Iriomote-jima Island, Ryukyus. Proc Jpn Soc Syst Zool 44:49–56
Acknowledgments
We appreciate Takeshi Sasaki of The University Museum (Fujukan), University of the Ryukyus for his valuable advices and support of this research. We also thank Yuki Yamakoshi, Keita Nakamura, and Hiromu Tanimoto for their help and two reviewers for their valuable comments. This study was partly supported by the 'International Research Hub Project for Climate Change and Coral Reef/Island Dynamics' from the University of the Ryukyus and The KAIGIN Environment Fund—managed by THE OKINAWA KAIHO BANK, LTD.
About this article
Cite this article
Kobayashi, S., Usui, R., Nomoto, K. et al. Does egg dispersal occur via the ocean in the stick insect Megacrania tsudai (Phasmida: Phasmatidae)?. Ecol Res 29, 1025–1032 (2014). https://doi.org/10.1007/s11284-014-1188-4
Received:

Accepted:

Published:

Issue Date:
Keywords
Egg period

Hatching rate

Megacrania tsudai

Salinity tolerance

Seawater dispersal