Abstract
The process of confining unnecessary freedom is a step toward advanced ecosystem modeling. This study demonstrates the importance of carbon flux and biometric observation in constraining a terrestrial ecosystem model with a simple optimization scheme. At the selected sites from AsiaFlux network, a simultaneous optimization scheme for both carbon flux and biomass was compared with carbon flux-oriented and biomass-oriented optimization schemes using the Biome-BGC model. The optimization scheme oriented to either carbon flux or biomass provided simulation results that were consistent with observations, but with reduced performance in unconstrained variables. The simultaneous optimization scheme yielded results that were consistent with observations for both carbon flux and biomass. By comparing long-term projections simulated by three schemes, it was found that the optimization oriented only to carbon flux has limited performance because misrepresented biomass significantly affected a projection of carbon exchange through heterotrophic respiration. From these experiments, we found that (1) a process model like Biome-BGC is capable of reproducing both carbon flux and biomass within acceptable proximity, (2) constraining biomass is importance not just because it is one of carbon cycle components, but also it significantly affects simulations of carbon flux. Thus, it is important to invest more effort to improve simulation of biomass as well as carbon flux.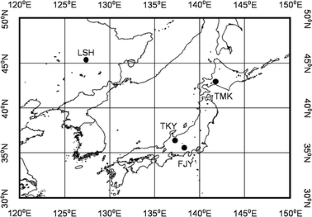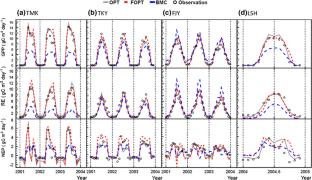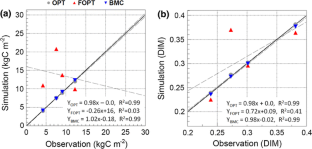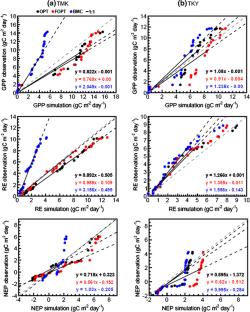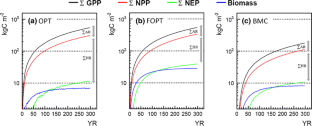 References
Andren O, Paustian K (1987) Barley straw decomposition in the field: a comparison of models. Ecology 68:1190–1200

Baldocchi DD, Amthor JS (2001) Canopy photosynthesis: history, measurements, and models, terrestrial global productivity. Academic Press, San Diego, pp 9–31. doi:10.1016/B978-012505290-0/50003-X ISBN 978-0-12-505290-0

Chiesi M, Maselli F, Moriondo M, Fibbi L, Bindi M, Running SW (2007) Application of BIOME-BGC to simulate Mediterranean forest processes. Ecol Model 206:179–190

Chiesi M, Chirici G, Barbati A, Salvati R, Maselli F (2011) Use of BIOME-BGG to simulate Mediterranean forest carbon stocks. iForest 4:121–127

Cox PM, (2001) Description of the "TRIFFID" dynamic global vegetation model. Hadley centre technical note 24 Met Office Hadley Centre Technical Notes

Farquhar GD, Von Caemmerer S, Berry JA (1980) A biochemical model of photosynthetic CO2 assimilation in leaves of C3 species. Planta 149:79–90

Friedlingstein P, Joel G, Field CB, Fung IY (1999) Toward an allocation scheme for global terrestrial carbon models. Glob Chang Biol 5:755–770. doi: 10.1046/j.1365-2486.1999.00269.x

Friedlingstein P, Cox P, Betts R, Bopp L, Von Bloh W, Brovkin V, Cadule P, Doney S, Eby M, Fung I, Bala G, John J, Jones C, Joos F, Kato T, Kawamiya M, Knorr W, Lindsay K, Matthews HD, Raddatz T, Rayner P, Reick C, Roeckner E, Schnitzler KG, Schnur R, Strassmann K, Weaver AJ, Yoshikawa C, Zeng N (2006) Climate-carbon cycle feedback analysis: results from the C4MIP model intercomparison. J Climate 19:3337–3353

Hirata R, Hirano T, Saigusa N, Fujinuma Y, Inukai K, Kitamori Y, Takahashi Y, Yamamoto S (2007) Seasonal and interannual variations in carbon dioxide exchange of a temperate larch forest. Agric For Meteorol 147:110–124

Hirata R, Saigusa N, Yamamoto S, Ohtani Y, Ide R, Asanuma J, Gamo M, Hirano T, Kondo H, Kosugi Y, Li SG, Nakai Y, Takagi K, Tani M, Wang H (2008) Spatial distribution of carbon balance in forest ecosystems across East Asia. Agric For Meteorol 148:761–775

Huntzinger DN, Post WM, Wei Y, Michalak AM, West TO, Jacobson AR, Baker IT, Chen JM, Davis KJ, Hayes DJ, Hoffman FM, Jain AK, Liu S, McGuire AD, Neilson RP, Potter C, Poulter B, Price D, Raczka BM, Tian HQ, Thornton P, Tomelleri E, Viovy N, Xiao J, Yuan W, Zeng N, Zhao M, Cook R (2012) North American Carbon Program (NACP) regional interim synthesis: terrestrial biospheric model intercomparison. Ecol Model 232:144–157

Ichii K, Suzuki T, Kato T, Ito A, Hajima T, Ueyama M, Sasai T, Hirata R, Saigusa N, Ohtani Y, Takagi K (2010) Multi-model analysis of terrestrial carbon cycles in Japan: limitations and implications of model calibration using eddy flux observations. Biogeosciences 7:2061–2080

Ichii K, Kondo M, Lee YH, Wang SQ, Kim J, Ueyama M, Lim HJ, Shi H, Suzuki T, Ito A, Ju W, Huang M, Sasai T, Asanuma J, Han SJ, Hirano T, Hirata R, Kato T, Kwon H, Li SG, Li YN, Maeda T, Miyata A, Matsuura Y, Murayama S, Nakai Y, Ohta T, Saitoh TM, Saigusa N, Takagi K, Tang YH, Wang HM, Yu GR, Zhang YP, Zhao FH (2013) Site-level model-data synthesis of terrestrial carbon fluxes in the CarboEastAsia eddy covariance observation network: toward future modeling efforts. J Forest Res 18:13–20. doi:10.1007/s10310-012-0367-9

Ise T, Litton CM, Giardina CP, Ito A (2010) Comparison of modeling approaches for carbon partitioning: Impact on estimates of global net primary production and equilibrium biomass of woody vegetation from MODIS GPP. J Geophys Res 115:G04025. doi:10.1029/2010JG001326

Ito A (2008) The regional carbon budget of East Asia simulated with a terrestrial ecosystem model and validated using AsiaFlux data. Agric Forest Meteorol 148(5):738–747

Ito A, Saigusa N, Murayama D, Yamamoto S (2005) Modeling of gross and net carbon dioxide exchange over a cool-temperate deciduous broad-leaved forest in Japan: analysis of seasonal and interannual change. Agric For Meteorol 134:122–134

Ito A, Ichii K, Kato T (2010) Spatial and temporal patterns of soil respiration over the Japanese Archipelago: a model intercomparison study. Eco Res 25:1033–1044

Kalnay E, Kanamitsu M, Kistler R, Collins W, Deaven D, Gandin L, Iredell M, Saha S, White G, Woollen J, Zhu Y, Leetmaa A, Reynolds R, Chelliah M, Ebisuzaki W, Higgins W, Janowiak J, Mo KC, Ropelewski C, Wang J, Jenne R, Joseph D (1996) The NCEP/NCAR 40-year reanalysis project. B Am Meteorol Soc 77:437–471

Kattge J, Diaz S, Lavorel S, Prentice IC, Leadley P, Bönisch G, Garnier E, Westoby M, Reich PB, Wright IJ, Cornelissen JHC, Violle C, Harrison SP, Van Bodegom PM, Reichstein M, Enquist BJ, Soudzilovskaia NA, Ackerly DD, Anand M, Atkin O, Bahn M, Baker TR, Baldocchi D, Bekker R, Blanco CC, Blonder B, Bond WJ, Bradstock R, Bunker DE, Casanoves F, Cavender-Bares J, Chambers JQ, Chapin FS III, Chave J, Coomes D, Cornwell WK, Craine JM, Dobrin BH, Duarte L, Durka W, Elser J, Esser G, Estiarte M, Fagan WF, Fang J, Fernández Méndez F, Fidelis A, Finegan B, Flores O, Ford H, Frank D, Freschet GT, Fyllas NM, Gallagher RV, Green WA, Gutierrez AG, Hickler T, Higgins SI, Hodgson JG, Jalili A, Jansen S, Joly CA, Kerkhoff AJ, Kirkup D, Kitajima K, Kleyer M, Klotz S, Knops JMH, Kramer K, Kühn I, Kurokawa H, Laughlin D, Lee TD, Leishman M, Lens F, Lenz T, Lewis SL, Lloyd J, Llusià J, Louault F, Ma S, Mahecha MD, Manning P, Massad T, Medlyn BE, Messier J, Moles AT, Müller SC, Nadrowski K, Naeem S, Niinemets Ü, Nöllert S, Nüske A, Ogaya R, Oleksyn J, Onipchenko VG, Onoda Y, Ordoñez J, Overbeck G, Ozinga WA, Patiño S, Paula S, Pausas JG, Peñuelas J, Phillips OL, Pillar V, Poorter H, Poorter L, Poschlod P, Prinzing A, Proulx R, Rammig A, Reinsch S, Reu B, Sack L, Salgado-Negret B, Sardans J, Shiodera S, Shipley B, Siefert A, Sosinski E, Soussana JF, Swaine E, Swenson N, Thompson K, Thornton P, Waldram M, Weiher E, White M, White S, Wright SJ, Yguel B, Zaehle S, Zanne AE, Wirth C (2011) TRY—a global database of plant traits. Global Change Biol 17:2905–2935. doi:10.1111/j.1365-2486.2011.02451.x

Law BE, Thornton PE, Irvine J, Anthoni PM, Van Tuyl S (2001) Carbon storage and fluxes in ponderosa pine forests at different developmental stages. Global Change Biol 7:755–777. doi:10.1046/j.1354-1013.2001.00439.x

Litton CM, Raich JW, Ryan MG (2007) Carbon allocation in forest ecosystems. Global Change Biol 13:2089–2109

Lloyd J, Taylor JA (1994) On the temperature dependence of soil respiration. Funct Ecol 8:315–323

Mitchell TD, Jones PD (2005) An improved method of constructing a database of monthly climate observations and associated high-resolution grids. Int J Climatol 25:693–712

Mitchell S, Beven K, Freer J (2009) Multiple sources of predictive uncertainty in modeled estimates of net ecosystem CO2 exchange. Ecol Model 220:3259–3270

Mitchell SR, Beven KJ, Freer JE, Law BE (2011) Processes influencing model-data mismatch in drought-stressed, fire-disturbed eddy flux sites. J Geophys Res 116:G02008. doi:10.1029/2009JG001146

Mizoguchi Y, Ohtani Y, Takanashi S, Iwata H, Yasuda Y, Nakai Y (2011) Seasonal and interannual variation in net ecosystem production of an evergreen needleleaf forest in Japan. J Forest Res 17:283–295

Ohtsuka T, Saigusa N, Koizumi H (2009) On linking multiyear biometric measurements of tree growth with eddy covariance-based net ecosystem production. Global Change Biol 15:1015–1024

Pietsch SA, Hasenauer H, Thornton PE (2005) BGC-model parameters for tree species growing in central European forests. Forest Ecol Manag 211:264–295

Richardson AD, Williams M, Hollinger DY, Moore DJP, Dail DB, Davidson EA, Scott NA, Evans RS, Hughes H, Lee JT, Rodrigues C, Savage K (2010) Estimating parameters of a forest ecosystem C model with measurements of stocks and fluxes as joint constraints. Oecologia 164:25–40

Saigusa N, Yamamoto S, Murayama S, Kondo H, Nishimura N (2002) Gross primary production and net ecosystem production of a cool-temperate deciduous forest estimated by the eddy covariance method. Agric Forest Meteorol 112:203–215

Santaren D, Peylin P, Viovy N, Ciais P (2007) Optimizing a process-based ecosystem model with eddy-covariance flux measurements: a pine forest in southern France. Global Biogeochem Cycles 21. doi:10.1029/2006GB002834

Sato H, Itoh A, Kohyama T (2007) SEIB-DGVM: a new dynamic global vegetation model using a spatially explicit individual based approach. Ecol Model 200:279–307

Schwalm CR, Williams CA, Schaefer K, Anderson R, Arain MA, Baker I, Barr A, Black TA, Chen G, Chen JM, Ciais P, Davis KJ, Desai A, Dietze M, Dragoni D, Fischer ML, Flanagan LB, Grant R, Gu L, Hollinger D, Izaurralde RC, Kucharik C, Lafleur P, Law BE, Li L, Li Z, Liu S, Lokupitiya E, Luo Y, Ma S, Margolis H, Matamala R, McCaughey H, Monson RK, Oechel WC, Peng C, Poulter B, Price DT, Riciutto DM, Riley W, Sahoo AK, Sprintsin M, Sun J, Tian H, Tonitto C, Verbeeck H, Verma SB (2010) A model-data intercomparison of CO2 exchange across North America: results from the North American Carbon Program site synthesis. J Geophys Res 115:G00H05. doi:10.1029/2009JG001229

Sitch S, Smith B, Prentice IC, Arneth A, Bondeau A, Cramer W, Kaplan JO, Levis S, Lucht W, Sykes MT, Thonicke K, Venevsky S (2003) Evaluation of ecosystem dynamics, plant geography and terrestrial carbon cycling in the LPJ dynamic vegetation model. Global Change Biol 9:161–185

Tanabe H, Nakano T, Mimura M, Abe Y, Mariko S (2003) Biomass and net primary production of a Pinus densiflora forest established on a lava flow of Mt. Fuji. central Japan. J Forest Res 8:247–252

Tatarinov FA, Cienciala E (2006) Application of BIOME-BGC model to managed forests. 1. Sensitivity analysis. Forest Ecol Manag 237:267–379

Thornton PE, Law BE, Gholz HL, Clark KL, Falge E, Ellsworth DS, Goldstein AH, Monsong RK, Hollinger D, Falk M, Chenj J, Sparks JP (2002) Modeling and measuring the effects of disturbance history and climate on carbon and water budgets in evergreen needleleaf forests. Agric Forest Meteorol 113:185–222

Ueyama M, Ichii K, Hirata R, Takagi K, Asanuma J, Machimura T, Nakai Y, Ohta T, Saigusa N, Takahashi Y, Hirano T (2010) Simulating carbon and water cycles of larch forests in East Asia by the Biome-BGC model with AsiaFlux data. Biogeosciences 7:959–977

Ueyama M, Kai A, Ichii K, Hamotani K, Kosugi Y, Monji N (2011) The sensitivity of carbon sequestration to harvesting and climate conditions in a temperate cypress forest. Ecol Model 222:3216–3225

Ueyama M, Hirata R, Mano M, Hamotani K, Harazono Y, Hirano T, Miyata A, Takagi K, Takahashi Y (2012) Influences of various calculation options on heat, water and carbon fluxes determined by open- and closed-path eddy covariance methods. Tellus B 64:19048

Wang W, Zu Y, Wang H, Matsuura Y, Sasa K, Koike T (2005) Plant biomass and productivity of Larix gmelinii forest ecosystems in Northern China: intra- and inter- species comparison. Eurasian J Forest Res 8:21–41

Wang HM, Saigusa N, Zu YG, Wang WJ, Yamamoto S, Kondo H (2008) Carbon fluxes and their response to environmental variables in a Dahurian larch forest ecosystem in northeast China. J Forest Res 19:1–10

Wang W, Ichii K, Hashimoto H, Michaelis AR, Thornton PE, Law BE, Nemani RR (2009) A hierarchical analysis of terrestrial ecosystem model Biome-BGC: equilibrium analysis and model calibration. Ecol Model 220:2009–2023

Wang W, Dungan J, Hashimoto H, Michaelis AR, Milesi C, Ichii K, Nemani RR (2011a) Diagnosing and assessing uncertainties of terrestrial ecosystem models in a multi-model ensemble experiment: 1. Primary production. Global Change Biol 17:1367–1378

Wang W, Dungan J, Hashimoto H, Michaelis AR, Milesi C, Ichii K, Nemani RR (2011b) Diagnosing and assessing uncertainties of terrestrial ecosystem models in a multi-model ensemble experiment: 2 Carbon balance. Global Change Biol 17:1350–1366

White MA, Thornton PE, Running SW, Nemani RR (2000) Parameterization and sensitivity analysis of the BIOME-BGC terrestrial ecosystem process model: net primary production controls. Earth Interact 4:1–85

Williams M, Schwarz PA, Law BE, Irvine J, Kurpius MR (2005) An improved analysis of forest carbon dynamics using data assimilation. Global Change Biol 11:89–105

Yone Y, Oguma H, Yamagata Y, Fujinuma Y (2005) Development of measurement system for evaluating forest ecosystems—measurement method of over-ground biomass growth by using airborne laser survey. Phyton 45:517–524

Zhang Y, Rossow WB, Lacis AA, Onias V, Mishchenko MI (2004) Calculation of radiative fluxes from the surface to top of atmosphere based on ISCCP and other global data sets: refinements of the radiative transfer model and the input data. J Geophys Res 109:D19105. doi:10.1029/2003JD00445
Acknowledgments
This research was supported by the Environment Research and Technology Development Funds (RFa-1007 and RFa-1201) of the Ministry of the Environment of Japan.
Electronic supplementary material
Below is the link to the electronic supplementary material.
About this article
Cite this article
Kondo, M., Ichii, K., Ueyama, M. et al. The role of carbon flux and biometric observations in constraining a terrestrial ecosystem model: a case study in disturbed forests in East Asia. Ecol Res 28, 893–905 (2013). https://doi.org/10.1007/s11284-013-1072-7
Received:

Accepted:

Published:

Issue Date:
Keywords
Biomass

Eddy covariance

Carbon cycle

Disturbance

Terrestrial ecosystem model

Optimization