Abstract
A study was performed on saplings of silver birch (Betula pendula Roth) growing at the free air humidity manipulation site, which was established to investigate the effect of increased air humidity on tree performance and canopy functioning. The aim of the experiment was to simulate the impact of the increasing atmospheric humidity on forest ecosystems predicted for northern Europe. Artificially elevated relative humidity (RH), which causes transpirational flux to decrease, diminished nutrient supply to the foliage; leaf nitrogen content, phosphorus content and P:N ratio decreased. The changes in leaf nutritional status brought about a considerable decline in both photosynthetic capacity (A max, V cmax, J max) and tree growth rate. The manipulation induced diverse changes in tree hydraulic architecture and other functional traits. Different segments of the soil-to-leaf water transport pathway responded differently: leaf hydraulic conductance (K L) decreased, while hydraulic conductance of root systems (K R) and leaf-specific conductivity of stem-wood increased in response to elevated RH. Humidification caused the Huber values of stems to increase, thus reflecting changes in allocation patterns; relatively more resources were allocated to vascular tissue and less to foliage. The elevated RH induced substantial changes in specific leaf area (increased), branch- (decreased) and stem-wood density (decreased). The observed responses suggest that the expected climate-change-induced increase in the growth rate of trees at northern latitudes (boreal areas) due to the earlier start of the growing season in spring or higher carbon assimilation rate could be smaller or null if temperature rise is accompanied by a rise in atmospheric absolute humidity.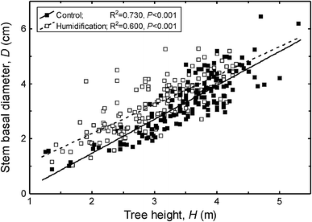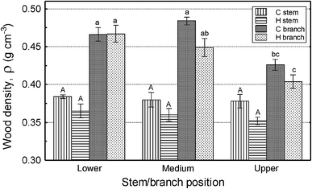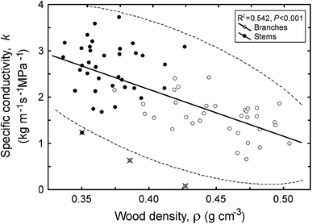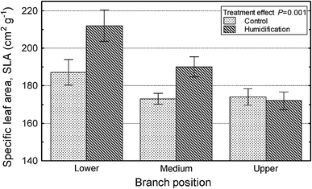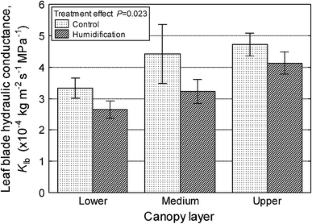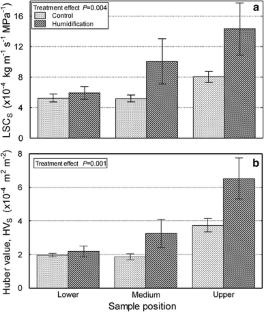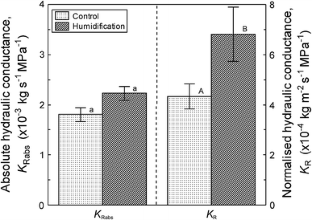 References
Adaskaveg JE, Shaw DA, Ogawa JM (1990) A mist generator and environmental monitoring system for field studies on shothole disease of almond. Plant Dis 74:558–562

Aerts R, Chapin FS (2000) The mineral nutrition of wild plants revisited: a re-evaluation of processes and patterns. Adv Ecol Res 30:1–57

Aranda I, Pardos M, Puértolas J, Jiménez MD, Pardos JA (2007) Water-use efficiency in cork oak (Quercus suber) is modified by the interaction of water and light availabilities. Tree Physiol 27:671–677

Bown HE, Watt MS, Clinton PW, Mason EG, Richardson B (2007) Partitioning concurrent influences of nitrogen and phosphorus supply on photosynthetic model parameters of Pinus radiata. Tree Physiol 27:335–344

Bréda N, Soudani K, Bergonzini J-C (2002) Mesure de l'indice foliaire en forêt. Ecofor, Paris

Bucci SJ, Goldstein G, Meinzer FC, Scholz FG, Franco AC, Bustamante M (2004) Functional convergence in hydraulic architecture and water relations of savanna trees: from leaf to whole plant. Tree Physiol 24:891–899

Burgess SSO, Dawson TE (2004) The contribution of fog to the water relations of Sequoia sempervirens (D.Don): foliar uptake and prevention of dehydration. Plant Cell Environ 27:1023–1034

Chave J, Coomes D, Jansen S, Lewis SL, Swenson NG, Zanne AE (2009) Towards a worldwide wood economics spectrum. Ecol Lett 12:351–366

Cochard H, Herbette S, Hernández E, Hölttä T, Mencuccini M (2010) The effects of sap ionic composition on xylem vulnerability to cavitation. J Exp Bot 61:275–285

Cramer MD, Hawkins H-J (2009) A physiological mechanism for the formation of root casts. Palaeogeogr Palaeoclimatol Palaeoecol 274:125–133

Cramer MD, Hawkins H-J, Verboom GA (2009) The importance of nutritional regulation of plant water flux. Oecologia 161:15–24

Craufurd PQ, Wheeler TR, Ellis RH, Summerfield RJ, Williams JH (1999) Effect of temperature and water deficit on water-use efficiency, carbon isotope discrimination, and specific leaf area in peanut. Crop Sci 39:136–142

Crawford RMM, Jeffree CE, Rees WG (2003) Paludification and forest retreat in northern oceanic environments. Ann Bot 91:213–226

Cunningham SA, Summerhayes B, Westoby M (1999) Evolutionary divergences in leaf structure and chemistry, comparing rainfall and soil nutrient gradients. Ecol Monogr 69:569–588

DeLucia EH, Maherali H, Carey EV (2000) Climate-driven changes in biomass allocation in pines. Global Change Biol 6:587–593

Domec J-C, Warren J, Lachenbruch B, Meinzer FC (2009) Safety factors from air seeding and cell wall implosion in young and old conifer trees. IAWA J 30:100–120

Domec J-C, Schäfer K, Oren R, Kim HS, McCarthy HR (2010) Variable conductivity and embolism in roots and branches of four contrasting tree species and their impacts on whole-plant hydraulic performance under future atmospheric CO2 concentration. Tree Physiol 30:1001–1015

Easterling DR, Meehl GA, Parmesan C, Changnon SA, Karl TR, Mearns LO (2000) Climate extremes: observations, modeling, and impacts. Science 289:2068–2074

Farquhar GD, Sharkey TD (1982) Stomatal conductance and photosynthesis. Annu Rev Plant Physiol 33:317–345

Farquhar GD, von Caemmerer S, Berry JA (1980) A biochemical model of photosynthetic CO2 assimilation in leaves of C3 species. Planta 149:78–90

Gotsch SG, Geiger EL, Franco AC, Goldstein G, Meinzer FC, Hoffmann WA (2010) Allocation to leaf area and sapwood area affects water relations of co-occurring savanna and forest trees. Oecologia 163:291–301

Hacke UG, Plavcová L, Almeida-Rodriguez A, King-Jones S, Zhou W, Cooke JEK (2010) Influence of nitrogen fertilization on xylem traits and aquaporin expression in stems of hybrid poplar. Tree Physiol 30:1016–1025

Hale SE, Edwards C (2002) Comparison of film and digital hemispherical photography across a wide range of canopy densities. Agric For Meteorol 112:51–56

Hendrey GR, Ellsworth DE, Lewin KF, Nagy J (1999) A free-air enrichment system for exposing tall forest vegetation to elevated atmospheric CO2. Global Change Biol 5:293–309

Hetherington AM, Woodward FI (2003) The role of stomata in sensing and driving environmental change. Nature 424:901–908

Hölscher D, Koch O, Korn S, Leuschner C (2005) Sap flux of five co-occurring tree species in a temperate broad-leaved forest during seasonal soil drought. Trees 19:628–637

Houghton JT, Meira Filho LG, Callander BA, Harris N, Kattenberg A, Maskell K (1996) Climate change 1995: the science of climate change. Cambridge University Press, Cambridge

Huang J-G, Bergeron Y, Denneler B, Berninger F, Tardif J (2007) Response of forest trees to increased atmospheric CO2. Crit Rev Plant Sci 26:265–283

Huang Z, Xu Z, Blumfield TJ, Bubb K (2008) Variations in relative stomatal and biochemical limitations to photosynthesis in a young blackbutt (Eucalyptus pilularis) plantation subjected to different weed control regimes. Tree Physiol 28:997–1005

Hultine KR, Marshall JD (2000) Altitude trends in conifer leaf morphology and stable carbon isotope composition. Oecologia 123:32–40

Inagaki Y, Nakanishi A, Fukata H (2011) Soil properties and nitrogen utilization of hinoki cypress as affected by strong thinning under different climatic conditions in the Shikoku and Kinki districts in Japan. J For Res 16:405–413

Ingestad T (1987) New concepts on soil fertility and plant nutrition as illustrated by research on forest trees and stands. Geoderma 40:237–252

Ise T, Moorcroft PR (2010) Simulating boreal forest dynamics from perspectives of ecophysiology, resource availability, and climate change. Ecol Res 25:501–511

Jacobsen AL, Agenbag L, Esler KJ, Pratt RB, Ewers FW, Davis SD (2007) Xylem density, biomechanics and anatomical traits correlate with water stress in 17 evergreen shrub species of the Mediterranean-type climate region of South Africa. J Ecol 95:171–183

Jarvis P, Linder S (2000) Constraints to growth of boreal forests. Nature 405:904–905

Kavanagh KL, Bond BJ, Aitken SN, Gartner BL, Knowe S (1999) Shoot and root vulnerability to xylem cavitation in four populations of Douglas-fir seedlings. Tree Physiol 19:31–37

Kont A, Jaagus J, Aunap R (2003) Climate change scenarios and the effect of sea-level rise for Estonia. Glob Planet Change 36:1–15

Kupper P, Sõber J, Sellin A, Lõhmus K, Tullus A, Räim O, Lubenets K, Tulva I, Uri V, Zobel M, Kull O, Sõber A (2011) An experimental facility for Free Air Humidity Manipulation (FAHM) can alter water flux through deciduous tree canopy. Environ Exp Bot 72:432–438

Kupper P, Rohula G, Saksing L, Sellin A, Lõhmus K, Ostonen I, Helmisaari H-S, Sõber A (2012) Does soil nutrient availability influence night-time water flux of aspen saplings? Environ Exp Bot 82:37–42

Kuwagata T, Ishikawa-Sakurai J, Hayashi H, Nagasuga K, Fukushi K, Ahamed A, Takasugi K, Katsuhara M, Murai-Hatano M (2012) Influence of low air humidity and low root temperature on water uptake, growth and aquaporin expression in rice plants. Plant Cell Physiol 53:1418–1431

Levin M, Lemcoff JH, Cohen S, Kapulnik Y (2007) Low air humidity increases leaf-specific hydraulic conductance of Arabidopsis thaliana (L.) Heynh (Brassicaceae). J Exp Bot 58:3711–3718

Li Y, Xu H, Cohen S (2005) Long-term hydraulic acclimation to soil texture and radiation load in cotton. Plant Cell Environ 28:492–499

Lin D, Xia J, Wan S (2010) Climate warming and biomass accumulation of terrestrial plants: a meta-analysis. New Phytol 188:187–198

Mäenpää M, Riikonen J, Kontunen-Soppela S, Rousi M, Oksanen E (2011) Vertical profiles reveal impact of ozone and temperature on carbon assimilation of Betula pendula and Populus tremula. Tree Physiol 31:808–818

Maherali H, DeLucia EH (2000) Xylem conductivity and vulnerability to cavitation of ponderosa pine growing in contrasting climates. Tree Physiol 20:859–867

Maherali H, DeLucia EH (2001) Influence of climate-driven shifts in biomass allocation on water transport and storage in ponderosa pine. Oecologia 129:481–491

Maherali H, Johnson HB, Jackson RB (2003) Stomatal sensitivity to vapour pressure difference over a subambient to elevated CO2 gradient in a C3/C4 grassland. Plant Cell Environ 26:1297–1306

Maherali H, Moura CF, Caldeira MC, Willson CJ, Jackson RB (2006) Functional coordination between leaf gas exchange and vulnerability to xylem cavitation in temperate forest trees. Plant Cell Environ 29:571–583

Martínez-Vilalta J, Cochard H, Mencuccini M, Sterck F, Herrero A, Korhonen JFJ, Llorens P, Nikinmaa E, Nolè A, Poyatos R, Ripullone F, Sass-Klaassen U, Zweifel R (2009) Hydraulic adjustment of Scots pine across Europe. New Phytol 184:353–364

McDonald EP, Erickson JE, Kruger EL (2002) Can decreased transpiration limit plant nitrogen acquisition in elevated CO2? Funct Plant Biol 29:1115–1120

McDowell N, Pockman WT, Allen CD et al (2008) Mechanisms of plant survival and mortality during drought: why do some plants survive while others succumb to drought? New Phytol 178:719–739

McKenzie D, Peterson DL, Littell JJ (2008) Global warming and stress complexes in forests of western North America. In: Bytnerowicz A et al (eds) Wildland fires and air pollution. Developments in environmental sciences, vol 8. Elsevier, Amsterdam, pp 319–337

Mencuccini M, Bonosi L (2001) Leaf/sapwood area ratios in Scots pine show acclimation across Europe. Can J For Res 31:442–456

Nardini A, Gasco A, Trifilo P, Lo Gullo MA, Salleo S (2007) Ion-mediated enhancement of xylem hydraulic conductivity is not always suppressed by the presence of Ca2+ in the sap. J Exp Bot 58:2609–2615

Navratil S (1996) Silvicultural systems for managing deciduous and mixwood stands with white spruce understory. In: Comeau PG, Thomas KD (eds) Silviculture of temperate and boreal broadleaf–conifer mixtures. Land Management Handbook 36. B.C. Ministry of Forests, Victoria, pp 35–46

Niinemets Ü (2001) Global-scale climatic controls of leaf dry mass per area, density, and thickness in trees and shrubs. Ecology 82:453–469

Plassard C, Dell B (2010) Phosphorus nutrition of mycorrhizal trees. Tree Physiol 30:1129–1139

Pratt RB, Jacobsen AL, Ewers FW, Davis SD (2007) Relationships among xylem transport, biomechanics and storage in stems and roots of nine Rhamnaceae species of the California chaparral. New Phytol 174:787–798

Prioul JL, Chartier P (1977) Partitioning of transfer and carboxylation components of intracellular resistance to photosynthetic CO2 fixation: a critica1 analysis of the methods used. Ann Bot 41:789–800

Reinhardt K, Smith WK (2008) Impacts of cloud immersion on microclimate, photosynthesis and water relations of Abies fraseri (Pursh.) Poiret in a temperate mountain cloud forest. Oecologia 158:229–238

Renninger HJ, Meinzer FC, Gartner BL (2007) Hydraulic architecture and photosynthetic capacity as constraints on release from suppression in Douglas-fir and western hemlock. Tree Physiol 27:33–42

Santiago LS, Goldstein G, Meinzer FC, Fisher JB, Machado K, Woodruff D, Jones T (2004) Leaf photosynthetic traits scale with hydraulic conductivity and wood density in Panamanian forest canopy trees. Oecologia 140:543–550

Scholz FG, Bucci SJ, Goldstein G, Meinzer FC, Franco AC, Miralles-Wilhelm F (2007) Removal of nutrient limitations by long-term fertilization decreases nocturnal water loss in savanna trees. Tree Physiol 27:551–559

Sellin A, Lubenets K (2010) Variation of transpiration within a canopy of silver birch: effect of canopy position and daily versus nightly water loss. Ecohydrol 3:467–477

Sellin A, Õunapuu E, Karusion A (2010) Experimental evidence supporting the concept of light-mediated modulation of stem hydraulic conductance. Tree Physiol 30:1528–1535

Sellin A, Sack L, Õunapuu E, Karusion A (2011) Impact of light quality on leaf and shoot hydraulic properties: a case study in silver birch (Betula pendula). Plant Cell Environ 34:1079–1087

Sharkey TD (1985) Photosynthesis in intact leaves of C3 plants: physics, physiology and rate limitations. Bot Rev 51:53–105

Sinclair TR, Zwieniecki MA, Holbrook NM (2008) Low leaf hydraulic conductance associated with drought tolerance in soybean. Physiol Plant 132:446–451

Smith SE, Smith FA, Jakobsen I (2003) Mycorrhizal fungi can dominate phosphate supply to plants irrespective of growth responses. Plant Physiol 133:16–20

Songsri P, Jogloy S, Holbrook CC, Kesmala T, Vorasoot N, Akkasaeng C, Patanothai A (2009) Association of root, specific leaf area and SPAD chlorophyll meter reading to water use efficiency of peanut under different available soil water. Agric Water Manage 96:790–798

Specht RL, Specht A (2010) The ratio of foliar nitrogen to foliar phosphorus: a determinant of leaf attributes and height in life-forms of subtropical and tropical plant communities. Aust J Bot 58:527–538

Stark N, Spitzner C, Essig D (1985) Xylem sap analysis for determining the nutritional status of trees: Pseudotsuga menziesii. Can J For Res 15:429–437

Talbott LD, Rahveh E, Zeiger E (2003) Relative humidity is a key factor in the acclimation of the stomatal response to CO2. J Exp Bot 54:2141–2147

Taylor D, Eamus D (2008) Coordinating leaf functional traits with branch hydraulic conductivity: resource substitution and implications for carbon gain. Tree Physiol 28:1169–1177

Thomas DS, Montagu KD, Conroy JP (2004) Changes in wood density of Eucalyptus camaldulensis due to temperature—the physiological link between water viscosity and wood anatomy. For Ecol Manage 193:157–165

Tissue DT, Griffin KL, Turnbull MH, Whitehead D (2005) Stomatal and non-stomatal limitations to photosynthesis in four tree species in a temperate rain forest dominated by Dacrydium cupressinum in New Zealand. Tree Physiol 25:447–456

Tullus A, Kupper P, Sellin A, Parts L, Sõber J, Tullus T, Lõhmus K, Sõber A, Tullus H (2012) Climate change at northern latitudes: rising atmospheric humidity decreases transpiration, N-uptake and growth rate of hybrid aspen. PLoS ONE 7(8):e42648. doi:10.1371/journal.pone.0042648

Tyree MT, Ewers FW (1991) The hydraulic architecture of trees and other woody plants. New Phytol 119:345–360

Tyree MT, Zimmermann MH (2002) Xylem structure and the ascent of sap. Springer, Berlin

von Caemmerer S, Farquhar GD (1981) Some relationships between the biochemistry of photosynthesis and the gas exchange of leaves. Planta 153:376–387

Vygodskaya NN, Groisman PY, Tchebakova NM, Kurbatova JA, Panfyorov O, Parfenova EI, Sogachev AF (2007) Ecosystems and climate interactions in the boreal zone of northern Eurasia. Environ Res Lett 2:1–7

Warren CR, Tausz M, Adams MA (2005) Does rainfall explain variation in leaf morphology and physiology among populations of red ironbark (Eucalyptus sideroxylon subsp. tricarpa) grown in a common garden? Tree Physiol 25:1369–1378

Way DA, Oren R (2010) Differential responses to changes in growth temperature between trees from different functional groups and biomes: a review and synthesis of data. Tree Physiol 30:669–688

Woodruff DR, McCulloh KA, Warren JM, Meinzer FC, Lachenbruch B (2007) Impacts of tree height on leaf hydraulic architecture and stomatal control in Douglas-fir. Plant Cell Environ 30:559–569

Zhu S-D, Cao K-F (2009) Hydraulic properties and photosynthetic rates in co-occurring lianas and trees in a seasonal tropical rainforest in southwestern China. Plant Ecol 204:295–304
Acknowledgements
This study was supported by the Estonian Science Foundation (grant no. 8333), by the Estonian Ministry of Education and Research (target financing project SF0180025s12), and by the EU through the European Regional Development Fund (Centre of Excellence in Environmental Adaptation) and through the European Social Fund (Mobilitas grant MJD 257). We are grateful to Kristina Lubenets, Meeli Alber and Eve Kaurilind for their assistance at field studies, and to Robert Szava-Kovats for language revision.
Electronic supplementary material
Below is the link to the electronic supplementary material.
About this article
Cite this article
Sellin, A., Tullus, A., Niglas, A. et al. Humidity-driven changes in growth rate, photosynthetic capacity, hydraulic properties and other functional traits in silver birch (Betula pendula). Ecol Res 28, 523–535 (2013). https://doi.org/10.1007/s11284-013-1041-1
Received:

Accepted:

Published:

Issue Date:
Keywords
Atmospheric humidity

Biomass allocation

Foliar nutrients

Huber value

Potassium ions

Xylem sap