Abstract
There is wide consensus about the significance of monitoring plant responses during flooding when evaluating specific tolerance. Nonetheless, plant recovery once water recedes has often been overlooked. This note highlights the importance of registering plant performance during a recovery phase. Two opposite types of plant growth responses, during and after flooding, are discussed. It is shown that an apparently poor performance during flooding does not necessarily involve a reduced tolerance, as plants can prioritize saving energy and carbohydrates for later resumption of vigorous growth during recovery. Conversely, maintenance of positive plant growth during flooding can imply extensive depletion of reserves, consequently constraining future plant growth. Therefore, to accurately estimate real tolerance to this stress, plant performance should be appraised during both flooding and recovery periods.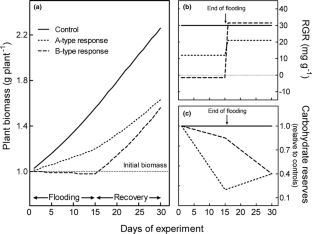 References
Bailey-Serres J, Voesenek LACJ (2008) Flooding stress: acclimations and genetic diversity. Annu Rev Plant Biol 59:313–339

Bailey-Serres J, Voesenek LACJ (2010) Life in the balance: a signaling network controlling survival of flooding. Curr Opin Plant Biol 13:489–494

Bailey-Serres J, Fukao T, Gibbs DJ, Holdsworth MJ, Lee SC, Licausi F, Perata P, Voesenek LACJ, van Dongen JT (2012) Making sense of low oxygen sensing. Trends Plant Sci 17:129–138

Blokhina O, Virolainen E, Fagerstedt KV (2003) Antioxidants, oxidative damage and oxygen deprivation stress: a review. Ann Bot 91:179–194

Chen X, Huber H, de Kroon H, Peeters AJM, Poorter H, Voesenek LACJ, Visser EJW (2009) Intraspecific variation in the magnitude and pattern of flooding-induced shoot elongation in Rumex palustris. Ann Bot 104:1057–1067

Chen X, Visser EJW, de Kroon H, Pierik R, Voesenek LACJ, Huber H (2011) Fitness consequences of natural variation in flooding-induced shoot elongation in Rumex palustris. New Phytol 190:409–420

Colmer TD (2003) Long-distance transport of gases in plants: a perspective on internal aeration and radial oxygen loss from roots. Plant Cell Environ 26:17–36

Colmer TD, Voesenek LACJ (2009) Flooding tolerance: suites of plant traits in variable environments. Funct Plant Biol 36:665–681

Colmer TD, Winkel A, Pedersen O (2011) A perspective on underwater photosynthesis in submerged terrestrial wetland plants. AoB Plants 2011:plr030. doi:10.1093/aobpla/plr030

Grime JP (1989) The stress debate: symptom of impending synthesis? Biol J Linn Soc 37:3–17

Hattori Y, Nagai K, Ashikari M (2010) Rice growth adapting to deep water. Curr Opin Plant Biol 14:1–6

Huber H, Chen X, Hendriks M, Keijsers D, Voesenek LACJ, Pierik R, Poorter H, de Kroon H, Visser EJW (2012) Plasticity as a plastic response: how submergence-induced leaf elongation in Rumex palustris depends on early life stage light and nutrient availability. New Phytol 194:572–582

Kawano N, Ella E, Ito O, Yamauchi Y, Tanaka K (2002) Metabolic changes in rice seedlings with different submergence tolerance after desubmergence. Environ Exp Bot 47:195–203

Kawano N, Ito O, Sakagami JI (2009) Morphological and physiological responses of rice seedlings to complete submergence (flash flooding). Ann Bot 103:161–169

Jackson MB (2008) Ethylene-promoted elongation: an adaptation to submergence stress. Ann Bot 101:229–248

Li H, Lei G, Zhi Y, Bridgewater P, Zhao L, Wang Y, Deng Z, Liu Y, Liu F, An S (2011) Phenotypic responses of Spartina anglica to duration of tidal immersion. Ecol Res 26:395–402

Licausi F, Kosmacz M, Weits D, Giuntoli B, Giorgi FM, Voesenek LACJ, Perata P, van Dongen JT (2011) Oxygen sensing in plants is mediated by an N-end rule pathway for protein destabilization. Nature 479:419–422

Luo FL, Nagel KA, Zeng B, Schurr U, Matsubara S (2009) Photosynthetic acclimation is important for post-submergence recovery of photosynthesis and growth in two riparian species. Ann Bot 104:1435–1444

Luo FL, Nagel KA, Scharr H, Zeng B, Schurr U, Matsubara S (2011) Recovery dynamics of growth, photosynthesis and carbohydrate accumulation after de-submergence: a comparison between two wetland plants showing escape and quiescence strategies. Ann Bot 107:49–63

Lynn DE, Waldren S (2003) Survival of Ranunculus repens L. (creeping buttercup) in an amphibious habitat. Ann Bot 91:75–84

Malik AI, Colmer TD, Lambers H, Setter TL, Schortemeyer M (2002) Short-term waterlogging has long-term effects on the growth and physiology of wheat. New Phytol 153:225–236

Manzur ME, Grimoldi AA, Insausti P, Striker GG (2009) Escape from water or remain quiescent? Lotus tenuis changes its strategy depending on depth of submergence. Ann Bot 104:1163–1169

Mommer L, Visser EJW (2005) Underwater photosynthesis in flooded terrestrial plants: a matter of leaf plasticity. Ann Bot 96:581–589

Nakai A, Yurugi Y, Kisanuki H (2009) Growth responses of Salix gracilistyla cuttings to a range of substrate moisture and oxygen availability. Ecol Res 24:1057–1065

Osmond CB (1994) What is photoinhibition? Some insights from comparisons of shade and sun plants. In: Baker NR, Bowyer JR (eds) Environmental plant biology series, photoinhibition of photosynthesis—from molecular mechanisms to the field. BIOS, Oxford, pp 1–24

Poorter H (1989) Plant growth analysis: towards a synthesis of the classical and the functional approach. Physiol Planta 75:237–244

Poorter H, Niklas KJ, Reich PB, Oleksyn J, Poot P, Mommer L (2012) Biomass allocation to leaves, stems and roots: meta-analyses of interspecific variation and environmental control. New Phytol 193:30–50

Sasidharan R, Mustroph A (2011) Plant oxygen sensing is mediated by the N-end rule pathway: a milestone in plant anaerobiosis. Plant Cell 23:4173–4183

Seago JL, Marsh LC, Stevens KJ, Soukup A, Vortubová O, Enstone DE (2005) A re-examination of the root cortex in wetland flowering plants with respect to aerenchyma. Ann Bot 96:565–579

Setter TL, Laureles EV (1996) The beneficial effect of reduced elongation growth on submergence tolerance of rice. J Exp Bot 47:1551–1559

Setter TL, Bhekasut P, Greenway H (2010) Desiccation of leaves after de-submergence is one cause for intolerance to complete submergence of the rice cultivar IR 42. Funct Plant Biol 37:1096–1104

Striker GG (2008) Visiting the methodological aspects of flooding experiments: quantitative evidence from agricultural and ecophysiological studies. J Agron Crop Sci 194:249–255

Striker GG (2012) Flooding stress on plants: anatomical, morphological and physiological responses. In: Mworia JK (ed) Botany. InTech, Rijeka, pp 3–28

Striker GG, Insausti P, Grimoldi AA, Vega AS (2007) Trade-off between root porosity and mechanical strength in species with different types of aerenchyma. Plant Cell Environ 30:580–589

Striker GG, Insausti P, Grimoldi AA (2008) Flooding effects on plant recovery from defoliation in the grass Paspalum dilatatum and the legume Lotus tenuis. Ann Bot 102:247–254

Striker GG, Manzur ME, Grimoldi AA (2011) Increasing defoliation frequency constrains regrowth of Lotus tenuis under flooding. The role of crown reserves. Plant Soil 343:261–272

Striker GG, Izaguirre RF, Manzur ME, Grimoldi AA (2012) Different strategies of Lotus japonicus, L. corniculatus and L. tenuis to deal with complete submergence at seedling stage. Plant Biol 14:50–55

Voesenek LACJ, Blom CWPM (1989) Growth responses of Rumex species in relation to submergence and ethylene. Plant Cell Environ 12:433–439

Voesenek LACJ, Colmer TD, Pierik R, Millenaar FF, Peeters AJM (2006) How plants cope with complete submergence. New Phytol 170:213–226

Wegner LH (2010) Oxygen transport in waterlogged plants. In: Mancuso S, Shabala S (eds) Waterlogging signalling and tolerance in plants. Springer, Berlin, pp 3–22
Acknowledgments
This study was funded by grants from the University of Buenos Aires (UBA 20020090300024) and "Agencia Nacional de Promoción Científica y Tecnológica" ANPCyT Foncyt–PICT-2010-0205.
About this article
Cite this article
Striker, G.G. Time is on our side: the importance of considering a recovery period when assessing flooding tolerance in plants. Ecol Res 27, 983–987 (2012). https://doi.org/10.1007/s11284-012-0978-9
Received:

Accepted:

Published:

Issue Date:
Keywords
Flooding stress

Recovery period

Root recovery

Use of reserve carbohydrates