Abstract
Plant–soil feedbacks affect plant performance and plant community dynamics; however, little is known about their role in ecological restoration. Here, we studied plant–soil feedbacks in restoration of steppe vegetation after agricultural disturbance in northern China. First, we analyzed abiotic and biotic soil properties under mono-dominant plant patches in an old-field restoration site and in a 'target' steppe site. Second, we tested plant–soil feedbacks by growing plant species from these two sites on soils from con- and heterospecific origin. Soil properties generally did not differ between the old-field site and steppe site, but there were significant differences among mono-dominant plant patches within the sites. While soil species origin (i.e., the plant species beneath which the soil was collected) affected biomass of individual plant species in the feedback experiment, species-level plant–soil feedbacks were 'neutral'. Soil site origin (old-field, steppe) significantly affected biomass of old-field and steppe species. For example, old-field species had higher biomass in old-field soils than in steppe soils, indicating a positive land-use legacy. However, soil site origin effects depended on the plant species beneath which the soils were collected. The predictive value of abiotic and biotic soil properties in explaining plant biomass differed between and within groups of old-field and steppe species. We conclude that the occurrence of positive land-use legacies for old-field species may retard successional replacement of old-field species by steppe species. However, high levels of idiosyncrasy in responses of old-field and steppe plant species to con- and heterospecific soils indicate interspecific variation in the extent to which soil legacies and plant–soil feedbacks control successional species replacements in Chinese steppe ecosystems.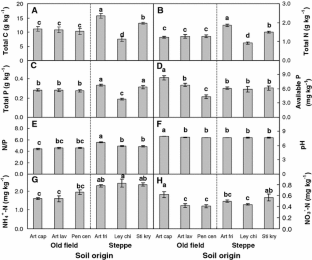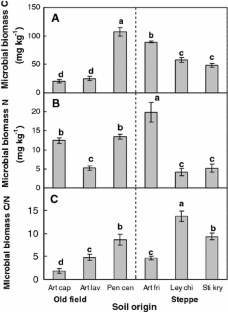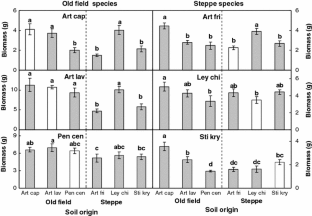 References
Ayres E, Steltzer H, Simmons BL, Simpson RT, Steinweg JM, Wallenstein MD, Mellor N, Parton WJ, Moore JC, Wall DH (2009) Home-field advantage accelerates leaf litter decomposition in forests. Soil Biol Biochem 41:606–610

Bai YF, Han XG, Wu JG, Chen ZZ, Li LH (2004) Ecosystem stability and compensatory effects in the Inner Mongolia grassland. Nature 431:181–184

Bao YY, Yan W (2004) Arbuscular mycorrhizae and their structural types on common plants in grasslands of mid-western Inner Mongolia. Biodivers Sci 12:501–508

Bao YY, Sun F, Yan W (2005) Preliminary study on arbuscular mycorrhizaes and their morphological types of common plants in Inner Mongolia desert region. J Arid Land Resour Environ 19:180–184

Berendse F (1994) Litter decomposability—a neglected component of plant fitness. J Ecol 82:187–190

Bever JD (1994) Feedback between plants and their soil communities in an old field community. Ecology 75:1965–1977

Bever JD, Westover KM, Antonovics J (1997) Incorporating the soil community into plant population dynamics: the utility of the feedback approach. J Ecol 85:561–573

Bezemer TM, Lawson CS, Hedlund K, Edwards AR, Brook AJ, Igual JM, Mortimer SR, Van der Putten WH (2006) Plant species and functional group effects on abiotic and microbial soil properties and plant-soil feedback responses in two grasslands. J Ecol 94:893–904

Burdon JJ (1987) Diseases and plant population biology. Cambridge University Press, Cambridge

Casper BB, Bentivenga SP, Ji BM, Doherty JH, Edenborn HM, Gustafson DJ (2008) Plant-soil feedback: testing the generality with the same grasses in serpentine and prairie soils. Ecology 89:2154–2164

Chen X, Lu PF, He G, Ou YZ, Liu J (2009) Factors affecting land reconversion plans following a payment for ecosystem service program. Biol Conserv 142:1740–1747

Coley PD, Bryant JP, Chapin FS (1985) Resource availability and plant antiherbivore defense. Science 230:895–899

De Deyn GB, Cornelissen JHC, Bardgett RD (2008) Plant functional traits and soil carbon sequestration in contrasting biomes. Ecol Lett 11:516–531

Ding Y, Niu J, Yang C (2006) Study on the tendency and formation causes of grassland degradation, desertification and the sustainable development in northern china: The case of Duolun county, Inner Mongolia. J Inn Mong Univ 37:580–586

Dorrepaal E, Cornelissen JHC, Aerts R (2007) Changing leaf litter feedbacks on plant production across contrasting sub-arctic peatland species and growth forms. Oecologia 151:251–261

Editorial Committee for Vegetation of China (1980) Vegetation of China. Science Press, Beijing

Ehrenfeld JG, Ravit B, Elgersma K (2005) Feedback in the plant–soil system. Annu Rev Environ Resour 30:75–115

Harrison KA, Bardgett RD (2010) Influence of plant species and soil conditions on plant-soil feedback in mixed grassland communities. J Ecol 98:384–395

Hobbie SE (1996) Temperature and plant species control over litter decomposition in Alaskan tundra. Ecol Monogr 66:503–522

Janos DP (1980) Mycorrhizae influence tropical succession. Biotropica 12:56–64

Jiang GM, Han XG, Wu JG (2006) Restoration and management of the Inner Mongolia grassland require a sustainable strategy. Ambio 35:269–270

Kang L, Han XG, Zhang ZB, Sun OJ (2007) Grassland ecosystems in China: review of current knowledge and research advancement. Phil Trans Roy Soc B 362:997–1008

Kardol P, Wardle DA (2010) How understanding aboveground-belowground linkages can assist restoration ecology. Trends Ecol Evol (in review)

Kardol P, Bezemer TM, Van der Putten WH (2006) Temporal variation in plant-soil feedback controls succession. Ecol Lett 9:1080–1088

Kardol P, Cornips NJ, Kempen MML, Bakx-Schotman JMT, Van der Putten WH (2007) Microbe-mediated plant–soil feedback causes historical contingency effects in plant community assembly. Ecol Monogr 77:147–162

Klironomos JN (2002) Feedback with soil biota contributes to plant rarity and invasiveness in communities. Nature 417:67–70

Kulmatiski A, Kardol P (2008) Getting plant-soil feedback out of the greenhouse: experimental and conceptual approaches. In: Lüttige U, Beyschlag W, Murata J (eds) Progress in botany, vol 69. Springer, Berlin, pp 449–472

Kulmatiski A, Beard KH, Stevens JR, Cobbold SM (2008) Plant-soil feedbacks: a meta-analytical review. Ecol Lett 11:980–992

Liu Q, Tong Y (2003) The effects of land use on the eco-environmental evolution of farming-pastoral region in north China: with an emphasis on Duolun county in Inner Mongolia. Acta Ecol Sin 23:1025–1030

Lovell RD, Jarvis SC, Bardgett RD (1995) Soil microbial biomass and activity in long-term grassland—effects of management changes. Soil Biol Biochem 27:969–975

Manning P, Morrison SA, Bonkowski M, Bardgett RD (2008) Nitrogen enrichment modifies plant community structure via changes to plant-soil feedback. Oecologia 157:661–673

McCarthy-Neumann S, Kobe RK (2010) Conspecific and heterospecific plant-soil feedbacks influence survivorship and growth of temperate tree seedlings. J Ecol 98:408–418

Nelson D, Sommers L (1982) Dry combustion method using medium temperature resistance furnace. In: Page AL, Miller RH, Keeney DR (eds) Methods of soil analysis. Part 2. Chemical and microbial properties, 2nd edn. Soil Science Society of America and American Society of Agronomy Book Series no. 9, pp 539–579

Niu SL, Wan SQ (2008) Warming changes species competitive hierarchy in a temperate steppe of northern China. J Plant Ecol 1:103–110

Niu SL, Wu MY, Han Y, Xia JY, Li LH, Wan SQ (2008a) Water-mediated responses of ecosystem carbon fluxes to climatic change in a temperate steppe. New Phytol 177:209–219

Niu SL, Li ZX, Xia JY, Han Y, Wu MY, Wan SQ (2008b) Climatic warming changes plant photosynthesis and its temperature dependence in a temperate steppe of northern China. Environ Exp Bot 63:91–101

Parkinson JA, Allen SE (1975) Wet oxidation procedure suitable for determination of nitrogen and mineral nutrients in biological-material. Commun Soil Sci Plan 6:1–11

Price PW (1984) The concept of the ecosystem. In: Huffaker CB, Rabb RL (eds) Ecological entomology. Wiley, New York, pp 19–52

Quested H, Erikson O, Fortunel C, Garnier E (2007) Plant traits relate to whole-community litter quality and decomposition following land use change. Funct Ecol 21:1016–1026

Reeves F, Wagner D, Moorman T, Kiel J (1979) The role of endomicorrhizae in revegetation practices in the semi-arid est. I. A comparison of incidence of mycorrhizae in severely disturbed vs. natural environments. Am J Bot 66:6–13

Reinhart KO, Royo AA, Van der Putten WH, Clay K (2005) Soil feedback and pathogen activity in Prunus serotina throughout its native range. J Ecol 93:890–898

Reynolds HL, Packer A, Bever JD, Clay K (2003) Grassroots ecology: plant-microbe-soil interactions as drivers of plant community structure and dynamics. Ecology 84:2281–2291

Rong YP (2004) Review of the grassland restoration and reconstruction of the abandoned land. J Sichuan Grassl 5:1–4

Smith SE, Read DJ (1997) Mycorrhizal symbiosis. Academic Press, San Diego

Sprent JI (1993) The role of nitrogen fixation in primary succession. In: Miles J, Walton DWH (eds) Primary succession on land. Blackwell Scientific Publications, Boston, pp 209–220

Suding KN, Gross KL, Houseman GR (2004) Alternative states and positive feedbacks in restoration ecology. Trends Ecol Evol 19:46–53

Van Breemen N, Finzi AC (1998) Plant-soil interactions: ecological aspects and evolutionary implications. Biogeochemistry 42:1–19

Van der Putten WH (1997) Plant-soil feedback as a selective force. Trends Ecol Evol 12:169–170

Van der Putten WH (2003) Plant defense belowground and spatiotemporal processes in natural vegetation. Ecology 84:2269–2280

Van der Putten WH, Van Dijk C, Peters BAM (1993) Plant-specific soil-borne diseases contribute to succession in foredune vegetation. Nature 362:53–56

Van der Putten WH, Bardgett RD, De Ruiter PC, Hol WHG, Meyer KM, Bezemer TM, Bradford MA, Christensen S, Eppinga MB, Fukami T, Hemerik L, Molofsky J, Schadler M, Scherber C, Strauss SY, Vos M, Wardle DA (2009) Empirical and theoretical challenges in aboveground–belowground ecology. Oecologia 161:1–14

Vance E, Brookes P, Jenkinson D (1987) An extraction method for measuring soil microbial biomass C. Soil Biol Biochem 19:703–707

Vanlierop W (1988) Determination of available phosphorus in acid and calcareous soils with the kelowna multiple-element extractant. Soil Sci 146:284–291

Vivanco L, Austin AT (2008) Tree species identity alters forest litter decomposition through long-term plant and soil interactions in Patagonia, Argentina. J Ecol 96:727–736

Wang G, Liu G, Xu M (2009) Above- and belowground dynamics of plant community succession following abandonment of farmland on the loess plateau, China. Plant Soil 316:227–239

Wardle DA (2002) Communities and ecosystems. Linking the Aboveground and belowground components. Princeton University Press

Xu ZW, Wan SQ, Zhu GL, Ren HY, Han XG (2010) The influence of historical land use and water variability on grassland restoration. Restor Ecol. doi:10.1111/j.1526-100X.2009.00595.x

You L, Lu J, Chen H (2003) Adjustment of land use types for desertification control and prevention: taking Duolun county of Inner Mongolia as a typical case. Geogr Res 22:680–686

Zhang JT (2005) Succession analysis of plant communities in abandoned croplands in the eastern loess plateau of China. J Arid Environ 63:458–474

Zhang JY, Zhao HL, Zhang TH, Zhao XY (2004) Dynamics of species diversity of communities in restoration processes in Horqin Sandy Land. Acta Phytoecol Sin 28:86–92

Zhao W, Chen SP, Lin GH (2008) Compensatory growth responses to clipping defoliation in Leymus chinensis (Poaceae) under nutrient addition and water deficiency conditions. Plant Ecol 196:85–99

Zhou ZY, Sun OJ, Huang JH, Li LH, Liu P, Han XG (2007) Soil carbon and nitrogen stores and storage potential as affected by land-use in an agro-pastoral ecotone of northern china. Biogeochemistry 82:127–138
Acknowledgments
This research was supported by the State Key Basic Research Development Program of China (2007CB106801) and the National Natural Science Foundation of China (30830026, 30821062). The authors thank Shiqiang Wan, Shuli Niu, Jianyang Xia, Weixing Liu, Wenhua Xu, Zhe Zhang, Yang Li, Haijun Yang, and Tingting Li for the help in setting up the experiment and for comments on previous drafts of the manuscript.
Appendices
Appendix 1
Mean percentage biomass of the dominant species in the mono-dominant plant patches
 
Old-field species
Steppe species
Art cap
Art lav
Pen cen
Art fri
Ley chi
Sti kry
Percentage of biomass
64.54 ± 6.92
83.72 ± 3.60
100.00 ± 0.00
86.28 ± 3.71
55.42 ± 8.57
59.09 ± 2.70
Appendix 2
Result from one-way ANOVAs testing effects of soil species origin (Art cap, Art lav, Pen cen, Art fri, Ley chi, Sti Kry) on plant biomass
 
Old-field species
Steppe species
Art cap
Art lav
Pen cen
Art fri
Ley chi
Sti kry
df
5
5
5
5
5
5
F
9.4
8.33
2.06
9.72
2.41
10.18
p
<0.01*
<0.01*
0.09
<0.01*
0.05
<0.01*
About this article
Cite this article
Jiang, L., Han, X., Zhang, G. et al. The role of plant–soil feedbacks and land-use legacies in restoration of a temperate steppe in northern China. Ecol Res 25, 1101–1111 (2010). https://doi.org/10.1007/s11284-010-0735-x
Received:

Accepted:

Published:

Issue Date:
Keywords
Abiotic and biotic soil properties

Biogeochemistry

Land-use history

Natural experiment approach

Old-field

Secondary succession

Soil chemistry