Abstract
The effects of local population density, sex morph [protogynous (PG) or protandrous (PA)], and individual tree size on the demographic processes of seed production were investigated in a heterodichogamous maple, Acer mono Maxim. var. Marmoratum (Nichols.) Hara f. dissectum, in a temperate forest of Japan. As the distance from conspecific reproductive adults increased, the percentage of immature seed fall and empty seeds increased significantly, indicating higher pollination success along with local population density. Although the difference was not distinct, pollination success was affected by the local population density of the reciprocal sex morph rather than that of both sex morphs. The trees at higher local population density sites suffered higher seed mortality due to predation and decay, and tended to produce smaller seeds. Thus, the impacts of local population density operated both positively and negatively on reproduction. As a factor of individual traits, tree size scarcely affected any demographic processes. On the other hand, sex morph did affect pollination success. Trees of PG type had lower immature seed fall than those of PA type, suggesting that the former has higher efficiency of pollen acceptance than the latter. The results on seed demography presented here partly support previous suggestions that heterodichogamous plants exhibit reciprocal cross-pollination and gender specialization as reproductive traits.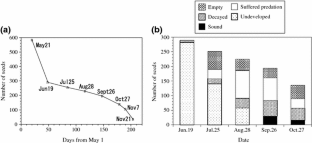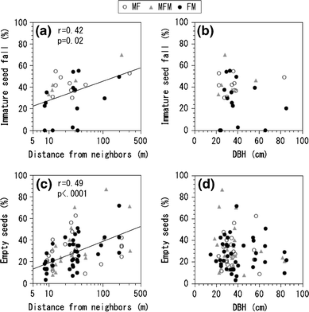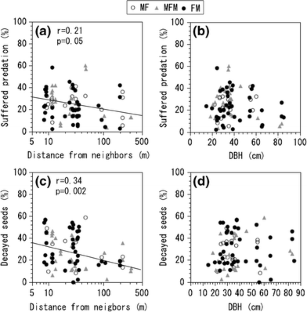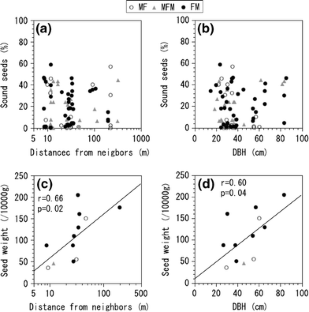 References
Aizen MA, Feinsinger P (1994) Forest fragmentation, pollination, and plant reproduction in a chaco dry forest, Argentina. Ecology 75(2):330–351

Asai T (2000) Dichogamy in fullmoon maple (In Japanese with English summary). Bull Hokkaido For Res Inst 37:27–40

Bai W, Zeng Y, Liao W, Zhang D (2006) Flowering phenology and wind-pollination efficacy of heterodichogamous Juglans mandshurica (Juglandaceae). Ann Bot 98:397–402

Bai W, Zeng Y, Liao W, Zhang D (2007) Mating patterns and pollen dispersal in a heterodichogamous tree, Juglans mandshurica (Juglandaceae). New Phytologist 176(3):699–707

Bosch M, Waser NM (1999) Effects of local density on pollination and reproduction in Delphinium nuttallianum and Aconitum columbianum. Am J Bot 86(6):871–879

Cascante A, Quesada M, Lobo JJ, Fuchs EA (2002) Effects of dry tropical forest fragmentation on the reproductive success and genetic structure of the tree Samanea saman. Conserv Biol 16:137–147

Cruden RW, Hermann-Parker SM (1977) Temporal dioecism: an alternative to dioesism? Evolution 31(4):863–866

Cunninghan SA (1996) Pollen supply limits fruit initiation by a rain forest understorey parm. J Ecol 84:185–194

Dick CW, Etchelecu G, Austerlitz F (2003) Pollen dispersal of tropical trees (Dinizia excelsa: Fabaceae) by native insects and African honeybees in pristine and fragmented Amazonian rainforest. Mol Ecol 12:753–764

Dommee B, Bomper JL, Denelle N (1990) Sexual tetramorphism in Thymelaea hirsuta (Thymelaeaceae): evidence of the pathway from heterodichogamy to dioecy at the infraspecific level. Am J Bot 77(11):1449–1462

Endress PK, Lorence DH (2004) Heterodichogamy of a novel type in Hernandia (Hernandiaceae) and its structural basis. Int J Plant Sci 165:753–763

Fujimori N, Samejima H, Kenta T, Ichie T, Shibata M, Iida S, Nakashizuka T (2006) Reproductive success and distance to conspecific adults in the sparsely distributed tree Kalopanax pictus. J Plant Res 119(3):195–204

Ghazoul J, Liston KA, Boyle TJB (1998) Disturbance induced density dependent seed set in Shorea siamensis (Dipterocarpaceae), a tropical forest tree. J Ecol 86:462–473

Ghazoul J, McLeish M (2001) Reproductive ecology of tropical forest trees in logged and fragmented habitats in Thailand and Costa Rica. Plant Ecol 153(1–2):335–345

Gleeson SK (1982) Heterodichogamy in walnuts: inheritance and stable ratios. Evolution 36:892–902

Gleiser G, Verdu M (2005) Repeated evolution of dioecy from androdioecy in Acer. New Phytologist 165(2):633–640

Hille Ris Lambers J, Clark JS (2003) Effects of dispersal, shrubs, and density-dependent mortality on seed and seedling distributions in temperate forests. Can J For Res 33:783–795

House SM (1992) Population density and fruit set in three dioecious tree species in Australian tropical rain forest. J Ecol 80:57–69

Isagi Y, Tateno R, Matsuki Y, Hirao A, Watanabe S, Shibata M (2007) Genetic and reproductive consequences of forest fragmentation for populations of Magnolia obovata. Ecol Res 22:382–389

Jong PC de (1976) Flowering and sex expression in Acer L. A biosystematic study. Meded Landbouwhogesch Wagening 76(2):1–201

Jong PC de (1994) Taxonomy and reproductive biology of maples. In: Van Gelderen DM, de Jong PC, Oterdoom HJ (eds) Maples of the world. Timber Press, Portland, pp 69–103

Jong TJ de, Klinkhamer PGL (1989) Size-dependency of sex-allocation in hermaphroditic, monocarpic plants. Funct Ecol 3:201–206

Jong TJ de, Klinkhamer PGL (2005) Evolutionary ecology of plant reproductive strategies. Cambridge University Press, Cambridge

Jong TJ de, Waser NM, Price MV, Ring RM (1992) Plant size, geitonogamy and seed set in Ipomopis aggregata. Oecologia 89:310–315

Kato E, Hiura T (1999) Fruit set in Styrax obassia (Styracaceae): the effect of light availability, display size, and local floral density. Am J Bot 86(4):495–501

Kimura M, Seiwa K, Suyama Y, Ueno N (2003) Flowering system of heterodichogamous Juglans ailanthifolia. Plant Species Biol 18:75–84

Kojima H, Morimoto K (1994) Taxonomic study of the subfamily Anthonominae from Japan (Coleoptera, Curculionidae). ESAKIA 34:147–186

Kunin WE (1991) Sex and the single mustard—population-density and pollinator behavior effects on seed-set. Ecology 74(7):2145–2160

Kunin WE (1997) Population size and density effects in pollination: pollinator foraging and plant reproductive success in experimental arrays of Brassica kaber. J Ecol 85(2):225–234

Masaki T, Suzuki W, Niiyama K, Iida S, Tanaka H, Nakashizuka T (1992) Community structure of a species-rich temperate forest, Ogawa forest reserve, central Japan. Vegetatio 98:97–111

Masaki T, Tanaka H, Shibata M, Nakashizuka T (1988) The seed bank dynamics of Cornus controversa and their role in regeneration. Seed Sci Res 8:53–63

Matsui K (1991) Pollination ecology of four Acer species in Japan with special reference to bee pollinators. Plant Species Biol 6:117–120

Nakashizuka T, Iida S, Tanaka H, Shibata M, Abe S, Masaki T, Niiyama K (1992) Community dynamics of Ogawa forest reserve, a species rich deciduous forest, central Japan. Vegetatio 103:105–112

Ohlson M (1988) Size-dependent reproductive effort in three populations of Saxifraga Hirculus in Sweden. J Ecol 76(4):1007–1016

Pannel JR, Verdu M (2006) The evolution of gender specialization from dimorphic hermaphroditism: paths from heterodichogamy to gynodioecy and androdioecy. Evolution 60(4):660–673

Pendleton RL, Freeman DC, McArther ED, Sanderson SC (2000) Gender specialization in heterodichogamous Grayia brandegei (Chenopodiaceae): evidence for an alternative pathway to dioecy. Am J Bot 87(4):508–516

Quesada M, Stoner KE, Rosas-Guerrero V, Palacios-Guevara C, Lobo JA (2003) Effects of habitat disruption on the activity of nectarivorous bats in a dry forest: implications for the reproductive success of the Neotropical tree Ceiba grandiflora. Oecologia 135:400–406

Renner SS (2001) How common is heterodichogamy? Trends Ecol Evol 16(11):595–597

Renner SS, Beenken L, Grimm GW, Kocyan A, Ricklefs RE (2007) The evolution of dioecy, heterodichogamy, and labile sex expression in Acer. Evolution 61(11):2701–2719

Ritland K, Jain SK (1981) A model for the estimation of outcrossing rate and gene frequencies using n independent loci. Heredity 47:35–52

Samson DA, Werk KS 1986 Size-dependent effects in the analysis of reproductive effort in plants. Am Nat 127(5):667–680

Sasaki M (1999) Wonders of the Japanease honeybee, biology of northernmost Apis cerana (In Japanease). Kaiyusha, Tokyo pp 10–11

Sato T (2002) Phenology of sex expression and gender variation in a heterodichogamous maple, Acer japonicum. Ecology 83(5):1226–1238

SAS (1995) JMP user's guide version 3.1 of JMP. SAS Institute, Cary

Shibata M, Tanaka H, Iida S, Abe S, Masaki T, Niiyama K, Nakashizuka T (2002) Synchronized annual seed production by the 16 principal tree species in a temperate deciduous forest, Japan. Ecology 83:1727–1742

Smith CC, Hamrick JK, Kramer CL (1998) The effects of stand density on frequency of filled seeds and fecundity in lodgepole pine (Pinus contorta Dougl.). Can J For Res 18:453–460

Steffan-Dewenter I, Munzenberg U, Tscharntke T (2001) Pollination, seed set and seed predation on a landscape scale. Proc R Soc Lond B Biol 268(1477):1685–1690

Steffan-Dewenter SI, Munzenberg U, Burger C (2002) Scale-dependent effects of landscape context on three pollinator guilds. Ecology 83(5):1421–1432

Sueyoshi M, Maeto K, Makihara H, Makino S, Iwai T (2003) Changes in dipteran assemblages with secondary succession of temperate deciduous forests following clear-cutting (In Japanese with English summary). Bull FFPRI 2(3):171–191

Suzuki W (2002) Forest vegetation in and around Ogawa forest reserve in relation to human impact. In: Nakashizuka T, Matsumoto Y (eds) Ecological studies 158. Springer, Tokyo, pp 27–40

Tanaka H (1995) Seed demography of three co-occurring Acer species in a Japanese temperate deciduous forest. J Veg Sci 6:887–896

Visscher PK, Seeley DK (1982) Foraging strategy of honeybee colonies in a temperate deciduous forest. Ecology 63:1790–1801

Wagenius S (2006) Scale dependence of reproductive failure in fragmented Echinacea populations. Ecology 87(4):931–941

Wright SJ, Muller-Landau HC, Calderon O, Hernandes A (2005) Annual and spatial variation in seedfall and seedling recruitment in a neotropical forest. Ecology 86(4):848–860
Acknowledgments
We thank Drs. T. Kenta, S. Sakai, A. Ushimaru, N. Tani, Y. Matsuki, T. Tateno, Y. Isagi, Y. Inoue, S. Sugiura, M. Isono, and S. Makino for assistance in the field and helpful discussions for this study. Drs. M. Isono, S. Makino, T. Matsumura, K. Konishi, M. Swuenaga, H. Shima, S. Shinonaga, M. Sutou, K. Nishida, T. Nakamura, H. Kurahashi and T. Tachi helped us with identification of insects. We also thank the anonymous reviewers and Dr. T. de Jong for kind comments on the manuscript. Grants in support of this work came from the Ministry of Education, Science, Sports, and Culture, the Ministry of Agriculture, Forestry, and Fisheries, and the Research Institute for Humanity and Nature, Japan.
About this article
Cite this article
Shibata, M., Kikuchi, S., Tanaka, H. et al. Effects of population density, sex morph, and tree size on reproduction in a heterodichogamous maple, Acer mono, in a temperate forest of Japan. Ecol Res 24, 1–9 (2009). https://doi.org/10.1007/s11284-008-0474-4
Received:

Accepted:

Published:

Issue Date:
Keywords
Heterodichogamy

Seed production

Pollination

Density dependent mortality

Ogawa Forest Reserve