Abstract
Summer distributions of the invasive signal crayfish (Pacifastacus leniusculus) were investigated in relation to physicochemistry in a Kusiro Moor marsh and its inflows and outflows in northern Japan. Maximum crayfish abundance and biomass were 1.04 individuals/m2 and 3.56 g dry mass (DM)/m2 in littoral marsh habitats, and 5.84 individuals/m2 and 13.48 g DM/m2 in stream habitats. Classification tree analysis was used to predict crayfish occurrence at 102 sites from all habitats (i.e. littoral marsh, pelagic marsh and stream) while regression tree analyses were used to predict crayfish abundance at littoral marsh and stream sites separately. The classification tree showed that crayfish occurrence was primarily determined by undercut bank volume regardless of habitat identity. When undercut bank volume was <0.0054 m3, crayfish were predicted to be absent at marsh sites, but expected to occur at stream sites where pH and water temperature exceeded 6.5 and 14.3°C, respectively. The regression tree using only littoral marsh sites showed that undercut bank volume, followed by dissolved oxygen level, determined the splits of the tree. Crayfish abundance was highest when undercut bank volume was >0.61 m3, and moderately high when dissolved oxygen was >9.09 mg/l and undercut bank volume was <0.61 m3. On the other hand, the regression tree using only stream sites showed that water temperature was the major predictor that determined the splits. We discuss the roles of physicochemical factors as limiting factors of the distribution pattern of the invasive crayfish.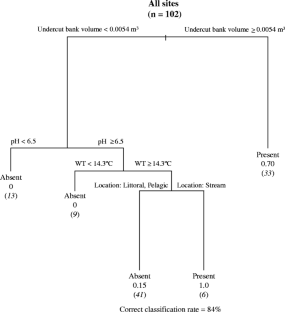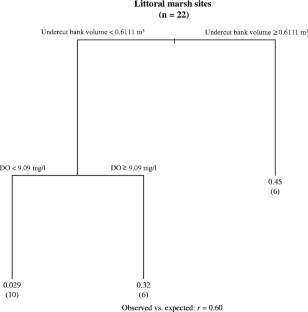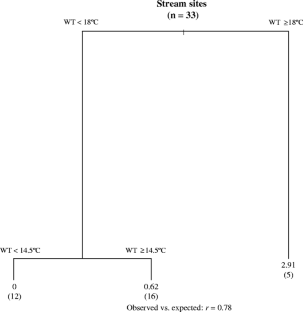 References
Breiman L (1983) Classification and regression trees. Chapman and Hall, New York

Capelli GM, Magnuson JJ (1983) Morphoedaphic and biogeographic analysis of crayfish distribution in northern Wisconsin. J Crustac Biol 3:548–564

Carpenter SR, Lodge DM (1986) Effects of submersed macrophytes on ecosystem processes. Aquat Bot 26:341–370

Cohen J (1960) A coefficient of agreement nominal scales. Educ Psychol Meas 20:37–46

Cossette C, Rodriguez MA (2004) Summer use of a small stream by fish and crayfish and exchanges with adjacent lentic macrohabitats. Freshwater Biol 49:931–944

De'ath G, Fabricius KE (2000) Classification and regression trees: a powerful yet simple technique for ecological data analysis. Ecology 81:3178–3192

Dorn NJ, Urgelles R, Trexler JC (2005) Evaluating active and passive sampling methods to quantify crayfish density in a freshwater wetland. J N Am Benthol Soc 24:346–356

Dorn NJ, Wojdak JM (2004) The role of omnivorous crayfish in littoral communities. Oecologia 140:150–159

Englund G (1999) Effects of fish on the local abundance of crayfish in stream pools. Oikos 87:48–56

Englund G, Krupa JJ (2000) Habitat use by crayfish in stream pools: influence of predators, depth and body size. Freshwater Biol 43:75–83

Guisan A, Zimmermann NE (2000) Predictive habitat distribution models in ecology. Ecol Model 135:147–186

Holdich DM (1999) The negative effects of established crayfish introductions. In: Gherardi F, Holdich DM (eds) Crayfish in Europe as alien species: how to make the best of a bad situation? Balkema, Rotterdam, pp 31–47

Holdich DM, Rogers WD, Reynolds JD (1999) Native and alien crayfish in the British Isles. In: Gherardi F, Holdich DM (eds) Crayfish in Europe as alien species: how to make the best of a bad situation? Balkema, Rotterdam, pp 221–236

James FC, McCulloch CE (1990) Multivariate analysis in ecology and systematics—panacea or pandora box. Annu Rev Ecol Syst 21:129–166

Kawai T, Nakata K, Hamano T (2002) Temporal changes of the densities in two crayfish species, the native Cambaroides japonicus (de Haan) and the alien Pacifastacus leniusculus (Dana), in natural habitats of Hokkaido, Japan. Freshwater Crayfish 13:198–206

Landis JR, Koch GC (1977) The measurements of observer agreement for categorical data. Biometrics 33:159–174

Lek S, Delacoste M, Baran P, Dimopoulos I, Lauga J, Aulagnier S (1996) Application of neural networks to modelling nonlinear relationships in ecology. Ecol Model 90:39–52

Lewis SD (2002) Pacifastacus. In: Holdich DM (ed) Biology of freshwater crayfish. Blackwell, Oxford, pp 511–540

Light T (2003) Success and failure in a lotic crayfish invasion: the roles of hydrologic variability and habitat alteration. Freshwater Biol 48:1886–1897

Lodge DM (1993) Biological invasions—lessons for ecology. Trends Ecol Evol 8:133–137

Lodge DM, Hill AM (1994) Factors governing species composition, population size, and productivity of cool-water crayfishes. Nordic J Freshwater Res 69:111–136

Magnuson JJ, Tonn WM, Banerjee A, Toivonen J, Sanchez O, Rask M (1998) Isolation vs extinction in the assembly of fishes in small northern lakes. Ecology 79:2941–2956

Matsui T, Yagihashi T, Nakaya T, Tanaka N, Taoda H (2004) Climatic controls on distribution of Fagus crenata forests in Japan. J Veg Sci 15:57–66

Morris R, Taylor EW, Brown DJA, Brown JA (1989) Acid toxicity and aquatic animals. Cambridge University Press, Cambridge

Nakajima H, Takamura N, Hario T, Kamiyama R, Hiruta S (2004) Distribution of fish in Takkobu Marsh. In: Takamura N, Wakana I (eds) Environmental studies on eastern Kusiro Moor marshes (in Japanese). The Ministry of the Environment of Japan Report. The Ministry of the Environment of Japan, pp 83–95

Nyström P, Strand JA (1996) Grazing by a native and an exotic crayfish on aquatic macrophytes. Freshwater Biol 36:673–682

Otis DL, Burnham KP, White GC, Anderson DR (1978) Statistical inference from capture data on closed animal populations. Wildl Monogr 62:1–135

Rutledge PS, Pritchard AW (1981) Scope for activity in the crayfish Pacifastacus leniusculus. Am J Physiol 240:87–92

Seiler SM, Turner AM (2004) Growth and population size of crayfish in headwater streams: individual- and higher-level consequences of acidification. Freshwater Biol 49:870–881

Takamura N, Kadono Y, Fukushima M, Nakagawa M, Kim BHO (2003) Effects of aquatic macrophytes on water quality and phytoplankton communities in shallow lakes. Ecol Res 18:381–395

Usio N, Townsend CR (2000) Distribution of the New Zealand crayfish Paranephrops zealandicus in relation to stream physico-chemistry, predatory fish, and invertebrate prey. N Z J Mar Freshwater Res 34:557–567

Venables WN, Ripley BD (1999) Modern applied statistics with S. Springer, Berlin Heidelberg New York

Vitousek PM, Dantonio CM, Loope LL, Westbrooks R (1996) Biological invasions as global environmental change. Am Sci 84:468–478
Acknowledgements
We wish to thank H. Hama, S. Igarashi, Y. Kasai and staff at Kankyo Consultant for assisting with field work, and T. Matsui for instructions on classification tree analysis and for constructive comments on an early draft of the manuscript. Financial support was provided by the Ministry of the Environment of Japan (to H. Nakajima and N. Takamura) and by the National Institute for Environmental Studies (to N. Takamura). This study was conducted as a part of the Eastern Kusiro Moor Restoration Programme by the Ministry of the Environment of Japan.
About this article
Cite this article
Usio, N., Nakajima, H., Kamiyama, R. et al. Predicting the distribution of invasive crayfish (Pacifastacus leniusculus) in a Kusiro Moor marsh (Japan) using classification and regression trees. Ecol Res 21, 271–277 (2006). https://doi.org/10.1007/s11284-005-0120-3
Received:

Accepted:

Published:

Issue Date:
Keywords
Signal crayfish

Exotic species

Wetland

Kushiro moor

Classification and regression trees