Abstract
Introduction
Nevoid basal cell carcinoma syndrome (NBCCS) is an autosomal dominant condition characterized by the development of odontogenic keratocyst (OKC), basal cell carcinomas and palmar–plantar pits among other conditions. Reports about Latin American population are scarce.
Objective
To analyze the clinical, radiographic, histopathologic and inherited features of odontogenic keratocyst and palmar pits in three Chilean families with nevoid basal cell carcinoma syndrome.
Material and methods
After histopathologic diagnosis of OKC, notified consent was requested and evaluation of the affected patients and their families was done.
Results
Two families appeared to have only one affected adolescent, and both of them were considered de novo cases. In the third family, three affected members participated in this study, with an autosomal dominant presentation. All affected patients had OKC and palmar pits. Basal cell carcinomas were present only among adult patients. All examined patients were from Latin American ethnic groups.
Conclusions
Patients with NBCCS had single or multiple OKCs that were located more frequently in the mandibular area. One family had autosomal dominant inheritance and the other two families were de novo cases. None of the three teenage patients had basal cell carcinomas.
Access options
Buy single article
Instant access to the full article PDF.
USD 39.95
Price excludes VAT (USA)
Tax calculation will be finalised during checkout.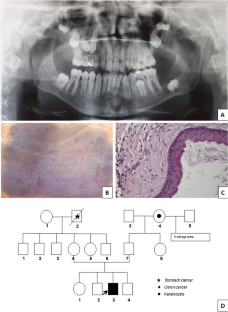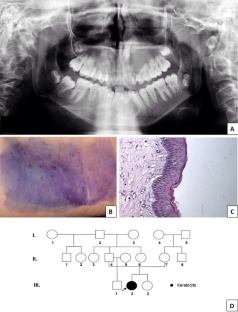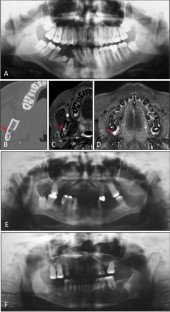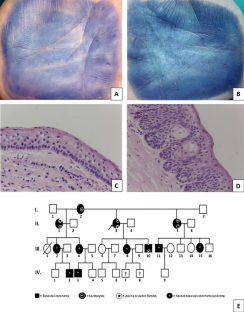 Data availability
The anonymized data evaluated during the present study will be available from the corresponding author upon reasonable request.
References
Gorlin RJ, Goltz RW. Multiple basal cell epithelioma, jaw cysts and bifid ribs. N Engl J Medicine. 1960;262:908–12. https://doi.org/10.1056/NEJM196005052621803.

Kimonis VE, Singh KE, Zhong R, Pastakia B, Digiovanna JJ, Bale SJ. Clinical and radiological features in young individuals with nevoid basal cell carcinoma syndrome. Genet Med. 2013;15(1):79–83. https://doi.org/10.1038/gim.2012.96.

Titinchi F, Nortje C, Parker M, Janse van Rensburg L. Nevoid basal cell carcinoma syndrome: a 40-year study in the South African population. J Oral Pathol Med. 2013;42:162–5. https://doi.org/10.1111/j.1600-0714.2012.01188.x.

Gailani MR, Bale SJ, Leffell DJ, DiGiovanna JJ, Peck GL, Poliak S, et al. Developmental defects in Gorlin syndrome related to a putative tumor suppressor gene on chromosome 9. Cell. 1992;69:111–7. https://doi.org/10.1016/0092-8674(92)90122-s.

Rivas M, Rojas E, Calaf G. Skin cancer risk affected by ultraviolet solar irradiance in Arica. Chile Oncol Lett. 2014;7(2):483–6. https://doi.org/10.3892/ol.2013.1698.

Kadlub N, Coudert A, Gatibelza ME, El Houmami N, Soufir N, Ruhin-Poncet B, et al. PTCH1 mutation and local aggressiveness of odontogenic keratocystic tumors in children: is there a relationship? Hum Pathol. 2013;44:1071–8. https://doi.org/10.1016/j.humpath.2012.09.012.

Rui Z, Li-Ying P, Jia-Fei Q, Ying-Ying H, Feng C, Tie-Jun L. Smoothened gene alterations in keratocystic odontogenic tumors. Head Face Med. 2014;5(10):36. https://doi.org/10.1186/1746-160X-10-36.

Philipsen HP. Pathology and genetics of head and neck tumours. In: Barnes L, Eveson J, Reichart P, Sidransky D, editors. IARC, odontogenic tumours. Lyon: IARC Press; 2005. p. 306–7.

Soluk-Tekkeşin M, Wright JM. The world health organization classification of odontogenic lesions: a summary of the changes of the 2017 4th edition. Turk Patoloji Derg. 2018. https://doi.org/10.5146/tjpath.2017.01410.

El-Naggar AK, Chan JKC, Grandis JR, Takata T, Slootweg PJ, editors. WHO classification of head and neck tumours. 4th ed. Lyon: IARC; 2017. p. 205–60

Visioli F, Medeiros CA, Heitz C, Varvaki P, Sant'Ana M. Is nevoid basal cell carcinoma syndrome really so rare? Proposal for an investigative protocol based on a case series. J Oral Maxillofac Surg. 2010;68:903–8. https://doi.org/10.1016/j.joms.2009.03.032.

Kimonis VE, Goldstein AM, Pastakia B, Yang ML, Kase R, DiGiovanna JJ, et al. Clinical manifestations in 105 persons with nevoid basal cell carcinoma syndrome. Am J Medical Genet. 1997;69:299–308.

Reichart P, Philipsen H. Atlas de Patología Oral Quistes epiteliales maxilares. Ed. Masson Quistes Epiteliales Maxilares. Barcelona: Masson; 2000. p. 205–9.

Shimada Y, Morita K, Kabasawa Y, Taguchi T, Omura K. Clinical manifestations and treatment for keratocystic odontogenic tumors associated with nevoid basal cell carcinoma syndrome: a study in 25 Japanese patients. J Oral Pathol Med. 2013;42(3):275–80. https://doi.org/10.1111/j.1600-0714.2012.01202.x.

Rosón-Gomez S, González R, Naval L, Sastre J, Muñoz M, Díaz F. Síndrome de Gorlin-Goltz: Serie de 7 casos. Rev Esp Cir Oral Maxilofac. 2009;31(5):309–15.

Habibi A, Jafarzadeh H. Nevoid basal cell carcinoma syndrome: a 17-year study of 19 cases in Iranian population (1991–2008). J Oral Pathol Med. 2010;39(9):677–80. https://doi.org/10.1111/j.1600-0714.2010.00896.x.

Shanley S, Ratcliffe J, Hockey A, Haan E, Oley C, Ravine D, Martin N, Wicking C, Chenevix-Trench G. Nevoid basal cell carcinoma syndrome: review of 118 affected individuals. Am J Med Genet. 1994;50(3):282–90. https://doi.org/10.1002/ajmg.1320500312.

Larsen AK, Mikkelsen DB, Hertz JM, Bygum A. Manifestations of Gorlin-Goltz syndrome. Dan Med J. 2014;61(5):A4829.

Ochsenius G, Escobar E, Godoy L, Peñafiel C. Odontogenic cysts: analysis of 2944 cases in Chile. Med Oral Patol Oral Cir Bucal. 2007;12(2):E85-91.

Ally MS, Tang JY, Joseph T, Thompson B, Lindgren J, Raphael MA, Ulerio G, Chanana AM, Mackay-Wiggan JM, Bickers DR, Epstein EH Jr. The use of vismodegib to shrink keratocystic odontogenic tumors in patients with basal cell nevus syndrome. JAMA Dermatol. 2014;150(5):542–5. https://doi.org/10.1001/jamadermatol.2013.7444.

Evans DG, Howard E, Giblin C, Clancy T, Spencer H, Huson SM, Lalloo F. Birth incidence and prevalence of tumor-prone syndromes: estimates from a UK family genetic register service. Am J Med Genet A. 2010;152A(2):327–32. https://doi.org/10.1002/ajmg.a.33139.

Leiva N, Véliz S, González L, Salazar C. Síndrome Gorlin-Goltz asociado a fisura labiopalatina bilateral. Rev Cubana Estomatol. 2015;52(2):188–95.

Bree AF, Shah MR, BCNS Colloquium Group. Consensus statement from the first international colloquium on basal cell nevus syndrome (BCNS). Am J Med Genet A. 2011;155A(9):2091–7. https://doi.org/10.1002/ajmg.a.34128.

Hwang DS, Kim YH, Kim UK, Ryu MH, Kim GC. Retrospective clinical study of multiple keratocystic odontogenic tumors in non-syndromic patients. J Korean Assoc Oral Maxillofac Surg. 2018;44(3):107–11. https://doi.org/10.5125/jkaoms.2018.44.3.107.

Kargahi N, Kalantari M. Non-syndromic multiple odontogenic keratocyst: a case report. J Dent (Shiraz). 2013;14(3):151–4.
Acknowledgements
We thank all the families that participated in this study. This research has been supported by grant PRI-ODO 016/05 from the Faculty of Dentistry of the University of Chile.
Ethics declarations
Conflict of interest
The authors declare that they have no conflict of interest.
Ethical approval
This work is part of a research project approved by the Ethics Committee of the Faculty of Dentistry of the University of Chile.
Informed consent
Each patient and in the case of children their parents signed an informed consent authorizing their participation. Young people between 12 and 18 years of age signed an informed assent.
Additional information
Publisher's Note
Springer Nature remains neutral with regard to jurisdictional claims in published maps and institutional affiliations.
Rights and permissions
Springer Nature or its licensor (e.g. a society or other partner) holds exclusive rights to this article under a publishing agreement with the author(s) or other rightsholder(s); author self-archiving of the accepted manuscript version of this article is solely governed by the terms of such publishing agreement and applicable law.
About this article
Cite this article
Castillo-Tobar, A., Urzúa, B., Tirreau, V. et al. Clinical, radiographic, pathological and inherited characteristics of odontogenic keratocyst in nevoid basal cell carcinoma syndrome: a study in three Chilean families. Oral Radiol (2022). https://doi.org/10.1007/s11282-022-00664-5
Received:

Accepted:

Published:

DOI: https://doi.org/10.1007/s11282-022-00664-5
Keywords
Basal cell carcinoma

Keratocyst

Nevoid basal cell carcinoma syndrome