Abstract
Objective
The aims of this study were to retrospectively analyse the values of shear wave elastography (SWE) in differential diagnosis of salivary gland tumors (SGT).
Methods
A total of 56 patients with salivary gland lump(s) were examined by SWE for measuring and comparing the differences in various Young's modules (malignant tumor (MT) and benign tumor (BT), parotid tumor (PA) and adenolymphomas (AL), etc.). All the cases were confirmed by surgery or fine needle aspiration pathology.
Results
The 56 SGT cases included 10 cases MT, 27 cases of PA, 11 cases of AL, and 8 cases of other BT. There was no statistical significance in Young's modules between group BT and group MT (both P > 0.05); the differences between group PA and group AL were statistically significant (P < 0.05), and the corresponding ROC curve analysis found that the diagnostic value of the maximum Young's modulus was the highest with the best cut-off values and AUC as 32.4 KPa and 0.805. The sensitivity, specificity, and Yoden index of the diagnosis of PA and AL were 70.4%, 81.8%, and 0.522, respectively.
Conclusions
SWE can differentially diagnose PA and AL while not MT and BT in SGT.
Access options
Buy single article
Instant access to the full article PDF.
US$ 39.95
Tax calculation will be finalised during checkout.
Subscribe to journal
Immediate online access to all issues from 2019. Subscription will auto renew annually.
US$ 79
Tax calculation will be finalised during checkout.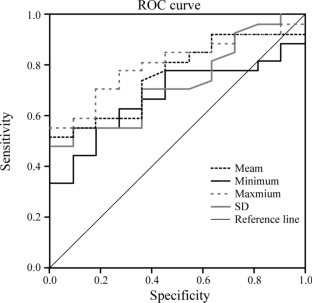 References
1.

Reinheimer A, Vieira DS, Cordeiro MM, Rivero ER. Retrospective study of 124 cases of salivary gland tumors and literature review. J Clin Exp Dent. 2019;11:e1025–32.

2.

Pantanowitz L, Thompson LDR, Rossi ED. Diagnostic approach to fine needle aspirations of cystic lesions. Head Neck Pathol. 2018;12:548–61.

3.

Mezei T, Mocan S, Ormenisan A, Baróti B, Iacob A. The value of fine needle aspiration cytology in the clinical management of rare salivary gland tumors. J Appl Oral Sci. 2018;26:e20170267.

4.

Luciano N, Ferro F, Bombardieri S, Baldini C. Advances in salivary gland ultrasonography. Clin Exp Rheumatol. 2018;36(Suppl 114):159–64.

5.

Berg WA, Mendelson EB, Cosgrove DO, Doré CJ, Gay J, Henry JP, et al. Quantitative maximum shear-wave stiffness of breast masses as a predictor of histopathologic severity. AJR Am J Roentgenol. 2015;205:448–55.

6.

Chen M, Zhang KQ, Xu YF, Zhang SM, Cao Y, Sun WQ. Shear wave elastography and contrast-enhanced ultrasonography in the diagnosis of thyroid malignant nodules. Mol Clin Oncol. 2016;5:724–30.

7.

Heřman J, Sedláčková Z, Vachutka J, Fürst T, Salzman R, Vomáčka J, et al. Differential diagnosis of parotid gland tumors: role of shear wave elastography. Biomed Res Int. 2017;2017:9234672.

8.

Badea I, Tamas-Szora A, Chiorean I, Crisan M, Ciuleanu E, Baciut G, et al. Acoustic Radiation Force Impulse quantitative elastography: a new noninvasive technique for the evaluation of parotid glands. A preliminary study in controls and in patients with irradiated nasopharyngeal carcinoma. Med Ultrason. 2015;17:308–14.

9.

Zhou H, Zhou XL, Xu HX, He YP, Bo XW, Li XL, et al. Initial experience with ultrasound elastography for diagnosis of major salivary gland lesions. J Ultrasound Med. 2016;35:2597–606.

10.

Mansour N, Bas M, Stock KF, Strassen U, Hofauer B, Knopf A. Multimodal ultrasonographic pathway of parotid gland lesions. Ultraschall Med. 2017;38:166–73.

11.

Lee DH, Yoon TM, Lee JK, Lim SC. Clinical analysis of parotid tumors in patients over 60-year-old: a retrospective study of 78 cases. Int J Gerontol. 2017;11:114–7.

12.

Deveer M, Sahan M, Sivrioglu AK, Celik OI. Bilateal multifocal Warthin tumours. BMJ Case Rep. 2013;2013:bcr2013009336.

13.

Fischer T, Paschen CF, Slowinski T, Alkhameri A, Berl JC, Klingebiel R, et al. Differentiation of parotid gland tumors with contrast-enhanced ultrasound. Rofo. 2010;182:155–62.

14.

Gritzmann N. Sonography of the salivary glands. AJR Am J Roentgenol. 1989;153:161–6.

15.

Khalife A, Bakhshaee M, Davachi B, Mashhadi L, Khazaeni K. The diagnostic value of B-mode sonography in differentiation of malignant and benign tumors of the parotid gland. Iran J Otorhinolaryngol. 2016;28:305–12.

16.

Mansour N, Stock KF, Chaker A, Bas M, Knopf A. Evaluation of parotid gland lesions with standard ultrasound, color duplex sonography, sonoelastography, and acoustic radiation force impulse imaging—a pilot study. Ultraschall Med. 2012;33:283–8.

17.

Zheng M, Plonowska KA, Strohl MP, Ryan WR. Surgeon-performed ultrasound for the assessment of parotid masses. Am J Otolaryngol. 2018;39:467–71.

18.

Wierzbicka M, Kałużny J, Szczepanek-Parulska E, Stangierski A, Gurgul E, Kopeć T, et al. Is sonoelastography a helpful method for evaluation of parotid tumors? Eur Arch Otorhinolaryngol. 2013;270:2101–7.

19.

Bhatia KS, Cho CC, Tong CS, Lee YY, Yuen EH, Ahuja AT. Shear wave elastography of focal salivary gland lesions: preliminary experience in a routine head and neck US clinic. Eur Radiol. 2012;22:957–65.

20.

Yu J, Du Y, Lu Y, Zhang W, Zhang D, Wang G, et al. Application of DTI and ARFI imaging in differential diagnosis of parotid tumours. Dentomaxillofac Radiol. 2016;45:20160100.
Ethics declarations
Conflict of interest
The authors declare no conflict of interest.
Additional information
Publisher's Note
Springer Nature remains neutral with regard to jurisdictional claims in published maps and institutional affiliations.
About this article
Cite this article
Wang, J., Jiang, L. Application value of shear wave elastography in salivary gland tumors. Oral Radiol (2021). https://doi.org/10.1007/s11282-020-00507-1
Received:

Accepted:

Published:
Keywords
Shear wave elastography

Salivary gland tumors