Abstract
Objective
To evaluate the incidence and location of retromolar canal (RMC) in an eastern Chinese population using cone beam computed tomography (CBCT) images.
Methods
Six hundred and fifty-seven patients (276 males and 381 females, 19–49 years old) from east China were enrolled. Both right and left sides of the mandible were examined (n = 1314). Two-dimensional (2D) images of various planes in the mandibular ramus region and reconstructed three-dimensional (3D) images were reviewed. The course of the RMC and the location of the retromolar foramina (RMF) were observed.
Results
Retromolar canal (RMC) was observed in 25.9% (170/657) of patients and 15.7% of sides (206/1314). 20.4% patients had unilateral RMC (134/657) and 5.5% had bilaterally RMC (36/657). Most RMC are horizontally curved course (Type B, 45.6%), followed by vertically curved course (Type A, 44.2%). Type C RMC, which run independently from separate foramina in the mandibular ramus, were relatively rare (10.2%). The distance from the middle of the RMF to the distal end of the second molar ranged from 4.56 to 24.01 mm and the mean distance was 11.97 mm.
Conclusion
RMC is not a rare anatomical structure in the eastern Chinese population. CBCT should be applied as a diagnostic tool to provide detailed information involving the retromolar area.
Access options
Buy single article
Instant access to the full article PDF.
US$ 39.95
Tax calculation will be finalised during checkout.
Subscribe to journal
Immediate online access to all issues from 2019. Subscription will auto renew annually.
US$ 79
Tax calculation will be finalised during checkout.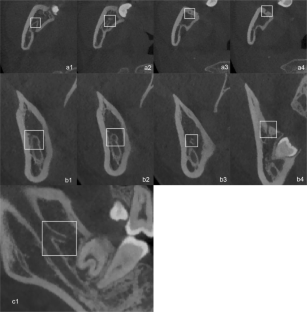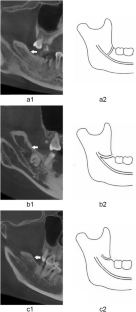 References
1.

Alves N, Deana NF. Anatomical and radiographical study of the retromolar canal and retromolar foramen in macerated mandibles. Int J Clin Exp Med. 2015;8(3):4292–6.

2.

Naitoh M, Hiraiwa Y, Aimiya H, Ariji E. Observation of bifid mandibular canal using cone-beam computerized tomography. Int J Oral Max Implant. 2009;24(1):155–9.

3.

Chavez-Lomeli M, Mansilla Lory J, Pompa J, Kjaer I. The human mandibular canal arises from three separate canals innervating different tooth groups. J Dent Res. 1996;75(8):1540–4.

4.

Kuribayashi A, Watanabe H, Imaizumi A, Tantanapornkul W, Katakami K, Kurabayashi T. Bifid mandibular canals: cone beam computed tomography evaluation. Dentomaxillofacial Radiol. 2010;39(4):235–9.

5.

Naitoh M, Nakahara K, Suenaga Y, Gotoh K, Kondo S, Ariji E. variations of the bony canal in the mandibular ramus using cone-beam computed tomography. Oral Radiol. 2010;26(1):36–40.

6.

Kong N, Hui M, Miao F, Yuan H, Du Y, Chen N. Mandibular incisive canal in han chinese using cone beam computed tomography. Int J Oral Max Surg. 2016;45(9):1142–6.

7.

Han S, Hwang Y. Cone beam Ct findings of retromolar canals in a korean population. Surg Radiol Anat. 2014;36(9):871–6.

8.

Kawai T, Asaumi R, Sato I, Kumazawa Y, Yosue T. Observation of the retromolar foramen and canal of the mandible: a Cbct and macroscopic study. Oral Radiol. 2012;28(1):10–4.

9.

Lizio G, Pelliccioni GA, Ghigi G, Fanelli A, Marchetti C. Radiographic assessment of the mandibular retromolar canal using cone-beam computed tomography. Acta Odontol Scand. 2013;71(3–4):650–5.

10.

Von Arx T, Hänni A, Sendi P, Buser D, Bornstein MM. Radiographic study of the mandibular retromolar canal: an anatomic structure with clinical importance. J Endod. 2011;37(12):1630–5.

11.

Ossenberg NS. Retromolar foramen of the human mandible. Am J Phys Anthropol. 1987;73(1):119–28.

12.

Schejtman R, Devoto FC, Arias NH. The origin and distribution of the elements of the human mandibular retromolar canal. Arch Oral Biol. 1967;12(11):1261–8.

13.

Patil S, Matsuda Y, Nakajima K, Araki K, Okano T. Retromolar canals as observed on cone-beam computed tomography: their incidence, course, and characteristics. Oral Surg Oral Med Oral Pathol Oral Radiol. 2013;115(5):692–9.

14.

Athavale S, Vijaywargia M, Deopujari R, Kotgirwar S. Bony and cadaveric study of retromolar region. People's J Sci Res. 2013;6(2):14–8.

15.

Galdámes IS, Matamala DZ, López MC, Suazo G, Zavando M, Cantín L. Retromolar canal and forame prevalence in dried mandibles and clinical implications. Int J Odontostomatol. 2008;2(2):183–7.

16.

Motamedi MH, Gharedaghi J, Mehralizadeh S, Navi F, Badkoobeh A, Valaei N, et al. Anthropomorphic assessment of the retromolar foramen and retromolar nerve: anomaly or variation of normal anatomy? Int J Oral Maxillofacial Surg. 2016;45(2):241–4.

17.

Sisman Y, Ercan-Sekerci A, Payveren-Arıkan M, Sahman H. Diagnostic accuracy of cone-beam ct compared with panoramic images in predicting retromolar canal during extraction of impacted mandibular third molars. Med Oral Patol Oral Cir Bucal. 2015;20(1):e74–e81.

18.

Hepburn D. Some variations in the arrangements of the nerves of the human body. J Anat Physiol. 1887;21(part 3):511–3.

19.

Kawai T, Asaumi R, Kumazawa Y, Sato I, Yosue T. Observation of the temporal crest canal in the mandibular ramus by cone beam computed tomography and macroscopic study. Int J Comput Ass Radiol Surg. 2014;9(2):295–9.

20.

Ossenberg N. Temporal crest canal: case report and statistics on a rare mandibular variant. Oral Surg Oral Med Oral Pathol. 1986;62(1):10–2.

21.

Kikuta S, Iwanaga J, Nakamura K, Hino K, Nakamura M, Kusukawa J. The retromolar canals and foramina: radiographic observation and application to oral surgery. Surg Radiol Anat. 2018;40(6):647–52.

22.

Sawyer DR, Kiely ML. Retromolar foramen: a mandibular variant important to dentistry. J Ann Dent. 1991;50(1):16–8.
Acknowledgements
This work was supported in part by a project funded by the Priority Academic Program Development of Jiangsu Higher Education Institutions (PAPD, 2018–87). The Project of Invigorating Health Care through Science, Technology and Education (Jiangsu Provincial Medical Youth Talent QNRC2016852), Jiangsu Provincial Medical Innovation Team (CXTDA2017036) and sponsored by Qing Lan Project.
Ethics declarations
Conflict of interest
The authors declare that they have no conflicts of interest.
Ethical approval
All procedures followed were in accordance with the ethical standards of the responsible committee on human experimentation (institutional and national) and with the Helsinki Declaration of 1975, as revised in 2008.
Informed consent
Informed consent was obtained from all patients for being included in the study.
Additional information
Publisher's Note
Springer Nature remains neutral with regard to jurisdictional claims in published maps and institutional affiliations.
About this article
Cite this article
Hou, Y., Feng, G., Lin, W. et al. Observation of retromolar canals on cone beam computed tomography. Oral Radiol 36, 365–370 (2020). https://doi.org/10.1007/s11282-019-00414-0
Received:

Accepted:

Published:

Issue Date:
Keywords
Cone beam CT(CBCT)

Retromolar canal (RMC)

Retromolar foramina (RMF)

Incidence

Oral surgery