Abstract
Objective
To develop and compare pediatric upper airway three-dimensional normative values using the two most commonly used cone beam computed tomography (CBCT) software: Invivo5 (fixed threshold) and Dolphin 3D (interactive threshold).
Study design
Out of 3738 CBCT scans, scans of 81 pediatric patients were utilized after applying strict exclusion criteria. The sample was grouped into two age groups (7–11 and 12–17 years). Intra-class correlation coefficient was used to test intra-rater and inter-rater reliability and showed coefficients greater than 0.9 indicating good reliability of the methods used.
Results
Paired t tests showed that volumetric and area measurements obtained using Dolphin 3D were significantly larger than those obtained using Invivo5 (p < 0.05). The mean minimal cross-sectional areas (MCSA) for Dolphin 3D were 151 mm2 and 177 mm2 for age groups 1 and 2, respectively. The mean MCSA values for Invivo5 for age groups 1 and 2 were 120 mm2 and 145 mm2, respectively.
Conclusion
Pediatric upper airway volumetric, area, and linear measurements were reported after applying strict exclusion criteria including a validated sleep questionnaire. Our goal is that clinicians utilize the proposed-here normative values for screening and assist in the timely diagnosis and management of pediatric sleep apnea.
This is a preview of subscription content, log in to check access.
Access options
Buy single article
Instant access to the full article PDF.
US$ 39.95
Price includes VAT for USA
Subscribe to journal
Immediate online access to all issues from 2019. Subscription will auto renew annually.
US$ 99
This is the net price. Taxes to be calculated in checkout.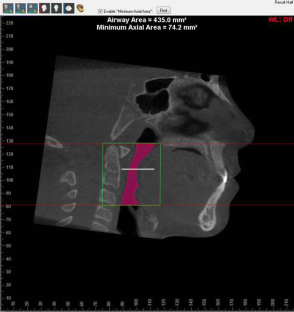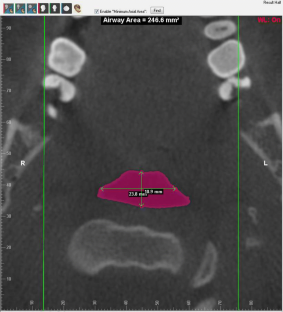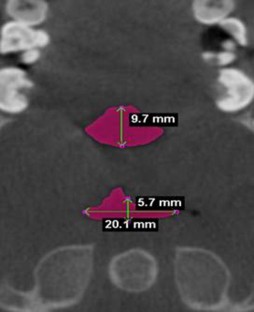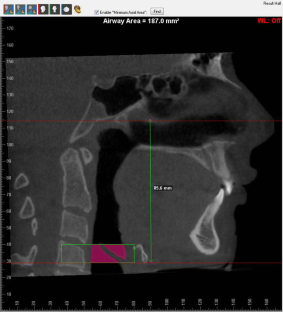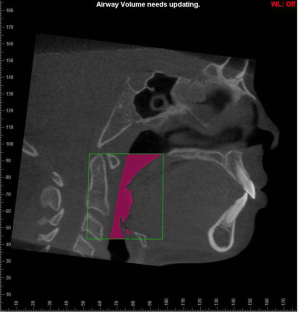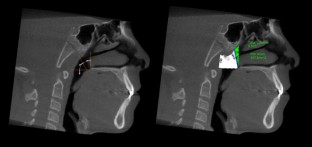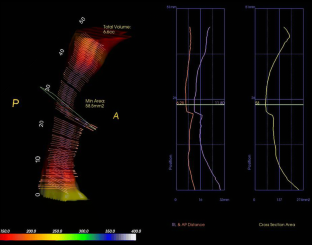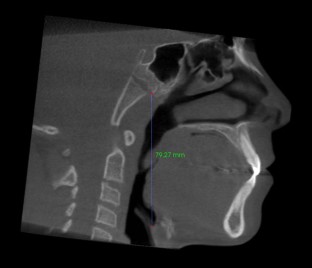 References
1.

Aboudara C, Nielsen I, Huang JC, Maki K, Miller AJ, Hatcher D. Comparison of airway space with conventional lateral headfilms and 3-dimensional reconstruction from cone-beam computed tomography. Am J Orthod Dentofac Orthop. 2009;135(4):468–79.

2.

Pliska B, Lowe AA, Almeida FR. The orthodontist and the obstructive sleep apnea patient. Int J Orthod. 2012;23(3):19–22.

3.

Masoud AI, Jackson GW, Carley DW. Sleep and airway assessment: a review for dentists. Cranio. 2017;35(4):206–22.

4.

Massicotte C, Al-Saleh S, Witmans M, Narang I. The utility of a portable sleep monitor to diagnose sleep-disordered breathing in a pediatric population. Can Respir J. 2014;21(1):31–5.

5.

El H, Palomo JM. Measuring the airway in 3 dimensions: a reliability and accuracy study. Am J Orthod Dentofac Orthop. 2010;137(4 Suppl):S50 e1–9 (discussion S-2).

6.

Garib DG, Calil LR, Leal CR, Janson G. Is there a consensus for CBCT use in Orthodontics? Dental Press J Orthod. 2014;19(5):136–49.

7.

Guijarro-Martinez R, Swennen GR. Three-dimensional cone beam computed tomography definition of the anatomical subregions of the upper airway: a validation study. Int J Oral Maxillofac Surg. 2013;42(9):1140–9.

8.

Weissheimer A, Menezes LM, Sameshima GT, Enciso R, Pham J, Grauer D. Imaging software accuracy for 3-dimensional analysis of the upper airway. Am J Orthod Dentofac Orthop. 2012;142(6):801–13.

9.

Alves M Jr, Baratieri C, Mattos CT, Brunetto D, Fontes Rda C, Santos JR, et al. Is the airway volume being correctly analyzed? Am J Orthod Dentofac Orthop. 2012;141(5):657–61.

10.

Athanasiou AE. Orthodontic cephalometry. London: Mosby-Wolfe; 1995.

11.

Flegal KM, Ogden CL. Childhood obesity: are we all speaking the same language? Adv Nutr. 2011;2(2):159S–66S.

12.

Chervin RD, Hedger K, Dillon JE, Pituch KJ. Pediatric sleep questionnaire (PSQ): validity and reliability of scales for sleep-disordered breathing, snoring, sleepiness, and behavioral problems. Sleep Med. 2000;1(1):21–32.

13.

Aboudara CA, Hatcher D, Nielsen IL, Miller A. A three-dimensional evaluation of the upper airway in adolescents. Orthod Craniofac Res. 2003;6(Suppl 1):173–5.

14.

Kim YJ, Hong JS, Hwang YI, Park YH. Three-dimensional analysis of pharyngeal airway in preadolescent children with different anteroposterior skeletal patterns. Am J Orthod Dentofac Orthop. 2010;137(3):306 e1–11 (discussion 7).

15.

Schendel SA, Jacobson R, Khalessi S. Airway growth and development: a computerized 3-dimensional analysis. J Oral Maxillofac Surg. 2012;70(9):2174–83.

16.

Marcus CL, Brooks LJ, Draper KA, Gozal D, Halbower AC, Jones J, et al. Diagnosis and management of childhood obstructive sleep apnea syndrome. Pediatrics. 2012;130(3):e714–55.

17.

Shprintzen RJ. The origin of speech ease: evolution of the human upper airway and its functional implications for obstructive sleep apnea. Editorial commentary: the great leap forward: the anatomic basis for the acquisition of speech and obstructive sleep apnea by Terence M. Davidson. Sleep Med. 2003;4(3):171–3.

18.

Li HY, Chen NH, Wang CR, Shu YH, Wang PC. Use of 3-dimensional computed tomography scan to evaluate upper airway patency for patients undergoing sleep-disordered breathing surgery. Otolaryngol Head Neck Surg. 2003;129(4):336–42.

19.

Avrahami E, Englender M. Relation between CT axial cross-sectional area of the oropharynx and obstructive sleep apnea syndrome in adults. AJNR Am J Neuroradiol. 1995;16(1):135–40.

20.

Ogawa T, Enciso R, Shintaku WH, Clark GT. Evaluation of cross-section airway configuration of obstructive sleep apnea. Oral Surg Oral Med Oral Pathol Oral Radiol Endod. 2007;103(1):102–8.
Ethics declarations
Conflict of interest
The authors declare that they have no conflict of interest.
Ethical standards
All procedures followed were in accordance with the ethical standards of the responsible committee on human experimentation (institutional and national) and with the Helsinki Declaration of 1964 and later versions.
Additional information
Publisher's Note
Springer Nature remains neutral with regard to jurisdictional claims in published maps and institutional affiliations.
About this article
Cite this article
Masoud, A.I., Alwadei, F.H., Alwadei, A.H. et al. Developing pediatric three-dimensional upper airway normative values using fixed and interactive thresholds. Oral Radiol 36, 89–99 (2020). https://doi.org/10.1007/s11282-019-00384-3
Received:

Accepted:

Published:

Issue Date:
Keywords
Airway

CBCT

OSA

Sleep apnea

Adenoids