Abstract
Ultrasound (US)-guided salivary gland irrigation is a popular conservative treatment method that improves the success rate and reduces complications of the sialo-irrigation procedure. US is routinely used for evaluation of various salivary gland diseases because of its easy accessibility and absence of ionizing radiation. US also allows dynamic studies with real-time imaging during diagnostic or surgical procedures. However, conventional US images have limitations in salivary duct visualization. Although US images acquired with saline irrigation have improved visualization because of ductal system dilation by the pulling effect, the resultant image quality remains insufficient for diagnosis. Therefore, contrast agents are required during US-guided sialo-irrigation procedures to produce diagnostic image quality. Air bubbles in saline solution have high echogenicity and enhance image quality by acting as a US contrast agent. The aim of this study was to assess the clinical significance of US-guided sialo-irrigation with a saline–air contrast medium, to estimate its diagnostic and treatment efficacy, and to examine the procedure in two patients. In the study, two patients underwent US-guided salivary gland irrigation with air-bubble mixed saline solution. During the procedure, we were able to visualize the salivary gland duct and subsequently irrigate and clean the inside of the duct. As a result, the patients' symptoms were relieved and saline solution mixed with air bubbles was confirmed to be an effective contrast agent.
This is a preview of subscription content, log in to check access.
Access options
Buy single article
Instant access to the full article PDF.
US$ 39.95
Price includes VAT for USA
Subscribe to journal
Immediate online access to all issues from 2019. Subscription will auto renew annually.
US$ 99
This is the net price. Taxes to be calculated in checkout.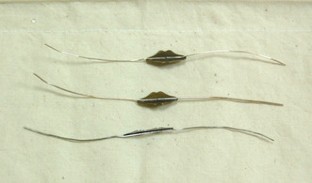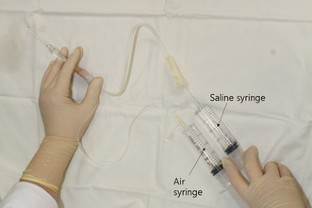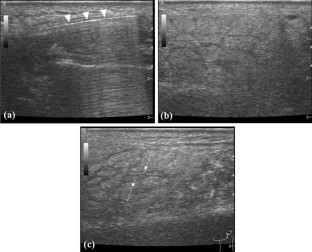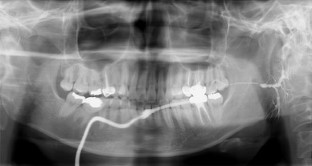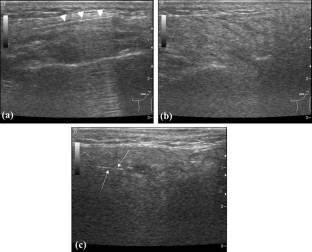 References
1.

Marchal F, Dulguerov P. Sialolithiasis management: the state of the art. Arch Otolaryngol Head Neck Surg. 2003;129:951–6.

2.

Antoniades D, Harrison JD, Epivatianos A, Papanayotou P. Treatment of chronic sialadenitis by intraductal penicillin or saline. J Oral Maxillofac Surg. 2004;62:431–4.

3.

Parsons AK, Lense JJ. Sonohysterography for endometrial abnormalities: preliminary results. J Clin Ultrasound. 1993;21:87–95.

4.

Syrop CH, Sahakian V. Transvaginal sonographic detection of endometrial polyps with fluid contrast augmentation. Obstet Gynecol. 1992;79:1041–3.

5.

Goldstein RB, Bree RL, Benson CB, Benacerraf BR, Bloss JD, Carlos R, et al. Evaluation of the woman with postmenopausal bleeding: Society of Radiologists in Ultrasound-Sponsored Consensus Conference statement. J Ultrasound Med. 2001;20:1025–36.

6.

Alborzi S, Parsanezhad M, Mahmoodian N, Alborzi M. Sonohysterography versus transvaginal sonography for screening of patients with abnormal uterine bleeding. Int J Gynecol Obstet. 2007;96:20–3.

7.

Sladkevicius P, Zannoni L, Valentin L. B-flow ultrasound facilitates visualization of contrast medium during hysterosalpingo-contrast sonography. Ultrasound Obstet Gynecol. 2014;44:221–7.

8.

Lee C, Kim J-E, Huh K-H, Yi W-J, Heo M-S, Lee S-S, et al. Therapeutic effect of intraductal irrigation of the salivary gland: a technical report. Imaging Sci Dent. 2017;47:123–7.

9.

Dulguerov P, Marchal F, Lehmann W. Postparotidectomy facial nerve paralysis: possible etiologic factors and results with routine facial nerve monitoring. Laryngoscope. 1999;109:754–62.

10.

Marchal F, Becker M, Kurt A-M, Oedman M, Dulguerov P, Lehmann W. Histopathology of submandibular glands removed for sialolithiasis. Ann Otol Rhinol Laryngol. 2001;110:464–9.

11.

Quinn J, Graham R. Recurrent suppurative parotitis treated by intraductal antibiotics. J Oral Surg. 1973;31:36–9.

12.

Onkar PM, Ratnaparkhi C, Mitra K. High-frequency ultrasound in parotid gland disease. Ultrasound Q. 2013;29:313–21.

13.

Bozzato A, Hertel V, Bumm K, Iro H, Zenk J. Salivary simulation with ascorbic acid enhances sonographic diagnosis of obstructive sialadenitis. J Clin Ultrasound. 2009;37:329–32.

14.

Zengel P, Berghaus A, Weiler C, Reiser M, Clevert DA. Intraductally applied contrast-enhanced ultrasound (IA-CEUS) for evaluating obstructive disease and secretory dysfunction of the salivary glands. Eur Radiol. 2011;21:1339–48.

15.

Hawe W. Luft als Kontrastmittel in der Sonographie der Rotatorenmanschette (Luftsonographie). Röntgenpraxis. 1991;44:75–8 (in German).

16.

Koski J, Saarakkala S, Heikkinen J, Hermunen H. Use of air-steroid-saline mixture as contrast medium in greyscale ultrasound imaging: experimental study and practical applications in rheumatology. Clin Exp Rheumatol. 2005;23:373–8.

17.

Calliada F, Campani R, Bottinelli O, Bozzini A, Sommaruga MG. Ultrasound contrast agents: basic principles. Eur J Radiol. 1998;27:S157–60.
Ethics declarations
Conflict of interest
Song Hee Oh, Ju Hee Kang, Yoon Joo Choi, Bok-Yeol Kim, Sae Rom Lee, Se Hyung Lee, Yong-Suk Choi, and Eui-Hwan Hwang declare that they have no conflict of interest.
Human rights statement and informed consent
All procedures followed were in accordance with the ethical standards of the responsible committee on human experimentation (institutional and national) and with the Helsinki Declaration of 1964 and later versions. Informed consent was obtained from all patients for being included in the study.
Animal rights statement
This article does not contain any studies with animal subjects performed by any of the authors.
Electronic supplementary material
Below is the link to the electronic supplementary material.
Supplementary material 1 (MP4 5369 KB)
About this article
Cite this article
Oh, S.H., Kang, J.H., Choi, Y.J. et al. Ultrasound-guided sialo-irrigation with a saline–air mixture as the contrast medium. Oral Radiol 35, 84–89 (2019). https://doi.org/10.1007/s11282-018-0331-2
Received:

Accepted:

Published:

Issue Date:
Keywords
Sialo-irrigation

Ultrasound

Contrast medium

Ultrasound-guided

Sonohysterography