Abstract
Ultrasonography has recently been applied to the field of oral and maxillofacial surgery because of its noninvasiveness and ease of use. However, traditional transducers are not used in the intraoral area because of their large size. A novel intraoral transducer was introduced with size, volume, and axis modifications. This new transducer allows the surgeon to approach the intraoral region during dental procedures. This report describes a case of successful removal of a foreign body using the newly developed intraoral ultrasound probe. Precise localization and minimally invasive removal of the foreign body using the intraoral transducer were simultaneously conducted. Because of its many advantages, this intraoral ultrasound transducer has the potential to be applied in oral and maxillofacial surgery.
This is a preview of subscription content, log in to check access.
Access options
Buy single article
Instant access to the full article PDF.
US$ 39.95
Price includes VAT for USA
Subscribe to journal
Immediate online access to all issues from 2019. Subscription will auto renew annually.
US$ 99
This is the net price. Taxes to be calculated in checkout.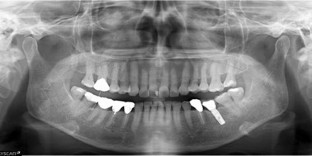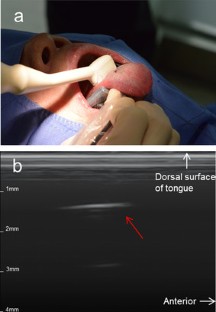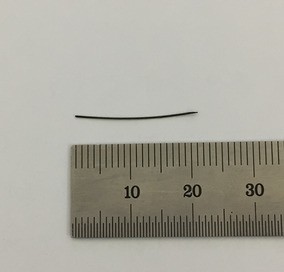 References
1.

Evirgen S, Kamburoglu K. Review on the applications of ultrasonography in dentomaxillofacial region. World J Radiol. 2016;8:50–8.

2.

Wakasugi-Sato N, Kodama M, Matsuo K, Yamamoto N, Oda M, Ishikawa A, et al. Advanced clinical usefulness of ultrasonography for diseases in oral and maxillofacial regions. Int J Dent. 2010;2010:639382.

3.

Rama Mohan K, Koteswara Rao N, Leela Krishna G, Santosh Kumar V, Ranganath N, Vijaya Lakshmi U. Role of ultrasonography in oral and maxillofacial surgery: a review of literature. J Maxillofac Oral Surg. 2015;14:162–70.

4.

Marotti J, Heger S, Tinschert J, Tortamano P, Chuembou F, Radermacher K, et al. Recent advances of ultrasound imaging in dentistry—a review of the literature. Oral Surg Oral Med Oral Pathol Oral Radiol. 2013;115:819–32.

5.

Karumuri SK, Rastogi T, Beeraka K, Penumatcha MR, Olepu SR. Ultrasound: a revenant therapeutic modality in dentistry. J Clin Diagn Res. 2016;10:ZE08–Z12.

6.

Salmon B, Le Denmat D. Intraoral ultrasonography: development of a specific high-frequency probe and clinical pilot study. Clin Oral Investig. 2012;16:643–9.

7.

Yoshida H, Akizuki H, Michi K. Intraoral ultrasonic scanning as a diagnostic aid. J Craniomaxillofac Surg. 1987;15:306–11.

8.

Oikarinen KS, Nieminen TM, Makarainen H, Pyhtinen J. Visibility of foreign bodies in soft tissue in plain radiographs, computed tomography, magnetic resonance imaging, and ultrasound. An in vitro study. Int J Oral Maxillofac Surg. 1993;22:119–24.
Acknowledgements
We thank Alpinion Co. for their technical support.
Ethics declarations
Conflict of interest
Kee-Deog Kim and Wonse Park have received research grants from the Korea Health Technology R&D Project through the Korea Health Industry Development Institute (KHIDI), funded by the Ministry of Health & Welfare, Republic of Korea (Grant number HI16C0822). Eun-Jung Kwak and Nan-Ju Lee declare that they have no conflict of interest.
Human rights statement
All procedures followed were in accordance with the ethical standards of the responsible committee on human experimentation (institutional and national) and with the Helsinki Declaration of 1964 and later versions.
Informed consent
Informed consent was obtained from the patient for being included in the study.
Animal rights statement
This article does not contain any studies with human or animal subjects performed by the any of the authors.
About this article
Cite this article
Kwak, E., Lee, N., Park, W. et al. Foreign body removal assisted by an intraoral ultrasound probe. Oral Radiol 35, 73–76 (2019). https://doi.org/10.1007/s11282-018-0313-4
Received:

Accepted:

Published:

Issue Date:
Keywords
Foreign body

Ultrasound

Intraoral probe

Transducer

Ultrasonography