Abstract
Objective
This study was performed to predict malignancy of submandibular gland tumors using the apparent diffusion coefficient (ADC).
Methods
In total, 31 patients (19 male, 12 female; age, 16–71 years) with solid submandibular gland tumors were retrospectively analyzed. All patients underwent single-shot echo-planar diffusion-weighted magnetic resonance imaging of the submandibular gland region. ADC maps of the submandibular gland were reconstructed. The ADC value of the submandibular gland tumors was calculated. A freehand region of interest encompassing the homogenous tumor and solid part of the heterogeneous tumor was established.
Results
The mean ADC for submandibular gland malignancy (1.15 ± 0.09 × 10−3 mm2/s) was significantly lower than that for benignancy (1.55 ± 0.25 × 10−3 mm2/s, P = 0.001). An ADC of 1.26 × 10−3 mm2/s could predict malignancy of submandibular gland tumors with an area under the curve of 0.869, accuracy of 84%, sensitivity of 88%, and specificity of 81%.
Conclusion
The ADC is a noninvasive imaging parameter that can be used for prediction of malignancy of submandibular gland tumors.
This is a preview of subscription content, log in to check access.
Access options
Buy single article
Instant access to the full article PDF.
US$ 39.95
Price includes VAT for USA
Subscribe to journal
Immediate online access to all issues from 2019. Subscription will auto renew annually.
US$ 99
This is the net price. Taxes to be calculated in checkout.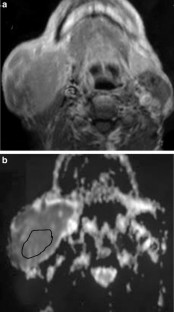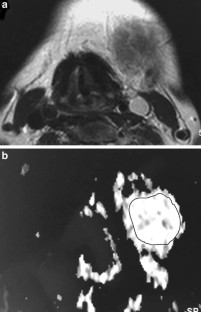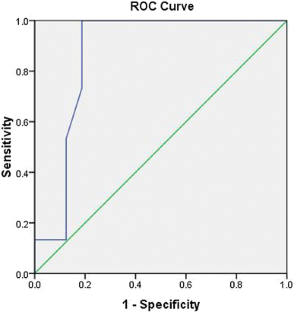 References
1.

Atula T, Panigrahi J, Tarkkanen J, Mäkitie A, Aro K. Preoperative evaluation and surgical planning of submandibular gland tumors. Head Neck. 2017;39:1071–7.

2.

Mizrachi A, Bachar G, Unger Y, Hilly O, Fliss DM, Shpitzer T. Submandibular salivary gland tumors: clinical course and outcome of a 20-year multicenter study. Ear Nose Throat J. 2017;96:E17–E20.

3.

Lee RJ, Tan AP, Tong EL, Satyadev N, Christensen RE. Epidemiology, prognostic factors, and treatment of malignant submandibular gland tumors: a population-based cohort analysis. JAMA Otolaryngol Head Neck Surg. 2015;141:905–12.

4.

Dalgic A, Karakoc O, Karahatay S, Hidir Y, Gamsizkan M, Birkent H, et al. Submandibular triangle masses. J Craniofac Surg. 2013;24:e529–e31.

5.

Ziglinas P, Arnold A, Arnold M, Zbären P. Primary tumors of the submandibular glands: a retrospective study based on 41 cases. Oral Oncol. 2010;46:287–91.

6.

Becerril-Ramírez PB, Bravo-Escobar GA, Prado-Calleros HM, Castillo-Ventura BB, Pombo-Nava A. Histology of submandibular gland tumours, 10 years' experience. Acta Otorrinolaringol Esp. 2011;62:432–5.

7.

Agarwal AK, Kanekar SG. Submandibular and sublingual spaces: diagnostic imaging and evaluation. Otolaryngol Clin North Am. 2012;45:1311–23.

8.

Knopf A, Cortolezis N, Bas M, Mansour N, Hofauer B. Multimodal ultrasonographic algorithm in the differentiation of submandibular masses. Acta Otolaryngol. 2017;137:640–5.

9.

Strieth S, Siedek V, Rytvina M, Gürkov R, Berghaus A, Clevert DA. Dynamic contrast-enhanced ultrasound for differential diagnosis of submandibular gland disease. Eur Arch Otorhinolaryngol. 2014;271:163–9.

10.

Abdel Razek AA, Ashmalla GA, Gaballa G, Nada N. Pilot study of ultrasound parotid imaging reporting and data system [PIRADS]: inter-observer agreement. Eur J Radiol. 2015;85:2533–8.

11.

Kashiwagi N, Murakami T, Nakanishi K, Maenishi O, Okajima K, Takahashi H, et al. Conventional MRI findings for predicting submandibular pleomorphic adenoma. Acta Radiol. 2013;54:511–5.

12.

Abdel Razek AA, Samir S, Ashmalla GA. Characterization of parotid tumors with dynamic susceptibility contrast perfusion-weighted magnetic resonance imaging and diffusion-weighted MR imaging. J Comput Assist Tomogr. 2017;41:131–6.

13.

Lam PD, Kuribayashi A, Imaizumi A, Sakamoto J, Sumi Y, Yoshino N, et al. Differentiating benign and malignant salivary gland tumours: diagnostic criteria and the accuracy of dynamic contrast-enhanced MRI with high temporal resolution. Br J Radiol. 2015;88:20140685.

14.

Taylor MJ, Serpell JW, Thomson P. Preoperative fine needle cytology and imaging facilitates the management of submandibular salivary gland lesions. ANZ J Surg. 2011;81:70–4.

15.

Razek AA. Diffusion-weighted magnetic resonance imaging of head and neck. J Comput Assist Tomogr. 2010;34:808–15.

16.

Abdel Razek AA, Nada N. Role of diffusion-weighted MRI in differentiation of masticator space malignancy from infection. Dentomaxillofac Radiol. 2013;42:20120183.

17.

Abdel Razek A, Mossad A, Ghonim M. Role of diffusion-weighted MR imaging in assessing malignant versus benign skull-base lesions. Radiol Med. 2011;116:125–32.

18.

Abdel Razek AA, Kamal E. Nasopharyngeal carcinoma: correlation of apparent diffusion coefficient value with prognostic parameters. Radiol Med. 2013;118:534–9.

19.

Razek AA, Sieza S, Maha B. Assessment of nasal and paranasal sinus masses by diffusion-weighted MR imaging. J Neuroradiol. 2009;36:206–11.

20.

Terra GT, Oliveira JX, Hernandez A, Lourenço SV, Arita ES, Cortes AR. Diffusion-weighted MRI for differentiation between sialadenitis and pleomorphic adenoma. Dentomaxillofac Radiol. 2017;46:20160257.

21.

Assili S, Fathi Kazerooni A, Aghaghazvini L, Saligheh Rad HR, Pirayesh Islamian J. Dynamic contrast magnetic resonance imaging [DCE-MRI] and diffusion weighted MR imaging [DWI] for differentiation between benign and malignant salivary gland tumors. J Biomed Phys Eng. 2015;5:157–68.

22.

Tao X, Yang G, Wang P, Wu Y, Zhu W, Shi H, et al. The value of combining conventional, diffusion-weighted and dynamic contrast-enhanced MR imaging for the diagnosis of parotid gland tumours. Dentomaxillofac Radiol. 2017;46:20160434.

23.

Attyé A, Troprès I, Rouchy RC, Righini C, Espinoza S, Kastler A, et al. Diffusion MRI: literature review in salivary gland tumors. Oral Dis. 2017;23:572–5.

24.

Eida S, Sumi M, Sakihama N, Takahashi H, Nakamura T. Apparent diffusion coefficient mapping of salivary gland tumors: prediction of the benignancy and malignancy. AJNR Am J Neuroradiol. 2007;28:116–21.

25.

Habermann CR, Arndt C, Graessner J, Diestel L, Petersen KU, Reitmeier F, et al. Diffusion-weighted echo-planar MR imaging of primary parotid gland tumors: is a prediction of different histologic subtypes possible? AJNR Am J Neuroradiol. 2009;30:591–6.
Ethics declarations
Conflict of interest
Ahmed Abdel Khalek Abdel Razek declares no conflict of interest.
Human and animal rights statement
This article does not contain any studies with human or animal subjects performed by the author.
About this article
Cite this article
Razek, A.A.K.A. Prediction of malignancy of submandibular gland tumors with apparent diffusion coefficient. Oral Radiol 35, 11–15 (2019). https://doi.org/10.1007/s11282-017-0311-y
Received:

Accepted:

Published:

Issue Date:
Keywords
Diffusion

Magnetic resonance imaging

Submandibular

Tumor