Abstract
In recent years, assistive technology has been an emerging area of research to improve the quality of life, especially for the disabled and elderly people. In this paper, a novel electro-oculogram (EOG) signal based assistive visible light communication (VLC) in a smart home environment is presented. The eye movement is captured using silver chloride (AgCl) surface electrodes placed around eyes. The captured signal is further processed and transmitted using a VLC link to control smart home devices. To validate the proposed EOG-VLC based smart device control scheme, experiments were conducted. For the ease of the experiments, instead of an actual smart home device, we employed a digital door lock to verify its accurate control operation. Experiment results demonstrate that the proposed smart device control scheme operates accurately and reliably. Therefore, since the proposed scheme is based on a less hazardous VLC link, it is envisioned that the scheme can pave the way for greener and safer smart homes, particularly benefiting disabled and elderly people.
This is a preview of subscription content, log in to check access.
Access options
Buy single article
Instant access to the full article PDF.
US$ 39.95
Price includes VAT for USA
Subscribe to journal
Immediate online access to all issues from 2019. Subscription will auto renew annually.
US$ 199
This is the net price. Taxes to be calculated in checkout.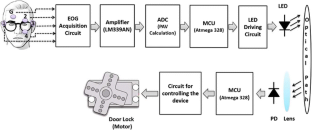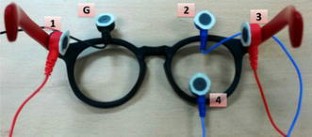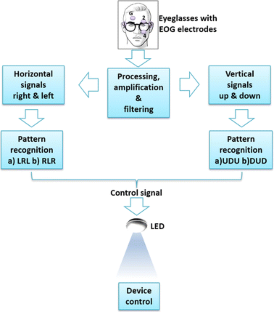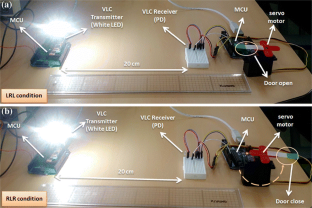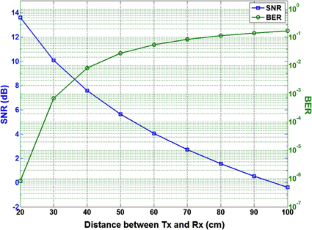 References
1.

Ghazal, B., & Al-Khatib, K. (2015). Smart home automation system for elderly, and handicapped people using XBee. International Journal of Smart Home, 9(4), 203–210.

2.

Robles, R. J., & Kim, T. H. (2010). Applications, systems and methods in smart home technology: A review. International Journal of Advanced Science and Technology, 15, 37–48.

3.

Wijesoma, W. S., Wee, K. S., Wee, O. C., Balasuriya, A. P., San, K. T., & Soon L. K. (2005). EOG based control of mobile assistive platforms for the severely disabled. In Proceedings of international conference on robotics and biomimetics (pp. 490–494).

4.

Barea, R., Boquete, L., Mazo, M., & Lopez, E. (2002). Wheelchair guidance strategies using EOG. Journal of Intelligent and Robotic Systems, 34(3), 279–299.

5.

Aungsakul, S., Phinyomark, A., Phukpattaranont, P., & Limsakul, C. (2012). Evaluating feature extraction methods of EOG Signal for human-computer interface. Procedia Engineering, 32, 246–252.

6.

Venkataramanan, S., Prabhat, P., Choudhury, S.R., Nemade, H. B., & Sahambi, J. S. (2005). Biomedical instrumentation based on EOG signal processing and application to a hospital alarm system. In Proceedings of international conference on intelligent sensing and information processing (pp. 535–540).

7.

Aggarwal, A., & Gupta, A. (2011). Effect of electromagnetic radiations on humans: A study. In IEEE students' technology symposium (pp. 75–80).

8.

Sewaiwar, A., Tiwari, S. V., & Chung, Y. H. (2015). Novel user allocation scheme for full duplex multiuser bidirectional LiFi network. Optics Communications, 339, 153–156.

9.

Dhatchayeny, D. R., Sewaiwar, A., Tiwari, S. V., & Chung, Y. H. (2015). Experimental biomedical EEG signal transmission using VLC. IEEE Sensors Journal, 15(10), 5386–5387.

10.

Tiwari, S. V., Sewaiwar, A., & Chung, Y. H. (2015). Optical bidirectional beacon based visible light communications. Optics Express, 23, 26551–26564.

11.

Rajagopal, S., Roberts, R. D., & Lim, S. K. (2012). IEEE 802.15.7 visible light communication: Modulation schemes and dimming support. IEEE Communication Magazine, 50(3), 72–82.

12.

Feng, Z., Papageorgiou, G., Gao, Q., Atya, A. F., Krishnamurthy, V., & Chen, G. (2014). Performance of visible light communications with dimming controls. In IEEE wireless communications and networking conference, WCNC (pp. 1756–1761).
Acknowledgements
This research was supported by Basic Science Research Program through the National Research Foundation of Korea (NRF) funded by the Ministry of Education (2015R1D1A3A01017713).
About this article
Cite this article
Dhatchayeny, D.R., Cahyadi, W.A. & Chung, Y. An Assistive VLC Technology for Smart Home Devices Using EOG. Wireless Pers Commun 98, 81–89 (2018). https://doi.org/10.1007/s11277-017-4856-1
Keywords
Electro-oculogram (EOG)

Optical sensors

Visible light communication (VLC)

Smart home