Abstract
Target localization is an attractive subject for modern systems that utilize different types of distributed sensors for location based services such as navigation, public transport, retail services and so on. Target localization could be performed in both centralized and decentralized manner. Due to drawbacks of centralized systems such as security and reliability issues, decentralized systems are become more desirable. In this paper, we introduce a new decentralized and cooperative target localization algorithm for wireless sensor networks. In cooperative consensus based localization, each sensor knows its own location and estimates the targets position using the ranging techniques such as received signal strength. Then, all nodes cooperate with their neighbours and share their information to reach a consensus on targets location. In our proposed algorithm, we weight the received information of neighbour nodes according to their estimated distance toward the target node. Simulation results confirm that our proposed algorithm is faster, less sensitive to targets location and improves the localization accuracy by 85% in comparison with distributed Gauss–Newton algorithm.
This is a preview of subscription content, log in to check access.
Access options
Buy single article
Instant access to the full article PDF.
US$ 39.95
Price includes VAT for USA
Subscribe to journal
Immediate online access to all issues from 2019. Subscription will auto renew annually.
US$ 199
This is the net price. Taxes to be calculated in checkout.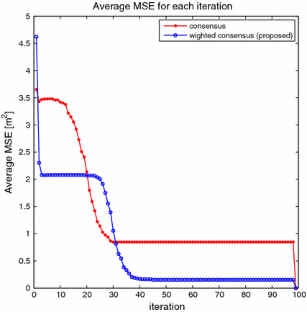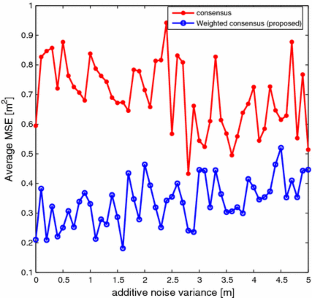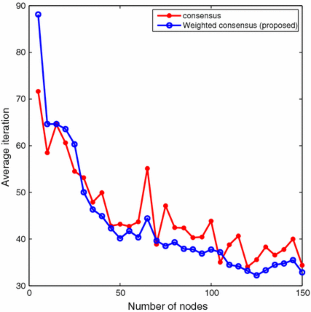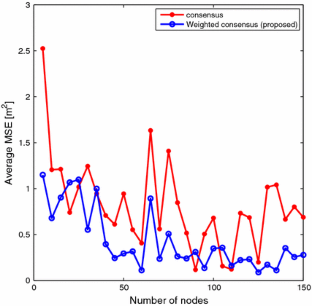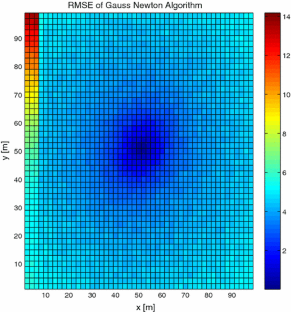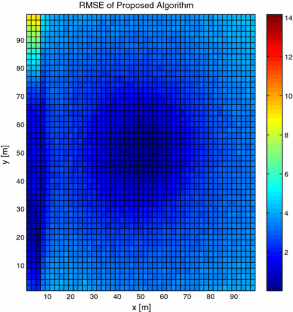 References
1.

Akyildiz, I. F., & Vuran, M. C. (2010). Wireless sensor networks. Hoboken: Wiley.

2.

Wu, Z., & Li, X. (2015). An improved underwater acoustic network localization algorithm. China Communications, 12, 77–83.

3.

Li, M., & Lin, H.-J. (2014). Design and implementation of smart home control systems based on wireless sensor networks and power line communications. IEEE Transactions on Industrial Electronics, 62, 4430–4442.

4.

Khriji, S., el Houssaini, D., Jmal, M. W., Viehweger, C., Abid, M., & Kanoun, O. (2014). Precision irrigation based on wireless sensor network. IET Science, Measurement & Technology, 8, 98–106.

5.

Zhu, G., Zhou, F., Xie, L., Jiang, R., & Chen, Y. (2014). Sequential asynchronous filters for target tracking in wireless sensor networks. IEEE Sensors Journal, 14, 3174–3182.

6.

Beyme, S., & Leung, C. (2015). Rollout algorithms for wireless sensor network-assisted target search. IEEE Sensors Journal, 15, 3835–3845.

7.

Sayed, A. H., Tarighat, A., & Khajehnouri, N. (2005). Network-based wireless location: Challenges faced in developing techniques for accurate wireless location information. IEEE Signal Processing Magazine, 22, 24–40.

8.

Sayed, A. H. (2014). Adaptation, learning, and optimization over networks. Foundations and Trends in Machine Learning, 7, 311–801.

9.

Alhmiedat, T. A., & Yang, S. H. (2007). A survey: Localization and tracking mobile targets through wireless sensors network. In 8th annual network symposium.

10.

Chen, J., Richard, C., & Sayed, A. H. (2014). Multitask diffusion adaptation over networks. IEEE Transactions on Signal Processing, 62, 4129–4144.

11.

Kantas, N., Singh, S. S., & Doucet, A. (2012). Distributed maximum likelihood for simultaneous self-localization and tracking in sensor networks. IEEE Transactions on Signal Processing, 60, 5038–5047.

12.

Addesso, P., Marano, S., & Matta, V. (2010). Estimation of target location via likelihood approximation in sensor networks. IEEE Transactions on Signal Processing, 58, 1358–1368.

13.

Kaplan, L. M. (2006). Global node selection for localization in a distributed sensor network. IEEE Transactions on Aerospace and Electronic Systems, 42, 113–135.

14.

Degroot, M. H. (1974). Reaching a consensus. Journal of the American Statistical Association, 69, 118–121.

15.

Bejar, B., Belanovic, P., & Zazo, S. (2010). Distributed Gauss–Newton method for localization in Ad-Hoc networks. In Proceedings of 44th Asilomar conference on signals, systems and computers.

16.

Bejar, B., Belanovic, P., & Zazo, S. (2011). Distributed consensus-based tracking in wireless sensor networks: A practical approach. In 19th IEEE European signal processing conference, 2019–2023.
About this article
Cite this article
Hajihoseini Gazestani, A., Shahbazian, R. & Ghorashi, S.A. Decentralized Consensus Based Target Localization in Wireless Sensor Networks. Wireless Pers Commun 97, 3587–3599 (2017). https://doi.org/10.1007/s11277-017-4687-0
Keywords
Wireless sensor network

Localization

Consensus

Weighted

Cooperative