Abstract
In recent years' simulators like the open source tool ns-2, and commercial software's like OPNET have included Mobile IPv6 extensions in order to provide analysis for advanced Mobile IPv6 system development. Although these simulators are among the significant simulators, however, they have a tendency to be specific to hardware, vast integrated components, complex and the need of licensing cost for commercial simulators. To strike an ideal balance in gauging these tradeoffs and to further complement the repository of simulators, this study deliberates the details of a general-purpose programming language based Discrete Event Simulation for Hierarchical Mobile IPv6. This paper has incorporated a call admission control algorithm as an example to validate the simulator for Hierarchical Mobile IPv6. A Fuzzy Inference System based call admission control has been used as a benchmark deployment algorithm. The base model has been extensively analyzed and the set of parameters (simulation and non-simulation parameters), events, performance metrics and other fundamental elements has been derived. The Fuzzy Inference based call admission control is studied and evaluated against the benchmark model. The results demonstrate that the developed discrete event simulator has effectively produced the benchmark results and verified that the new simulator has effectively become a dependable selection for Hierarchical Mobile IPv6 performance analysis.
Access options
Buy single article
Instant access to the full article PDF.
US$ 39.95
Tax calculation will be finalised during checkout.
Subscribe to journal
Immediate online access to all issues from 2019. Subscription will auto renew annually.
US$ 119
Tax calculation will be finalised during checkout.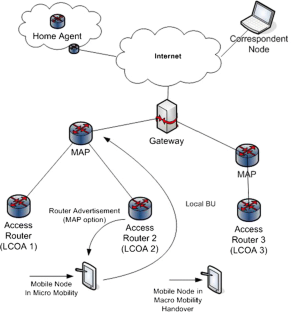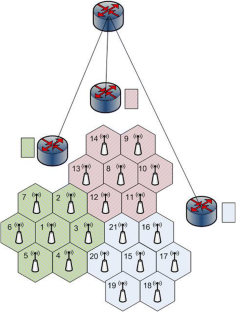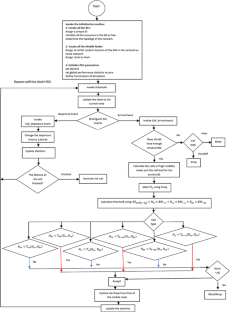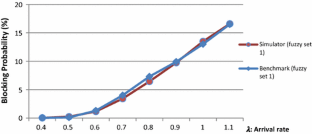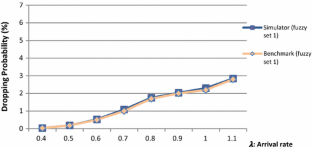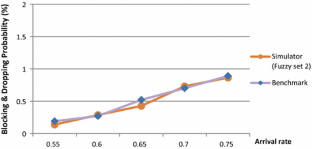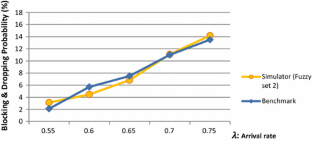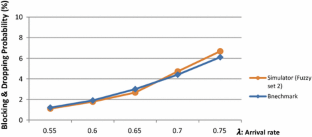 References
1.

Ashton, K. (2009). The internet of things. RFiD Journal, 22(7), 97–114.

2.

Noura, M., & Nordin, R. (2016). A survey on interference management for device-to-device (D2D) communication and its challenges in 5G networks. Journal of Network and Computer Applications, 71, 130–150.

3.

Kuntz, R., Montavont, J., & Noel, T. (2013). Multihoming in IPv6 mobile networks: Progress, challenges, and solutions. IEEE Communications Magazine, 51(1), 128–135.

4.

Johnson, D., Perkins, C., & Arkko, J. (2004). Mobility support in IPv6. rfc 3775.

5.

Akyildiz, I. F., Xie, J., & Mohanty, S. (2004). A survey of mobility management in next-generation all-IP-based wireless systems. IEEE Wireless Communications, 11, 16–28.

6.

Soliman, H., Bellier, L., & Malki, K. E. (2005). Hierarchical mobile IPv6 mobility management (HMIPv6), RFC 4140, IETF.

7.

Koodli, R. (2005). Fast handovers for mobile IPv6, RFC 4068, IETF.

8.

Faqir, Y., Christian, B., & Christian, W. (2008). An accurate and extensible mobile IPv6 (xMIPV6) simulation model for OMNET++. In OMNeT++ 2008: Proceedings of the 1st International Workshop on OMNeT++ (hosted by SIMUTools 2008).

9.

Sethi, A. S., & Hnatyshin, V. Y. (2012). The practical OPNET user guide for computer network simulation. Boca Raton: CRC Press.

10.

Ernst, T., & St-Aubin, E. T. (2001). MobiWan: A NS-2.1 b6 simulation platform for mobile IPv6 in wide area networks. Gif-sur-Yvette, Paris: Motorola Labs.

11.

Wu, J.-S., Yang, S.-F., & Huang, C.-C. (2012). Admission control for multiservices traffic in hierarchical mobile IPv6 networks by using fuzzy inference system. Journal of Computer Networks and Communications, 2012, 1–10.

12.

Shima, K., Li, Q., & Jinmei, T. (2009). Mobile IPv6 protocol and implementation, Morgan Kaufmann.

13.

Dias, K. L., Fernandes, S. F. L., & Sadok, D. F. H. (2004). A call admission control scheme for next generation wireless networks. Telecomunicações, 7, 1–10.

14.

Xavier, P., Torrent-moreno, M., & Hartenstein, H. (2003). A simulation study on the performance of hierarchical mobile IPv6. In Proceedings of International Teletraffic Congress (ICT) (pp. 1991–1992), 2003.

15.

Pérez-Costa, X., Torrent-Moreno, M., & Hartenstein, H. (2003). A performance comparison of Mobile IPv6, Hierarchical Mobile IPv6, fast handovers for Mobile IPv6 and their combination. ACM SIGMOBILE Mobile Computing and Communications Review, 7(4), 5.

16.

Gang, N. (2007). The performance analysis and simulation of hierarchical mobile IPv6. In 2007 International Conference on Wireless Communications Networking and Mobile Computing (pp. 1892–1895), September 2007.

17.

Zhang, Y., & Bi, H. (2012). The simulation of hierarchical mobile IPv6 with fast handover using NS2. Procedia Engineering, 37, 214–217.

18.

Mauchle, F., Frei, S. & Rinkel, A. (2010). Simulating mobile IPv6 with ns-3. In Proceedings of 3rd International ICST Conference Simulation Tools Techniques (p. 48), 2010.

19.

Carmona-murillo, J. & Guerrero-robledo, I. (2006). Handover performance analysis in Mobile IPv6. A contribution to fast detection movement. In Perform Evaluation, no. Figure 1, pp. 3–6.

20.

Kebreau, S., Souihli, O., & Pierre, S. (2008). A new implementation of HMIPv6 protocol on OPNET modeler 11.5. Conference of Opnetwork, USA.

21.

Chitedze, Z., & Tucker, W. D. (2012). FHMIPv6-based handover for wireless mesh networks, Telkom, 1–5.

22.

Humayun, K. M., & Al-Farabi, K. M. (2012). A probabilistic scheme for reducing the packet loss in Mobile IPv6. Journal of Networks, 7(12), 1912–1924.
About this article
Cite this article
Noura, M., Ahmad, I., Noura, A. et al. A Discrete Event Simulation for Hierarchical Mobile IPv6. Wireless Pers Commun 95, 4883–4901 (2017). https://doi.org/10.1007/s11277-017-4130-6
Keywords
Hierarchical Mobile IPv6

Discrete event simulator

Call admission control

General purpose programming language