Abstract
Rapid topology change in vehicular ad hoc network (VANET) is common due to the inherent high mobility nodes and unpredictable environments in VANET. In order to ensure efficient packet transmission, nodes in VANET should react adaptively to topology change in VANET. In this paper, we present a new heuristic and adaptive fuzzy logic scheme (HaFL), which adapts the contention window size and transmission power according to network and traffic conditions. The current existing schemes in VANET utilize only a single parameter to optimize the contention window and transmission power without consideration on the effects of interference as one of the main factors in VANET transmission degradation. In VANET, packet loss can occur at different stages of transmission due to interference or due to elapsed time. In the proposed HaFL, fuzzy logic is used to adaptively optimize the contention window size based on three parameters namely collision rate, SINR and queue overflow which represent packet drop at different stages of transmission. Transmission power which is usually a static parameter is also optimized with consideration on the effects of VANET interference in the proposed HaFL. The performance of the proposed HaFL is evaluated in Vehicles in Network Simulation with road traffic simulator, Simulation of Urban mobility. Simulation results show that the proposed HaFL demonstrates adaptability with improved throughput, low end-to-end delay and higher packet success rate in comparison with the default IEEE802.11p and existing schemes.
Access options
Buy single article
Instant access to the full article PDF.
USD 39.95
Price includes VAT (USA)
Tax calculation will be finalised during checkout.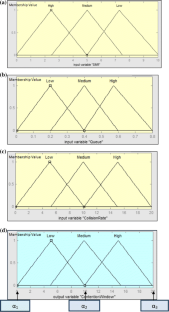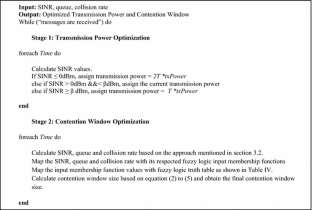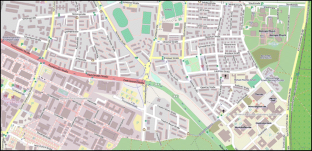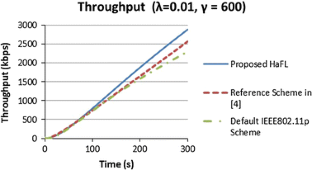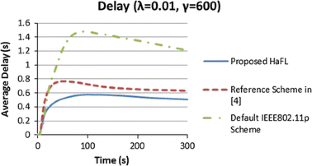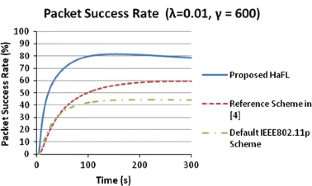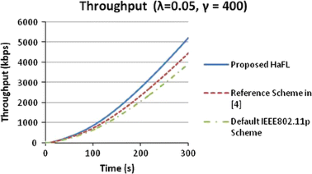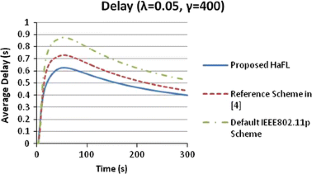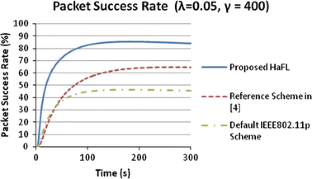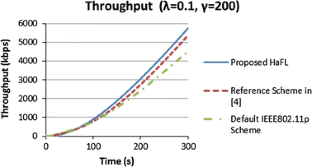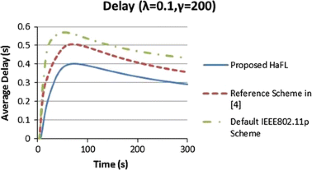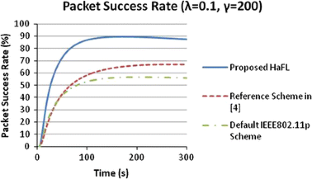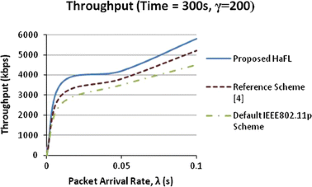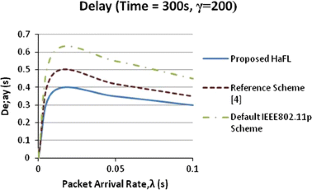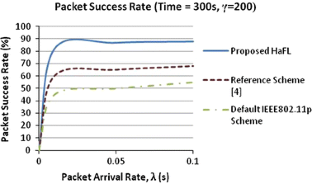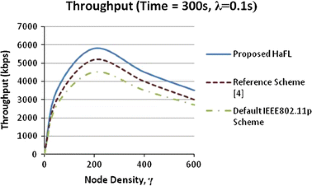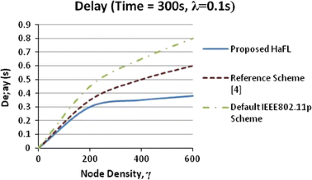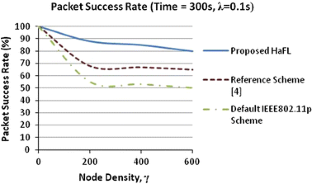 References
1.

Ye, F., Yim, R., Guo, J., Zhang, J., Roy, S. (2010). Prioritized broadcast contention control in VANET. In Proceedings of Communications (ICC) 2010 IEEE International Conference (pp. 1–5).

2.

Booysen, M. J., Zeadally, S., & van Rooyen, G.-J. (2011). Survey of media access control protocol for vehicular adhoc networks. IET Communications, 5(11), 1619–1631.

3.

Hafeez, K. A. (2008). Design and analysis of an efficient and reliable MAC protocol for VANETs, Published Ph.D. thesis Ryerson University.

4.

Rawat, Danda B., Popescu, Dimitrie C., Yan, Gongjun, & Olariu, Stephan. (2011). Enhancing VANET performance by joint adaptation of transmission power and contention window size. IEEE Transactions on Parallel and Distributed Systems, 22(9), 1528–1535.

5.

IEEE, IEEE P802.11p/D3.0 (2007). Draft amendment for wireless access in vehicular environment WAVE.

6.

Wang, Q., Leng, S., Fu, H., & Zhang, Y. (2012). An IEEE 802.11p-based multichannel MAC scheme with channel coordination for vehicular ad hoc networks. IEEE Transactions on Intelligent Transportation Systems, 13(2), 449–458.

7.

Li, Y. J. (2012). An overview of the DSRC/WAVE technology. Lecture Notes of the Institute for Computer Sciences, Social Informatics and Telecommunications Engineering, 74, 544–558.

8.

Artimy, Maen. (2007). Local density estimation and dynamic transmission-range assignment in vehicular ad hoc networks. IEEE Transactions on Intelligent Transportation Systems, 8(3), 400–412.

9.

Souza, A. B., Barros, A. L., Vieira, A. S., Roberto, F. M., J´unior, J. C. (2011). An adaptive mechanism for access control in VANETs. In Proceedings of the tenth international conference on networks (pp. 183–188).

10.

Deng, Der-Jiunn, Chen, Hsin-Chin, Chao, Han-Chieh, & Huang, Yueh-Min. (2011). A collision alleviation scheme for IEEE802.11p VANETs. Wireless Personal Communications, 56, 371–383.

11.

Reinders, R., van Eenennaam, M., Karagiannis, G., Heijenk, G. (2011). Contention window analysis for beaconing in VANETs. In Proceedings of seventh IEEE international wireless communications and mobile computing conference (pp. 1481–1487).

12.

Schmidt, R. K., Köllmer, T., Leinmüller, T., Böddeker, B., & Schäfer, G. (2011). Degradation of transmission range in VANETs caused by interference. Lecture Notes in Computer Science, 6596, 176–188.

13.

Hafeez, K. A., Zhao, L., Liao, Z., Ma, B. N-W. (2012). Fuzzy-logic-based cluster head selection algorithm in VANETs, In IEEE international conference on communications (pp. 203–207).

14.

Sommer, Christoph, German, Reinhard, & Dressler, Falko. (2011). Bidirectionally coupled network and road traffic simulation for improved IVC analysis. IEEE Transactions on Mobile Computing, 10(1), 3–15.
Acknowledgments
This research was funded in part by Motorola Mobility.
About this article
Cite this article
Lim, J.MY., Chang, Y.C., Loo, J. et al. Improving VANET Performance with Heuristic and Adaptive Fuzzy Logic Scheme. Wireless Pers Commun 83, 1779–1800 (2015). https://doi.org/10.1007/s11277-015-2476-1
Keywords
VANET

Contention window size

Transmission power

Fuzzy logic

Optimization