Abstract
Multi-layered space-time block coded systems (MLSTBC) strike a balance between spatial multiplexing and transmit diversity. In this paper, we analyze the block error rate performance of MLSTBC. In addition, we propose an adaptive MLSTBC schemes that are capable of accommodating the channel signal-to-noise ratio variation of wireless systems by near instantaneously adapting the uplink transmission configuration. The main results demonstrate that significant effective throughput improvements can be achieved while maintaining a certain target bit error rate.
Access options
Buy single article
Instant access to the full article PDF.
USD 39.95
Price excludes VAT (USA)
Tax calculation will be finalised during checkout.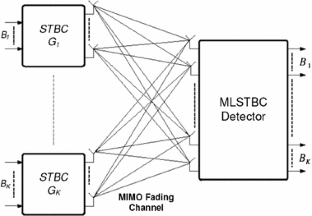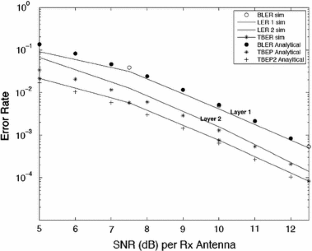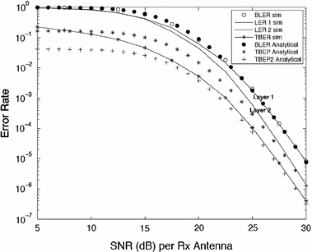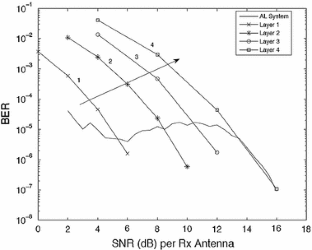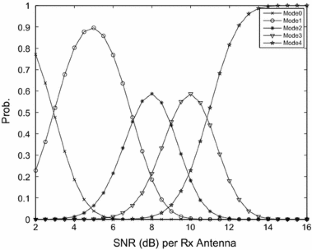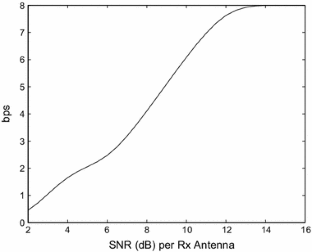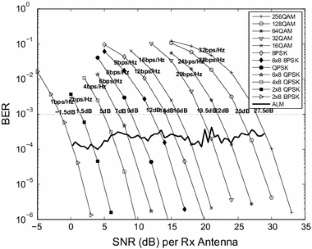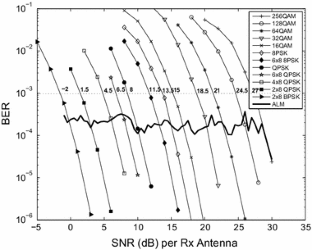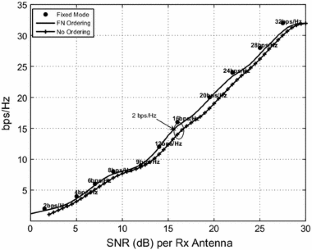 References
Foschini, G., & Gans, M. (1998). On the limits of wireless communications in a fading environment when using multiple antennas. Wireless Personal Communications, 6(3), 311–335.

Wolniansky, P. W., Foschini, G. J., Golden, G. D., & Valenzuela, R. A. (1998). V-BLAST: An architecture for realizing very high data rates over the rich-scattering wireless channel. In ISSSE, pp. 295–300.

Alamouti, S. (1998). A simple transmit diversity technique for wireless communications. IEEE Journal on Selected Areas in Communications, 16, 1451–1458.

Tarokh, V., Jafarkhani, H., & Calderbank, A. (1999). Combined array processing and space time coding. IEEE Transactions on Information Theory, 45, 1121–1128.

Tao, M., & Cheng, R. (2004). Generalized layered space-time codes for high data rate wireless communications. IEEE Transactions on Wireless Communications, 3, 1067–1075.

Mohammad, B. W. M., Al-Ghadhban, S., & Tranter, W. (2004). Comparing decoding algorithms for multi-layer space-time block codes. In IEEE SoutheastCon, pp. 147–152.

Xia, M.-H., Zhou, Y.-P., & Wen, W.-K. (2008). Combining alamouti coding with v-blast through dynamic antenna grouping. Tongxin Xuebao/Journal on Communication, 29(12), 108–114.

Jung, S., & Lee, J. (2009). A new ml based interference cancellation technique for layered space-time codes. IEEE Transactions on Communications, 57(4), 930–936.

Syafei, W., Nagao, Y., Imashioya, R., Kurosaki, M., Sai, B., & Ochi, H. (2009). Design of 600 Mbps MIMO wireless LAN system using GLST coding and its FPGA implementation. In RWS 2009 IEEE radio and wireless symposium, proceedings, pp. 296–299.

Hanzo, L., Wong, C., & Yee, M. (2002). Adaptive wireless transceivers: Turbo-coded, turbo-equalized and space-time coded TDMA, CDMA, and OFDM systems. New Jersy, USA: Wiley.

Webb, W., & Steele, R. (1995). Variable rate QAM for mobile radio. IEEE Transactions on Communications, 43, 2223–2230.

Goldsmith, A., & Soon-Ghee, C. (1997). Variable-rate variable-power MQAM for fading channels. IEEE Transactions on Communications, 45(10), 1218–1230.

Yang, S. L. P., Xiao, Y., & Hanzo, L. (2014). QRD-assisted adaptive modulation-aided MIMO systems. IEEE Transactions on Vehicular Technology, 63(1), 446–451.

Maaref, A., & Aissa, S. (2004). Rate-adaptive M-QAMin MIMO diversity systems using space-time block codes. In IEEE international symposium on personal, indoor and mobile radio communications, PIMRC, pp. 2294–2298.

Zhou, Z., & Vucetic, B. (2011). Adaptive coded MIMO systems with near full multiplexing gain using outdated CSI. IEEE Transactions on Wireless Communications, 10(1), 294302.

Song, K., Ekbal, A., Chung, S., & Cioffi, J. (2006). Adaptive modulation and coding (AMC) for bitinterleaved coded OFDM (BIC-OFDM). IEEE Transactions on Wireless Communications, 5, 1685–1694.

Ko, Y., & Tepedelenlioglu, C. (2003). Adaptive modulation for MIMO systems with V-BLAST detection. In IEEE vehicular technology conference, VTC/Spring, pp. 1074–1078.

Simon, M., & Alouini, M. (2000). Digital communication over generalized fading channels: A unified approach to performance analysis. New York: Wiley.
Acknowledgments
The author would like to acknowledge the support provided by King Fahd University of Petroleum and Minerals (KFUPM) through Deanship of Scientific Research (DSR) grant RG1312. In addition, the work was partially supported by King Abdullah University of Science and Technology (KAUST) project number EE002355.
About this article
Cite this article
Al-Ghadhban, S. Adaptive Multi-Layered Space-Time Block Coded Systems in Wireless Environments. Wireless Pers Commun 82, 799–809 (2015). https://doi.org/10.1007/s11277-014-2253-6
Published:

Issue Date:

DOI: https://doi.org/10.1007/s11277-014-2253-6
Keywords
MIMO systems

STBC

Multi-layered

Adaptive schemes