Abstract
Sensors and actuators are being increasingly deployed for monitoring and controlling different phenomena and processes in a stand-alone manner or attached to sensor nodes with communication capabilities as part of larger wireless sensor networks (WSN). In addition to the protocols for communication within the WSN, sensor nodes may also provide the gateway functionality towards other networks and/or support communication with other external devices. These devices either represent additional gateways for exposing data and metadata to external networks, or serve as connection points to WSN for instance for the on-site calibration and maintenance. Smartphones as advanced mobile terminals appear particularly suitable for such role. This paper investigates the role a smartphone augmented with WSN gateway functionality can play in WSN with respect to regular dedicated sensor and gateway nodes. As a practical example we show the implementation of a gateway augmented smartphone using a Samsung i8910 phone and a VESNA sensor node connected via Bluetooth. The role of a gateway augmented smartphone is to interface between WSN, which is using a proprietary networking protocol, and the mobile network. The data obtained from WSN can be enriched using smartphone's embedded sensors before being sent to the remote server. We demonstrate this on an example of geo-tagging the collected data from WSN with the smartphone's Global Positioning System-based location data.
Access options
Buy single article
Instant access to the full article PDF.
US$ 39.95
Tax calculation will be finalised during checkout.
Subscribe to journal
Immediate online access to all issues from 2019. Subscription will auto renew annually.
US$ 119
Tax calculation will be finalised during checkout.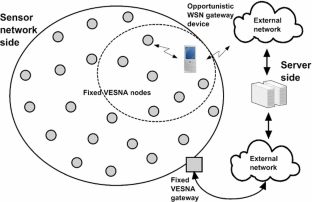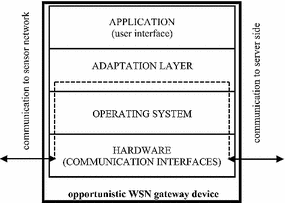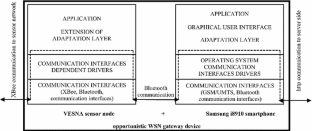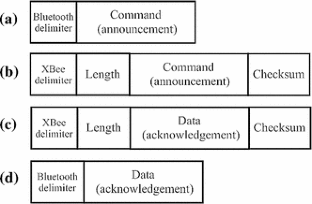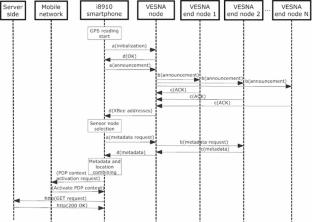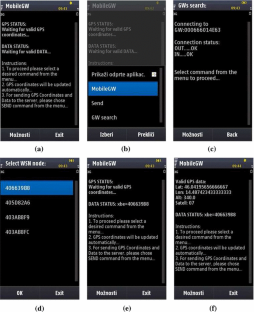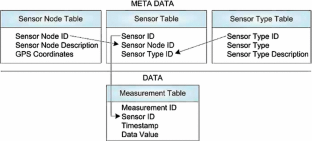 References
1.

Rawat, P., Singh, K. D., Chaouchi, H., & Bonnin, J. M. (2013). Wireless sensor networks: A survey on recent developments and potential synergies. The Journal of Supercomputing, 68, 1–48.

2.

Vieira, M. A. M., Coelho, C. N., da Silva Jr., D. C., & da Mata, J. M. (2003). Survey on wireless sensor network devices. In Emerging technologies and factory automation, 2003. Proceedings. ETFA'03. IEEE Conference (Vol. 1, pp. 537–544).

3.

Vasseur, J.-P., & Dunkels, A. (2010). Interconnecting smart objects with IP: The next internet. San Francisco: Morgan Kaufmann.

4.

Vesna, a modular and fully flexible sensor platform (http://sensorlab.ijs.si/hardware.html).

5.

Lombardo, D., Morreale, V., & Calsi, G. L. (2014). Toward the next generation of sensors as a service. In Advances onto the internet of things (pp. 209–216). Berlin: Springer.

6.

Ballari, D., Wachowicz, M., & Callejo, M. A. M. (2009). Metadata behind the interoperability of wireless sensor networks. Sensors, 9(5), 3635–3651.

7.

Fortuna, C., Oniga, P., Padrah, Z., Mohorcic, M., & Moraru, A. (2012). Metadata management for the web of things: a practical perspective. In Proceedings of the third international workshop on the web of things (p. 4). ACM.

8.

Hu, D., Li, S.-N., & Li, Z.-G. (2008). Design and implementation of wireless sensor network gateway based on web services. In 4th international conference on wireless communications, networking and mobile computing, 2008. WiCOM'08 (pp. 1–4).

9.

Zennaro, M., & Bagula, A. (2009). Design of a flexible and reliable gateway to collect sensor data in intermittent power environments. In Proceedings of 18th internatonal conference on computer communications and networks, 2009. ICCCN 2009 (pp. 1–6).

10.

Steenkamp, L., Kaplan, S., & Wilkinson, R. H. (2009). Wireless sensor network gateway. In AFRICON, 2009. AFRICON'09 (pp. 1–6).

11.

Shakya, M., Zhang, J., Zhang, P., & Lampe, M. (2007). Design and optimization of wireless sensor network with mobile gateway. In 21st international conference on advanced information networking and applications workshops, 2007, AINAW'07 (Vol. 2, pp. 415–420).

12.

Angove, P., O'Grady, M., Hayes, J., O'Flynn, B., O'Hare, G. M., & Diamond, D. (2011). A mobile gateway for remote interaction with wireless sensor networks. IEEE Sensors Journal, 11(12), 3309–3310.

13.

Wang, S., Chen, C., & Ma, J. (2009). A framework for wireless sensor network based mobile mashup applications. In 2009 WRI world congress on computer science and information engineering (Vol. 5, pp. 683–686).

14.

Harnett, C. (2010). Open wireless sensor network telemetry platform for mobile phones. IEEE Sensors Journal, 10(6), 1083–1084.

15.

Chitravalavan, C. K. (2013). Mobile based data acquisition system for wireless sensor networks. International Journal of Advanced Information Science and Technology (IJAIST), 10, 23–28.

16.

Puchyova, J., Kochlan, M., & Hodon, M. (2013). Development of special smartphone-based body area network: Energy requirements. In 2013 federated conference on computer science and information systems (FedCSIS) (pp. 895–900).

17.

Li, J., Zhang, Y., Chen, Y.-F., Nagaraja, K., Li, S., & Raychaudhuri, D. (2013). A mobile phone based WSN infrastructure for IoT over future internet architecture. In IEEE international conference on and IEEE cyber, physical and social computing green computing and communications (GreenCom), 2013 IEEE and internet of things (iThings/CPSCom) (pp. 426–433).

18.

Morón, M. J., Luque, R., & Casilari, E. (2014). On the capability of smartphones to perform as communication gateways in medical wireless personal area networks. Sensors, 14(1), 575–594.

19.

Wu, L., Riihijarvi, J., & Mahonen, P. (2007). A modular wireless sensor network gateway design. In: Second international conference on communications and Networking in China, 2007. CHINACOM'07 (pp. 882–886).

20.

Karvonen, H., Suhonen, J., Petäjäjärvi, J., Hämäläinen, M., Hännikäinen, M., & Pouttu, A. (2014). Hierarchical architecture for multi-technology wireless sensor networks for critical infrastructure protection. Wireless Personal Communications, 76(2), 209–229.

21.

Videk, a mash-up for environmental intelligence. (http://sensors.ijs.si/).
Acknowledgments
This work has been in part funded by the European Community from the European Social Fund under the Operational Programme Human Resources Development for the period 2007-2013 and by the Slovenian Research Agency (Grants J2-4197 and P2-0016). The authors would also like to thank SensorLab members for their support and valuable contributions.
About this article
Cite this article
Pesko, M., Smolnikar, M., Vučnik, M. et al. Smartphone with Augmented Gateway Functionality as Opportunistic WSN Gateway Device. Wireless Pers Commun 78, 1811–1826 (2014). https://doi.org/10.1007/s11277-014-1908-7
Keywords
Opportunistic

Participatory

Gateway

Wireless sensor networks

Metadata

Adaptation layer

Testbed