Abstract
Systems which can utilize the energy efficiently have been of much interest due to its promise to mitigate the energy crises. Internet of Things (IoT), i.e. the intercommunication of machines for an effective delivery of services with minimal human intervention, can form the basis of such systems. IoT based systems are gaining popularity due to the availability of high-speed mobile networks coupled with cost effective, accessible and fast embedded hardware. In this paper we propose an IoT based smart home management system using sensors, actuators, smartphone, web services and micro-controllers. The paper offers interoperability with exceptionally reliable connections. The system architecture takes care of the scenario where the devices are turned off when they are not in use. Being an entirely open source framework, a more deterministic control of security features can be attained by the user. Unlike existing frameworks, the proposed architecture makes the IoT system completely available via internet and open source systems. Finally, the implemented prototype demonstrates a flexible platform that can be extended to cater to changing needs.
This is a preview of subscription content, log in to check access.
Access options
Buy single article
Instant access to the full article PDF.
US$ 39.95
Price includes VAT for USA
Subscribe to journal
Immediate online access to all issues from 2019. Subscription will auto renew annually.
US$ 99
This is the net price. Taxes to be calculated in checkout.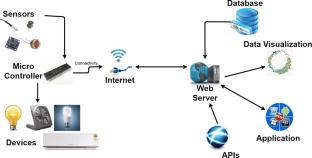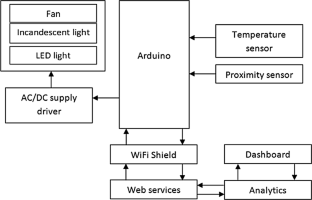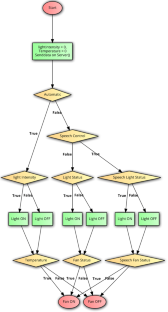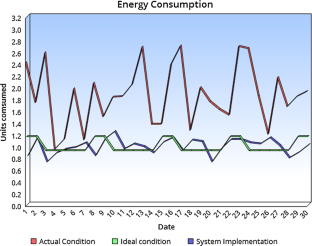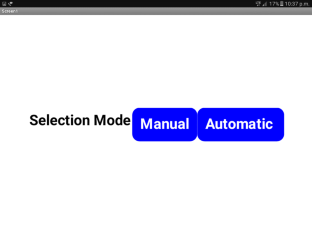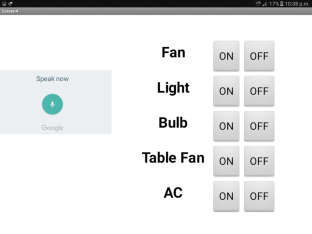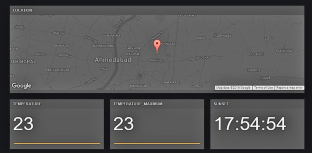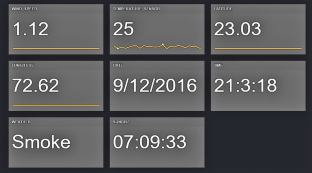 References
1.

Angel Deborah, S., Palaniappan, S., Hariharan, N., Kesh, N. T., & Vidhyalakshimi, S. (2015). Home automation systems—A study. International Journal of Computer Applications, 116(11), 975–8887.

2.

Teymourzadeh, R., Ahmed, S.A., Chan, K.W., & Hoong, M.V. (2013). Smart GSM based home automation system. In 2013 IEEE Conference on Systems, Process & Control (ICSPC) (pp. 306–309). IEEE.

3.

Singh, P., Chotalia, K., Pingale, S., & Kadam, S. (2016). A review paper on smart GSM based home automation system. International Research Journal of Engineering and Technology (IRJET), 3(04), 1838–1843.

4.

Mandula, K., Parupalli, R., Murty, C.A., Magesh, E., & Lunagariya, R. (2015). Mobile based home automation using internet of things (IoT). In 2015 International Conference on Control, Instrumentation, Communication and Computational Technologies (ICCI-CCT) (pp. 340–343). IEEE.

5.

Kodali, R.K., Jain, V., Bose, S., & Boppana, L. (2016). Iot based smart security and home automation system. In 2016 International Conference on Computing, Communication and Automation (ICCCA) (pp. 1286–1289). IEEE.

6.

Pavithra, D., & Balakrishnan, R. (2015). Iot based monitoring and control system for home automation. In 2015 Global Conference on Communication Technologies (GCCT) (pp. 169–173). IEEE.

7.

Chaudhari, A., Rodrigues, B., & More, S. (2016). Automated iot based system for home automation and prediction of electricity usage and comparative analysis of various electricity providers: Smartplug. In 2016 2nd International Conference on Contemporary Computing and Informatics (IC3I) (pp. 390–392). IEEE.

8.

Sripan, M., Lin, X., Petchlorlean, P., & Ketcham, M. (2012). Re-search and thinking of smart home technology. In International Conference on Systems and Electronic Engineering-(ICSEE'2012)

9.

Jiang, L., Liu, D.Y., & Yang, B. (2004). Smart home research. In Proceedings of 2004 International Conference on Machine Learning and Cybernetics, 2004 (vol. 2, pp. 659–663). IEEE.

10.

Delgado, A.R., Picking, R., & Grout, V. (2006). Remote-controlled home automation systems with different network technologies. In Proceedings of the 6th international network conference (INC 2006), University of Plymouth, 11–14 July 2006 (pp. 357–366).

11.

Light Dependent Resistor | LDR and working principle of LDR. https://www.electrical4u.com/. Accessed 29 October, 2018

12.

Varma, A.: What is web server and different types of web servers? https://www.fastwebhost.in/blog/. Accessed: 29 October, 2018.

13.

Data Visualization. https://searchbusinessanalytics.techtarget.com/. Accessed 29 October, 2018.

14.

Few, S. The encyclopedia of human-computer interaction, 2nd ed. https://www.interaction-design.org/. Accessed 29 October, 2018.

15.

Mobile App. https://whatis.techtarget.com/. Accessed 29 October, 2018.
About this article
Cite this article
Naik, K., Patel, S. An open source smart home management system based on IOT. Wireless Netw (2018). https://doi.org/10.1007/s11276-018-1884-z
Keywords
IoT

Open source

Mobile application

Web server

Web services