Abstract
The use of non-conventional yeast species to obtain interesting flavors and aromas has become a new trend in the fermented beverages industry. Among such species, Brettanomyces bruxellensis (B. bruxellensis) has been reported as capable of producing desirable or at least singular aromas in fermented beverages like beer and wine. However, this yeast can also produce an aromatic defect by producing high concentrations of phenolic compounds like, 4-ethylguaiacol and particularly 4-ethylphenol (4-EP). In the present study, we designed a mutant screening method to isolate B. bruxellensis mutants with reduced 4-EP production. More than 1000 mutants were screened with our olfactory screening method, and after further sensory and chemical analysis we were able to select a B. bruxellensis mutant strain with a significant reduction of 4-EP production (more than threefold) and less phenolic perception. Notably, the selected strain also showed higher diversity and concentration of ethyl esters, the most important group of odor active compounds produced by yeasts. Based on these results, we consider that our selected mutant strain is a good candidate to be tested as a non-conventional yeast starter (pure or in co-inoculation) to obtain wines and beers with novel aromatic properties.
Access options
Buy single article
Instant access to the full article PDF.
USD 39.95
Price includes VAT (USA)
Tax calculation will be finalised during checkout.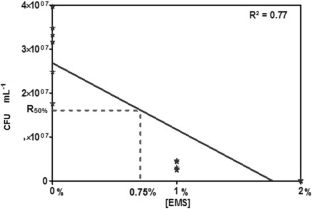 References
Akada R (2002) Genetically modified industrial yeast ready for application. J Biosci Bioeng 94(6):536–544. https://doi.org/10.1016/s1389-1723(02)80192-x

Alberts P, Stander MA, de Villiers A (2011) Development of a novel solid-phase extraction, LC-MS/MS method for the analysis of ethyl carbamate in alcoholic beverages: application to South African wine and spirits. Food Addit Contam 28:826–839

Baranowski JD, Davidson PM, Nagel CW, Branen AL (1980) Inhibition of Saccharomyces cerevisiae by naturally occurring hydroxycinnamates. J Food Sci 45:592–594

Barbosa C, Falco V, Mendes-Faia A, Mendes-Ferreira A (2009) Nitrogen addition influences formation of aroma compounds, volatile acidity and ethanol in nitrogen deficient media fermented by Saccharomyces cerevisiae wine strains. J Biosci Bioeng 108:99–104

Blomqvist J, Eberhard T, Schnürer J, Passoth V (2010) Fermentation characteristics of Dekkera bruxellensis strains. Appl Microbiol Biotechnol 87:1487–1497

Chatonnet P, Dubourdieu D, Boidron J-N, Pons M (1992) The origin of ethylphenols in wines. J Sci Food Agric 60:165–178

Chatonnet P, Dubourdieu D, Boidron J (1995) The influence of Dekkera / Brettanomyces sp. yeast and lactic acid bacteria on the ethylphenol content of red wines. Am J Enol Vitic 46:463–468

Colomer MS, Funch B, Forster J (2019) ScienceDirect The raise of Brettanomyces yeast species for beer production. Curr Opin Biotechnol 56:30–35. https://doi.org/10.1016/j.copbio.2018.07.009

Cordente AG, Heinrich A, Pretorius IS, Swiegers JH (2009) Isolation of sulfite reductase variants of a commercial wine yeast with significantly reduced hydrogen sulfide production. FEMS Yeast Res 9:446–459

Couto JA, Barbosa A, Hogg T (2005) A simple cultural method for the presumptive detection of the yeasts Brettanomyces/Dekkera in wines. Lett Appl Microbiol 41:505–510

Dashko S, Zhou N, Tinta T, Sivilotti P, Lemut MS, Trost K, Gamero A, Boekhout T, Butinar L, Verhovsek U, Piškur J (2015) Use of non-conventional yeast improves the wine aroma profile of Ribolla Gialla. J Ind Microbiol Biotechnol 42:997–1010

Davidson PM, Branden AL (1981) Antimicrobial activity of non-halogenated phenolic compounds. J Food Prot 44:623–633

de Souza-Liberal AT, Basílio AC, Monte-Resende A, Brasileiro BT, Da Silva-Filho EA, De Morais JO, Simoes DA, De Morais Jr MA (2007) Identification of Dekkera bruxellensis as a major contaminant yeast in continuous fuel ethanol fermentation. J Appl Microbiol 102:538–547

Dias L, Pereira-da-Silva S, Tavares M, Malfeito-Ferreira M, Loureiro V (2003) Factors affecting the production of 4-ethylphenol by the yeast Dekkera bruxellensis in enological conditions. Food Microbiol 20(4):377–384

Fugelsang K, Edwards CG (2007) Wine microbiology: practical applications and procedures, 2 nd. Springer Science, New York, p 393

Fugelsang KC, Zoecklein BW (2003) Population dynamics and effects of Brettanomyces bruxellensis strains on Pinot noir (Vitis vinifera L.) wines. Am J Enol Vitic 54(4):294–300

Goodey AR, Tubb RS (1982) Genetic and biochemical analysis of the ability of Saccharomyces cerevisiae to decarboxylate cinnamic acids. J Gen Microbiol 128:2615–2620

Guth H (1997) Quantitation and sensory studies of character impact odorants of different white wine varieties. J Agric Food Chem 45:3027–3032

Holt S, Mukherjee V, Lievens B, Verstrepen KJ, Thevelein JM (2018) Bio flavoring by non-conventional yeasts in sequential beer fermentations. Food Microbiol 72:55–66

Laureys D, De Vuyst L (2014) Microbial species diversity, community dynamics, and metabolite kinetics of water Kefir fermentation. Appl Environ Microbiol 80:2564–2572

Lawrence CW (1991) Classical mutagénesis techniques. Methods Enzymol 194(18):273–280

Licker JL, Acree TE, Henick-Kling T (1999) What is 'Brett' (Brettanomyces) flavour? A preliminary investigation. Am Chem Soc Symp Ser 714:96–115

Lou Z, Wang H, Rao S, Sun J, Ma C, Li J (2012) p -Coumaric acid kills bacteria through dual damage mechanisms. Food Control 25:550–554

Loureiro V, Malfeito-Ferreira M (2003) Spoilage yeasts in the wine industry. Int J Food Microbiol 86:23–50

Massera A, Assof M, Sturm ME, Sari S, Jofré V, Cordero-Otero R, Combina M (2012) Selection of indigenous Saccharomyces cerevisiae strains to ferment red musts at low temperature. Ann Microbiol 62:367–380

Morrissey WF, Davenport B, Querol A, Dobson ADW (2004) The role of indigenous yeats in traditional Irish cider fermentations. J Appl Microbiol 97:647–655

Noble AC (1993) Sensory evaluation of wine. Types of test: when and how to use them. University of California Davis. Vitic Enol Winter 1993:15–36

Perestrelo R, Barros AS, Rocha SM, Câmara JS (2011) Optimisation of solid-phase microextraction combined with gas chromatography-mass spectrometry based methodology to establish the global volatile signature in pulp and skin of Vitis vinifera L. grape varieties. Talanta 85:1483–1493

Pérez-Torrado R, Querol A, Guillamón JM (2015) Genetic improvement of non-GMO wine yeasts: strategies, advantages and safety. Review. Trends Food Sci Technol 45(1):1–11

Piškur J, Ling Z, Marcet-Houben M, Ishchuk OP, Aerts A, LaButti K, Copeland A, Lindquist E, Barry K, Compagno C, Bisson L, Grigoriev IV, Gabaldón T, Phister T (2012) The genome of wine yeast Dekkera bruxellensis provides a tool to explore its food-related properties. Int J Food Microbiol 157:202–209

Pizarro C, Pérez-del-Notario N, González-Sáiz JM (2007) Determination of Brett character responsible compounds in wines by using multiple headspace solid-phase microextraction. J Chromatogr A 1143:176–181

Ribereau-Gayon P, Glories Y, Maujean A (2000) Handbook of enology: the chemistry of wine stabilization and treatments, vol 2. Wiley, West Sussex, p 219

Robinson AL, Mueller M, Heymann H, Ebeler SE, Boss PK, Solomon PS, Trengove RD (2010) Effect of simulated shipping conditions on sensory attributes and volatile composition of commercial white and red wines. Am J Enol Vitic 61(3):337–347

Roessler EB, Pangborn RM, Sidel JL, Stone H (1978) Expanded statistical tables for estimating significance in pared-preference, pair difference, duo-trio and triangle test. J Food Sci 43:940–941

Saerens SMG, Delvaux FR, Verstrepen KJ, Thevelein JM (2010) Production and biological function of volatile esters in Saccharomyces cerevisiae. Microb Biotechnol 3:165–177

Sangorrín MP, Lopes CA, Jofré V, Querol A, Caballero AC (2008) Spoilage yeasts from Patagonian cellars: characterization and potential biocontrol based on killer interactions. World J Microbiol Biotechnol 24:945–953

Steensels J, Verstrepen KJ (2014) Taming wild yeast: potential of conventional and nonconventional yeasts in industrial fermentations. Annu Rev Microbiol 68:61–80

Steensels J, Daenen L, Malcorps P, Derdelinckx G, Verachtert H, Verstrepen KJ (2015) Brettanomyces yeasts - From spoilage organisms to valuable contributors to industrial fermentations. Int J Food Microbiol 206:24–38

Sturm ME, Assof M, Fanzone M, Martinez C, Ganga MA, Jofré V, Ramirez ML, Combina M (2015) Relation between coumarate decarboxylase and vinylphenol reductase activity with regard to the production of volatile phenols by native Dekkera bruxellensis strains under "wine-like" conditions. Int J Food Microbiol 206:51–55

Tao YS, Li H, Wang H, Zhang L (2008) Volatile compounds of young Cabernet Sauvignon red wine from Changli County (China). J Food Compos Anal 21:689–694

Teoh AL, Heard G, Cox J (2004) Yeast ecology of Kombucha fermentation. Int J Food Microbiol 95:119–126

Vanderhaegen B, Neven H, Coghe S, Verstrepen KJ, Derdelinckx G, Verachtert H (2003) Bioflavoring and beer refermentation. Appl Microbiol Biotechnol 62:140–150

Yacobson CM (2010) Primary fermentation characteristics of Brettanomyces yeast species and their use in the brewing industry. MSc. Thesis. Heriot-Watt University, Edinburgh, Scotland
Acknowledgements
We thank Dr. M.E. Sturm for her valuable advice in handling B. bruxellensis wild strains.
Funding
This worked was supported by a PNBIO-1131023 project of Instituto Nacional de Tecnología Agropecuaria (INTA) and a PICT 2008-206 project of the Fondo para la Investigación Científica y Tecnológica (FonCyT) Argentina.
Ethics declarations
Conflict of interest
The authors declare no conflict of interests.
Additional information
Publisher's Note
Springer Nature remains neutral with regard to jurisdictional claims in published maps and institutional affiliations.
About this article
Cite this article
Álvarez Gaona, I.J., Assof, M.V., Jofré, V.P. et al. Mutagenesis, screening and isolation of Brettanomyces bruxellensis mutants with reduced 4-ethylphenol production. World J Microbiol Biotechnol 37, 6 (2021). https://doi.org/10.1007/s11274-020-02981-5
Received:

Accepted:

Published:
Keywords
Brettanomyces bruxellensis

Non-conventional yeasts

Yeast starter

4-ethylphenol

Wine

Beer