Abstract
The cosmopolitan entomopathogenic and root endophytic fungus Metarhizium robertsii has a versatile lifestyle and during liquid fermentation undergoes a dimorphic transformation from hyphae to conidia or microsclerotia, or from hyphae to blastospores. In all cases, these processes are mediated by environmental and nutritional cues. Blastospores could be used in spray applications to control arthropod pests above ground and may serve as an attractive alternative to the traditional solid-grown aerial conidial spores of Metarhizium spp. found in commercial products. Nitrogen is a vital nutrient in cell metabolism and growth; however, it is the expensive component in liquid cultures of entomopathogenic fungi. Our goals in this study were to optimize nitrogen sources and titers for maximum production of M. robertsii blastospores cultured in shake flasks at highly aerated conditions and to further determine their virulence against the corn leafhopper Dalbulus maidis, an important vector of serious pathogens in maize crops worldwide. Our fermentation studies revealed that the low-cost corn steep liquor (CSL) was the most suitable nitrogen source to improve blastospore growth in M. robertsii. The growth kinetic assays determined the optimal titer of 80 g L−1 and a yield up to 4.7 × 108 cells mL−1 within 5 days of cultivation (3 days preculture and 2 days culture), at a total cost of US$0.30 L−1. Moreover, the blastospore growth kinetic was strongly dependent on glucose and nitrogen consumptions accompanied by a slight drop in the culture pH. Insect bioassays evidenced a high virulence of these blastospores, either as dried or fresh cells, to D. maidis adults fed on maize plants. Our findings provide insights into the nutritional requirements for optimal and cost-efficient production of M. robertsii blastospores and elucidate the potential of blastospores as an ecofriendly tool against the corn leafhopper.
Access options
Buy single article
Instant access to the full article PDF.
USD 39.95
Price excludes VAT (USA)
Tax calculation will be finalised during checkout.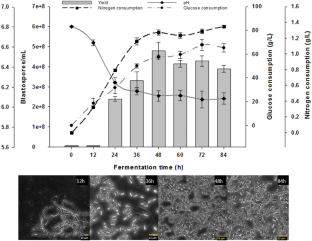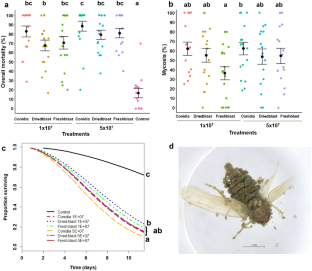 References
Adamek L (1965) Submerse cultivation of the fungus Metarhizium Anisopliae (Metsch.). Folia Microbiol (Praha) 10:255–257

AGROFIT (2019) Sistema de agrotóxicos fitossanitários—ministério da Agricultura, Pecúaria e Abastecimento. https://agrofit.agricultura.gov.br/agrofit_cons/principal_agrofit_cons. Accessed 10 Oct 2019

Alkhaibari AM, Carolino AT, Yavasoglu SI, Maffeis T, Mattoso TC, Bull JC, Samuels RI, Butt TM (2016) Metarhizium brunneum blastospore pathogenesis in Aedes aegypti larvae: attack on several fronts accelerates mortality. PLoS Pathog. https://doi.org/10.1371/journal.ppat.1005715

Alkhaibari AM, Carolino AT, Bull JC, Samuels RI, Butt TM, Andreadis T (2017) Differential pathogenicity of Metarhizium blastospores and conidia against larvae of three mosquito species. J Med Entomol 54:696–704. https://doi.org/10.1093/jme/tjw223

Behle RW, Garcia-Gutierrez C, Tamez-Guerra P, McGuire MR, Jackson MA (2006) Pathogenicity of blastospores and conidia of Paecilomyces fumosoroseus against larvae of the mexican bean beetle (Coleoptera: Coccinellidae). Southwest Entomol 31:289–295

Bernardo CC, Barreto LP, Silva CDSRE, Luz C, Arruda W, Everton KK (2018) Conidia and blastospores of Metarhizium spp. and Beauveria bassiana s.l.: their development during the infection process and virulence against the tick Rhipicephalus microplus. Tick Borne Dis 9:1334–1342. https://doi.org/10.1016/j.ttbdis.2018.06.001

Canale MC, Lopes JRS, Nesi CN, Prado SDS (2018) Role of Dalbulus maidis (Hemiptera: Cicadellidae) gender on maize bushy stunt phytoplasma transmission. Phytopathog Mollicutes. https://doi.org/10.5958/2249-4677.2018.00005.1

Canassa F, Esteca FCN, Moral RA, Meyling NV, Klingen I, Júnior ID (2019) Root inoculation of strawberry with the entomopathogenic fungi Metarhizium robertsii and Beauveria bassiana reduces incidence of the two spotted spider mite and selected insect pests and plant diseases in the field. J Pest Sci. https://doi.org/10.1007/s10340-019-01147-z

Correa B, Duarte VS, Silva DM, Mascarin GM, Júnior ID (2020) Comparative analysis of blastospore production and virulence of Beauveria bassiana and Cordyceps fumosorosea against soybean pests. Biocontrol. https://doi.org/10.1007/s10526-020-09999-6

Elena GJ, Beatriz PJ, Alejandro P, Lecuona RE (2011) Metarhizium anisopliae (Metschnikoff ) sorokin promotes growth and has endophytic activity in tomato plants. Adv Biol Res 5:22–27

Faria MRD, Wraight SP (2007) Mycoinsecticides and Mycoacaricides: a comprehensive list with worldwide coverage and international classification of formulation types. Biol Control 43:237–256. https://doi.org/10.1016/j.biocontrol.2007.08.001

Galvani F, Gaertner E (2006) Adequação da metodologia Kjeldahl para determinação de nitrogênio total e proteína bruta (Circular Técnica 63). Embrapa Pantanal, Corumbá (In Portuguese)

Issaly N, Chauveau H, Aglevor F, Fargues J, Durand A (2005) Influence of nutrient, pH and dissolved oxygen on the production of Metarhizium flavoviride Mf189 blastospores in submerged batch culture. Process Biochem 40:1425–1431. https://doi.org/10.1016/j.procbio.2004.06.029

Iwanicki NSA, Ferreira BDO, Mascarin GM, Júnior ID (2018) Modified Adamek's medium renders high yields of Metarhizium robertsii blastospores that are desiccation tolerant and infective to cattle-tick larvae. Fungal Biol. https://doi.org/10.1016/j.funbio.2018.05.004

Jaber LR, Alananbeh KM (2018) Fungal entomopathogens as endophytes reduce several species of Fusarium causing crown and root rot in sweet pepper (Capsicum annuum L.). Biol Control 126:117–126. https://doi.org/10.1016/j.biocontrol.2018.08.007

Jaber LR, Enkerli J (2017) Fungal entomopathogens as endophytes: can they promote plant growth? Biocontrol Sci Technol 27:28–41. https://doi.org/10.1080/09583157.2016.1243227

Jackson MA (2012) Dissolved oxygen levels affect dimorphic growth by the entomopathogenic fungus Isaria fumosorosea. Biocontrol Sci Technol 22:67–79. https://doi.org/10.1080/09583157.2011.642339

Jackson MA, Mcguire MR, Lacey LA, Wraight SP (1997) Liquid culture production of desiccation tolerant blastospores of the bioinsecticidal fungus Paecilomyces fumosoroseus. Mycol Res 101:35–41. https://doi.org/10.1017/S0953756296002067

Jaronski ST, Mascarin GM (2016) Mass production of fungal entomopathogens. Microb Control Insect Mite Pests. https://doi.org/10.1016/B978-0-12-803527-6.00009-3

Kim JS, Je YH, Skinner M, Parker BL (2013) An oil-based formulation of Isaria fumosorosea blastospores for management of greenhouse whitefly Trialeurodes vaporariorum (Homoptera: Aleyrodidae). Pest Manage Sci 69:576–581. https://doi.org/10.1002/ps.3497

Krell V, Unger S, Jakobs-Schoenwandt D, Patel AV (2018) Endophytic Metarhizium brunneum mitigates nutrient deficits in potato and improves plant productivity and vitality. Fungal Ecol 34:43–49. https://doi.org/10.1016/j.funeco.2018.04.002

Lane BS, Trinci APJ, Gillespie AT (1991) Influence of cultural conditions on the virulence of conidia and blastospores of Beauveria bassiana to the green leafhopper, Nephotettix virescens. Mycol Res 95:829–833. https://doi.org/10.1016/S0953-7562(09)80046-4

Liggett RW, Koffler H (1948) Corn steep liquor in microbiology. Bacteriol Rev 12:297–311

Mascarin GM, Jackson MA, Kobori NN, Behle RW, Dunlap CA, Júnior ID (2015a) Glucose concentration alters dissolved oxygen levels in liquid cultures of Beauveria bassiana and affects formation and bioefficacy of blastospores. Appl Microbiol Biotechnol 99:6653–6665. https://doi.org/10.1007/s00253-015-6620-3

Mascarin GM, Jackson MA, Kobori NN, Behle RW, Júnior ID (2015b) Liquid culture fermentation for rapid production of desiccation tolerant blastospores of Beauveria bassiana and Isaria fumosorosea strains. J Invertebr Pathol 127:11–20. https://doi.org/10.1016/j.jip.2014.12.001

Mascarin GM, Jackson MA, Behle RW, Kobori NN, Júnior ÍD (2016) Improved shelf life of dried Beauveria bassiana blastospores using convective drying and active packaging processes. Appl Microbiol Biotechnol. https://doi.org/10.1007/s00253-016-7597-2

Mascarin GM, Kobori NN, Jackson MA, Dunlap CA, Júnior ID (2018) Nitrogen sources affect productivity, desiccation tolerance and storage stability of Beauveria bassiana blastospores. J Appl Microbiol 124:810–820. https://doi.org/10.1111/jam.13694

Mascarin GM, Biaggioni RL, Júnior ID, Fernandes EKK, Luz C, Faria M (2019) Current status and perspectives of fungal entomopathogens used for microbial control of arthropod pests in Brazil. J Invertebr Pathol 165:46–53. https://doi.org/10.1016/j.jip.2018.01.001

Morales-Reyes C, Mascarin GM, Jackson MA, Hall D, Sánchez-Peña SR, Arthurs SP (2018) Comparison of aerial conidia and blastospores from two entomopathogenic fungi against Diaphorina citri (Hemiptera: Liviidae) under laboratory and greenhouse conditions. Biocontrol Sci Technol 28:737–749. https://doi.org/10.1080/09583157.2018.1487028

Nault LR (1990) Evolution of an insect pest: maize and the corn leafhopper, a case study. Maydica 35:165–175

Nault LR, Delong DM (1980) Evidence for co-evolution of leafhoppers in the genus Dalbulus (Cicadellidae: Homoptera) with maize and its ancestors1. Ann Entomol Soc Am 73(4):349–353

Parra J (2014) Biological control in Brazil. Sci Agric 71:345–355. https://doi.org/10.1590/0103-9016-2014-0167

Posch AE, Spadiut O, Herwig C (2012) Switching industrial production processes from complex to defined media: method development and case study using the example of Penicillium chrysogenum. Microb Cell Fact. https://doi.org/10.1186/1475-2859-11-88

R Core Team (2015) R: a language and environment for statistical computing. R Foundation for Statistical Computing, Vienna, Austria. http://www.R-project.org/

Ramle M, Norman K (2014) The use of palm kernel cake in the production of conidia and blastospores of Metarhizium anisopliae var. major for control of Oryctes rhinoceros. J Oil Palm Res 26:133–139

Ray-Mukherjee J, Nimon K, Mukherjee S, Morris DW, Slotow R, Hamer M (2014) Using commonality analysis in multiple regressions: a tool to decompose regression effects in the face of multicollinearity. Methods Ecol Evol 5:320–328. https://doi.org/10.1111/2041-210X.12166

Shapiro-Ilan DI, Cottrell TE, Jackson MA, Wood BW (2008) Virulence of Hypocreales fungi to pecan aphids (Hemiptera: Aphididae) in the laboratory. J Invertebr Pathol 99:312–317. https://doi.org/10.1016/j.jip.2008.07.001

Wassermann M, Selzer P, Steidle JLM, Mackenstedt U (2016) Biological control of Ixodes ricinus larvae and nymphs with Metarhizium anisopliae blastospores. Ticks Tick Borne Dis. https://doi.org/10.1016/j.ttbdis.2016.03.010

Wickham H (2016) ggplot2: elegant graphics for data analysis. Springer-Verlag, New York

Ypsilos IK, Magan N (2005) Characterisation of optimum cultural environmental conditions for the production of high numbers of Metarhizium anisopliae blastospores with enhanced ecological fitness. Biocontrol Sci Technol 15:683–699. https://doi.org/10.1080/09583150500136774
Acknowledgements
The authors are grateful to the technician Lenita Maria and Professor Marcos Yassuo Kamogawa from Exact Sciences Department of University of São Paulo/ESALQ for the help in the extraction and quantification of nitrogen in liquid culture media and Anderson Ramos for providing the insects for the bioassays. We also thank the Brazilian National Council for Scientific and Technological Development (CNPq) [Grant Number 421629/2016–9] for financial support. The first author received a fellowship from the São Paulo Research Foundation (FAPESP) [Grant Number 2016/20610-6] during her PhD project, and GMM received a grant from Embrapa [Grant # 02.13.12.003.00.00].
Ethics declarations
Conflict of interest
Authors declare not having any competing interest.
Ethical approval
This article does not contain studies with human participants or vertebrates performed by any of the authors.
Additional information
Publisher's Note
Springer Nature remains neutral with regard to jurisdictional claims in published maps and institutional affiliations.
Electronic supplementary material
Below is the link to the electronic supplementary material.
About this article
Cite this article
Iwanicki, N.S., Mascarin, G.M., Moreno, S.G. et al. Growth kinetic and nitrogen source optimization for liquid culture fermentation of Metarhizium robertsii blastospores and bioefficacy against the corn leafhopper Dalbulus maidis. World J Microbiol Biotechnol 36, 71 (2020). https://doi.org/10.1007/s11274-020-02844-z
Received:

Accepted:

Published:

DOI: https://doi.org/10.1007/s11274-020-02844-z
Keywords
Biocontrol

Fungal entomopathogen

Dimorphic growth

Fungal nutrition

Virulence

Zea mays