Abstract
The purpose of this study was to develop an effective bacterial consortium and determine their ability to overcome nitrogen limitation for the enhanced remediation of diesel-contaminated soils. Towards this, various bacterial consortia were constructed using oil-degrading and nitrogen-fixing microbes. The diesel removal efficiency of various developed consortia was evaluated by delivering the bacterial consortia to the diesel-contaminated soils. The consortium Acinetobacter sp. K-6 + Rhodococcus sp. Y2-2 + NH4NO3 resulted in the highest removal (85.3%) of diesel from the contaminated soil. The consortium containing two different oil-degrading microbes (K-6 + Y2-2) and one nitrogen-fixing microbe Azotobacter vinelandii KCTC 2426 removed 83.1% of the diesel from the soil after 40 days of treatment. The total nitrogen content analysis revealed higher amounts of nitrogen in soil treated with the nitrogen-fixing microbe when compared with that of the soil supplemented with exogenous inorganic nitrogen. The findings in this present study reveal that the consortium containing the nitrogen-fixing microbe degraded similar amounts of diesel to that degraded by the consortium supplemented with exogenous inorganic nitrogen. This suggests that the developed consortium K-6 + Y2-2 + KCTC 2426 compensated for the nitrogen limitation and eliminated the need for exogenous nitrogen in bioremediation of diesel-contaminated soils.
Graphic abstract

Access options
Buy single article
Instant access to the full article PDF.
US$ 39.95
Tax calculation will be finalised during checkout.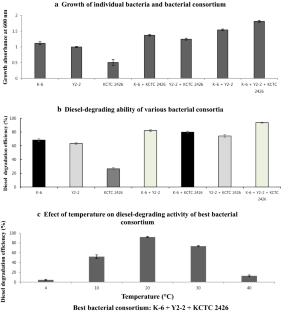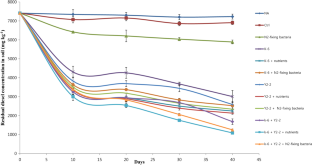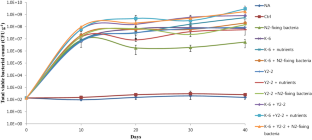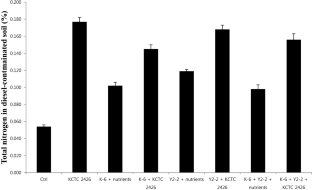 References
Abioye OP, Amaefule PO, Aransiola SA, Stephen E (2013) Screening of bacterial consortium isolated from oil contaminated soils for its potential to degrade crude oil. Adv Sci Focus 1:3

Agarry SE, Oghenejoboh KM (2015) Enhanced aerobic biodegradation of naphthalene in soil: kinetic modeling and half-life study. Int J Environ Bioremediat Biodegrad 3:48–53

Aislabie L, Foght J, Saul D (2000) Aromatic-hydrocarbon degrading bacteria isolated from soil near Scott Base, Antarctica. Polar Biol 23:183–188

Al-Bader D, Kansour MK, Rayan R, Radwa SS (2013) Biofilm comprising phototrophic, diazotrophic, and hydrocarbon-utilizing bacteria: a promising consortium in the bioremediation of aquatic hydrocarbon pollutants. Environ Sci Pollut Res 20:3252–3262

Al-Mailem DM, Sorkhoh NA, Salamah S, Eliyas M, Radwan SS (2010) Oil-bioremediation potential of Arabian Gulf mud flates rich in diazotrophic hydrocarbon-utilizing bacteria. Int J Environ Bioremediat Biodegrad 64:218–225

Al-Mailem DM, Eliyas M, Radwan SS (2013) Oil-bioremediation potential of two hydrocarbonoclastic, diazotrophic Marinobacter strains from hypersaline areas along the Arabian Gulf coasts. Extremophiles 17:463–470

Bajagain R, Park Y, Jeong SW (2018) Feasibility of oxidation-biodegradation serial foam spraying for total petroleum hydrocarbon removal without soil disturbance. Sci Total Environ 626:1236–1242

Berretta AN, Silbermann AV, Paladino L, Torres D, Bassahun D, Musselli R, Gareía-Lamohte A (2014) Soil texture analyses using a hydrometer: modification of the bouyoucos method. Clen Inv Agr 41:263–271

Bremner JM, Keeney DR (1966) Determination and isotope-ratio analysis of different forms of nitrogen in soils, 3: exchangeable ammonium, nitrate and nitrite by extraction-distillation methods. Soil Sci Soc Am Proc 31:577–582

Chandra S, Sharma R, Kriti S, Sharma A (2013) Application of bioremediation technology in the environment contaminated with petroleum hydrocarbon. Ann Microbiol 63:417–431

Dashti N, Ali N, Eliyas M, Khanafer M, Sorkhoh NA, Radwan SS (2015) Most hydrocarbonoclastic bacteria in the total environment are diazotrophic, which highlights their value in the bioremediation of hydrocarbon contaminants. Microbes Environ 30:70–75

Eckford R, Cook FD, Sau D, Aislabie J, Foght J (2002) Free-living heterotrophic nitrogen-fixing bacteria isolated from fuel-contaminated Antarctic soil. Appl Environ Microbiol 68:5181–5185

Fox RD (1996) Physical/chemical treatment of organically contaminated soils and sediments. J. Air Waste Manage Assoc 46:391–413

Gradova NB, Gornova IB, Eddaudi R, Salina RN (2003) Use of bacteria of the genus Azotobacter for bioremediation of oil-contaminated soils. Appl Biochem Microbiol 39:279–281

Ha N, Feike T, Back H, Xiao H, Bahrs E (2015) The effect of simple nitrogen fertilizer recommendation strategies on product carbon footprint and gross margin of wheat and maize production in the North China Plain. J Environ Manage 163:146–154

Ibrahim HMM (2016) Biodegradation of used engine oil by novel strains of Ochrobactrum anthropic HM-1 and Citrobacter freundii HM-2 isolated from oil-contmainated soil. 3 Biotech 6:226

Jeong SW, Jeong J, Kim J (2015) Simple surface foam application enhances bioremediation of oil-contaminated soil in cold conditions. J Hazard Mater 286:164–170

Jiang Y, Brassington KJ, Prpich G, Paton GI, Semple KT, Pollard SJT, Coulon F (2016) Insight into the biodegradation of weathered hydrocarbons in contaminated soils by bioaugmentation and nutrient stimulation. Chemosphere 161:300–307

Margesin R, Schinner F (1997) Effect of temperature on oil degradation by a psychrotrophic yeast in liquid culture and in soil. FEMS Microbiol Ecol 24:243–249

Mnif I, Mnif S, Sahnoun R, Maktouf S, Ayedi Y, Ellouze-Chaabouni S, Ghribi D (2015) Biodegradation of diesel by a novel microbial consortium: comparison between co-inoculation with biosurfactant-producing strain and exogenously added biosurfactants. Environ Sci Pollut Res 22:148852–214861

Naseri M, Barabadi A, Barabady J (2014) Bioremediation treatment of hydrocarbon-contaminated Arctic soils: influencing parameters. Environ Sci Pollut Res 21:11250–11265

Onwurah INE (1999) Role of diazotrophic bacteria in the bioremediation of crude oil-polluted soil. J Chem Technol Biotechnol 74:957–964

Onwurah INE (2004) Technical communication: modeling the rates of biodegradation, nitrogen fixation and uptake of fixed nitrogen during bioremediation of crude oil-contaminated environments. World J Microbiol Biotechnol 20:833–836

Palanisamy N, Ramya J, Kumar S, Vasanthi NS, Chandran P, Khan S (2014) Diesel biodegradation capacities of indigenous bacterial species isolated from diesel contaminated soil. J Environ Health Sci Eng 12:142

Parnadi PS, Kardena E, Ratnaningsih E, Wisjnuprapto W (2007) Improving the effectiveness of crude-oil hydrocarbon biodegradation employing Azotobacter chroococcum as co-inoculant. Microbiol Indones 1:5–10

Patowary K, Patowary R, Kalita MC, Deka S (2016) Development of an efficient bacterial consortium for the potential remediation of hydrocarbons from contaminated sites. Front Microbiol 7:1092

Pham VHT, Chaudhary DK, Jeong SW, Kim J (2018) Oil-degrading properties of a psychrotolerant bacterial strain, Rhodococcus sp. Y2-2, in liquid and soil media. World J Microbiol Biotechnol 34:33

Piehler MF, Swistak JG, Pinckney JL, Paerl HW (1999) Stimulation of diesel fuel biodegradation by indigenous nitrogen fixing bacterial consortia. Microb Ecol 38:69–78

Ravindran B, Nguyen DD, Chaudhary DK, Chang SW, Kim J, Lee SR, Shin J, Jeon BH, Chung S, Lee J (2019) Influence of biochar on physico-chemical and microbial community during swine manure composting process. J Environ Manage 232:592–599

Salehi MH, Beni OH, Harchegani HB, Borujeni E, Motaghian HR (2011) Refining soil organic matter determination by loss-on-ignition. Pedosphere 24:473–482

Sarkar P, Rai AR, Ghosh S (2013) Degradation of aromatic petroleum hydrocarbons (BTEX) by a solvent tolerant bacterial consortium. J Urban Environ Eng 7:274–279

Thavasi R, Jayalakshmi S, Balasubramanian T, Banat IM (2006) Biodegradation of crude oil by nitrogen fixing marine bacteria Azotobacter chroococcum. Res J Microbiol 1:401–408

Vargas JP, Carmona SEV, Moreno EZ, Casado NAR, Calva GC (2017) Bioremediation of soils from oil spill impacted sites using bioaugmentation with biosurfactants producing, native, free-living nitrogen fixing bacteria. Rev Int Contam Ambie 33:105–114

Varjani SJ, Upasani VN (2017) A new look on factors affecting microbial degradation of petroleum hydrocarbon pollutants. Int Biodeterior Biodegrad 120:71–83

Waterlot C, Pelfrêne A, Douay F (2012) Effects of iron concentration level in extracting solutions from contaminated soils on the determination of zinc by flame atomic absorption spectrometry with two background correctors. J Anal Methods Chem 2012:512709

Wu M, Dick WA, Li W, Wang X, Yang Q, Wang T, Xu L, Zhang M, Chen L (2016) Bioaugmentation and biostimulation of hydrocarbon degradation and the microbial community in a petroleum-contaminated soil. Int Biodeterior Biodegrad 107:158–164
Acknowledgements
This research was supported by the Basic Science Research Program of the National Research Foundation of Korea (NRF) funded by the Ministry of Education (Grant Nos. 2016R1D1A1A09916982 and 2018R1A2B6006139).
Ethics declarations
Conflict of interest
All the authors declare that they have no conflict of interest.
Ethical approval
This article does not contain any studies with human participants or animals performed by any of the authors.
Additional information
Publisher's Note
Springer Nature remains neutral with regard to jurisdictional claims in published maps and institutional affiliations.
About this article
Cite this article
Chaudhary, D.K., Bajagain, R., Jeong, SW. et al. Development of a bacterial consortium comprising oil-degraders and diazotrophic bacteria for elimination of exogenous nitrogen requirement in bioremediation of diesel-contaminated soil. World J Microbiol Biotechnol 35, 99 (2019). https://doi.org/10.1007/s11274-019-2674-1
Received:

Accepted:

Published:
Keywords
Bacterial consortia

Oil-degrading microbe

Diazotrophic bacteria

Nitrogen limitation

Bioremediation

Diesel