Abstract
Microorganisms associated with plants have a great biotechnological potential, but investigations of these microorganisms associated with native plants in peculiar environments has been incipient. The objective of this study was to analyze the plant growth-promoting bacteria potential of cultivable bacteria associated with rare plants from the ferruginous rocky fields of the Brazilian Iron Quadrangle. The roots and rhizospheres of nine endemic plants species and samples of a root found in a lateritiric duricrust (canga) cave were collected, the culturable bacteria isolated and prospected for distinct biotechnological and ecological potentials. Out of the 148 isolates obtained, 8 (5.4%) showed potential to promote plant growth, whereas 4 (2.7%) isolates acted as biocontrol agents against Xanthomonas citri pathotype A (Xac306), reducing the cancrotic lesions by more than 60% when co-inoculated with this phytopathogen in Citrus sinensis plants. Moreover, other 4 (2.7%) isolates were classified as potential bioremediation agents, being able to withstand high concentrations of arsenite (5 mM As3+) and arsenate (800 mM As5+), by removing up to 35% and 15% of this metalloid in solution, respectively. These same four isolates had a positive influence on the growth of both the roots and the aerial parts when inoculated with tomato seeds in the soil contaminated with arsenic. This is the first time that an investigation highlights the potentialities of bacteria associated with rare plants of ferruginous rocky fields as a reservoir of microbiota of biotechnological and ecological interest, highlighting the importance of conservation of this area that is undergoing intense anthropic activity.
Graphical abstract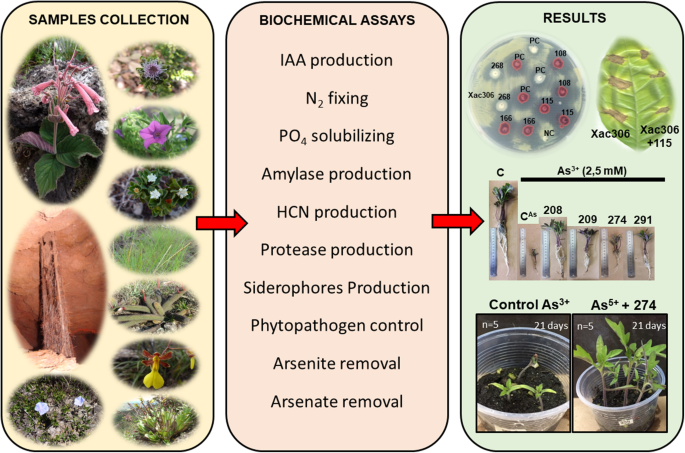 This is a preview of subscription content, log in to check access.
Access options
Buy single article
Instant access to the full article PDF.
US$ 39.95
Price includes VAT for USA
Subscribe to journal
Immediate online access to all issues from 2019. Subscription will auto renew annually.
US$ 199
This is the net price. Taxes to be calculated in checkout.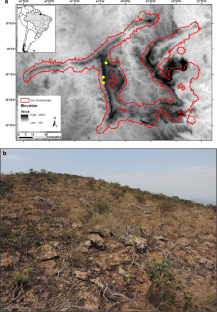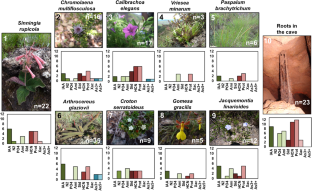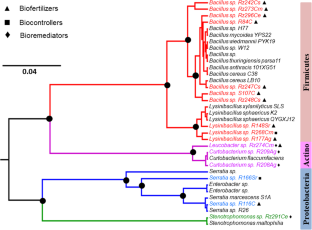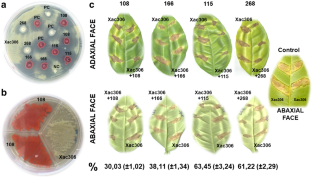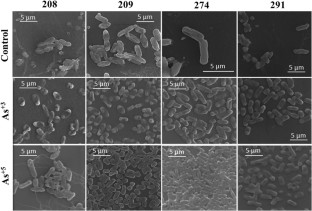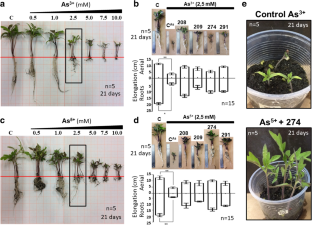 References
Aeron A, Kumar S, Pandey P, Maheshwari DK (2011) Emerging role of plant growth promoting rhizobacteria in agrobiology. In: Maheshwari DK (ed) Bacteria in agrobiology: crop ecosystems. Springer, New York, pp 1–36. https://doi.org/10.1007/978-3-642-18357-7

Ahmed E, Holmstrom SJ (2014) Siderophores in environmental research: roles and applications. Microb Biotechnol 7:196–208. https://doi.org/10.1111/1751-7915.12117

Akhtar MS, Chali B, Azam T (2013) Bioremediation of arsenic and lead by plants and microbes from contaminated soil. Res Plant Sci 1:68–73. https://doi.org/10.12691/plant-1-3-4

Bakker AW, Schippers B (1987) Microbial cyanide production in the rhizosphere in relation to potato yield reduction and Pseudomonas SPP-mediated plant growth-stimulation. Soil Biol Biochem 19:451–457. https://doi.org/10.1016/0038-0717(87)90037-X

Barrow JR, Lucero ME, Reyes-Vera I, Havstad KM (2008) Do symbiotic microbes have a role in plant evolution, performance and response to stress? Commun Integr Biol 1:69–73

Bric JM, Bostock RM, Silverstone SE (1991) Rapid in situ assay for indoleacetic acid production by bacteria immobilized on a nitrocellulose membrane. Appl Environ Microbiol 57:535–538

Bulgarelli D, Schlaeppi K, Spaepen S, Ver Loren van Themaat E, Schulze-Lefert P (2013) Structure and functions of the bacterial microbiota of plants. Ann Rev Plant Biol 64:807–838. https://doi.org/10.1146/annurev-arplant-050312-120106

Caicedo JC, Villamizar S, Ferro MIT, Kupper KC, Ferro JA (2016) Bacteria from the citrus phylloplane can disrupt cell–cell signalling in Xanthomonas citri and reduce citrus canker disease severity. Plant Pathol 65:782–791. https://doi.org/10.1111/ppa.12466

Caneschi WL et al (2018) Brazilian ironstone plant communities as reservoirs of culturable bacteria with diverse biotechnological potential. Front Microbiol. https://doi.org/10.3389/fmicb.2018.01638

Carmo FF, Jacobi CM (2016) Diversity and plant trait-soil relationships among rock outcrops in the Brazilian Atlantic rainforest. Plant soil 403:7–20. https://doi.org/10.1007/s11104-015-2735-7

Carmo FF, Campos IC, Jacobi CM (2016) Effects of fine-scale surface heterogeneity on rock outcrop plant community structure. J Veg Sci 27:50–59. https://doi.org/10.1111/jvs.12342

Combes-Meynet E, Pothier JF, Moenne-Loccoz Y, Prigent-Combaret C (2011) The Pseudomonas secondary metabolite 2,4-diacetylphloroglucinol is a signal inducing rhizoplane expression of Azospirillum genes involved in plant-growth promotion. Mol Plant Microbe Interact. 24:271–284. https://doi.org/10.1094/MPMI-07-10-0148

Costa RVF, Leite MGP, Mendonça FPC Jr, Nalini HA (2015) Geochemical mapping of arsenic in surface waters and stream sediments of the Quadrilátero Ferrífero, Brazil. Rem 68:43–51. https://doi.org/10.1590/0370-44672015680077

De J, Ramaiah N, Vardanyan L (2008) Detoxification of toxic heavy metals by marine bacteria highly resistant to mercury. Mar Biotechnol 10:471–477. https://doi.org/10.1007/s10126-008-9083-z

Estrada-De Los Santos P, Bustillos-Cristales R, Caballero-Mellado J (2001) Burkholderia, a genus rich in plant-associated nitrogen fixers with wide environmental geographic distribution. Appl Environ Microbiol 67:2790–2798. https://doi.org/10.1128/AEM.67.6.2790-2798.2001

Felestrino ÉB et al (2017a) Alcaligenes faecalis associated with Mimosa calodendron rizhosphere assist plant survival in arsenic rich soils. J Soil Sci Plant Nutr 17:1102–1115. https://doi.org/10.4067/S0718-95162017000400019

Felestrino EB, Santiago IF, Freitas LD, Rosa LH, Ribeiro SP, Moreira LM (2017b) Plant growth promoting bacteria associated with Langsdorffia hypogaea-rhizosphere-host biological interface: a neglected model of bacterial prospection. Front Microbiol 8:172. https://doi.org/10.3389/fmicb.2017.00172

Finnegan PM, Chen W (2012) Arsenic toxicity: the effects on plant metabolism. Front Physiol 3:182. https://doi.org/10.3389/fphys.2012.00182

Gibson N, Yates CJ, Dillon R (2010) Plant communities of the ironstone ranges of South Western Australia: hotspots for plant diversity and mineral deposits. Biodivers Conserv 19:3951–3962. https://doi.org/10.1007/s10531-010-9939-1

Gibson N, Coates D, van Leeuwen S, Yates C (2015) Hot, dry and ancient: banded iron formations of western Australia. In: Carmo FF, Kamino LHY (eds) Geossistemas Ferruginosos do Brasil: áreas prioritárias para conservação da diversidade geológica e biológica, patrimônio cultural e serviços ambientais. 3i Editora Ltda, Belo Horizonte, pp 23–46

Hongoh Y, Yuzawa H, Ohkuma M, Kudo T (2003) Evaluation of primers and PCR conditions for the analysis of 16S rRNA genes from a natural environment. FEMS Microbiol Lett 221:299–304

Jacobi CM, Carmo FF (2012) Diversidade Florística nas cangas do Quadrilátero Ferrífero. 3i Editora Ltda, Belo Horizonte

Jacobi CM, do Carmo FF, de Campos IC (2011) Soaring extinction threats to endemic plants in Brazilian metal-rich regions. Ambio 40:540–543

Jacobi CM, Carmo FF, Campos IC (2015) Iron geosystems: priority areas for conservation in Brazil. In: Tibbett M (ed) Mining in ecologically sensitive landscapes. CRC Press, Boca Raton

Khan S, Afzal M, Iqbal S, Khan QM (2013) Plant–bacteria partnerships for the remediation of hydrocarbon contaminated soils. Chemosphere 90:1317–1332. https://doi.org/10.1016/j.chemosphere.2012.09.045

Kumari D, Qian XY, Pan X, Achal V, Li Q, Gadd GM (2016) Microbially-induced carbonate precipitation for immobilization of toxic metals. Adv Appl Microbiol 94:79–108. https://doi.org/10.1016/bs.aambs.2015.12.002

Lanteigne C, Gadkar VJ, Wallon T, Novinscak A, Filion M (2012) Production of DAPG and HCN by Pseudomonas sp. LBUM300 contributes to the biological control of bacterial canker of tomato. Phytopathology 102:967–973. https://doi.org/10.1094/PHYTO-11-11-0312

Ma Y, Rajkumar M, Zhang C, Freitas H (2016) Beneficial role of bacterial endophytes in heavy metal phytoremediation. J Environ Manage 174:14–25. https://doi.org/10.1016/j.jenvman.2016.02.047

MMA (2007) Áreas Prioritárias para Conservação, Uso Sustentável e Repartição de Benefícios da Biodiversidade Brasileira: Atualização—Portaria MMA no. 9, de 23 de janeiro de 2007. Série Biodiversidade, 31. Ministério do Meio Ambiente, Secretaria de Biodiversidade e Florestas, Brasília

Monteiro HS, Vasconcelos PM, Farley KA, Spier CA, Mello CL (2014) (U–Th)/He geochronology of goethite and the origin and evolution of cangas. Geochim Cosmochim Acta 131:267–289. https://doi.org/10.1016/j.gca.2014.01.036

Mulligan CN, Yong RN, Gibbs BF (2001) Remediation technologies for metal-contaminated soils and groundwater: an evaluation. Eng Geol 60:193–207. https://doi.org/10.1016/S0013-7952(00)00101-0

Nautiyal CS (1999) An efficient microbiological growth medium for screening phosphate solubilizing microorganisms. FEMS Microbiol Lett 170:265–270

Negreiros D, Stradic SL, Fernandes GW, Rennó HC (2014) CSR analysis of plant functional types in highly diverse tropical grasslands of harsh environments. Plant Ecol 215:379–388. https://doi.org/10.1007/s11258-014-0302-6

Pancholy SK, Rice EL (1973) Soil enzymes in relation to old field succession: amylase, cellulase, invertase, dehydrogenase, and urease soil. Sci Soc Am J 37:47–50. https://doi.org/10.2136/sssaj1973.03615995003700010018x

Ribeiro SP et al (2017) Plant defense against leaf herbivory based on metal accumulation: examples from a tropical high altitude ecosystem. Plant Species Biol 32:147–155. https://doi.org/10.1111/1442-1984.12136

Ross DJ (1975) Studies on a climosequence of soils in tussock grasslands. 5. Invertase and amylase activities of topsoils and their relationships with other properties. J Sci 18:511–518

Salgado AAR, Carmo FF (2015) Quadrilátero Ferrífero: a beautiful and neglected landscape between the gold and iron ore reservoirs. In: Vieira BC, Salgado AAR, Santas L (eds) Landscapes and landforms of Brazil. Springer, London, pp 319–330

Sanchez-Canizares C et al (2011) Endosymbiotic bacteria nodulating a new endemic lupine Lupinus mariae-josephi from alkaline soils in Eastern Spain represent a new lineage within the Bradyrhizobium genus. Syst Appl Microbiol 34:207–215. https://doi.org/10.1016/j.syapm.2010.11.020

Saraf M, Pandya U, Thakkar A (2014) Role of allelochemicals in plant growth promoting rhizobacteria for biocontrol of phytopathogens. Microbiol Res 169:18–29. https://doi.org/10.1016/j.micres.2013.08.009

Schaefer CE et al (2015) Solos desenvolvidos sobre canga ferruginosa no Brasil: uma revisão crítica e papel ecológico de termiteiros. In: Carmo FFD, Kamino LHY (eds) Geossistemas Ferruginosos do Brasil. 3i Editora Ltda, Belo Horizonte, pp 77–102

Schaefer CEGR et al (2016) The physical environment of Rupestrian Grasslands (Campos Rupestres) in Brazil: geological, geomorphological and pedological characteristics, and interplays. In: Fernandes GW (ed) Ecology and conservation of mountaintop grasslands in Brazil. Springer, Cham, pp 15–53. https://doi.org/10.1007/978-3-319-29808-5_2

Schneider CA, Rasband WS, Eliceiri KW (2012) NIH Image to ImageJ: 25 years of image analysis. Nat Methods 9:671–675

Schwyn B, Neilands JB (1987) Universal chemical assay for the detection and determination of siderophores. Analyt Biochem 160:47–56

Silveira FAO et al (2016) Ecology and evolution of plant diversity in the endangered campo rupestre: a neglected conservation priority. Plant Soil 403:129–152. https://doi.org/10.1007/s11104-015-2637-8

Strauss ML, Jolly NP, Lambrechts MG, van Rensburg P (2001) Screening for the production of extracellular hydrolytic enzymes by non-Saccharomyces wine yeasts. J Appl Microbiol 91:182–190

Thoma JA, Spradlin JE, Dygert S (1971) Plant and animal amylases. In: Boyer PD (ed) The enzymes, vol 5, 3rd edn. Academic Press, New York, pp 115–189

Vacheron J et al (2013) Plant growth-promoting rhizobacteria and root system functioning. Front Plant Sci 4:356. https://doi.org/10.3389/fpls.2013.00356

Vlot AC, Klessig DF, Park SW (2008) Systemic acquired resistance: the elusive signal(s). Curr Opin Plant Biol 11:436–442. https://doi.org/10.1016/j.pbi.2008.05.003

Wang Y, Wang E, Wang D, Huang S, Ma Y, Smith CJ, Wang L (2010) Crop productivity and nutrient use efficiency as affected by long-term fertilisation in North China Plain. Nutr Cycl Agroecosyst 86:105–119. https://doi.org/10.1007/s10705-009-9276-5
Acknowledgements
Thanks to all members of the Laboratory of Biochemistry and Molecular Biology (LBBM, Federal University of Ouro Preto, UFOP) for their support. Thanks to the NanoLab Laboratory of the Department of Metalurgy of Mines, Federal University of Ouro Preto, for SEM and EDS analysis.
Funding
This work was supported by the following agencies: the National Council of Technological and Scientific Development (CNPq Process 481226/2013-3), Foundation of Protection to Research of the State of Minas Gerais—FAPEMIG (process APQ-02387-14), and Coordination for the Improvement of Higher Education Personnel (CAPES) (the BIGA Project, CFP 51/2013, process 3385/2013).
Ethics declarations
Conflict of interest
The authors declare that there are no conflict of interest.
Electronic supplementary material
Below is the link to the electronic supplementary material.
About this article
Cite this article
Felestrino, É.B., Vieira, I.T., Caneschi, W.L. et al. Biotechnological potential of plant growth-promoting bacteria from the roots and rhizospheres of endemic plants in ironstone vegetation in southeastern Brazil. World J Microbiol Biotechnol 34, 156 (2018). https://doi.org/10.1007/s11274-018-2538-0
Received:

Accepted:

Published:
Keywords
Canga

Rare plants

Bioremediation

Biocontrol

Biofertilization

Plant growth-promoting bacteria