Abstract
The microbial communities responsible for the degradation of poly(lactic acid)/poly(3-hydroxybutyrate) (PLA/PHB) blend foils were investigated in 1 year long laboratory soil burial experiments. Different PLA/PHB foils were tested: (a) PLA/PHB original transparent foil, (b) PLA/PHB carbon black filled foil and (c) PLA/PHB black foil previously exposed for 90 days to sun light. The microbiome diversity of these three types of foil was compared with that identified from soil/perlite sample at the beginning of experiment and that developed on a cellulose mat. Culture-dependent and culture-independent (DGGE-cloning) approaches together with PLA, PHB and PLA/PHB degradation plate assays were employed. The cultivation strategy combined with degradation tests permitted the isolation and evaluation of several PLA/PHB blend degrading microorganisms such as members of the genera Bacillus, Paenibacillus, Streptomyces, Rhodococcus, Saccharothrix, Arthrobacter, Aureobasidium, Mortierella, Absidia, Actinomucor, Bjerkandera, Fusarium, Trichoderma and Penicillium. The DGGE-cloning investigation increased the information about the microbial communities occurring during bioplastic degradation detecting several bacterial and fungal taxa and some of them (members of the orders Anaerolineales, Selenomonadales, Thelephorales and of the genera Pseudogymnoascus and Pseudeurotium) were revealed here for the first time. This survey showed the microbiome colonizing PLA/PHB blend foils and permitted the isolation of several microorganisms able to degrade the tested polymeric blends.
Access options
Buy single article
Instant access to the full article PDF.
USD 39.95
Price excludes VAT (USA)
Tax calculation will be finalised during checkout.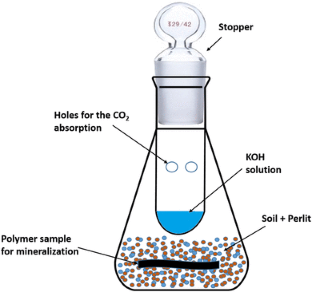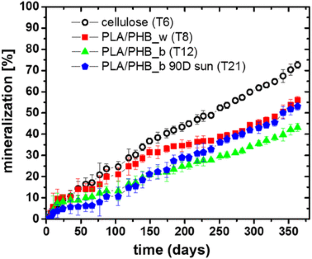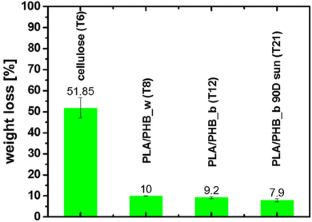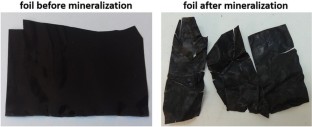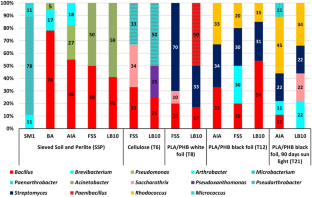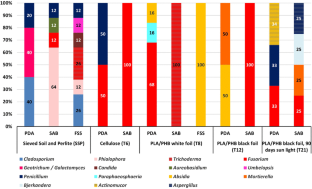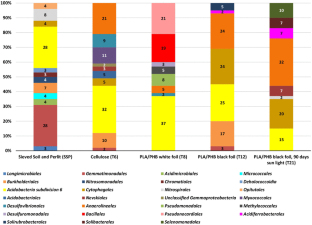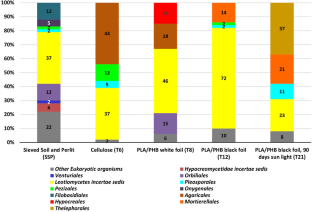 References
Abdelwahab MA, Flynn A, Chiou BS, Imam S, Orts W, Chiellini E (2012) Thermal, mechanical and morphological characterization of plasticized PLA–PHB blends. Polym Degrad Stab 97:1822–1828

Akutsu-Shigeno Y, Teeraphatpornchai T, Teamtisong K, Nomura N, Uchiyama H, Nakahara T, Nakajima-Kambe T (2003) Cloning and sequencing of a poly (DL-lactic acid) depolymerase gene from Paenibacillus amylolyticus strain TB-13 and its functional expression in Escherichia coli. Appl Environ Microbiol 69:2498–2504

Arrieta MP, López J, López D, Kenny JM, Peponi L (2016) Biodegradable electrospun bionanocomposite fibers based on plasticized PLA–PHB blends reinforced with cellulose nanocrystals. Ind Crops Prod 93:290–301

ASTM D5988-12 (2012) Standard test method for determining aerobic biodegradation of plastic materials in soil. https://doi.org/10.1520/D5988-12

Bayer EA, Lamed R (1992) The cellulose paradox: pollutant par excellence and/or a reclaimable natural resource? Biodegradation 3:171–188

Boyandin AN, Prudnikova SV, Karpov VA, Ivonin VN, Đỗ NL, Nguyễn TH, Lê TMH, Filichev NL, Levin AL, Filipenko ML, Volova TG (2013) Microbial degradation of polyhydroxyalkanoates in tropical soils. Int Biodeterior Biodegrad 83:77–84

Brodhagen M, Peyron M, Miles C, Inglis DA (2015) Biodegradable plastic agricultural mulches and key features of microbial degradation. Appl Microbiol Biotechnol 99:1039–1056

Bučková M, Puškárová A, Ženišová K, Kraková L, Piknová Ľ, Kuchta T, Pangallo D (2018) Novel insights into microbial community dynamics during the fermentation of Central European ice wine. Int J Food Microbiol 266:42–51

Chu L, Wang J (2017) Denitrification of groundwater using a biodegradable polymer as a carbon source: long-term performance and microbial diversity. RSC Adv 7:53454–53462

Corneillie S, Smet M (2015) PLA architectures: the role of branching. Polym Chem 6:850–867

Dharmalingam S, Hayes DG, Wadsworth LC, Dunlap RN, DeBruyn JM, Lee J, Wszelaki AL (2015) Soil degradation of polylactic acid/polyhydroxyalkanoate-based nonwoven mulches. J Polym Environ 23:302–315

Ghosh SK, Pal S, Ray S (2013) Study of microbes having potentiality for biodegradation of plastics. Environ Sci Pollut Res Int 20:4339–4355

Gómez EF, Michel FC (2013) Biodegradability of conventional and bio-based plastics and natural fiber composites during composting, anaerobic digestion and long-term soil incubation. Polym Degrad Stab 98:2583–2591

Grivalský T, Bučková M, Puškárová A, Kraková L, Pangallo D (2016) Water-related environments: a multistep procedure to assess the diversity and enzymatic properties of cultivable bacteria. World J Microbiol Biotechnol 32:42

Grivalský T, Rychlý J, Rychlá L, Bučková M, Kraková L, Puškárová A, Orovčík Ľ, Pangallo D (2017) Aerobic biodegradation of aromatic aliphatic copolyester induced by bacteria obtained from different environments. J Polym Environ. https://doi.org/10.1007/s10924-017-0980-y

Horiba Y, Khan ST, Hiraishi A (2005) Characterization of the microbial community and culturable denitrifying bacteria in a solid-phase denitrification process using poly (ε-caprolactone) as the carbon and energy source. Microbes Environ 20:25–33

Kamiya M, Asakawa S, Kimura M (2007) Molecular analysis of fungal communities of biodegradable plastics in two Japanese soils. Soil Sci Plant Nutr 53:568–574

Karamanlioglu M, Houlden A, Robson GD (2014) Isolation and characterisation of fungal communities associated with degradation and growth on the surface of poly (lactic) acid (PLA) in soil and compost. Int Biodeterior Biodegrad 95:301–310

Kim DY, Rhee YH (2003) Biodegradation of microbial and synthetic polyesters by fungi. Appl Microbiol Biotechnol 61:300–308

Lane DJ (1991) 16S/23S rRNA sequencing. In: Stackenbrandt E, Goodfellow M (eds) Nucleic acid techniques in bacterial systematics. Wiley, New York, pp 115–148

Mergaert J, Webb A, Anderson C, Wouters A, Swings J (1993) Microbial degradation of poly (3-hydroxybutyrate) and poly (3-hydroxybutyrate-co-3-hydroxyvalerate) in soils. Appl Environ Microbiol 59:3233–3238

Moore-Kucera J, Cox SB, Peyron M, Bailes G, Kinloch K, Karich K, Miles C, Inglis DA, Brodhagen M (2014) Native soil fungi associated with compostable plastics in three contrasting agricultural settings. Appl Microbiol Biotechnol 98:6467–6485

Mosnáčková K, Danko M, Šišková A, Falco LM, Janigová I, Chmela Š, Vanovčanová Z, Omaníková L, Chodák I, Mosnáček J (2017) Complex study of the physical properties of a poly (lactic acid)/poly (3-hydroxybutyrate) blend and its carbon black composite during various outdoor and laboratory ageing conditions. RSC Adv 7:47132–47142

Możejko-Ciesielska J, Kiewisz R (2016) Bacterial polyhydroxyalkanoates: still fabulous? Microbiol Res 192:271–282

Muthuraj R, Misra M, Mohanty AK (2017) Biodegradable compatibilized polymer blends for packaging applications: a literature review. J Appl Polym Sci. https://doi.org/10.1002/app.45726

Nomura N, Deguchi T, Shigeno-Akutsu Y, Nakajima-Kambe T, Nakahara T (2001) Gene structures and catalytic mechanisms of microbial enzymes able to biodegrade the synthetic solid polymers nylon and polyester polyurethane. Biotechnol Genet Eng Rev 18:125–147

Nowak B, Pająk J, Drozd-Bratkowicz M, Rymarz G (2011) Microorganisms participating in the biodegradation of modified polyethylene films in different soils under laboratory conditions. Int Biodeterior Biodegrad 65:757–767

Pangallo D, Šaková N, Koreňová J, Puškárová A, Kraková L, Valík L, Kuchta T (2014) Microbial diversity and dynamics during the production of May bryndza cheese. Int J Food Microbiol 170:38–43

Puškárová A, Bučková M, Habalová B, Kraková L, Maková A, Pangallo D (2016) Microbial communities affecting albumen photography heritage: a methodological survey. Sci Rep 6:20810

Qiu T, Xu Y, Gao M, Han M, Wang X (2017) Bacterial community dynamics in a biodenitrification reactor packed with polylactic acid/poly (3-hydroxybutyrate-co-3-hydroxyvalerate) blend as the carbon source and biofilm carrier. J Biosci Bioeng 123:606–612

Rudnik E, Briassoulis D (2011) Comparative biodegradation in soil behaviour of two biodegradable polymers based on renewable resources. J Polym Environ 19:18–39

Sclocchi MC, Kraková L, Pinzari F, Colaizzi P, Bicchieri M, Šaková N, Pangallo D (2017) Microbial life and death in a foxing stain: a suggested mechanism of photographic prints defacement. Microb Ecol 73:815–826

Shah AA, Hasan F, Hameed A, Ahmed S (2008) Biological degradation of plastics: a comprehensive review. Biotechnol Adv 26:246–265

Shen Z, Zhou Y, Wang J (2013) Comparison of denitrification performance and microbial diversity using starch/polylactic acid blends and ethanol as electron donor for nitrate removal. Bioresour Technol 131:33–39

Solaro R, Corti A, Chiellini E (1998) A new respirometric test simulating soil burial conditions for the evaluation of polymer biodegradation. J Polym Environ 6:203–208

STN EN ISO 17556 (2012) Plastics—determination of the ultimate aerobic biodegradability of plastic materials in soil by measuring the oxygen demand in a respirometer or the amount of carbon dioxide evolved. https://www.sutn.sk/eshop/public/standard_detail.aspx?id=116602. Accessed 7 Mar 2017

STN ISO 10390 (2005) Kvalita pôdy. Stanovenie pH [Soil quality. Measuring pH]. SÚTN, Bratislava (in Slovak)

Tan GYA, Ward AC, Goodfellow M (2006) Exploration of Amycolatopsis diversity in soil using genus-specific primers and novel selective media. Syst Appl Microbiol 29:557–569

Tokiwa Y, Calabia BP, Ugwu CU, Aiba S (2009) Biodegradability of plastics. Int J Mol Sci 10:3722–3742

Volova TG, Prudnikova SV, Vinogradova ON, Syrvacheva DA, Shishatskaya EI (2017) Microbial degradation of polyhydroxyalkanoates with different chemical compositions and their biodegradability. Microb Ecol 73:353–367

Weng YX, Wang L, Zhang M, Wang XL, Wang YZ (2013) Biodegradation behavior of P (3HB, 4HB)/PLA blends in real soil environments. Polym Test 32:60–70

Weytjens D, Van Ginneken I, Painter HA (1994) The recovery of carbon dioxide in the Sturm test for ready biodegradability. Chemosphere 28:801–812

White TJ, Bruns T, Lee S, Taylor J (1990) Amplification and direct sequencing of fungal ribosomal RNA genes for phylogenetics. In: Innis MA, Gelfand DH, Sninsky JJ, White TJ (eds) PCR protocols: a guide to methods and applications. Academic Press, New York, pp 315–321

Xu Z, Chai X (2017) Effect of weight ratios of PHBV/PLA polymer blends on nitrate removal efficiency and microbial community during solid-phase denitrification. Int Biodeterior Biodegrad 116:175–183

Yagi H, Ninomiya F, Funabashi M, Kunioka M (2014) Mesophilic anaerobic biodegradation test and analysis of eubacteria and archaea involved in anaerobic biodegradation of four specified biodegradable polyesters. Polym Degrad Stab 110:278–283
Acknowledgements
The work was mainly supported by the grant APVV-15-0528 "Modified polymers from renewable resources and their degradation". This contribution is also the result of the projects VEGA 2/0158/17 and ITMS-26240220010 in the frame of the support program Research and Development of the European Regional Development Fund.
Electronic supplementary material
Below is the link to the electronic supplementary material.
About this article
Cite this article
Jeszeová, L., Puškárová, A., Bučková, M. et al. Microbial communities responsible for the degradation of poly(lactic acid)/poly(3-hydroxybutyrate) blend mulches in soil burial respirometric tests. World J Microbiol Biotechnol 34, 101 (2018). https://doi.org/10.1007/s11274-018-2483-y
Received:

Accepted:

Published:

DOI: https://doi.org/10.1007/s11274-018-2483-y
Keywords
Poly(lactic acid)/poly(3-hydroxybutyrate) blend

Microbiome

Bacteria

Fungi

Polymer degradation plate assays