Abstract
Plants are primary source of natural product drugs. However, with every new bioactive molecule reported from a plant source, there follows reports of endangered status or even extinction of a medicinally important plant due to over-harvesting. Hence, the attention turned towards fungi namely the endophytes, which reside within medicinally important plants and thus may have acquired their medicinal properties. Strobilanthes crispus is a traditional medicinal plant which has been used traditionally to treat kidney stones, diabetes, hypertension and cancer as well as having antimicrobial activities. In our efforts to bioprospect for anticancer and antimicrobial metabolites, two fungal endophytes most closely related to the Sordariomycetes sp. showed promising results. Sample (PDA)BL3 showed highest significant antimicrobial activity against 6 bacteria at 200 µg/disc whereas sample (PDA)BL5 has highest significant anticancer activity against all 5 cancer cell lines at concentrations ranging from 30 to 300 μg/ml. As for the gas chromatography coupled with mass spectrometry (GC–MS) results, a total of 20 volatile metabolites identified from sample (PDA)BL3 and 21 volatile metabolites identified from sample (PDA)BL5 having more than 1% abundance. Both GC–MS analysis showed that compound Pyrrolo[1,2-a]pyrazine-1,4-dione, hexahydro-3-(2-methylpropyl) has the highest abundance at 15.10% abundance for sample (PDA)BL3 and 19.00% abundance for sample (PDA)BL5 respectively. In conclusion, these results have shown bio-prospecting potential of endophytic fungi having antimicrobial and anticancer activities as well as its potential secondary metabolites of interest. Therefore, this work has further indicated the medicinal and industrial potential of endophytic fungi.
Access options
Buy single article
Instant access to the full article PDF.
US$ 39.95
Tax calculation will be finalised during checkout.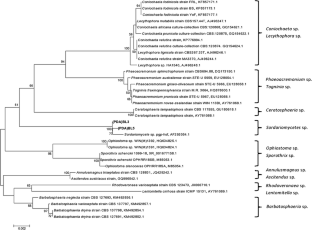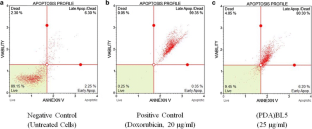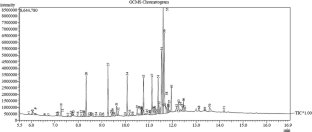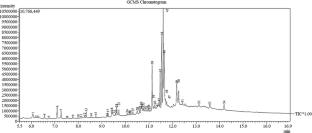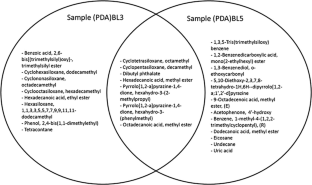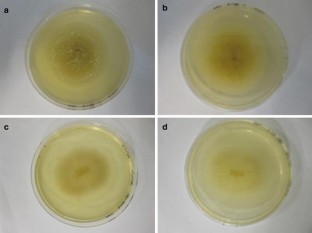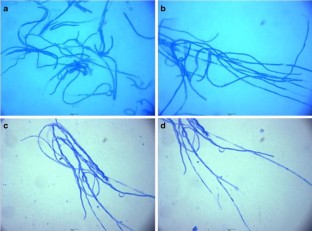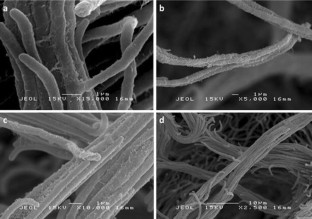 References
Abubakar S, Akanbi B, Etim V, Segun O, Ogbu J (2016) Comparative study of phytochemical and synergistic anti-bacterial activity of Tribulus terrestris (L.) and Pandiaka heudelotii (Moq.) Hien on some clinical bacterial isolates. Pharm Biol Eval 3:83–91

Ainsworth GC (2008) Ainsworth & Bisby's dictionary of the fungi, 8th edn. CABI Bioscience, Surrey

Albano M, Alves FCB, Andrade BFMT, Barbosa LN, Pereira AFM, de Souza MLR, Rall VLM, Junior AF (2016) Antibacterial and anti-staphylococcal enterotoxin activities of phenolic compounds. Innov Food Sci Emerg Technol 38:83–90. doi:10.1016/j.ifset.2016.09.003

Berbee ML, Taylor JW (1992) Detecting morphological convergence in true fungi, using 18S rRNA gene sequence data. Biosystems 28:117–125. doi:10.1016/0303-2647(92)90014-P

Bills GF, Polishook JD (1991) Microfungi from Carpinus caroliniana. Can J Bot 69:1477–1482. doi:10.1139/b91-191

Darzynkiewicz Z, Bruno S, Del Bino G, Gorczyca W, Hotz M, Lassota P, Traganos F (1992) Features of apoptotic cells measured by flow cytometry. Cytometry 13:795–808. doi:10.1002/cyto.990130802

Gahan J, Schmalenberger A (2015) Arbuscular mycorrhizal hyphae in grassland select for a diverse and abundant hyphospheric bacterial community involved in sulfonate desulfurization. Appl Soil Ecol 89:113–121. doi:10.1016/j.apsoil.2014.12.008

Gopal P, Sripathi SK, Indumathi P (2013) GC-MS analysis of non-polar fractions of leaves, stems and roots of Pisonia grandis R. Br Int J Phytomed 5:460–466

Goutam J, Kharwar R, Tiwari VK, Mishra A, Singh S (2016) Isolation and identification of antibacterial compounds isolated from endophytic fungus Emericella qaudrilineata. Nat Prod Chem Res 4:1–7. doi:10.4172/2329-6836.1000205

Hanon E, Vanderplasschen A, Pastoret P-P (1996) The use of flow cytometry for concomitant detection of apoptosis and cell cycle analysis. Biochemica 2:25–27

Harris JL (2000) Safe, low-distortion tape touch method for fungal slide mounts. J Clin Microbiol 38:4683–4684

Hazalin NA, Ramasamy K, Lim SSM, Wahab IA, Cole AL, Majeed ABA (2009) Cytotoxic and antibacterial activities of endophytic fungi isolated from plants at the National Park, Pahang, Malaysia. BMC Complement Altern Med 9:1–5. doi:10.1186/1472-6882-9-46

Hoffmeister D, Keller NP (2007) Natural products of filamentous fungi: enzymes, genes, and their regulation. Nat Prod Rep 24:393–416. doi:10.1039/B603084J

Hsieh MJ, Chien SY, Chou YE, Chen CJ, Chen J, Chen MK (2014) Hispolon from Phellinus linteus possesses mediate caspases activation and induces human nasopharyngeal carcinomas cells apoptosis through ERK1/2, JNK1/2 and p38 MAPK pathway. Phytomedicine 21:1746–1752. doi:10.1016/j.phymed.2014.07.013

Hussin K, Rahman MRA (2006) Anatomical atlas of Malaysian medicinal plants. Universiti Kebangsaan Malaysia, Bangi, pp 122–125

Kharwar RN, Mishra A, Gond SK, Stierle A, Stierle D (2011) Anticancer compounds derived from fungal endophytes: their importance and future challenges. Nat Prod Rep 28:1208–1228. doi:10.1039/C1NP00008J

Khatiwora E, Adsul VB, Kulkarni M, Deshpande N, Kashalkar R (2012) Antibacterial activity of dibutyl phthalate: a secondary metabolite isolated from Ipomoea carnea stem. J Pharm Res 5:150–152

Koay YC, Wong KC, Osman H, Eldeen I, Asmawi MZ (2013) Chemical constituents and biological activities of Strobilanthes crispus L. Rec Nat Prod 7:59–64

Koech K, Wachira F, Ngure R, Wanyoko J, Bii C, Karori S (2013) Antibacterial and synergistic activity of different tea crude extracts against antibiotic resistant S. aureus, E. coli and a clinical isolate of S. typhi. Sci J Microbiol. doi:10.7237/sjmb/115

Korpi A, Jarnberg J, Pasanen AL (2009) Microbial volatile organic compounds. Crit Rev Toxicol 39:139–193. doi:10.1080/10408440802291497

Kumar S, Nei M, Dudley J, Tamura K (2008) MEGA: a biologist-centric software for evolutionary analysis of DNA and protein sequences. Brief Bioinform 9:299–306. doi:10.1093/bib/bbn017

Lang G, Blunt JW, Cummings NJ, Cole AL, Munro MH (2005) Paecilosetin, a new bioactive fungal metabolite from a New Zealand isolate of Paecilomyces farinosus. J Nat Prod 68:810–811. doi:10.1021/np0500979

Maharachchikumbura SS, Hyde KD, Jones EG, McKenzie EH, Huang S-K, Abdel-Wahab MA, Goonasekara ID (2015) Towards a natural classification and backbone tree for Sordariomycetes. Fungal Divers 72:199–301. doi:10.1007/s13225-015-0331-z

Melo IS, Santos SN, Rosa LH, Parma MM, Silva LJ, Queiroz SC, Pellizari VH (2014) Isolation and biological activities of an endophytic Mortierella alpina strain from the Antarctic moss Schistidium antarctici. Extremophiles 18:15–23. doi:10.1007/s00792-013-0588-7

Ooi KK, Yeo CI, Ang K-P, Akim AM, Cheah Y-K, Halim SNA, Seng HL, Tiekink ER (2015) Phosphanegold (I) thiolates, Ph3PAu [SC (OR) = NC6H4Me-4] for R = Me, Et and iPr, induce apoptosis, cell cycle arrest and inhibit cell invasion of HT-29 colon cancer cells through modulation of the nuclear factor-κB activation pathway and ubiquitination. J Biol Inorg Chem 20:855–873. doi:10.1007/s00775-015-1271-5

Radu S, Kqueen CY (2002) Preliminary screening of endophytic fungi from medicinal plants in Malaysia for antimicrobial and antitumor activity. Malays J Med Sci 9:23–33

Raue H, Klootwijk J, Musters W (1988) Evolutionary conservation of structure and function of high molecular weight ribosomal RNA. Prog Biophys Mol Biol 51:77–129. doi:10.1016/0079-6107(88)90011-9

Roy R, Laskar S, Sen S (2006) Dibutyl phthalate, the bioactive compound produced by Streptomyces albidoflavus 321.2. Microbiol Res 161:121–126. doi:10.1016/j.micres.2005.06.007

Samuel AJSJ, Kalusalingam A, Chellappan DK, Gopinath R, Radhamani S, Husain HA, Promwichit P (2010) Ethnomedical survey of plants used by the Orang Asli in Kampung Bawong, Perak, West Malaysia. J Ethnobiol Ethnomed 6:1–6. doi:10.1186/1746-4269-6-5

Shaw JJ, Spakowicz DJ, Dalal RS, Davis JH, Lehr NA, Dunican BF, Strobel SA (2015) Biosynthesis and genomic analysis of medium-chain hydrocarbon production by the endophytic fungal isolate Nigrograna mackinnonii E5202H. Appl Microbiol Biotechnol 99:3715–3728. doi:10.1007/s00253-014-6206-5

Siddiquee S, Al Azad S, Bakar FA, Naher L, Kumar SV (2015) Separation and identification of hydrocarbons and other volatile compounds from cultures of Aspergillus niger by GC–MS using two different capillary columns and solvents. J Saudi Chem Soc 19:243–256. doi:10.1016/j.jscs.2012.02.007

Sim JH, Khoo CH, Lee LH, Cheah YK (2010) Molecular diversity of fungal endophytes isolated from Garcinia mangostana and Garcinia parvifolia. J Microbiol Biotechnol 20:651–658. doi:10.4014/jmb.0909.09030

Smithee S, Tracy S, Drescher KM, Pitz LA, McDonald T (2014) A novel, broadly applicable approach to isolation of fungi in diverse growth media. J Microbiol Methods 105:155–161. doi:10.1016/j.mimet.2014.07.023

Strobel G, Daisy B (2003) Bioprospecting for microbial endophytes and their natural products. Microbiol Mol Biol Rev 67:491–502. doi:10.1128/MMBR.67.4.491-502.2003

Strobel G, Daisy B, Castillo U, Harper J (2004) Natural products from endophytic microorganisms. J Nat Prod 67:257–268. doi:10.1021/np030397v

Supaphon P, Phongpaichit S, Rukachaisirikul V, Sakayaroj J (2014) Diversity and antimicrobial activity of endophytic fungi isolated from the seagrass Enhalus acoroides. Indian J Geomar Sci 43:785–797

Vanparys C, Maras M, Lenjou M, Robbens J, Van Bockstaele D, Blust R, De Coen W (2006) Flow cytometric cell cycle analysis allows for rapid screening of estrogenicity in MCF-7 breast cancer cells. Toxicol In Vitro 20:1238–1248. doi:10.1016/j.tiv.2006.05.002

Venugopalan A, Srivastava S (2015) Endophytes as in vitro production platforms of high value plant secondary metabolites. Biotechnol Adv 33:873–887. doi:10.1016/j.biotechadv.2015.07.004

Wagele JW, Rodding F (1998) A priori estimation of phylogenetic information conserved in aligned sequences. Mol Phylogenet Evol 9:358–365. doi:10.1006/mpev.1998.0501

Weber RW, Kappe R, Paululat T, Mosker E, Anke H (2007) Anti-Candida metabolites from endophytic fungi. Phytochemistry 68:886–892. doi:10.1016/j.phytochem.2006.12.017

Yamauchi K, Isshiki Y, Zhou ZX, Nakahiro Y (1990) Scanning and transmission electron microscopic observations of bacteria adhering to ileal epithelial cells in growing broiler and White Leghorn chickens. Br Poult Sci 31:129–137. doi:10.1080/00071669008417238
Acknowledgments
The authors would like to thank Japan Toray Science Foundation and Malaysia Toray Science Foundation (Grant Number: 6300160), Putra Grant (Grant Number: GP-IPS/2013/9398100) for their support and funding. Further appreciation goes to the Department of Biomedical Science, Faculty of Medicine and Health Sciences and Universiti Putra Malaysia for the facilities.
About this article
Cite this article
Jinfeng, E., Mohamad Rafi, M., Chai Hoon, K. et al. Analysis of chemical constituents, antimicrobial and anticancer activities of dichloromethane extracts of Sordariomycetes sp. endophytic fungi isolated from Strobilanthes crispus . World J Microbiol Biotechnol 33, 5 (2017). https://doi.org/10.1007/s11274-016-2175-4
Received:

Accepted:

Published:
Keywords
Endophytic fungi

Sordariomycetes sp.

Antimicrobial activity

Anticancer activity

GC–MS

Strobilanthes crispus