Abstract
Microbial biotechnologies for the decolorization of textile wastewaters have attracted worldwide attention because of their economic suitability and easiness in handling. However, the presence of high amounts of salts and metal ions in textile wastewaters adversely affects the decolorization efficiency of the microbial bioresources. In this regard, the present study was conducted to isolate salt tolerant bacterial strains which might have the potential to decolorize azo dyes even in the presence of multi-metal ion mixtures. Out of the tested 48 bacteria that were isolated from an effluent drain, the strain NA6 was found relatively more efficient in decolorizing the reactive yellow-2 (RY2) dye in the presence of 50 g L−1 NaCl. Based on the similarity of its 16S rRNA gene sequence and its position in a phylogenetic tree, this strain was designated as Proteus sp. NA6. The strain NA6 showed efficient decolorization (>90 %) of RY2 at pH 7.5 in the presence of 50 g L−1 NaCl under static incubation at 30 °C. This strain also had the potential to efficiently decolorize other structurally related azo dyes in the presence of 50 g L−1 NaCl. Moreover, Proteus sp. NA6 was found to resist the presence of different metal ions (Co+2, Cr+6, Zn+2, Pb+2, Cu+2, Cd+2) and was capable of decolorizing reactive dyes in the presence of different levels of the mixtures of these metal ions along with 50 g L−1 NaCl. Based on the findings of this study, it can be suggested that Proteus sp. NA6 might serve as a potential bioresource for the biotechnologies involving bioremediation of textile wastewaters containing the metal ions and salts.
Access options
Buy single article
Instant access to the full article PDF.
US$ 39.95
Tax calculation will be finalised during checkout.
Subscribe to journal
Immediate online access to all issues from 2019. Subscription will auto renew annually.
US$ 119
Tax calculation will be finalised during checkout.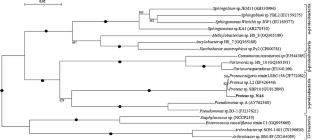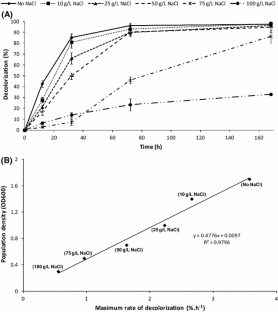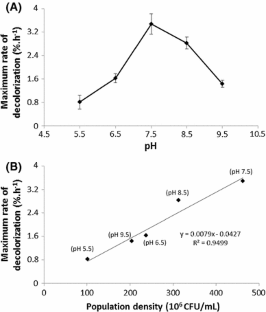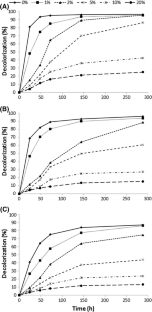 References
Agarwal T, Singh R (2012) Bioremedial potentials of a moderately halophilic soil bacterium. J Pharm Biomed Sci 19:1–6

Almeida EJR, Corso CR (2014) Comparative study of toxicity of azo dye Procion Red MX-5B following biosorption and biodegradation treatments with the fungi Aspergillus niger and Aspergillus terreus. Chemosphere 112:317–322

Amer R, Hassan H, Ghozlan H, Sabry S (2013) Nickel biosorption by alkalitolerant Exiguobacterium sp. 27 isolated from lake Mariout Egypt. Life Sci J 10:1338–1347

Annuar MSM, Adnan S, Vikineswary S, Chisti Y (2009) Kinetics and energetics of azo dye decolorization by Pycnoporus sanguineus. Water Air Soil Pollut 202:179–188

Anwar F, Hussain S, Ramzan S, Hafeez F, Arshad M, Imran M, Maqbool Z, Abbas N (2014) Characterization of reactive red-120 decolorizing bacterial strain Acinetobacter junii FA10 capable of simultaneous removal of azo dyes and hexavalent chromium. Water Air Soil Pollut 225:1–16

Asad S, Amoozegar MA, Pourbaee AA, Sarbolouki MN, Dastgheib SMM (2007) Decolorization of textile azodyes by newly isolated halophilic and halotolerant bacteria. Bioresour Technol 98:2082–2088

Baban A, Yediler A, Avaz G, Hostede SS (2010) Biological and oxidative treatment of cotton textile dye-bath effluents by fixed and fluidized bed reactors. Bioresour Technol 101:1147–1152

Bibi R, Arshad M, Asghar HN (2012) Optimization of factors for accelerated biodegradation of reactive black-5 azo dye. Int J Agri Biol 14:353–359

Bilal M, Iqbal M, Hu H, Zhang X (2016) Mutagenicity, cytotoxicity and phytotoxicity evaluation of biodegraded textile effluent by fungal ligninolytic enzymes. Water Sci Technol 73:2332–2344

Cetin D, Donmez S, Donmez G (2008) The treatment of textile wastewater including chromium (VI) and reactive dye by sulphate-reducing bacterial enrichment. J Environ Manage 88:76–82

Chacko JT, Subramaniam K (2011) Enzymatic degradation of azo dyes. Int J Env Sci 16:1250–1260

Chan GF, Rashid NAA, Koay LL, Chang SY, Tan WL (2011) Identification and optimization of novel NAR-1 bacterial consortium for the biodegradation of orange 11. Insight Biotechnol 1:7–16

Chen KC, Huang WT, Wu JY, Houng JY (1999) Microbial decolorization of azo dyes by Proteus mirabilis. J Ind Microbiol Biotechnol 23:686–690

Chen BY, Zhang MM, Chang CT, Ding Y, Chen WM, Hsueh CC (2011a) Deciphering azo dye decolorization characteristics by indigenous Proteus hauseri: chemical structure. J Taiwan Inst Chem Eng 42:327–333

Chen G, Huang MH, Chen L, Chen DH (2011b) A batch decolorization and kinetic study of Reactive Black 5 by a bacterial strain Enterobacter sp. GY-1. Int Biodet Biodeg 65:790–796

Cheneby D, Perrez S, Devroe C, Hallet S, Couton Y, Bizouard F, Iuretig G, Germon JC, Philippot L (2004) Denitrifying bacteria in bulk and maize-rhizospheric soil: diversity and N2O-reducing abilities. Can J Microbiol 50:469–474

Cui D, Kong FY, Liang B, Cheng HY, Liu D, Sun Q, Wang AJ (2011) Decolorization of azo dyes in dual-chamber biocatalyzed electrolysis systems seeding with enriched inoculum. J Environ Anal Toxicol. doi:10.4172/2161-0525.S3-001

Dawkar VV, Jadhav UU, Jadhav SU, Govindwar SP (2008) Biodegradation of disperse textile dye brown 3REL by newly isolated Bacillus sp VUS. J Appl Microbiol 105:14–24

Dawkar VV, Jadhav UU, Jadhav MU, Kagalkar AN, Govindwar SP (2010) Decolorization and detoxification of sulphonated azo dye Red HE7B by Bacillus sp VUS. World J Microbiol Biotechnol 26:909–916

Deepali, Joshi BD, Gangwar KK (2009) Assessment of heavy metals status in effluent of a textile industry at hardwar. J Environ Biol Sci 23:29–31

Dhal B, Thatoi H, Das N, Pandey BD (2010) Reduction of hexavalent chromium by Bacillus sp. isolated from chro-mite mine soils and characterization of reduced product. J Chem Technol Biotechnol 85:1471–1479

Elbanna K, Hassan G, Khider M, Mandour R (2010) Safe biodegradation of textile azo dyes by newly isolated lactic acid bacteria and detection of plasmids associated with degradation. J Bioremediat Biodegrad 1:112–117

Elisangela F, Andrea Z, Fabio DG, Cristiano RdM, Regina DL, Artur C-P (2009) Biodegradation of textile azo dyes by a facultative Staphylococcus arlettae strain VN-11 using a sequential microaerophilic/aerobic process. Int Biodeterior Biodegrad 63:280–288

Franciscon E, Grossman MJ, Paschoal JAR, Reyes FGR, Durrant LR (2012) Decolorization and biodegradation of reactive sulfonated azodyes by a newly isolated Brevibacterium sp. strain VN-15. Springer plus 1:1–10

Giller KE, Witter E, McGrath P (2009) Heavy metal and soil microbes. Soil Biol Biochem 41:2031–2037

Hao J, Song FQ, Huang F, Yang CL, Zhang ZJ, Zheng Y, Tian XJ (2007) Production of laccase by a newly deuteromycete fungus Pestalotiopsis sp. and its decolorization of azo dye. J Ind Microb Biotechnol 34:233–240

Hsing JU, Chiang PC, Chang E, Chena MY (2007) The Decolorization And Mineralization Of Acid Orange 6 Azo Dye In Aqueous Solution By Advanced Oxidation Processes: a Comparative Study. J Hazard Mater 141:8–16

Hussain S, Devers-Lamrani M, El-Azhari N, Martin-Laurent F (2011) Isolation and characterization of an isoproturon mineralizing Sphingomonas sp. strain SH from a French agricultural soil. Biodegradation 22:637–650

Hussain S, Maqbool Z, Ali S, Yasmeen T, Imran M, Mahmood F, Abbas F (2013) Biodecolorization of reactive black-5 by a metal and salt tolerant bacterial strain Pseudomonas sp. RA20 isolated from Paharang drain effluents in Pakistan. Ecotoxicol Environ Saf 98:331–338

Imran M, Arshad M, Asghar HN, Asghar M, Crowley DE (2014) Potential of Shewanella sp. strain IFN4 to decolorize azo dyes under optimal conditions Int J Agric. Biol 16:578–584

Imran M, Arshad M, Hussain S, Mumtaz MW, Crowley DE (2015a) Microbial biotechnology to decolorize real textile wastewaters. Rev Environ Sci Biotechnol 14:73–92

Imran M, Arshad M, Hussain S, Mumtaz MW, Crowley DE (2015b) Decolorization of reactive black-5 by Shewanella sp. in the presence of metal ions and salts. Water Environ Res 87:579–586

Imran M, Shaharoona B, Crowley DE, Khalid A, Hussain S, Arshad M (2015c) The stability of textile azo dyes in soil and their effect on microbial phospholipids fatty acids profiles. Ecotoxicol Environ Saf 120:163–168

Imran M, Arshad M, Negm F, Khalid A, Shaharoona B, Hussain S, Nadeem SM, Crowley DE (2016) Yeast extract promotes decolorization of azo dyes by stimulating azoreductase activity in Shewanella sp. strain IFN4. Ecotoxicol Environ Saf 124:42–49

Imtiazuddin SM, Mumtaz M, Mallick KA (2012) Pollutants of wastewater characteristics in textile industries. J Basic Appl Sci 8:554–556

Imtiazuddin SM, Mumtaz M, Ahmed T (2014) Physico-chemical analysis and heavy metals concentration in textile effluent in Karachi region of Pakistan. Global J Env Sci Tech 2(5):71–74

Jirasripongpun K, Nasanit R, Niruntasook J, Chotikasatian B (2007) Decolorization and Degradation of C. I. Reactive Red 195 by Enterobacter sp. Int J Sc Tech 12:6–11

Joe J, Kothari RK, Raval CM, Kothari CR, Akbari VG, Singh SP (2011) Decolorization of Textile Dye Remazol Black B by Pseudomonas aeruginosa CR-25 Isolated from the Common Effluent Treatment Plant. Bioremed Biodeg 2:2155–6199

Joshi VJ, Santani DD (2012) Physicochemical characterization and heavy metal concentration in effluent of textile industry. Univers J Environ Res Technol 2:93–96

Khadhraoui M, Trabelsi H, Ksibi M, Bouguerra S, Elleuch B (2009) Discoloration and detoxicification of a Congo red dye solution by means of ozone treatment for a possible water reuse. J Hazard Mater 161:974–981

Khalid A, Arshad M, Crowley DE (2008) Accelerated decolorization of structurally different azo dyes by newly isolated bacterial strains. Appl Microbiol Biotechnol 78:361–369

Khalid A, Kausar F, Arshad M, Mahmood T, Ahmed I (2012) Accelerated decolorization of reactive azo dyes under saline conditions by bacteria isolated from Arabian seawater sediment. Appl Microbiol Biotechnol 96:1599–1606

Khehra MS, Saini HS, Sharma DK, Chadha BS, Chimni SS (2006) Biodegradation of azo dye C.I. acid red 88 by an anoxiceaerobic sequential bioreactor. Dyes Pigment 70:1–7

Mahmood S, Khalid A, Mahmood T, Arshad M (2012) Potential of newly isolated bacterial strains for simultaneous removal of hexavalent chromium and reactive black-5 azodye from tannery effluent. J Chem Technol Biotechnol 88:1506–1513

Maqbool Z, Hussain S, Ahmad T, Nadeem H, Imran M, Khalid A, Abid M, Martin-Laurent F (2016) Use of RSM modeling for optimizing decolorization of simulated textile wastewater by Pseudomonas aeruginosa strain ZM130 capable of simultaneous removal of reactive dyes and hexavalent chromium. Environ Sci Pollut 23:11224–11239

Mate MS, Pathade G (2012) Biodegradation of C.I. Reactive Red 195 by Enterococcus faecalis strain YZ66. World J Microbiol Biotechnol 28:815–826

Mittal A, Krishnan LK, Gupta VK (2005) Use of wate materials-Bottom Ash and De-Oiled Soya, as potential adsorbents for the removal of Amaranth from aqueous solutions. J Hazard Mater 117:171–178

Moutaouakkil A, Zeroual Y, Dzayri FZ, Talbi M, Lee K, Blaghen M (2003) Purification and partial characterization of azoreductase from Enterobacter agglomerans. Arch Biochem Biophys 413:139–146

Mrozik A, Piotrowska-Seget Z, Labuzek S (2003) Bacterial degradation and bioremediation of polycyclic aromatic hydrocarbons. Pol J Environ Stud 12:15–25

Najme R, Hussain S, Maqbool Z, Imran M, Mahmood F, Manzoor H, Yasmeen T, Shahzad T (2015) Biodecolorization of reactive yellow-2 by Serratia sp. RN34 isolated from textile wastewater. Water Environ Res 87(12):2065–2075

Ng TW, Cai Q, Wong CK, Chow AT, Wong P (2010) Simultaneous chromate reduction and azo dye decolourization by Brevibacterium casei: azo dye as electron donor for chromate reduction. J Hazard Mater 182:792–800

Ogugbue C, Akubuenyi F, Ibiene AA (2012) Bacterial decolourization of acid orange 10 in synthetic waste water under saline conditions: effect of process parameters. Singap J Sci Res 16:1–13

Pakistan Economic Survey (2011-12) Ministry of Finance, Government of Pakistan. Available at http://www.finance.gov.pk/survey_1011.html

Perriere G, Gouy M (1996) WWW-Query: an on-line retrieval system for biological sequence banks. Biochimie 78:364–369

Peyton BM, Wilson T, Yonge DR (2002) Kinetics of Phenol biodegradation in high salt solutions. Water Res 36:4811–4820

Phugare SS, Kalyani DC, Surwase SN, Jadhav JA (2011) Ecofriendly degradation and detoxification of textile effluent by a developed bacterial consortium. Ecotoxicol Environ Saf 74:1288–1296

Rawat D, Mishra V, Sharma RS (2016) Detoxification of azo dyes in context of environmental processes. Chemosphere 155:591–605

Robinson T, Mcmullan G, Marchant R, Nigam P (2001) Remediation of dyes in textile effluent: a critical review on current treatment technologies with proposed alternatives. Bioresour Technol 77:247–255

Saratale RG, Saratale GD, Chang JS, Govindwar SP (2009) Decolorization and biodegradation of textile dye Navy blue HER by Trichosporon beigelii NCIM-3326. J Hazard Mater 166:1421–1428

Saratale RG, Saratale GD, Govindwa SP, Kim DS (2015) Exploiting the efficacy of Lysinibacillus sp. RGS for decolorization and detoxification of industrial dyes, textile effluent and bioreactor studies. J Environ Sci Health, Part A 50:176–192

Shertate RS, Thorat PR (2013) Biotransformation of sulphonated azo dye direct red 5b by Marinobacter sp. Dr-7- a bioremedial aspect in marine environment. Int J Pharm Bio sci 4:524–534

Soloman PA, Basha CA, Velan M, Ramamurthi V, Koteeswaran K, Ian NBB (2009) Electrochemical degradation of remazol Black B dye Effluent. Clean 37:889–900

Sweetman AJ, Dalla- Valle M, Prevedouros K, Jones KC (2005) The role of soil organic carbon in the global cycling of persistent organic pollutants (POPs): interpreting and modeling field data. Chemosphere 60:959–972

Tantak NP, Chaudhari S (2006) Degradation of azo dyes by sequential Fenton's oxidation and aerobic biological treatment. J Hazard Mater 136:698–705

Thompson JD, Gibson TJ, Plewniak F, Jeanmougin F, Higgins DG (1997) The ClustalX Windows interface: flexible strategies for multiple sequence alignment aided by quality analysis tools. Nucleic Acid Res 24:4876–4882

Topac FO, Dindar E, Ucaroglu S, Baskaya HS (2009) Effect of a sulfonated azo dye and sulfanilic acid on nitrogen transformation processes in soil. J Hazard Mater 170:1006–1013

Tripathi A, Srivastave SK (2011) Ecofriendly treatment of azo dyes: biodecolorization using bacterial Strain. Int J Biosci Biochem Bioinform 1:37–40

Yan B, Du C, Xu M, Liao W (2012) Decolorization of azo dyes by a salt-tolerant Staphylococcus cohnii strain isolated from textile wastewater. Front Environ Sci Eng 6:806–814

Zabłocka-Godlewska E, Przystaś W, Grabińska-Sota E (2015) Dye decolourisation using two Klebsiella strains. Water Air Soil Pollut 226:1–15

Zilly A, da Silva Coelho-Moreira J, Bracht A, Marques de Souza CG, Carvajal AE, Koehnlein EA, Peralta RM (2011) Influence of NaCl and Na2SO4on the kinetics and dye decolorization ability of crude laccase from Ganoderma lucidum. Int Biodeterior Biodegrad 65:340–344
Acknowledgments
This research work was jointly funded by Higher Education Commission of Pakistan under start-up research grant No. PM-IPFP/HRD/HEC/2011/0584 and Government College University Faisalabad, Pakistan.
Electronic supplementary material
Below is the link to the electronic supplementary material.
About this article
Cite this article
Abbas, N., Hussain, S., Azeem, F. et al. Characterization of a salt resistant bacterial strain Proteus sp. NA6 capable of decolorizing reactive dyes in presence of multi-metal stress. World J Microbiol Biotechnol 32, 181 (2016). https://doi.org/10.1007/s11274-016-2141-1
Received:

Accepted:

Published:
Keywords
Proteus sp. NA6

Reactive dyes

Decolorization

Salt and metal resistance

Bioremediation