Abstracts
(+)-Terrein has a potential application for drug discovery. To improve the yield of (+)-terrein, two-level Plackett–Burman design and response surface methodology methods were used to optimize the condition of a salt-tolerant fungus, Aspergillus terreus PT06-2. As a result, the yield of (+)-terrein reached 8.20 ± 0.072 g/L in a 500-mL flask containing 150 mL optimal medium consisted of 13.1 % NaCl, 3.6 % starch, 2 % sodium glutamate, 0.05 % KCl, 3 % inoculum size, adjusting initial pH value to 5 with 10 % HCl and shaking for 18 days at 28 °C and 180 rpm. The production of (+)-terrein was 47.0 % higher than the highest production reported in shake flasks. The advantages of this optimization are uses of single carbon source and nitrogen source and easy separation and purification by recrystallization. The result exhibited the potential and advantages of A. terreus PT06-2 in industrial production of (+)-terrein by fermentation.
Access options
Buy single article
Instant access to the full article PDF.
USD 39.95
Price excludes VAT (USA)
Tax calculation will be finalised during checkout.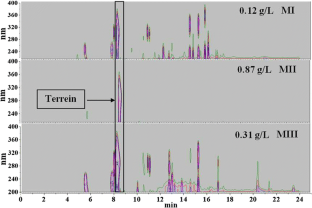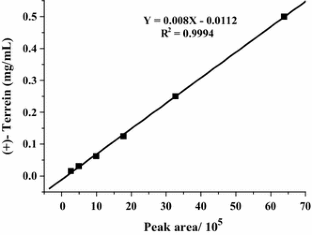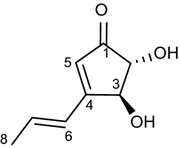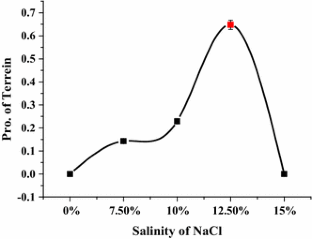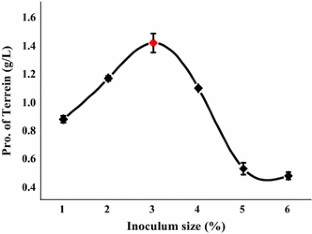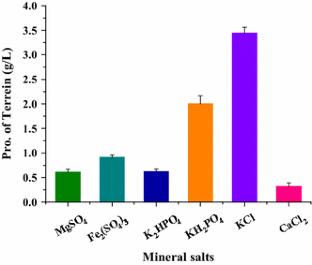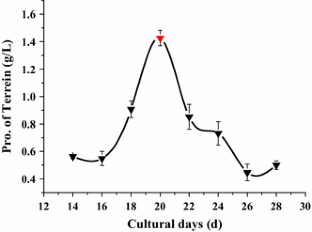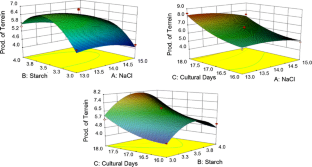 References
Altenbach HJ, Holzapfel W (1990) Synthese of (+)-terrein from l-tartaric acid. Angew Chem Int Ed 29:67–68. doi:10.1002/anie.199000671

Arakawa M, Someno T, Kawada M, Ikeda D (2008) A new terrein glucoside, a novel inhibitor of angiogenin secretion in tumor angiogenesis. J Antibiot (Tokyo) 61:442–448. doi:10.1038/ja.2008.60

Auerbach J, Weinreb SM (1974) Synthesis of terrein, a metabolite of Aspergillus terreus. J Chem Soc Chem Commun 8:298–299. doi:10.1039/C39740000298

Barton DH, Hulshof LA (1977) Photochemical transformations. Part 35. A simple synthesis of racemic terrein. J Chem Soc Perkin Trans 19:1103–1106. doi:10.1039/P19770001103

Barton DH, Miller E (1955) The constitution and stereochemistry of terrein. J Chem Soc. doi:10.1039/JR9550001028

Boruta T, Bizukojc M (2015) Induction of secondary metabolism of Aspergillus terreus ATCC 20542 in the batch bioreactor cultures. Appl Microbiol Biotechnol. doi:10.1007/s00253-015-7157-1

Cheng KC, Ren M, Ogden KL (2013) Statistical optimization of culture media for growth and lipid production of Chlorella protothecoides UTEX 250. Bioresour Technol 128:44–48. doi:10.1016/j.biortech.2012.09.085

Demasi M, Felicio AL, Pacheco AO, Leite HG, Lima C, Andrade LH (2010) Studies on terrein as a new class of proteasome inhibitors. J Braz Chem Soc 21:299–305. doi:10.1590/S0103-50532010000200015

Dunn AW, Entwistle ID, Johnstone RA (1975) Terrein and other metabolites of Phoma species. Phytochemistry 14:2081–2082. doi:10.1016/0031-9422(75)83131-1

Gressler M, Hortschansky P, Geib E, Brock M (2015a) A new high-performance heterologous fungal expression system based on regulatory elements from the Aspergillus terreus terrein gene cluster. Front Microbiol 6:184. doi:10.3389/fmicb.2015.00184

Gressler M, Meyer F, Heine D, Hortschansky P, Hertweck C, Brock M (2015b) Phytotoxin production in Aspergillus terreus is regulated by independent environmental signals. eLife 4:e07861. doi:10.7554/eLife.07861

Harper JK, Arif AM, Li JY, Strobel G, Grant DM (2000) Terrein. Acta Crystallogr Sect C Cryst Struct Commun 56:e570–e571. doi:10.1107/S0108270100014803

Hosoe T, Moriyama H, Wakana D, Itarbashi T, Kawai K, Yaguchi T, Irzuka T, Hoshi K, Fukuyama Y, Kouda Y, Lau FC (2009) Inhibitory effects of dihydroterrein and terrein isolated from Aspergillus novofumigatus on platelet aggregation. Mycotoxins 59:75–82. doi:10.2520/myco.59.75

Kawakubo J, Nishira H, Aoki K, Shinke R (1993) Production of phenolic compounds by Aspergillus S-4 in sake cake medium and identification of terrein. Biosci Biotechnol Biochem 57:1208–1209. doi:10.1271/bbb.57.1208

Kim DS, Cho HJ, Lee HK, Lee WH, Park ES, Youn SW, Park KC (2007) Terrein, a fungal metabolite, inhibits the epidermal proliferation of skin equivalents. J Dermatol Sci 46:65–68. doi:10.1016/j.jdermsci.2006.11.011

Kim DS, Lee HK, Park SH, Lee S, Ryoo IJ, Kim WG, Yoo ID, Na JI, Kwon SB, Park KC (2008) Terrein inhibits keratinocyte proliferation via ERK inactivation and G2/M cell cycle arrest. Exp Dermatol 17:312–317. doi:10.1111/j.1600-0625.2007.00646.x

Lee S, Kim WG, Kim E, Ryoo IJ, Lee HK, Kim JN, Jung SH, Yoo ID (2005) Synthesis and melanin biosynthesis inhibitory activity of (±)-terrein produced by Penicillium sp. 20135. Bioorg Med Chem Lett 15:471–473. doi:10.1016/j.bmcl.2004.10.057

Lee YH, Lee NH, Bhattarai G, Oh YT, Yu MK, Yoo ID, Jhee EC, Yi HK (2010) Enhancement of osteoblast biocompatibility on titanium surface with terrein treatment. Cell Biochem Funct 28:678–685. doi:10.1002/cbf.1708

Liao WY, Shen CN, Lin LH, Yang YL, Han HY, Chen JW, Kuo SC, Wu SH, Liaw CC (2012) Asperjinone, a nor-neolignan, and terrein, a suppressor of ABCG2-expressing breast cancer cells, from thermophilic Aspergillus terreus. J Nat Prod 75:605–630. doi:10.1021/np200866z

Malmstrom J, Christophersen C, Barrero AF, Oltra JE, Justicia J, Rosales A (2002) Bioactive metabolites from a marine-derived strain of the fungus Emericella variecolor. J Nat Prod 65:364–367. doi:10.1021/np0103214

Mandai H, Omori K, Yamamoto D, Tsumura T, Murota K, Yamamoto S, Mitsudo K, Ibaragi S, Sasaki A, Maeda H, Takashiba S, Suga S (2014) Synthetic (+)-terrein suppresses interleukin-6/soluble interleukin-6 receptor induced-secretion of vascular endothelial growth factor in human gingival fibroblasts. Bioorg Med Chem 22:5338–5344. doi:10.1016/j.bmc.2014.07.047

Misawa M, Nara T, Nakayama K, Kinoshita S (1962) Formation of terrein by Aspergillus fischeri Wehmer. Nippon Nogei Kagaku Kaishi 36:699–703. doi:10.1271/nogeikagaku1924.36.699

Park SH, Kim DS, Kim WG, Ryoo IJ, Lee DH, Huh CH, Youn SW, Yoo ID, Park KC (2004) Terrein: a new melanogenesis inhibitor and its mechanism. Cell Mol Life Sci 61:2878–2885. doi:10.1007/s00018-004-4341-3

Park SH, Kim DS, Lee HK, Kwon SB, Lee S, Ryoo IJ, Kim WG, Yoo ID, Park KC (2009) Long-term suppression of tyrosinase by terrein via tyrosinase degradation and its decreased expression. Exp Dermatol 18:562–566. doi:10.1111/j.1600-0625.2009.00847.x

Raistrick H, Smith G (1935) Studies in the biochemistry of microorganisms: the metabolic products of Aspergillus terreus Thom. A new mould metabolic product-terrein. Biochem J 29:606–611

Trabolsy ZBKA, Anouar EH, Zakaria NSS, Zulkeflee M, Hasan MH, Zin MM, Ahmad R, Sultan S, Weber JF (2014) Antioxidant activity, NMR, X-ray, ECD and UV/Vis spectra of (+)-terrein: experimental and theoretical approaches. J Mol Struct 1060:102–110. doi:10.1016/j.molstruc.2013.12.034

Wakana D, Hosoe T, Itabashi T, Nozawa K, Okada K, Takaki GMdC, Yaguchi T, Fukushima K, Kawai K (2006) Isolation of isoterrein from Neosartorya fischeri. Mycotoxins 56:3–6. doi:10.2520/myco.56.3

Wang Y, Zheng JK, Liu PP, Wang W, Zhu WM (2011) Three new compounds from Aspergillus terreus PT06-2 grown in a high salt medium. Mar Drugs 9:1368–1378. doi:10.3390/md9081368

Xiao L, Yin Y, Sun W, Zhang FL, Li ZY (2013) Enhanced production of (+)-terrein by Aspergillus terreus strain PF26 with epigenetic modifier suberoylanilide hydroxamic acid. Process Biochem 48:1635–1639. doi:10.1016/j.procbio.2013.08.007

Xu BL, Yin Y, Zhang FL, Li ZY, Wang LY (2012) Operating conditions optimization for (+)-terrein production in a stirred bioreactor by Aspergillus terreus strain PF-26 from marine sponge Phakellia fusca. Bioprocess Biosyst Eng 35:1651–1655. doi:10.1007/s00449-012-0735-z

Yin Y, Gao Q, Zhang FL, Li ZL (2012) Medium optimization for the high yield production of single (+)-terrein by Aspergillus terreus strain PF26 derived from marine sponge Phakellia fusca. Process Biochem 47:887–891. doi:10.1016/j.procbio.2012.02.005

Yin Y, Xu BL, Li ZY, Zhang BH (2013) Enhanced production of (+)-terrein in fed-batch cultivation of Aspergillus terreus strain PF26 with sodium citrate. World J Microbiol Biotechnol 29:441–446. doi:10.1007/s11274-012-1196-x

Zaehle C, Gressler M, Shelest E, Geib E, Hertweck C, Brock M (2014) Terrein biosynthesis in Aspergillus terreus and its impact on phytotoxicity. Chem Biol 21:719–731. doi:10.1016/j.chembiol.2014.03.010

Zhang F, Mijiti M, Ding W, Song J, Yin Y, Sun W, Li ZY (2015) (+)-Terrein inhibits human hepatoma Bel-7402 proliferation through cell cycle arrest. Oncol Rep 33:1191–1200. doi:10.3892/or.2015.3719

Zheng JK (2010) Studies on the secondary metabolites of halotolerant talented strains under salt stress. Dissertation, Ocean University of China, pp 97–98
Acknowledgments
This research was financially supported from NSFC (Nos. 81561148012, 41376148), from 863 programs of China (Nos. 2012AA092104, 2013AA092901), from NSFC-Guangdong Joint Fund Project (No. U1501221) and NSFC-Shandong Joint Fund for Marine Science Research Centers (No. U1406402), and from the Special Fund for Marine Scientific Research in the Public Interest of China (No. 201405038).
Ethics declarations
Conflict of interest
Authors declares that they have no conflict of interest.
Ethical standards
This article does not contain any studies with human participants or animals performed by any of the authors.
Additional information
Chengying Zhao and Lei Guo have contributed equally to this work.
Electronic supplementary material
Below is the link to the electronic supplementary material.
About this article
Cite this article
Zhao, C., Guo, L., Wang, L. et al. Improving the yield of (+)-terrein from the salt-tolerant Aspergillus terreus PT06-2. World J Microbiol Biotechnol 32, 77 (2016). https://doi.org/10.1007/s11274-016-2029-0
Received:

Accepted:

Published:

DOI: https://doi.org/10.1007/s11274-016-2029-0
Keywords
(+)-Terrein

Aspergillus terreus PT06-2

Fermentation optimization

Plackett–Burman design

Response surface methodology