Abstract
Essential oils (EOs) were steam-extracted from the needles and twigs of balsam fir, black spruce, white spruce, tamarack, jack pine and eastern white cedar that remained after logging in eastern Canada. These EOs, similarly to that from Labrador tea and other commercial EOs from Chinese cinnamon, clove and lemon eucalyptus, exhibited many common constituent compounds (mainly α-pinene, β-pinene, limonene and bornyl acetate) making up 91 % of each oil based on gas chromatography–mass spectrometry analysis. All of these oils exhibited antibacterial properties, especially when examined in closed tube assay compared to the traditional 96-well microliter format. These antimicrobial activities (minimum inhibitory concentration ≥0.2 % w/v), comparable to those of exotic EOs, were shown against common pathogenic bacteria and fungi. The antioxidant potential of the boreal samples was determined by the 1,1-diphenyl-2-picrylhydrazyl radical scavenging (concentration providing 50 % inhibition ≥7 mg/ml) and reducing power methods. Finally, this investigation revealed some boreal EOs to be potential antimicrobial and antioxidant agents that would notably benefit products in the personal hygiene and care industry.
Access options
Buy single article
Instant access to the full article PDF.
US$ 39.95
Tax calculation will be finalised during checkout.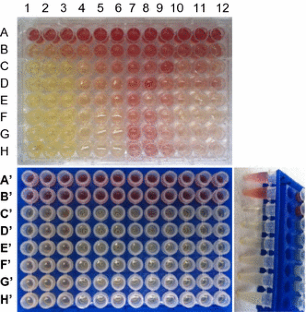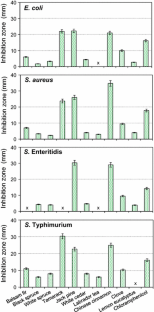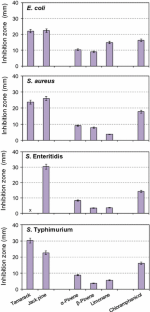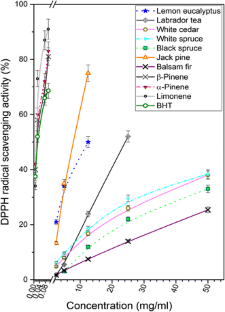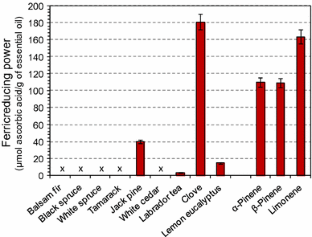 References
Adams RP (2001) Identification of essential oil components by gas chromatography/quadrupole mass spectroscopy. Allured Publishing Corporation, Illinois

Beg AZ, Ahmad I (2002) In vitro fungitoxicity of the essential oil of Syzygium aromaticum. World J Microbiol Biotechnol 18:313–315

Belleau F, Collin G (1993) Composition of the essential oil of Ledum groenlandicum. Phytochemistry 33:117–121

Bergfeld WF, Besito DV, Marks JG, Andersen FA (2005) Safety of ingredients used in cosmetics. J Am Acad Dermatol 52:125–132

Bondet V, Brand-Williams W, Berset C (1997) Kinetic and mechanisms of antioxidant activity using the DPPH free radical method. LWT-Food Sci Technol 30:609–615

Brand-Williams W, Cuvellier ME, Berset C (1995) Use of a free radical method to evaluate antioxidant activity. LWT-Food Sci Technol 28:25–30

Chao S, Young G, Oberg C, Nakaoka K (2008) Inhibition of methicillin-resistant Staphylococcus aureus (MRSA) by essential oils. Flavour Fragr J 23:444–449

Chartier C (2009) Épinette rouge, de la tradition à l'utilisation actuelle. Phytother 7:251–254

Cosentino S, Tuberoso CIG, Pisano B, Satta M, Mascia V, Arzedi E, Palmas F (1999) In vitro antimicrobial activity and chemical composition of Sardinian Thymus essential oils. Lett Appl Microbiol 29:130–135

Craig AM, Karchesy JJ, Blythe LL, Gonzalez-Hernandez M, Swan LR (2004) Toxicity studies on western juniperoil (Juniperus occidentalis) and Port-Orford-cedar oil (Chamaecyparis lawsoniana) extracts utilizing local lymph node and accute dermal irritation assays. Toxicol Lett 154:217–224

Daferera DJ, Ziogas BN, Polissiou MG (2003) The effectiveness of plant essential oils on the growth of Botrytis cinerea, Fusarium sp. and Clavibacter michiganensis subsp. michiganensis. Crop Prot 22:39–44

Dales RE, Burnett R, Zwanenburg H (1991a) Adverse health effects among adults exposed to home dampness and molds. Am Rev Respir Dis 143:505–509

Dales RE, Zwanenburg H, Burnett R, Franklin CA (1991b) Respiratory health effects of home dampness and molds among Canadian children. Am J Epidemiol 134:196–203

Dorman HJD, Deans SG (2000) Antimicrobial agents from plants: antibacterial activity of plant volatile oils. J Appl Microbiol 88:308–316

Eloff JN (1998) Which extractant should be used for the screening and isolation of antimicrobial components from plants? J Ethnopharmacol 60:1–8

Fridkin SK, Hageman JC, Morrison M, Sanza LT, Como-Sabetti K, Jernigan JA, Harriman K, Harrison LH, Lynfield R, Farley MM (2005) Methicillin-resistant Staphylococcus aureus disease in three communities. N Engl J Med 352:1436–1444

Gonçalves MJ, Tavares AC, Cavaleiro C, Cruz MT, Lopes MC, Canhoto J, Salgueira L (2012) Composition, antifungal activity and cytotoxicity of the essential oils of Seseli tortuosum L. and Seseli montanum subsp. peixotoanum (Samp.) M. Laínz from Portugal. Ind Crops Prod 39:204–209

Hachey JM, Collin GJ, Simard S (1989) Influence of sample preparation on the composition of the essential oil of the needles and twigs of Picea mariana (Mill.) B.S.P. J Wood Chem Technol 9:53–60

Hunt RS, von Rudloff E (1974) Chemosystematic studies in the genus Abies. I. Leaf and twig oil analysis of alpine and balsam firs. Can J Bot 52:477–487

Hussain AI, Anwar F, Shahid M, Ashraf M, Przybylski R (2010) Chemical composition, and antioxidant and antimicrobial activities of essential oil of spearmint (Mentha spicata L.) from Pakistan. J Essent Oil Res 22:78–84

Kavanaugh NL, Ribbeck K (2012) Selected antimicrobial essentail oils eradicate Pseudomonas spp. and Saphylococcus aureus biofilms. Appl Environ Microbiol 78:4057–4061

Kéïta SM, Vincent C, Schmidt J-P, Arnason JT (2001) Insecticidal effets of Thuja occidentalis (Cupressaceae) essential oil on Callosobruchus maculatus [Coleoptera: Bruchidae]. Can J Plant Sci 81:173–177

Kramer A, Rudolph P, Kampf G, Pittet D (2002) Limited efficacy of alcohol-based hand gels. Lancet 359:1489–1490

Oh D-H, Marshall DL (1993) Antimicrobial activity of ethanol, glycerol monolaurate or lactic acid against Listeria monocytogenes. Int J Food Microbiol 20:239–246

Oussalah M, Caillet S, Saucier L, Lacroix M (2007) Inhibitory effects of selected plant essential olis on the growth of four pathogenic bacteria: E. coli O157:H7, Salmonella Typhimurium, Staphylococcus aureus, and Listeria monocytogenes. Food Control 18:414–420

Pichette A, Larouche P-L, Lebrun M, Legault J (2006) Composition and antibacterial activity of Abies balsamea essential oil. Phytother Res 20:371–373

Poaty B, Dumarçay S, Gérardin P, Perrin D (2010) Modification of grape seed and wood tannins to lipophilic antioxidant derivatives. Ind Crops Prod 31:509–515

Rajeswara Rao BR, Kaul PN, Syamasundar KV, Ramesh S (2003) Comparative composition of decanted and recovered essential oils of Eucalyptus citriodora Hook. Flavour Fragr J 18:133–135

Re R, Pellegrini N, Proteggente A, Pannala A, Yang M, Rice-Evans C (1999) Antioxidant activity applying an improved ABTS radical cation decolorization assay. Free Radic Biol Med 26:1231–1237

Risi J, Brûlé M (1945) Étude des huiles essentielles tirées des feuilles de quelques conifères du Québec. Can J Res 23:199–207

Rotter ML (2001) Arguments for alcoholic hand disinfection. J Hosp Infect 48(Suppl. A):S4–S8

Sacchetti G, Maietti S, Muzzoli M, Scaglianti M, Manfredini S, Radice M, Bruni R (2005) Comparative evaluation of 11 essential oils of different origin as functional antioxidants, antibacterials and antimicrobials in foods. Food Chem 91:621–632

Saleh MA, Clark S, Woodard B, Deolu-Sobogun SA (2010) Antioxidant and free radical scavenging activities of essential oils. Eth Dis 20:SI78–SI82

Sekine T, Sugano M, Majid A, Fujii Y (2007) Antifungal effects of volatile compounds from black Zira (Bunium persicum) and other spices and herbs. J Chem Ecol 33:2123–2132

Senanayake UM, Wijesekera ROB (2004) Chemistry of Cinnamon and cassia. In: Ravindran PN, Nirmal Babu K, Shylaja M (eds) Cinnamon and cassia: the genus Cinnamomum. CRC Press LLC, Florida, pp 80–120

Shapero M, Nelson DA, Labuza TP (1975) Ethanol inhibition of Staphylococcus aureus at limited water activity. J Food Sci 43:1467–1469

Shaw AC (1953) The essential oil of Abies balsamea (L.) Mill. Can J Chem 31:193–199

Simard S, Hachey JM, Collin GJ (1988) The variations of essential oil composition during the extraction process. The case of Thuja occidentalis L. and Abies balsamea (L.) Mill. J Wood Chem Technol 8:561–573

Singh HB, Srivastava M, Singh AB, Srivastava AK (1995) Cinnamon bark oil, a potent fungi toxicant against fungi causing respiratory tract mycoses. Allergy 50:995–999

Teixeira B, Marques A, Ramos C, Neng NR, Nogueira JMF, Saraiva JA, Nunes ML (2013) Chemical composition and antibacterial and antioxidant properties of commercial essential oils. Ind Crops Prod 43:587–595

Thompson DP (1989) Fungitoxic activity of essential oil components on food storage fungi. Mycologia 81:151–153

Tiwari R, Dixit V (1994) Fungitoxic activity of vapours of some higher plants against predominant storage fungi. Natl Acad Sci Lett 17:55–57

Tsiri D, Graikou K, Plobacka-Olech L, Krauze-Baranowska M, Spyrolpoulos C, Chinou I (2009) Chemosystematic value of the essential oil composition of Thuja species cultivated in Poland—antimicrobial activity. Molecules 14:4707–4714

Tsukatani Y, Suenaga H, Shiga M, Noguchi K, Ishiyama M, Ezoe T, Matsumoto K (2012) Comparison of the WST-8 colorimetric method and the CLSI broth microdilution method for susceptibility testing against drug-resistant bacteria. J Microbiol Methods 90:160–166

Vijayan KK, Ajithan Thampuran RV (2004) Pharcology and toxicology of Cinnamon and cassia. In: Ravindran PN, Nirmal Babu K, Shylaja M (eds) Cinnamon and cassia: the genus Cinnamomum. CRC Press LLC, Florida, pp 259–284

von Rudloff E (1961) Gas-liquid chromatography of terpenes. Part IV. The analysis of the volatile oil of the leaves of eastern white cedar. Can J Chem 39:1200–1206

von Rudloff E (1967) Chemosystematic studies in the genus Picea (Pinaceae): I. Introdution. Can J Bot 45:891–901

von Rudloff E (1972) Seasonal variation in the composition of the volatile oil of the leaves, buds, and twigs of white spruce (Picea glauca). Can J Bot 50:1595–1603

von Rudloff E, Granat M (1982) Seasonal variation of the terpenes of the leaves, buds, and twigs of balsam fir (Abies balsamea). Can J Bot 60:2682–2685

Wang R, Wang R, Yang B (2011) Comparison of volatile compound composition of cinnamon (Cinnamomum cassia Presl) bark prepared by hydrodistillation and headspace solid phase microextraction. J Food Process Eng 34:175–185

Wilson CL, Solar JM, El Ghaouth A, Wisniewski ME (1997) Rapid evaluation of plant extracts and essential oils for antifungal activity against Botrytis cinerea. Plant Dis 81:204–210

Yen GC, Duh PD (1994) Scavenging effect of methanolic extracts of peanut hulls on free-radical and active-oxygen species. J Agric Food Chem 42:629–632

Zaika LL (1987) Spices and herbs: their antimicrobial activity and its determination. J Food Saf 9:97–118
Acknowledgments
The authors would like to gratefully acknowledge the support of the Natural Sciences and Engineering Research Council of Canada (NSERC) for this work. We also thank the Cégep de l'Abitibi-Témiscamingue and Richard Lefèbvre for help and suggestions, Tembec company (Guy St-Germain) and Lake Duparquet Research and Teaching Forest (Claude-Michel Bouchard) for help in the foliage harvesting.
Conflict of interest
No conflict of interest declared.
About this article
Cite this article
Poaty, B., Lahlah, J., Porqueres, F. et al. Composition, antimicrobial and antioxidant activities of seven essential oils from the North American boreal forest. World J Microbiol Biotechnol 31, 907–919 (2015). https://doi.org/10.1007/s11274-015-1845-y
Received:

Accepted:

Published:

Issue Date:
Keywords
Logging waste

Conifer foliage

Essential oils

Antimicrobial

Susceptibility testing

Antioxidant