Abstract
Methanol, n-hexane and dichloromethane extracts of twelve marine macro-algae (Rhodophyta, Chlorophyta and Heterokontophyta divisions) from Peniche coast (Portugal) were evaluated for their antibacterial and antifungal activity. The antibacterial activity was evaluated by disc diffusion method against Bacillus subtilis (gram positive bacteria) and Escherichia coli (gram negative bacteria). Saccharomyces cerevisiae was used as a model for the antifungal activity by evaluating the growth inhibitory activity of the extracts. The high antibacterial activity was obtained by the Asparagopsis armata methanolic extract (10 mm–0.1 mg/disc), followed by the Sphaerococcus coronopifolius n-hexane extract (8 mm–0.1 mg/disc), and the Asparagopsis armata dichloromethane extract (12 mm–0.3 mg/disc) against Bacillus subtilis. There were no positive results against Escherichia coli. Sphaerococcus coronopifolius revealed high antifungal potential for n-hexane (IC50 = 40.2 µg/ml), dichloromethane (IC50 = 78.9 µg/ml) and methanolic (IC50 = 55.18 µg/ml) extracts against Saccharomyces cerevisiae growth. The antifungal potency of the Sphaerococcus coronopifolius extracts was similar with the standard amphotericin B. Asparagopsis armata and Sphaerococcus coronopifolius reveal to be interesting sources of natural compounds with antimicrobial properties.
Access options
Buy single article
Instant access to the full article PDF.
USD 39.95
Price includes VAT (USA)
Tax calculation will be finalised during checkout.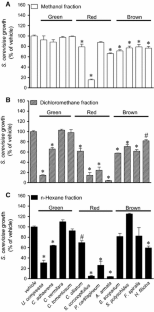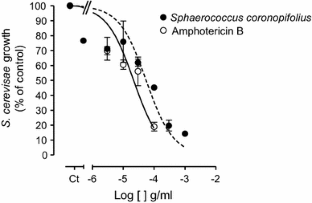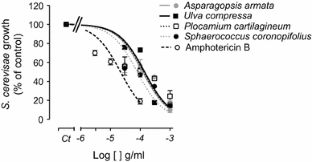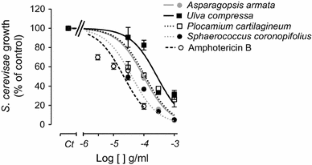 References
Allmendinger A, Spavieri J, Kaiser M, Casey R, Hingley-Wilson S, Lalvani A, Guiry M, Blunden G, Tasdemir D (2010) Antiprotozoal, antimycobacterial and cytotoxic potential of twenty-three British and Irish red algae. Phytother Res 24(7):1099–1103

Ardré F (1970) Contribuition à l'étude des algues marines du Portugal I. La Flore. Portugalia Acta Biologica 10(1–4):1–423

Bansemir A, Blume M, Schröder S, Lindequist U (2006) Screening of cultivated seaweeds for antibacterial activity against fish pathogenic bacteria. Aquaculture 252(1):79–84

Bhakuni DS, Rawat DS (2005) Bioactive marine natural products. Springer, Netherlands

Felício R, Albuquerque S, Young MCM, Yokoya NS, Debonsi HM (2010) Trypanocidal, leishmanicidal and antifungal potential from marine red alga Bostrychia tenella J. Agardh (Rhodomelaceae, Ceramiales). J Pharm Biomed Anal 52(5):763–769

Gómez-Ordóñez E, Jiménez-Escrig A, Rupérez P (2010) Dietary fibre and physicochemical properties of several edible seaweeds from the northwestern Spanish coast. Food Res Int 43(9):2289–2294

Guo N, Yu L, Meng R, Fan J, Wang D, Sun G, Deng X (2008) Global gene expression profile of Saccharomyces cerevisiae induced by dictamnine. Yeast 25(9):631–641

Hornsey IS, Hide D (1976) The production of antimicrobial compounds by British marine algae II. Seasonal variation in production of antibiotics. Br Phycol J 11(1):63–67

Kandhasamy M, Arunachalam K (2008) Evaluation of in vitro antibacterial property of seaweeds of southeast coast of India. Afr J Biotechnol 7(12):1958–1961

König G, Wright A, Sticher O, Angerhofer C, Pezzuto J (1994) Biological activities of selected marine natural products. Planta Med 60(6):532–537

Lima-Filho J, Carvalho A, Freitas S, Melo V (2002) Antibacterial activity of extracts of six macroalgae from the northeastern Brazilian coast. Braz J Microbiol 33(4):311–314

Lüning K (1990) Seaweeds: their environment, biogeography, and ecophysiology. Wiley, London

Mahasneh I, Jamal M, Kashashneh M, Zibdeh M (1995) Antibiotic activity of marine algae against multi-antibiotic resistant bacteria. Microbios 83(334):23–26

Mayachiew P, Devahastin S (2008) Antimicrobial and antioxidant activities of Indian gooseberry and galangal extracts. LWT-Food Sci Technol 41(7):1153–1159

Mayer AMS, Rodríguez AD, Berlinck RGS, Hamann MT (2007) Marine pharmacology in 2003–4: marine compounds with anthelmintic antibacterial, anticoagulant, antifungal, anti-inflammatory, antimalarial, antiplatelet, antiprotozoal, antituberculosis, and antiviral activities; affecting the cardiovascular, immune and nervous systems, and other miscellaneous mechanisms of action. Comp Biochem Physiol C Toxicol Pharmacol 145(4):553–581

Moreau J, Pesando D, Bernard P, Caram B, Pionnat JC (1988) Seasonal variations in the production of antifungal substances by some dictyotales (brown algae) from the French mediterranean coast. Hydrobiologia 162(2):157–162

Murray PM, Moane S, Collins C, Beletskaya T, Thomas OP, Duarte AWF, Nobre FS, Owoyemi IO, Pagnocca FC, Sette LD, McHugh E, Causse E, Pérez-López P, Feijoo G, Moreira MT, Rubiolo J, Leirós M, Botana LM, Pinteus S, Alves C, Horta A, Pedrosa R, Jeffryes C, Agathos SN, Allewaert C, Verween A, Vyverman W, Laptev I, Sineoky S, Bisio A, Manconi R, Ledda F, Marchi M, Pronzato R, Walsh DJ (2013) Sustainable production of biologically active molecules of marine based origin. N Biotechnol 30(6):839–850

Osman M, Abushady A, Elshobary M (2010) In vitro screening of antimicrobial activity of extracts of some macroalgae collected from Abu-Qir bay Alexandria, Egypt. Afr J Biotechnol 9(12):7203–7208

Padmakumar K, Ayyakkannu K (1997) Seasonal variation of antibacterial and antifungal activities of the extracts of marine algae from southern coasts of India. Bot Marina 40:507–516

Pintéus S, Azevedo S, Alves C, Mouga T, Cruz A, Afonso C, Sampaio MM, Rodrigues AI, Pedrosa R (2009) High antioxidant potential of Fucus spiralis extracts collected from Peniche coast (Portugal). N Biotechnol 25(Supplement 0):S296

Rhimou B, Hassane R, José M, Nathalie B (2010) The antibacterial potential of the seaweeds (Rhodophyceae) of the strait of Gibraltar and the mediterranean coast of Morocco. Afr J Biotechnol 9(38):6365–6372

Riguera R (1997) Isolating bioactive compounds from marine organisms. J Marine Biotechnol 5:187–193

Salvador N, Gómez Garreta A, Lavelli L, Ribera MA (2007) Antimicrobial activity of Iberian macroalgae. Sci Marina 71(1):101–114

Smyrniotopoulos V, Vagias C, Rahman MM, Gibbons S, Roussis V (2010) Structure and antibacterial activity of brominated diterpenes from the red alga Sphaerococcus coronopifolius. Chem Biodivers 7(1):186–195

Sofidiya MO, Odukoya OA, Afolayan AJ, Familoni OB (2009) Phenolic contents, antioxidant and antibacterial activities of Hymenocardia acida. Nat Prod Res 23(2):168–177

Spavieri J, Allmendinger A, Kaiser M, Casey R, Hingley-Wilson S, Lalvani A, Guiry MD, Blunden G, Tasdemir D (2010) Antimycobacterial, antiprotozoal and cytotoxic potential of twenty-one brown algae (phaeophyceae) from British and Irish waters. Phytother Res 24(11):1724–1729

Taskin E, Ozturk M, Taskin E, Kurt O (2007) Antibacterial activities of some marine algae from the Aegean Sea (Turkey). Afr J Biotechnol 6(24):2746–2751

Val A, Platas G, Basilio A, Cabello A, Gorrochategui J, Suay I, Vicente F, Portillo E, Río M, Reina G (2001) Screening of antimicrobial activities in red, green and brown macroalgae from Gran Canaria (Canary Islands, Spain). Int Microbiol 4(1):35–40

Vandepitte J, Verhaegen J, Engbaek K, Rohner P, Piot P, Heuck C (2003) Basic laboratory procedures in clinical bacteriology. World Health Organ, Geneva

Zar J (2010) Biostatistical analysis, 5th edn. Prentice Hall, Englewood Cliffs
Acknowledgments
This work was funded by FP7 EU project "BAMMBO: Sustainable production of Biologically Active Molecules of Marine Based Origin" (FP7 No. 265896/http://www.bammbo.eu).
About this article
Cite this article
Pinteus, S., Alves, C., Monteiro, H. et al. Asparagopsis armata and Sphaerococcus coronopifolius as a natural source of antimicrobial compounds. World J Microbiol Biotechnol 31, 445–451 (2015). https://doi.org/10.1007/s11274-015-1797-2
Received:

Accepted:

Published:

Issue Date:
Keywords
Marine algae

Antibacterial activity

Antifungal activity

Seaweeds

Marine natural compounds

Natural antibiotics