Abstract
Balamuthia mandrillaris is a free-living protist pathogen that can cause life-threatening granulomatous amoebic encephalitis. Given the lack of effective available drugs against B. mandrillaris encephalitis with a mortality rate of more than 90 %, here we screened drugs, targeting vital cellular receptors and biochemical pathways, that are already in approved clinical use for their potential clinical usefulness. Amoebicidal assays were performed by incubating B. mandrillaris with drugs (3 × 105 cells/0.5 mL/well) in phosphate buffered saline for 24 h and viability was determined using Trypan blue exclusion staining. For controls, amoebae were incubated with the solvent alone. To determine whether effects are reversible, B. mandrillaris were pre-exposed to drugs for 24 h, washed twice, and incubated with human brain microvascular endothelial cells, which constitute the blood–brain barrier as food source, for up to 48 h. Of the ten drugs tested, amlodipine, apomorphine, demethoxycurcumin, haloperidol, loperamide, prochlorperazine, procyclidine, and resveratrol showed potent amoebicidal effects, while amiodarone and digoxin exhibited minimal effectiveness. When pre-treated with these drugs, no viable trophozoites re-emerged, suggesting that drugs destroyed parasite irreversibly. Based on the in vitro assay, amlodipine, apomorphine, demethoxycurcumin, haloperidol, loperamide, prochlorperazine, procyclidine, and resveratrol are potential antimicrobials for further testing against B. mandrillaris encephalitis. These findings may provide novel strategies for therapy but further research is needed to determine clinical usefulness of aforementioned drugs against granulomatous amoebic encephalitis caused by B. mandrillaris, and other free-living amoebae, such as Acanthamoeba spp., and Naegleria fowleri.
Access options
Buy single article
Instant access to the full article PDF.
US$ 39.95
Tax calculation will be finalised during checkout.
Subscribe to journal
Immediate online access to all issues from 2019. Subscription will auto renew annually.
US$ 119
Tax calculation will be finalised during checkout.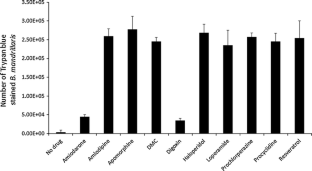 References
Alsam S, Kim KS, Stins M, Rivas AO, Sissons J, Khan NA (2003) Acanthamoeba interactions with human brain microvascular endothelial cells. Microb Pathog 35:235–241

Aqeel Y, Iqbal J, Siddiqui R, Gilani AH, Khan NA (2012) Anti-Acanthamoebic properties of resveratrol and demethoxycurcumin. Exp Parasitol 132:519–523

Baig AB, Iqbal J, Khan NA (2013) In vitro efficacy of clinically available drugs against growth and viability of Acanthamoeba castellanii keratitis isolate belonging to the T4 genotype. Antimicrob Agents Chemother 57:3561–3567

Booton GC, Carmichael JR, Visvesvara GS, Byers TJ, Fuerst PA (2003) Genotyping of Balamuthia mandrillaris based on nuclear 18S and mitochondrial 16S rRNA genes. Am J Trop Med Hyg 68:65–69

Brunton LL, Chabner BA, Knollman BC (2011) Goodman and Gilman's the pharmacological basis of therapeutics, 12th edn. McGraw-Hill, New York

Daly JW, Harper J (2000) Loperamide: novel effects on capacitative calcium influx. Cell Mol Life Sci 57:149–157

Denney CF, Iragui VJ, Uber-Zak LD, Karpinski NC, Ziegler EJ, Visvesvara GS, Reed SL (1997) Amebic meningoencephalitis caused by Balamuthia mandrillaris: case report and review. Clin Infect Dis 25:1354–1358

Diaz JH (2011) The public health threat from Balamuthia mandrillaris in the southern United States. J La State Med Soc 163:197–204

Dudley R, Alsam S, Khan NA (2007) Cellulose biosynthesis pathway is a potential target in the improved treatment of Acanthamoeba keratitis. Appl Microbiol Biotechnol 75:133–140

Eichhorn EJ, Gheorghiade M (2002) Digoxin. Prog Cardiovasc Dis 44:251–256

Hanauer SB (2008) The role of loperamide in gastrointestinal disorders. Rev Gastroenterol Disord 8:15–20

Jevtovic-Todorovic V, Meyenburg AP, Olney JW, Wozniak DF (2003) Anti-parkinsonian agents procyclidine and ethopropazine alleviate thermal hyperalgesia in neuropathic rats. Neuropharmacology 44:739–748

Matin A, Siddiqui R, Jayasekera S, Khan NA (2008) Increasing importance of Balamuthia mandrillaris. Clin Microbiol Rev 21:435–438

Mattana A, Biancu G, Alberti L, Accardo A, Delogu G, Fiori PL, Cappuccinelli P (2004) In vitro evaluation of the effectiveness of the macrolide rokitamycin and chlorpromazine against Acanthamoeba castellanii. Antimicrob Agents Chemother 48:4520–4527

Millan MJ, Maiofiss L, Cussac D, Audinot V, Boutin JA, Newman-Tancredi A (2002) Differential actions of antiparkinson agents at multiple classes of monoaminergic receptor. I. A multivariate analysis of the binding profiles of 14 drugs at 21 native and cloned human receptor subtypes. J Pharmacol Exp Ther 303:791–794

Schuster FL, Visvesvara GS (2004) Free-living amoebae as opportunistic and non-opportunistic pathogens of humans and animals. Int J Parasitol 34:1001–1007

Siddiqui R, Matin A, Warhurst D, Stins M, Khan NA (2007) Effect of antimicrobial compounds on Balamuthia mandrillaris encystment and human brain microvascular endothelial cell cytotoxicity. Antimicrob Agents Chemother 51:4471–4473

Siddiqui R, Jarroll EL, Khan NA (2009) Balamuthia mandrillaris: staining properties of cysts and trophozoites and the effect of 2,6-dichlorobenzonitrile and calcofluor white on encystment. J Eukaryot Microbiol 56:136–141

Siddiqui R, Aqeel Y, Khan NA (2013) Killing the dead: chemotherapeutic strategies against free-living cyst-forming protists (Acanthamoeba sp. and Balamuthia mandrillaris). J Eukaryot Microbiol 60:291–297

Stins MF, Gilles F, Kim KS (1997) Selective expression of adhesion molecules on human brain microvascular endothelial cells. J Neuroimmunol 76:81–90

Sweetman SC (2011) Martindale. The complete drug reference, 37th editions. The Pharmaceutical Press, London

Visvesvara GS, Martinez AJ, Schuster FL, Leitch GJ, Wallace SV, Sawyer TK, Anderson M (1990) Leptomyxid ameba, a new agent of amebic meningoencephalitis in humans and animals. J Clin Microbiol 28:2750–2756

Visvesvara GS, Schuster FL, Martinez AJ (1993) Balamuthia mandrillaris, N. G., N. Sp., agent of amebic meningoencephalitis in humans and other animals. J Eukaryot Microbiol 40:504–514

Visvesvara GS, Moura H, Schuster FL (2007) Pathogenic and opportunistic free-living amoebae: Acanthamoeba spp., Balamuthia mandrillaris, Naegleria fowleri, and Sappinia diploidea. FEMS Immunol Med Microbiol 50:1–26
Acknowledgments
The authors are grateful to Dr. Muhammed Majeed, Founder and CEO of the Sabinsa Corporation, New Jersey, USA for the generous gifts curcuminoids. This work was funded by the Aga Khan University, Karachi, Pakistan.
Conflict of interest
None.
About this article
Cite this article
Kalsoom, H., Baig, A.M., Khan, N.A. et al. Laboratory testing of clinically approved drugs against Balamuthia mandrillaris . World J Microbiol Biotechnol 30, 2337–2342 (2014). https://doi.org/10.1007/s11274-014-1658-4
Received:

Accepted:

Published:

Issue Date:
Keywords
Balamuthia mandrillaris

Clinical drugs

In vitro

Amoebicidal

Encephalitis