Abstract
Glacial-ice microorganisms are intensively studied world-wide for a number of reasons, including their psychrophilic lifestyle, their usefulness in biotechnology procedures and their relationship with the search of life outside our planet. However, because of the difficulties for accessing and working at altitudes of >5.000 m above sea level, tropical glaciers have received much less attention than their arctic and antarctic counterparts. In the present work we isolated and characterized a total of forty-five pure isolates originating from direct plating of melted ice collected at the base of a rapidly-retreating, small glacier located at around 4.900 m.a.s.l. in Mount Humboldt (Sierra Nevada National Park, Mérida State, Venezuela). Initial examination of melted ice showed the presence of abundant- (>106 cells ml−1), morphologically diverse- and active bacterial cells, many of which were very small ("dwarf cells"). The majority of the isolates were psychrophilic or psychrotolerant and many produced and excreted cold-active extracellular enzymes (proteases and amylases). The antibiotic tests showed an elevated percentage of isolates resistant to high doses (100 μg/ml) of different antibiotics including ampicillin, penicillin, nalidixic acid, streptomycin, chloramphenicol, kanamycin and tetracycline. Multiresistance was also observed, with 22.22 % of the strains simultaneously resistant up to five of the antibiotics tested. Metal resistance against Ni++, Zn++ and Cu++ was also detected. In accordance with these results, plasmids of low and high molecular weight were detected in 47 % of the isolates. Twenty-two partial 16S rDNA sequences analyzed allowed grouping the isolates within five different phyla/classes: Alpha-, Beta- and Gamma-proteobacteria, Actinobacteria and Flavobacteria. This is the first report concerning South American Andean glacial ice microorganisms.
Access options
Buy single article
Instant access to the full article PDF.
USD 39.95
Price includes VAT (USA)
Tax calculation will be finalised during checkout.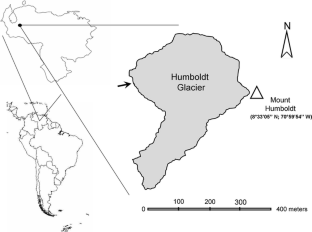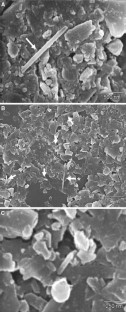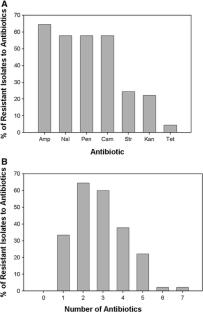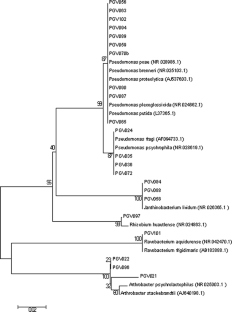 References
Altschul SF, Madden TL, Schaffer AA, Zhang J, Zhang Z, Miller W, Lipman DJ (1997) Gapped BLAST and PSI-BLAST: a new generation of protein database search programs. Nucleic Acids Res 25:3389–3402

Baker-Austin C, Wrigth MS, Stepanauskas R, McArthur JV (2006) Co-selection for antibiotic and metal resistance. Trends Microbiol 14:176–182

Braun C, Bezada M (2013) The history and disappearance of glaciers in Venezuela. J Latin Am Geogr 12:85–124

Carrillo E, Yépez S (2010) Evolution of glaciers in the Venezuelan Andes: glaciers of the peaks Humboldt and Bonpland. VII International meeting of researchers working with snow and ice from Latin America IHP—UNESCO. Magazine INGEOMINAS—Glaciares, nieves y hielos de América Latina Cambio climático y amenazas. Manizales, Colombia. pp 123–136

D'Amico S, Collins T, Marx J-C, Feller G, Gerday C (2006) Psychrophilic microorganisms: challenges for life. EMBO Rep 7:385–389

Hogan D, Kolter R (2002) Why are bacteria refractory to antimicrobials? Curr Opin Microbiol 5:472–477

Jukes TH, Cantor CR (1969) Evolution of protein molecules. In: Munro HN (ed) Mammalian protein metabolism. Academic Press, New York, pp 21–132

Kaser G (1999) A review of the modern fluctuations of tropical glaciers. Global Planet Change 22:93–103

Kotchoni SO, Gachomo EW, Betiku E et al (2003) A home made kit for plasmid DNA mini-preparation. Afr J Biotechnol 2:86–87

Margesin R (2009) Effect of temperature of growth parameters of psychrophilic bacteria and yeasts. Extremophiles 13:257–262

Margesin R, Miteva V (2011) Diversity and ecology of psychrophilic microorganisms. Res Microbiol 162:346–361

McDougald D, Rice SA, Weichart D, Kjelleberg S (1998) Nonculturability: adaptation or debilitation? FEMS Microbiol Ecol 25:1–9

Miteva V (2008) Bacteria in snow and glacier ice. In: Margesin R et al (eds) Psychrophiles: from biodiversity to biotechnology. Springer-Verlag, Berlin, pp 31–50

Miteva V, Sheridan PP, Brenchley JE (2004) Phylogenetic and physiological diversity of microorganisms isolated from a deep Greenland glacier ice core. Appl Env Microbiol 70:1202–1213

Møller AK, Barkay T, Al-Soud WA, Sørensen SJ, Skov H, Kroer N (2011) Diversity and characterization of mercury-resistant bacteria in snow, freshwaterand sea-ice brine from the High Arctic. FEMS Microbiol Ecol 75:390–401

Pérez E, Sulbarán M, Ball MM, Yarzábal LA (2007) Isolation and characterization of mineral phosphate-solubilizing bacteria naturally colonizing a limonitic crust in the south-eastern Venezuelan region. Soil Biol Biochem 39:2905–2914

Petrova M, Gorlenko Z, Mindlin S (2009) Molecular structure and translocation of a multiple antibiotic resistance region of a Psychrobacter psychrophilus permafrost strain. FEMS Microbiol Lett 296:190–197

Rabatel A, Francou B, Soruco A et al (2013) Current state of glaciers in the tropical Andes: a multi-century perspective on glacier evolution and climate change. Cryosphere 7:81–102

Reasoner DJ, Geldreich EE (1985) A new medium for the enumeration and subculture of bacteria from potable water. Appl Environ Microbiol 49:1–7

Rogers SO, Starmer WT, Castello JD (2004) Recycling of pathogenic microbes through survival in ice. Med Hypotheses 63:773–777

Saitou N, Nei M (1987) The neighbor-joining method: a new method for reconstructing phylogenetic trees. Mol Biol Evol 4:406–425

Sambrook J, Fritsch EF, Maniatis T (1989) Molecular cloning: a laboratory manual. Cold Spring Harbour Lab Press, New York

Summers AO (2002) Generally overlooked fundamentals of bacterial genetics and ecology. Clin Infect Dis 34:S85–S92

Tamura K, Peterson D, Peterson N, Stecher G, Nei M, Kumar S (2011) MEGA5: molecular evolutionary genetics analysis using maximum likelihood, evolutionary distance, and maximum parsimony methods. Mol Biol Evol 10:2731–2739

Tshape H (1994) The spread of plasmids as a function of bacterial adaptability. FEMS Microbiol Ecol 15:23–32

Urrutia R, Vuille M (2009) Climate change projections for the tropical Andes using a regional climate change model: temperature and precipitation simulations for the 21st century. J Geophys Res 114:1–15

Vuille M, Bradley RS, Werner M, Keimig F (2003) 20th century climate change in the tropical Andes: observations and model results. Clim Change 59:75–99

Vuille M, Francou B, Wagnon P, Juen I, Kaser G, Mark BG, Bradley RS (2008) Climate change and tropical Andean glaciers: past, present and future. Earth Sci Rev 89:79–96

Weisburg S, Barnes SM, Pelletier DA, Lane DJ (1991) 16S ribosomal DNA amplification for phylogenetic study. J Bacteriol 173:697–703
Acknowledgments
The authors are grateful to Mr. Jorge Férnandez B. and Dr. Andrés Eloy Mora (from the LAQEM Lab ULA, Mérida) for their technical assistance in Electronic Microscopy imaging. This work was partially financed by Fondo Nacional de Ciencias, Tecnología e Innovación (FONACIT) Project No. 2011001187.
Electronic supplementary material
Below is the link to the electronic supplementary material.
About this article
Cite this article
Ball, M.M., Gómez, W., Magallanes, X. et al. Bacteria recovered from a high-altitude, tropical glacier in Venezuelan Andes. World J Microbiol Biotechnol 30, 931–941 (2014). https://doi.org/10.1007/s11274-013-1511-1
Received:

Accepted:

Published:

Issue Date:
Keywords
Bacteria

Psychrophiles

Tropical glaciers

Ice-bacteria

Glacier ice

Andes Mountains